Always On The Shore contains affiliate links and is a member of the Amazon Services LLC Associates Program.  If you make a purchase, we make a small commission at no cost to you. For more information, please read the disclaimer page. 
The Sunshine State of Florida is a fantastic destination for beach-goers and sun-seekers alike.  With miles of stunning shoreline, it's no surprise that Florida also boasts some of the most impressive piers in America.
I've personally been to almost all of the piers on this list so I can assure you that these are sure to please all types of travelers. 
Whether you're like me and are looking for a place to take a stroll, want to take in the beautiful ocean views, or even if you're looking for a place to fish, these are some of the best piers in Florida!
15 Best Piers In Florida (To Visit In 2023)!
1. St. Pete Pier
St Petersburg Pier is a landmark destination in St Petersburg, Florida.
Extending into Tampa Bay, this pier has several open green spaces, restaurants, art installations, and other attractions which make it perfect for spending a day.
With a length of 3000 feet, it's one of the largest piers in the world. You can either walk this distance or take a tram which starts from the beginning of the pier and runs to the end.
The pier opens at sunrise and closes at 11 pm. Some of the best restaurants here include Teak, Pier Tiki and Doc Ford's Rum Bar and Grille.
The Tampa Bay Watch Discovery Center is a great place to visit with kids for its interactive exhibits about the Bay's ecosystem.
The Marketplace which opens Friday to Sunday 10 am to 6 pm is a great place to shop for souvenirs from independent vendors.
This pier is also open for fishing and there are several areas for fishermen (with a shoreline fishing license) to drop a line.
The Tiki Boat Tour is another fun activity to do from St Pete Pier. 
2. Naples Pier
Located in Naples City, Naples Pier is a historic landmark that was built in 1888. The pier stretches 1,000 feet into the Gulf of Mexico.
The pier is open 24 hours, 7 days a week, and is a great spot for fishing too.
Fishing is only permitted from Mondays through Saturdays from 5 am to 11 pm. Fishing is prohibited on Sundays and hurricane days.
You do not need a fishing license for Naples Pier and can expect to catch mackerel, snook, sea trout and pompano here.
The Pier Concession featuring Cosmos Cafe and Pizzeria is open from 9 am through sunset. Apart from fishing, the Naples Pier has many other fun activities worth checking out.
The 10-mile-long Naples Municipal Beach running underneath the pier has volleyball nets on the beach and is a great place to go in for a swim.
Hanging out at the pier can give you a chance to spot the dolphin families that often come quite close to the shore.
And in case you'd like to see it before you go, Naples Pier has a public live cam you can check out!
Photo credit – Unsplash by Michael G
3. The Island Pier
Previously known as the Okaloosa Island Pier, this pier is located in the city of Fort Walton Beach, over the powdery white beach of the Emerald Coast overlooking azure blue waters.
Stretching 1,262 feet into the Gulf of Mexico, the Island Pier is a great spot for both sunrises and sunsets alike.
It's also a great spot to see a plethora of marine life including dolphins, sea turtles, and herons and pelicans that inhabit the area.
The Island Pier is also heavy on angling. Shops nearby rent equipment and also sell drinks, sandwiches, and other snacks.
Sight casting is also popular here, especially with beginner fisherfolk who can see through the clear waters here.
Apart from fishing, the beach running beneath the Island Pier has very favourable surfs, and is also great for swimming or playing beach volleyball.
The Okaloosa Boardwalk close to the pier is also worth checking out for its spectacular views, especially if you want to get away from the fishing crowd.
The pier also features some excellent eateries nearby including Rocking Tacos, Anglers Beachside Grill, Floyds Shrimp House, and Lobster Tail for some divine seafood dishes amongst other things on the menu.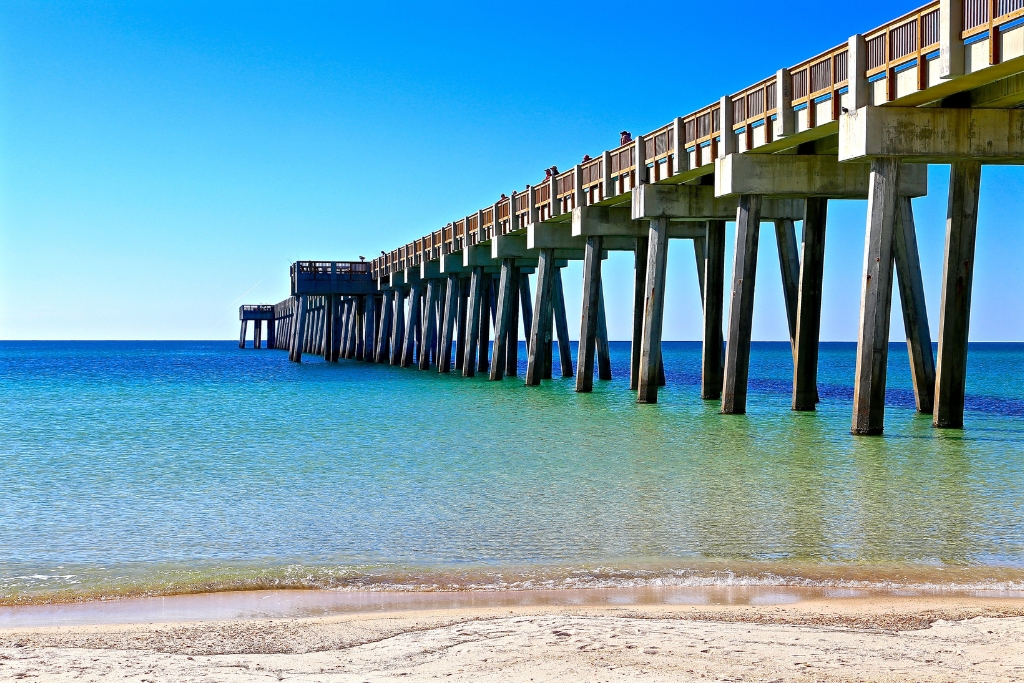 4. Russel Fields Pier
Located in Panama City, the Russel Fields Pier is 1500 feet long and goes over the Front Beach and into the Gulf of Mexico.
It is one of the most popular attractions in Panama City, mainly because of its spectacular sunrises and sunsets and chances to sight manatees, stingrays, sea turtles, dolphins, and pelicans off the pier.
The pier is open 24 hours, 365 days a year. Entry to the pier costs $4 for adults and $7 if you're going fishing.
Children under 6 go free and the $3 discounted rate applies to senior citizens, military personnel, and disabled persons.
Fishing is the prime activity on the pier. Half Hitch, located on the east side of the pier sells and rents fishing equipment.
A wide variety of fish can be caught here including mackerel, liners, cobia, pompano, flounders, bonita, groupers, and a lot more.
The beach running underneath the pier is a 27-mile-long incredibly beautiful beach.
You can book a snorkeling tour, rent a pontoon boat, or do other adventure activities from Adventures at Sea.
Alternatively, the Cobra Adventure Park is great for kids for a day of go-karting.
The Coconut Creek Family Fun Park has the incredible Gran Maze, the first football field-sized labyrinth in the USA!
Lastly, there are some incredible eateries along the beach near the pier including Finn's, Andy's Flour Power Cafe and Bakery, Cap Anderson's, and others.  And not to mention, the pier is located right across from Pier Park, which is an outdoor shopping and entertainment complex.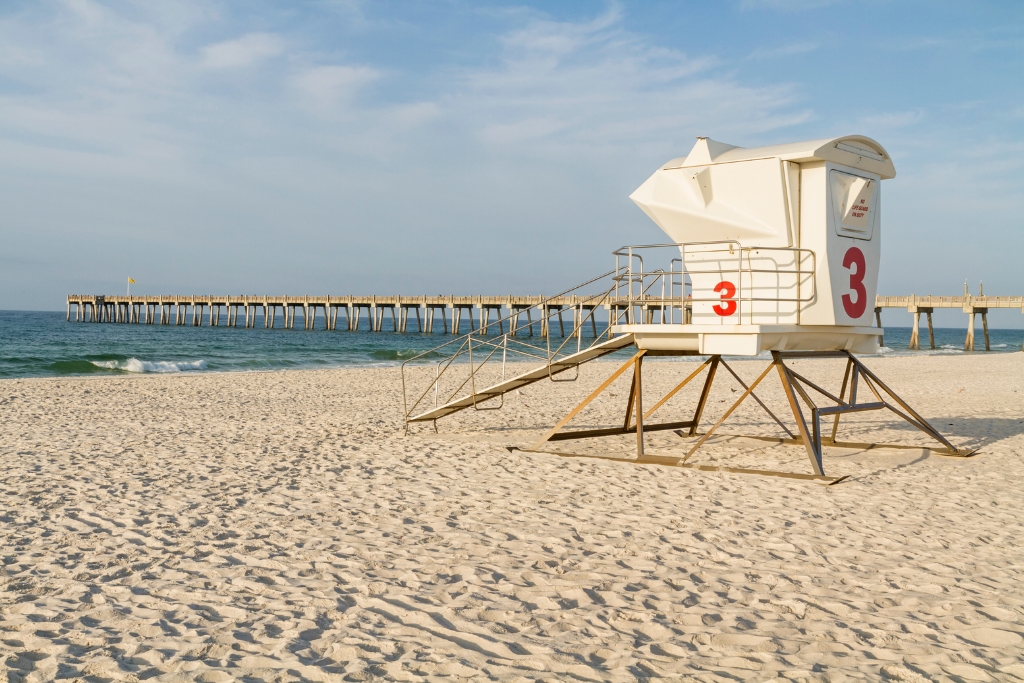 5. Pensacola Beach Pier
Located on Casino Beach in Pensacola City, the pier stretches 1,471 feet into the Gulf of Mexico.
It's a great place to spot some manatees, dolphins, brown whip rays, cow nose rays, and sharks and crabs.
Fishing is great here too. The waters are 20 feet deep at the end of the pier and a shop nearby sells and rents fishing equipment.
In the summers, it is common to catch fish like cobia, pompano, mackerel, flounder, seatrout and even mahi mahi!
In the winter, expect to catch some heavy sailfish, sheepshead and redfish.
They also host several fishing tournaments throughout the year which might be worth checking out!
Apart from fishing, the Pensacola Beach Pier has some great dining options including the Casino Beach Bar and Grill.
Photo credit – Unsplash by Simon Ray
6. Navarre Beach Pier
At 1545 feet into the Gulf of Mexico and 30 feet above the water, the Navarre Beach Pier is the longest fishing pier in all of Florida.
The pier is a great place for expert anglers as well as absolute beginners alike. The sunsets from the pier are exceptional as well.
The pier is open from 6 am to 9 pm in the winter months and from 5 am to 11 pm in the summer.
The daily fishing pass for adults costs $7 including the fishing license.
The seniors and military personnel pass costs $6, while youths 15 and under pay $4. The walking pass is just $1 and children under 5 enter free.
The Windjammers Restaurant on the pier is an excellent place for stunning views and delicious food.
Stingrays and dolphins are common to spot off the pier.
The beach running underneath the pier has soft powdery sand and is often quite uncrowded, allowing you enough space to relax and have a beach day!
Several shops are renting out sailboats, SUP boards, or even a bike or scooters.
7. Deerfield Beach Pier
Located in Deerfield Beach City, just 25 minutes north of Fort Lauderdale, the Deerfield International Fishing Pier is built about 975 feet into the Atlantic Ocean.
It's the star attraction of the city as thousands of fisherfolk come here year after year for its world-class fishing.
Apart from the regular fishing gear rental, the shop here also sells live, fresh and frozen bait.
The Environmental Workshops conducted at the pier regularly throughout the year are quite popular too and are free for everyone to enter.
The pier also organizes several other programs. These include the Walking Club for seniors over 50, "Yogis in Suits" for sunset and sunrise yoga sessions, and Zumba On The Beach.
The Deerfield Beach Pier is open every day from 6 am to 11 pm. It costs 1$ for city resident sightseers to enter and 2$ for non-residents.
For fishing, the entry permit is 4$ and entry is free for first responders, military personnel and veterans.
Deerfield Beach is well known for its "Blue Wave" status because of its clean beaches, good water quality, conservation efforts, etc.
This mile-long beach is great for swimming and skilled surfers usually flock to the waves north of the pier.
However, beginner surfers should stick to the friendlier waves south of Tower 9.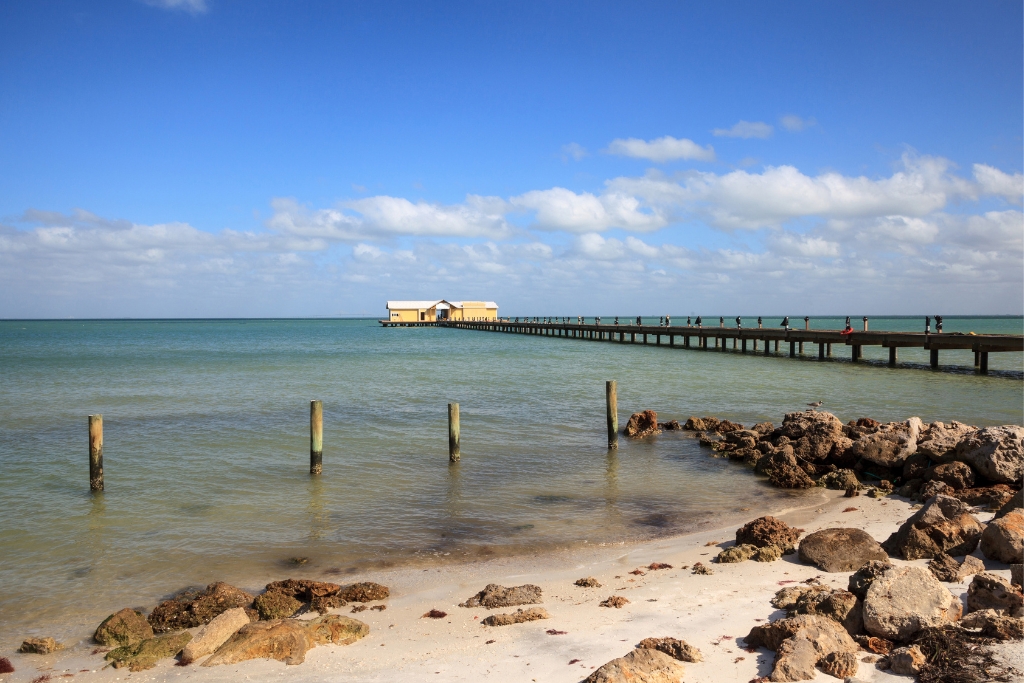 8. Anna Maria Pier
The Anna Maria City Pier is a must-visit historic landmark in Florida.
This pier was originally used for day trippers coming in from St. Petersburg and the Mainland via steamboats.
Fishing is a favorite activity here and does not require any fishing license.
Entry to the pier is also free and it's a joy to walk through this wooden pier along with views of the grand Sunshine Skyway Bridge far in the distance.
Projecting 700 feet into Tampa Bay, this is also a great place for birdwatchers to visit.
There are several restaurants by the pier including Sandbar Restaurant and City Pier Grill serving fresh seafood dishes and more.
9. South Pointe Pier
The South Pointe Pier in Miami is located in South Pointe Park – a beautiful, green 17-acre urban park located in the South Beach neighborhood of metropolitan Miami.
The pier is 450 feet long and is a much-loved spot for locals to visit, especially those interested in fishing.
The pier features several viewing stations, turtle-safe lighting, and designated areas to cut bait and wash fresh catches.
Apart from the pier itself, the park is worth visiting too. It has direct access to South Beach which is a paradise for kayakers and surfers.
There are several walking trails within the park, barbeque picnic spots, a splash zone for kids, an area for dogs to roam off-leash and paths for biking, skateboarding and rollerblading.
The Smith and Wollensky Steakhouse located within the park is also a local favourite known for its delicious preparations of salmon, tuna, lobster and shrimp.
10. Daytona Beach Pier
The Daytona Beach Pier is probably the most popular place amongst families and friends for a fun hang in Daytona Beach City.
Jutting 600 feet into the Atlantic Ocean, this pier is the center of beach life for the Daytona community.
Fishing primarily happens on the east end of the pier and is free of cost and does not require a license.
The pier is open 7 days a week from 7 am to 7 pm during summer months and 5 pm during the winter.
The pier features the Ocean Walk Shoppes – a colorful dining and shopping center.
The center has several shops and eateries including Sloppy Joe's, Johnny Rocket's, Bubba Gump Shrimp Company, Mai Tai Bar, Maui Nix Surf Shop, Sunglass Hut, and more.
The Daytona Beach Bandshell Summer Concerts and Fireworks is also a grand feature at the pier.
It is a series of concerts that take place every summer from May through September and is quite a hoot!
Daytona Lagoon is also worth a visit for its Screamer's Park – an adventure park with thrilling rides.
11. Westgate Cocoa Beach Pier 
The Westgate Cocoa Beach Pier is the ultimate beach adventure. The pier is open daily from 11 am to 9 pm and till 10 pm and Fridays and Saturdays.
Stretching 800 feet into the Atlantic Ocean, the pier is a historic attraction on the Space Coast in Florida because it has been the "grand seat" for viewing Mercury, Apollo, and Space Shuttle launches!
There's a host of activities to do at the Westgate Cocoa Pier. This is a great spot for most water sports such as kitesurfing, kayaking, and surfing, with shops renting out and selling gear.
In fact, Cocoa Beach is known as the "Surfing Capital of the East Coast", with important surfers like Kelly Slater and Dick Catri having surfed here!
The pier also features several beachside restaurants and bars including Pier 62 Oceanfront Restaurant and Bar, Rikki Tiki Tavern, Ocean Freeze Daquiri Bar, Chip Wrecked, and more.
Photo credit – Unsplash by Brandon Cormier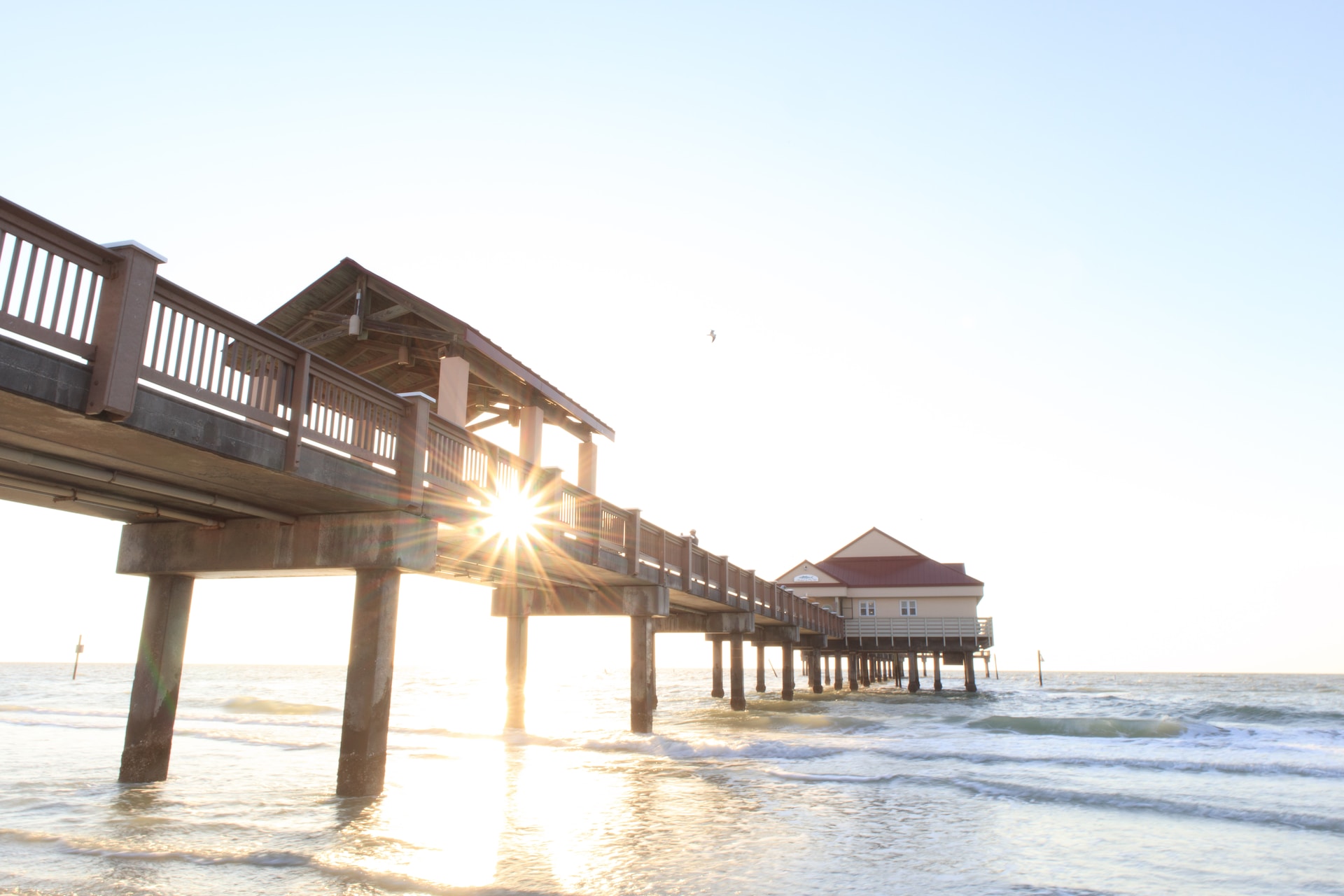 12. Pier 60 Clearwater Beach
Pier 60 in Clearwater Beach is one of the prime attractions in the city.
The pier stretches about 1,080 feet into the ocean and is primarily known for its fishing but is home to plenty of other activities too.
There are shops selling fishing gear and souvenirs at the pier and the pier opens every day from 6 am to 9 pm.
A famed event at the pier is the "Sunsets at Pier 60" which hosts events every day throughout the year two hours before sunset until two hours after.
It's a Clearwater Beach tradition, a way to celebrate the end of each day overlooking the incredible sunsets from the pier.
The water at the beach under the pier is warm and inviting. The area ride beneath the pier is a loved spot for swimming because of the shade it offers!
There are several water sports to try out here including surfing, kayaking and paddleboarding.
"The Hippo" – a giant inflatable waterslide by the pier is a great way to cool down and a favourite spot amongst kids and adults alike.
Apart from fishing, swimming and nightly performances, there are great places to eat here too.
These include Frenchy's Rockaway Grill, Caretta on the Gulf, The Brown Boxer, Three Daughters Brewing and a lot more.
13. Jacksonville Beach Pier
Jacksonville Beach Pier is a long (almost a quarter of a mile long!) pier going into the Atlantic Ocean.
It's a great spot for fishing for both beginners and experts alike and costs 5$ for non-locals and 4$ for locals to fish.
Walking passes are 2$ for non-locals and 1% for locals.
The pier is open every day from 7 am to 7 pm and is perfect for anglers to catch some deep water fish.
It's also a very favorable place for surfers to catch some waves and features incredible restaurants serving fresh seafood. 
14. Skyway Bridge Pier
The Skyway Bridge Pier is the world's longest fishing pier. Stretching into Tampa Bay, the pier is open 24 hours, 365 days a year and costs 4$ for an adult and 2$ for a child to enter.
The most common catches for anglers here include seabass, grouper, mackerel, cobia, snapper, pompano and a lot more.
The lights along the pier are known to attract a lot of fish after sunset so it might be worth staying later in the evening as well!
Concession shops and shops selling fishing gear and souvenirs are available by the pier.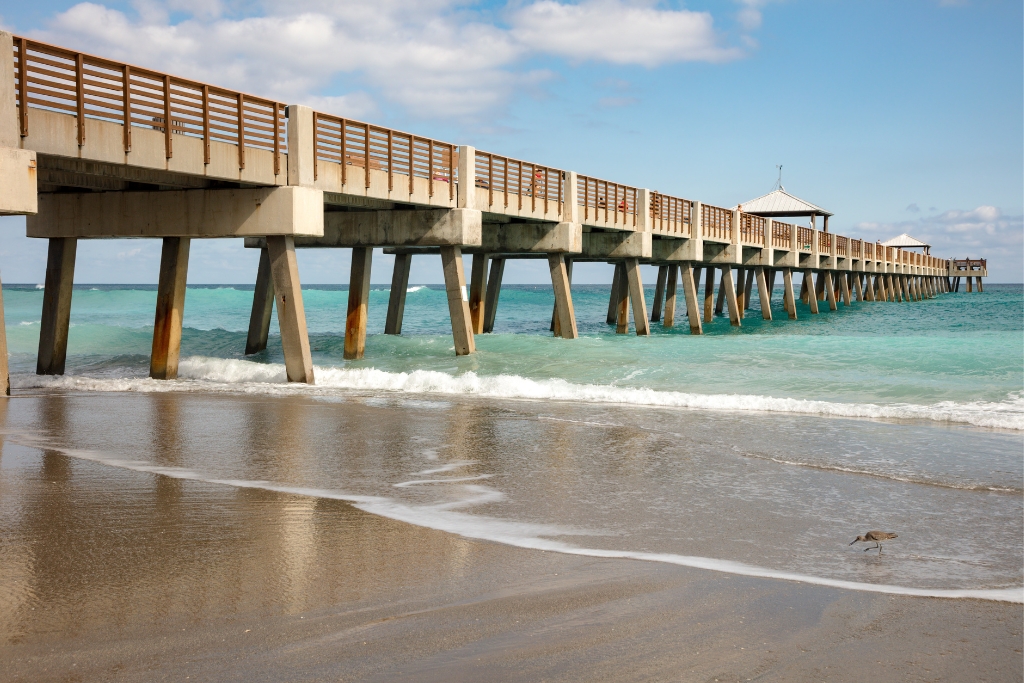 15. Juno Beach Pier 
The Juno Beach Pier is a well-known saltwater fishing wharf stretching 990 feet into the ocean.
Managed by Loggerhead Marinelife Center since 2014, the pier hosts a variety of different programs too.
The most popular of these is the Kids Fishing Program which takes place every Saturday to teach children between ages 8 to 14 how to fish responsibly.
Private fishing lessons are also offered here for everyone over the age of 8 years.
The pier is open 7 days a week from sunrise to sunset throughout the summer.
During winter, the timings are 6 am to 10 pm from Thursdays through Sundays and 6 am to midnight on Fridays and Saturdays.
The fishing fee is 5$ here and the spectator fee is 2$. Juno Beach is a great spot for surfers, kiteboarders, and swimmers.
The Pier House has a bait shop, souvenir shops, and a few places to eat and chill.
The Loggerhead Marinelife Center is a sea turtle hospital worth visiting to learn about turtle rescue programs at Juno Beach Pier.
Juno Dunes Natural Area is great to paddle through the swamps and mangroves and Cool'a FishBar and Hurricane Cafe and Ke'e Grille are two well-known food joints around.
Final Thoughts- Best Piers In Florida
In conclusion, there are many great piers in Florida that offer unique experiences for every visitor. 
Whether you're looking for a place to relax and watch the sunset, a spot to fish, or an adventure out on the open water, there is sure to be the perfect pier for you!
Travel Resources
Book Your Next Trip!  For Accommodations and short-term rentals, I recommend Booking.com as they are the best in the business when it comes to rates and places to stay.
To Book Activities- For activities, I suggest booking with Viator, they have thousands of 5-star activities to choose from!
Looking To Start Your Own Travel Blog Or Take Yours To The Next Level? 
Check Out This Free Workshop!– I personally joined Scale Your Travel Blog in 2021 and my website has grown exponentially.