Last Updated on December 30, 2022
The Boardwalk in Okaloosa Island has one of the area's best beaches, the fishing pier, and is an ideal place to go in Fort Walton Beach to relax, do some shopping, and make memories!
Okaloosa Island is technically a part of Santa Rosa Island, and is along the Gulf of Mexico, in the city of Fort Walton Beach, Florida, about a 10-minute drive from Destin.
Looking To Get On The Water In Fort Walton Beach?
What Is The Boardwalk- Okaloosa Island?
Located just 10 minutes from Destin, The Boardwalk in Okaloosa Island is a fun indoor/outdoor complex that offers the best shopping in Fort Walton Beach, waterfront restaurants, a pier, a kids' playground, and of course, the beach, right on the Gulf of Mexico's waters.
There's a large parking lot here right off the highway and parking is free!  The parking lot will get full in the summer months so get here early.
While here, spend the day at the beach or go fishing off the Okaloosa Island pier.
There are also plenty of things to keep the kids entertained, such as The Gulfarium Marine Adventure Park.  Wild Willy's Adventure Zone is right across the street and has mini-golf, arcade games, racing, and a yogurt shop!
The Boardwalk is open every day from 9 am-9 pm and is located at 1450 Miracle Strip Parkway SE, Fort Walton Beach, FL, 32548
Here are 10 things to do while at The Boardwalk in Okaloosa Island (and nearby)!
The Boardwalk Okaloosa Island-
10 Things To Do (2022)!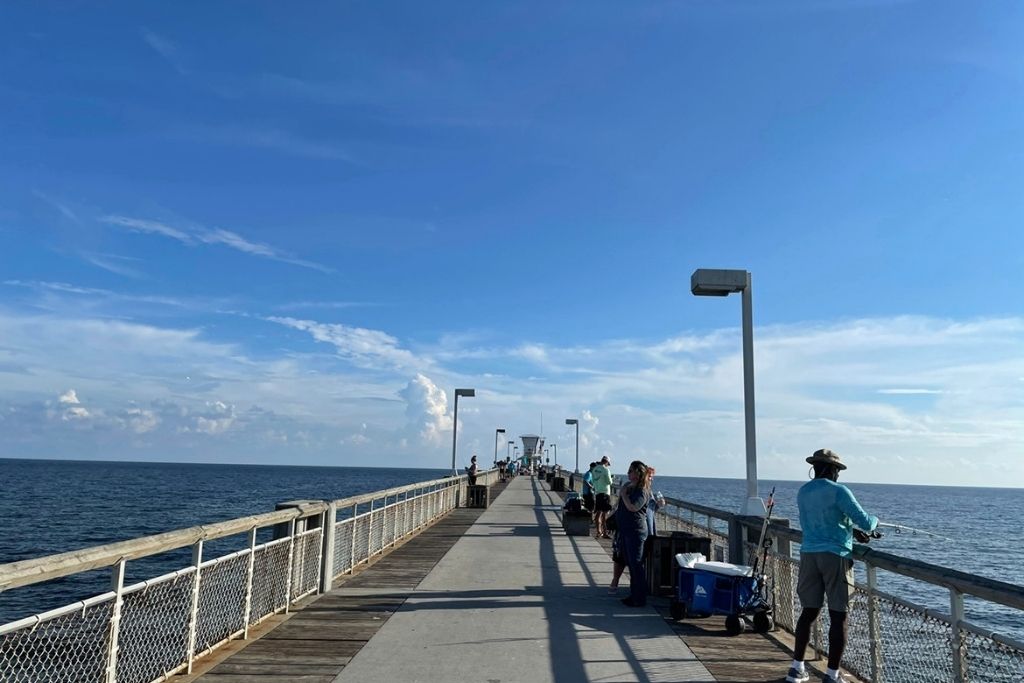 1. Walk The Pier Or Go Fishing!
The Okaloosa Island Pier is all about making your experience as enjoyable as possible!  Take a leisurely stroll along the pier, which is almost 1,300 feet long!
Here, you can just take in the stunning views of the area and spot dolphins, stingrays, sea turtles, and sea birds.  They have the big, stationary viewing binoculars in some spots along the pier, too.
They've got a store at the entrance of the pier with snacks, soda, ice cream, and beer available along with fishing gear rentals if you want them.  This is where you pay to walk the pier.
It's $2 to walk the pier and $8 for adults to fish.  It's $5 for kids to fish while senior and military rates are $5.
Common fish caught on the Emerald Coast are Red Drum, Sand Seatrout, Gulf Flounder, Black Drum, Red Snapper, Mackerel, and lots more!
The pier does get busy with people fishing so come early for a good fishing spot!  They also have fishing tournaments here, throughout the year.
Okaloosa Island Pier
Check online for hours
2. Spend The Day At The Beach
Okaloosa Island is a family-friendly beach destination packed with activities for visitors of all ages.
They have everything you need for an unforgettable day at the beach!  It's a beautiful beach with lots of scenery resorts lined up along the shoreline.
You get some great views of Okaloosa Island and The Boardwalk complex from the pier.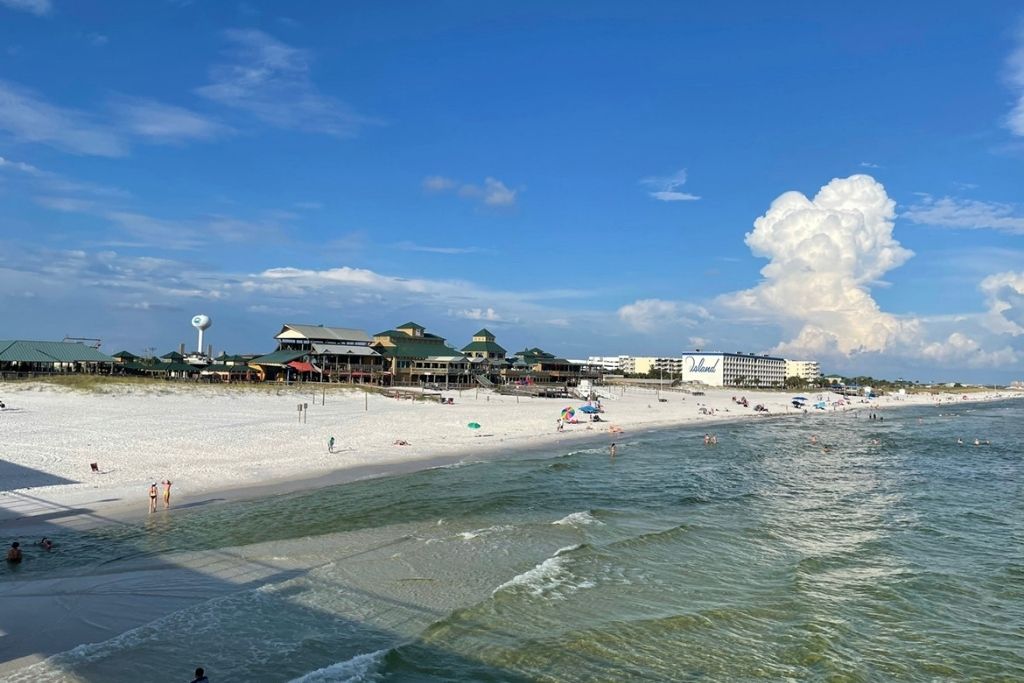 Amenities here include seasonal lifeguards, restrooms, a kids' beachfront playground, a shower, shaded picnic tables, and a splash pad.
You can also grab your friends and play beach volleyball at their volleyball nets.
Okaloosa Island Beach 
The beach is open 24 hours.
3. Enjoy Dinner With Gulf Views
Of course, if you get hungry while at The Boardwalk, they have some fantastic restaurants right on the water!
These restaurants offer an amazing dining experience right on Okaloosa Island's beautiful beach.  They are located directly on the Gulf of Mexico where you can enjoy live music while eating fresh seafood and more.
My family and I ate at Rockin' Tacos, a grill and tequila bar.  They offer a great atmosphere where you can enjoy the best food, drinks, live music, pool tables, and much more!
Whether you need a place for a friend's birthday party or just want somewhere fun to hang out with your family, this is a perfect choice, and their outdoor patio views are awesome!
But there are more great restaurants at The Boardwalk.  The Crab Trap is a seafood and oyster bar next door.  They also have a Crab Trap location in Destin.
The Crab Trap offers plenty of seafood options, frozen and mixed drinks, and of course, crab legs!  They have a large selection of food for the kids, too.
Floyd's Shrimp House is known for its all-you-can-eat fish and shrimp platters!  They also have chicken & shrimp, surf & turf, fish, tacos, and oysters.
Al's Beach Club is a burger bar at The Boardwalk that also specializes in milkshakes and has a variety of craft beers.   There is a nice selection of burgers and they even have vegetarian options.
They have Luau parties on Thursday nights from March-August.
Al's also has live music daily and shows on their stage from March- October.
Lastly, Angler's is a beachside restaurant right in front of the pier.  They have breakfast on weekends and a Sunday Brunch with Bottomless Mimosas!
Angler's has daily happy hour specials and also offers space for private events!
Restaurants at The Boardwalk Okaloosa Island
Angler's Beachside Bar & Grill
4. Satisfy Your Sweet Tooth With Coffee And Desserts
If you're looking for some dessert after dinner, check out Pino Gelato At The Beach!
Pino Gelato makes authentic, handcrafted ice cream and sorbetto that taste just like what you would find in Italy!
Come visit their shop on Okaloosa Island for a scoop of one of their many flavors.
They also have coffee and pizza.
5. Check Out The Fireworks
Every Wednesday in the summer (from Memorial Day to Labor Day), there are fireworks at the pier at 9 pm.
We came here the Wednesday after the 4th of July and the pier gets a good crowd so be sure to come early to get a spot on the pier that you like!   They do shut down the back sections of the pier, so you'll have to watch them from closer to the entrance.
Really, the view is good from anywhere on the pier and you can watch from the beach or the restaurants, too.
The fireworks show here is really good, but it's also just a few minutes long!  I still recommend seeing, though.
6. Watch A Movie Or Show
Come see a movie right at the beach!  Relax on the sand while watching on the big screen with the ocean and pier in the background.
The Boardwalk has weekly movies on Tuesday nights from March-August and they play holiday movies, too.
Best of all, this is free to attend!
7. See Dolphins At Gulfarium Marine Adventure Park
The Gulfarium Marine Adventure Park is a premier marine life park and one of the most popular attractions in Fort Walton Beach!
Visitors to this Florida attraction enjoy animal encounters, dolphin shows, sea lion interactions, and more.
The Gulfarium is home to some of the most amazing creatures on earth including dolphins, sea lions, crocodiles, and penguins!
The animals here play an important role in conservation education as The Gulfarium works with local schools to teach children about marine life and their habitats.
8. Grab A Souvenir And Go Shopping
The Boardwalk is home to some of the best shopping in Fort Walton Beach!  There are several outfitter stores and gift shops where you can find collectibles, shirts, hats, beach toys, swimwear, and whatever you're looking for.
You can even get a kite to bring to the beach at Kitty Hawk Kites!
Other stores at The Boardwalk include:
√ Coastal Currents
√ Oasis on the Boardwalk (serves Starbucks coffee here)
√ Islanders Coastal Outfitters
√ Surfside Outfitters
√ Tropical Trends
9. Play Mini-Golf And Arcade Games At Wild Willy's Adventure Zone
Wild Willy's is a great place to go for fun with friends or family!
It's located right across the highway from The Boardwalk and has arcade games, 2 mini-golf courses, a ropes course, and go-karts.
Other attractions include laser tag, bumper boats, and a 4-D movie experience.
My family and I did the Island of Tortuga mini-golf adventure which is a pirate-themed outdoor course.
We also played the arcade games and got some food & drinks at their indoor restaurant.  The arcade is the perfect place to go for some fun on a rainy day!
Stop by Yogo Mogos, which is next door to Wild Willy's for a sweet treat.  They serve frozen yogurt with all the toppings.
1306 Miracle Strip Parkway SE, Fort Walton Beach, FL 32548
Check online for hours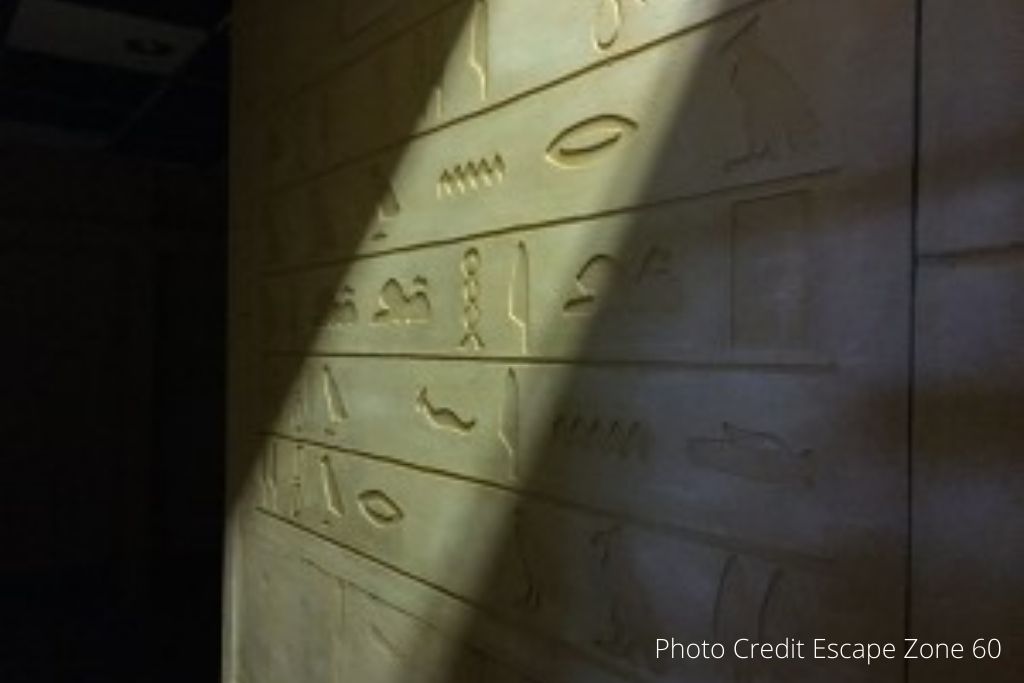 10. Plan Your Escape At Escape Zone 60
Escape Zone 60 is across the street from The Boardwalk and is you guessed it… an escape room!
Bring a group of friends or your family, and enjoy the 2 escape games here.
At Mystic Mansion, you have to figure out the mysteries going on inside and Mummy's Tomb, where you have to learn how to get out of the tomb.
Mystic Mansion holds up to 8 people and you can bring a group of 10 to Mummy's Tomb.
Escape Zone 60 has several locations throughout the Emerald Coast, all with different themed escape rooms!
1318 Miracle Strip Parkway SE, Fort Walton Beach, FL 32548
Things To Do Near
The Boardwalk Okaloosa Island
There are lots of things to do at The Boardwalk, but there are many more activities nearby to see and do!
Both Gulf Islands National Seashore and John Beasley Park are beaches in Fort Walton Beach and just a few minutes from The Boardwalk.  You can even see the pier from Beasley Park!
Looking for adventures on Fort Walton Beach waters?  Try a Banana Boat Dolphin Tour.  They're located next door to the Gulfarium.
Crab Island is great for families and groups of people.  It's a large sandbar between Okaloosa Island and Destin, where boats come and anchor down, and you can hang out in the shallow, beautiful, emerald-green waters.  See the best ways to spend the day at Crab Island!
Harborwalk Village is in Destin and is a lot like The Boardwalk.  This attraction has restaurants, shopping, equipment rentals, games, and other activities.  It's not located on a beach as The Boardwalk is, but instead, along the Destin Harbor.
For more to do in the area, check out these 35 Amazing Things To Do In Destin And Nearby!
Where To Stay Near The Boardwalk
As mentioned, there are several resorts lined up along the beach.  Otherwise, take a look at these places to stay in Fort Walton Beach, just a few minutes' walk from The Boardwalk Okaloosa Island!
What Is Okaloosa Island Known For?
Okaloosa Island is known for its 3 miles of Gulf beaches, oceanside restaurants, water sports, and plenty of family activities open to the public.  Here are a few top picks besides The Boardwalk. 
√ Gulf Islands National Seashore
√ John Beasley Park
√ Ross Marler Park
√ Stewby's Seafood Shanty
√ FUBAR Pizza Bar
Wrapping Up: The Boardwalk Okaloosa Island-
10 Things To Do! (2022)
As you can see, from the beach and the pier to great shopping and amazing restaurants, The Boardwalk Okaloosa Island has many fun things to do in Fort Walton Beach. 
For more restaurants nearby, check out these Epic Restaurants in Destin FL To Try!