Always On The Shore contains affiliate links and is a member of the Amazon Services LLC Associates Program.  If you make a purchase, we make a small commission at no cost to you. For more information, please read the disclaimer page. 
 
Crab Island is a popular destination in Destin, Florida for vacationers and locals alike!  Its shallow waters, water activities, and food & drinks make this the perfect place to spend an afternoon or evening in Destin.
 
This well-known spot is one of the best things to do on Florida's Emerald Coast and was featured on GMA's Most Beautiful Place segment on Good Morning America!
What Is Crab Island?

While not actually an island, Crab Island is a large underwater sandbar that sits just off the coast of Destin and offers crystal clear, emerald green waters for swimming and snorkeling.

It's been told that the sandbar was an island at one time and was actually in the shape of a crab, which is why it got the name Crab Island!  There are also lots of hermit crabs here, too!

Crab Island has been attracting tourists and large groups for years.

Boats come and anchor in the shallow waters, and there are also inflatable toys, food and drinks, and all sorts of activities like jet-skiing or paddle boarding.

Located just a few miles from Fort Walton Beach, Crab Island is a perfect place to relax and enjoy some fun in the sun!

Here is the ultimate visitor's guide to Crab Island in Destin, Florida!

Crab Island Destin Florida-
The Ultimate Guide (2023)!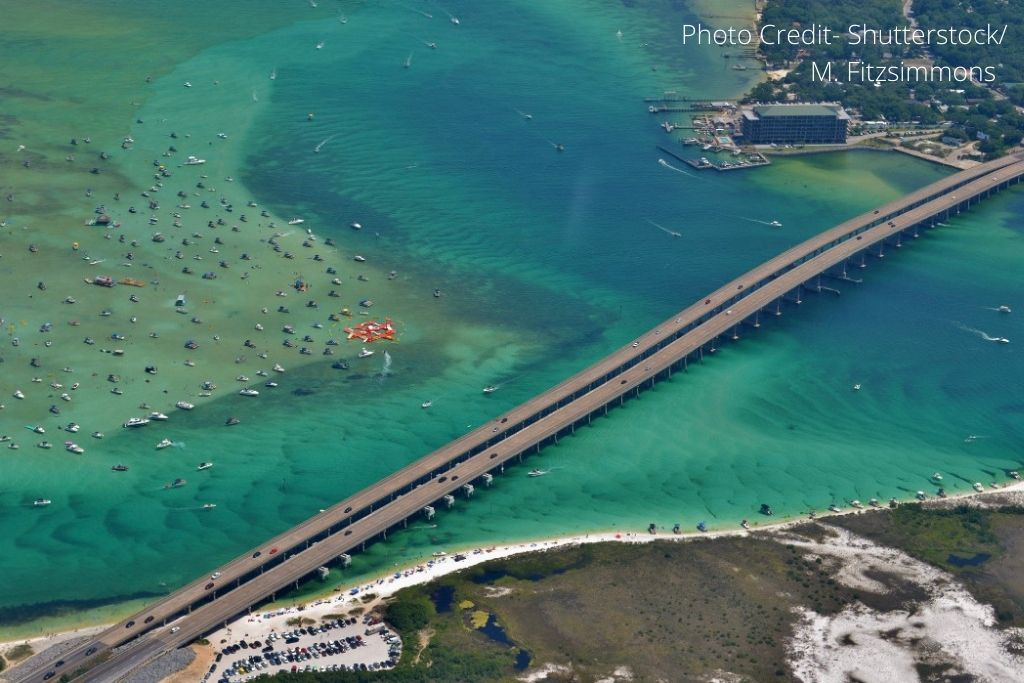 Crab Island- One Of The Best Things To Do In Destin, Florida!

Why do people love coming to Crab Island?  It's a party on the water!

This famous sandbar has the appeal of an island since you have to come out by boat, but it's close enough to land that you don't have to go far.

Its shallow waters, beautiful views, and laid-back vibe make this the perfect place for hanging out & playing games, having a few drinks, eating some food and ice cream from the food vendors, and hanging out in the Destin sun!

Crab Island is in a great location, it's right next to the Gulf of Mexico, yet insulated enough from most of the currents and has relatively calm waters.  It also has sparkling green and blue waters.

It's also just a few minutes to the nicest, sparkling, white-sand beaches, and close to HarborWalk Village, and waterfront restaurants, as well.

Photo Credit: Google Maps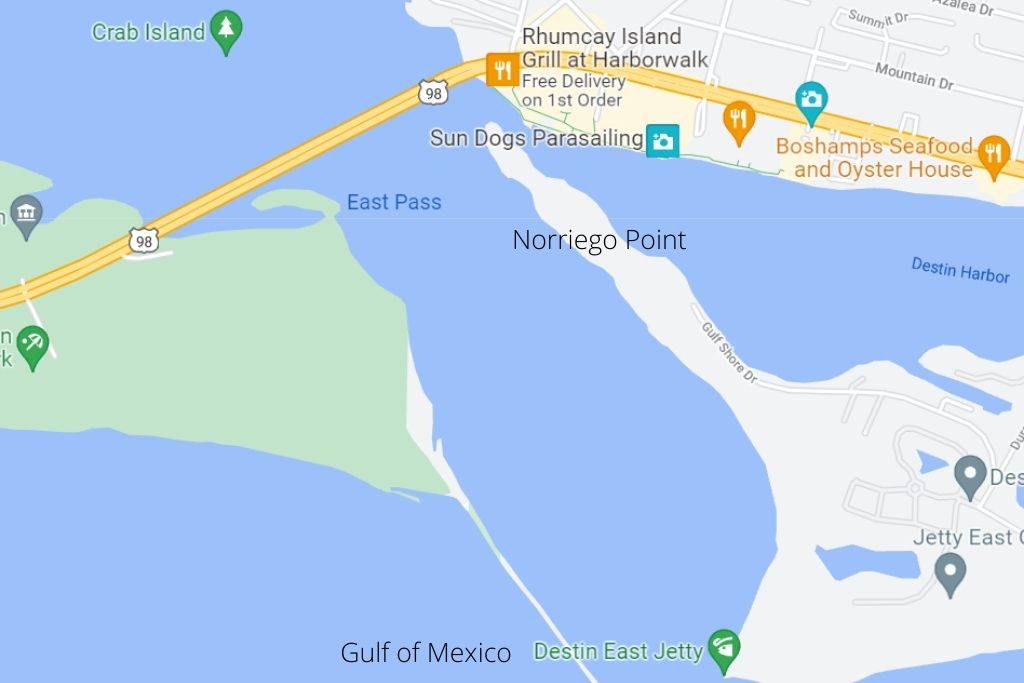 Where Is Crab Island Located?

Crab Island (upper left corner) is at the southern entrance of Choctawhatchee Bay, directly north of the Marler (Highway 98) Bridge and across from Norriego Point Beach and Destin's East Pass!

Just east of Crab Island are Destin Harbor and HarborWalk Village shops.   As mentioned, a few miles to the west of Crab Island is Fort Walton Beach.

As you can see on the map, the Gulf of Mexico is just south of Crab Island.

Crab Island is mostly calm, shallow waters and is protected from the Gulf waves where it's located.

How To Get To Crab Island

Crab Island is a little ways offshore so swimming is not recommended and can be dangerous due to all the boat traffic and possible currents.

By boat or pontoon are the most common ways to get to the sandbar.  (Either rent your own or get a tour for your group).

You can also get out here by a shuttle boat, jet skis, kayaks, and paddleboards.

As you can see in the picture above, HarborWalk Village is just on the other side of the bridge from Crab Island and offers lots of rental options including boats, kayaks, and jet skis.

My family and I rented a pontoon tour through Crab Island Cruises and I definitely recommend them.

I prefer doing a guided tour versus renting your own pontoon since they're familiar with the area's waters and Gulf conditions to give you the best and safest experience.

Their captains are knowledgeable and they also bring a lot of the supplies and toys with so you can just relax and have a good time!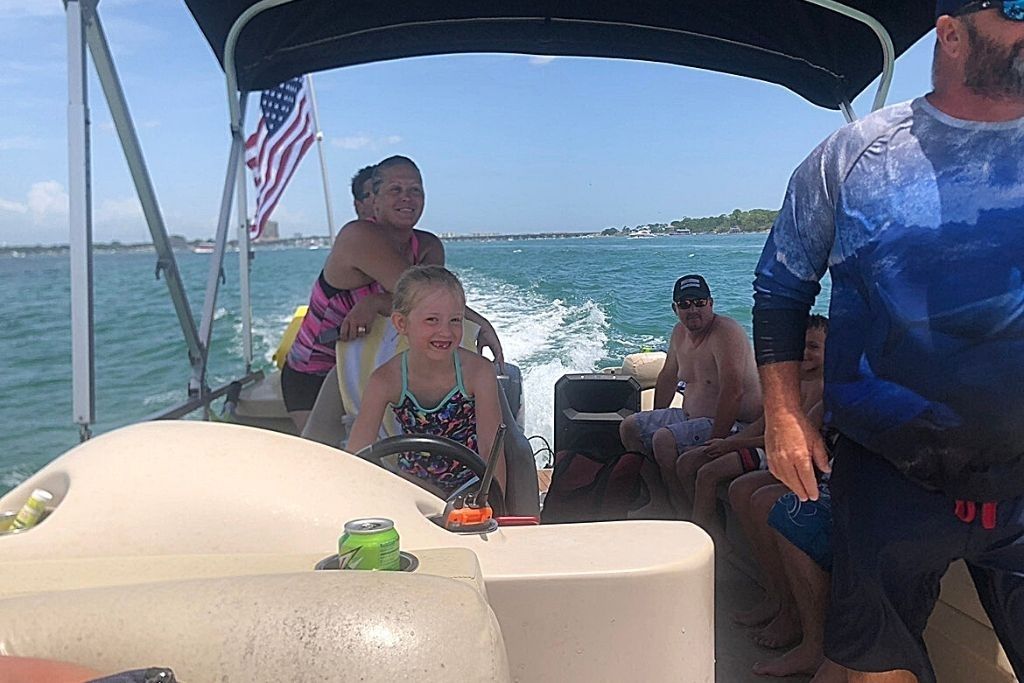 The captain picked us up at the Gulf Islands National Seashore boat launch (just a few miles west of Crab Island between Destin and Fort Walton Beach).

They will take you straight to the sandbar if you'd like or they will give you a tour of the area, such as around Destin Harbor, the East Pass, and will even take you to nearby beaches if you'd like!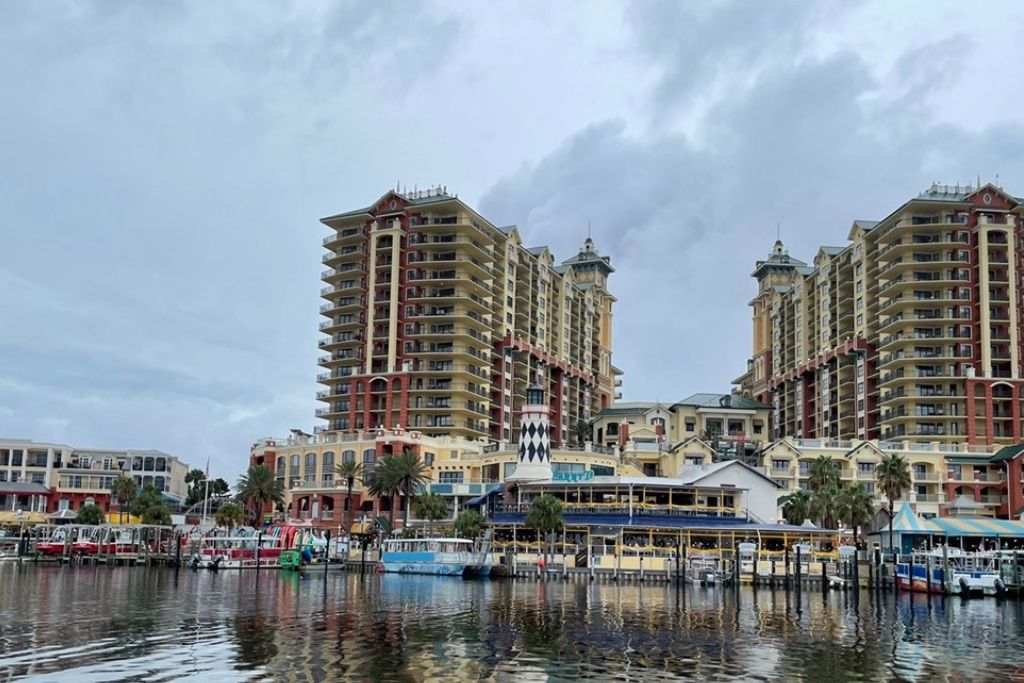 Costs do vary a bit but it is around $600 for a 4- hour pontoon guided tour during the busy season, which is May 1st-September 15th.

Slower season is September 16th-April 30th and the cost is about $500.

Crab Island Pontoon Rentals In Destin Florida
Here are some great Crab Island Pontoon Rental Options In Destin Florida that we recommend, depending on the size of your group- from 6 to 12 people!
Crab Island Tours Destin Florida
If you are interested in more Crab Island Tours In Destin, Florida, check out this post!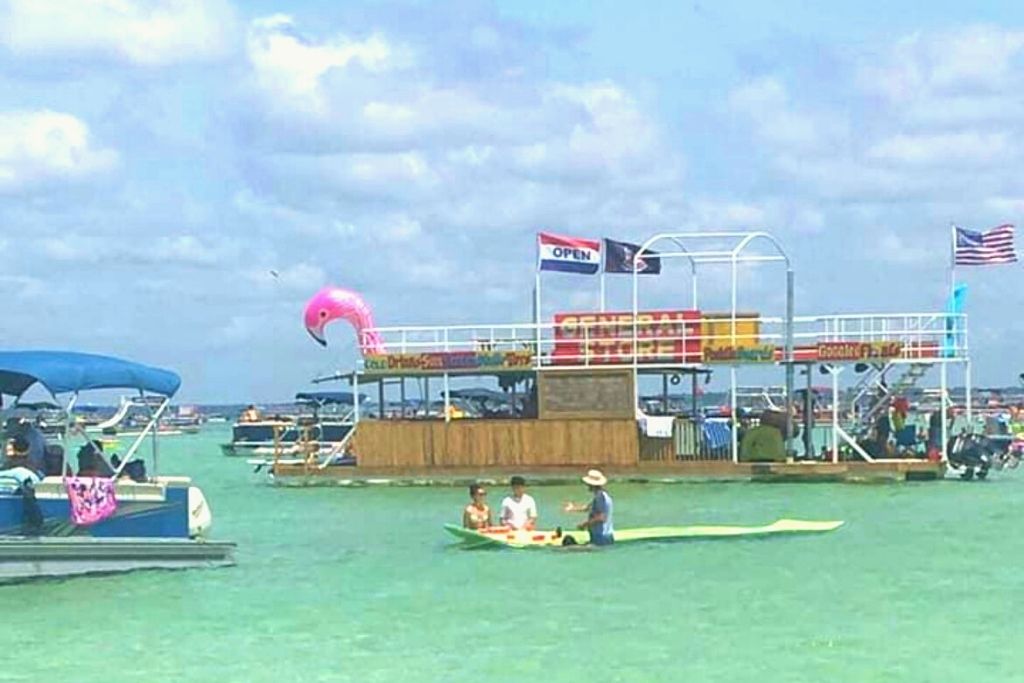 What Is There To Do At Crab Island?
Crab Island is one of Destin, Florida's most popular attractions for a reason, there's a lot to do here!

Whether you spend a few hours here or a full day, you're going to have a great time here.

Spend your time at the sandbar meeting the other visitors on the water, playing music, splashing on the lily pad, playing beer pong or other drinking games, or grabbing food and drinks from one of the food vendors.

There are lots of fish, hermit crabs, dolphins, and other marine life in Choctawhatchee Bay to look for.

Take a cruise in the waters around Crab Island.  We saw a group of dolphins out while we were driving around by Gulf Islands National Seashore!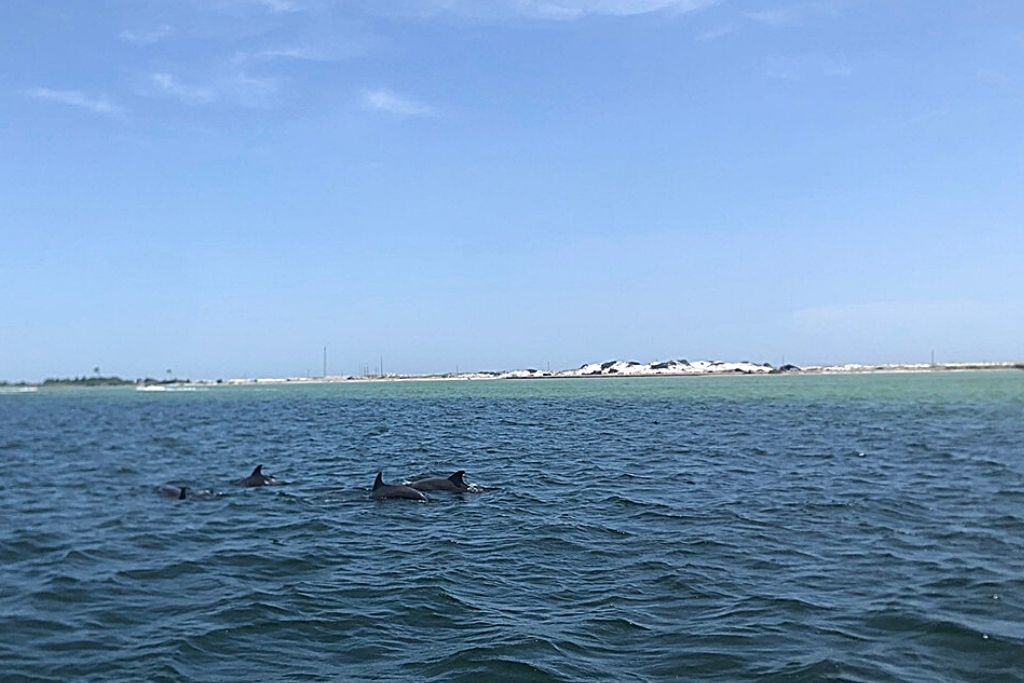 Fishing and snorkeling are both possible at Crab Island, as Destin is known as the "World's Luckiest Fishing Village"!  Just be careful of all the boat traffic.

You can also kayak or paddleboard around the island, or rent inflatables, too!  Oftentimes, there is an inflatable water park or inflatable obstacle course at Crab Island.

Crab Island- Things To Do Nearby

After a day of fun at Crab Island, there is still lots more fun to be had!  A few miles away in Fort Walton Beach, there is The Okaloosa Island Boardwalk (Pictured above).

The Boardwalk has a nice beach, fishing pier, as well as shops and restaurants.

Across the street from The Boardwalk is Wild Willy's Adventure Zone with a racing track, arcade, mini-golf course, and frozen yogurt.

As mentioned, HarborWalk Village is on the other side of the bridge from Crab Island.

HarborWalk is filled with shops and lots of activities, from axe throwing, a zip line, concerts, boat rides, and more.

There are several amazing waterfront restaurants including AJ's, Harry T's, and Margaritaville, just to name a few.

Dewey Destin's and McGuire's Irish Pub are also popular restaurants/bars just a few minutes from Crab Island.  AJ's and McGuire's Irish Pub are both known to have great live music.

For more of the best restaurants in the Destin area, go here!

Across the Destin Harbor is Norriego Point, which is a secluded beach with beautiful views of the East Pass and the Gulf of Mexico.

Crab Island- Things to Do Nearby
Fort Walton Beach
The Boardwalk
Wild Willy's
Gulf Islands National Seashore
Destin
HarborWalk Village
Norriego Point
Henderson Beach State Park
Gator Beach at Fudpucker's Restaurant


For more to do in the area, check out these 35 Things To Do In Destin And Nearby!
Is Crab Island Safe?

Crab Island is only a few feet deep in most spots and is generally safe, even for kids.  Most spots are waist-high or even shallower, but there are spots that are around 10 feet deep.

There also have been people that have drowned here due to attempting to swim in the areas that have deeper water and underestimating the currents.  Do not attempt to swim to shore!

Alcohol often plays a part in mishaps on the water, too.  So have fun, but stay alert as always when on the water!

This is another reason why I recommend a guided tour, they let you know where to go and what parts to stay away from.

Does Crab Island Sell Alcohol?

There may be vendors out on the island that sell fruity mixed drinks, but Crab Island does not sell alcohol!

You can bring your own, but again, just be sure to be safe while drinking and boating, there are also police in boats that patrol the area.


Is Crab Island Kid-Friendly?

We had two young kids in our group when we went to Crab Island and everything went great!

It can get a little rowdy later in the day, especially once the groups have been drinking for a while, so my recommendation is if you have kids, to go earlier in the day.

Weekdays are generally lighter crowds than weekends, especially holiday weekends, where the area gets packed.

We booked a 10 am-2 pm cruise during the middle of the week a few days after the 4th of July, which worked out well for a lighter crowd, and were still able to have the Crab Island experience!


What Should I Bring To Crab Island?

Oftentimes, there is a store out on the water that has some supplies, but it's always best to be prepared and bring your own supplies with you.

Things you want to bring for a day on Crab Island include sunscreen, a hat, sunglasses, water, towels, flip flops, goggles, waterproof case for your cell phone, a cooler, snacks, alcohol, and a bluetooth speaker.

Crab Island Cruises supplies lifejackets, a cooler with ice, bottled water, drinking games, a lily pad, and a first-aid kit.


When Is The Best Time To Visit Crab Island?

Everyone says that the best time to go to Crab Island is during high tide when the Gulf Waters deposit into the Choctawhatchee Bay, giving the water the beautiful, emerald-green color.

Otherwise, the best time of year to visit Crab Island depends on what you're looking for.  If you're looking for a party atmosphere, then Memorial and Labor Day Weekends, and the 4th of July will give you the best crowds.

Peak season at Crab Island is April to October.

If you're just looking for a little fun with the family, then anytime during the week is perfect.


Before You Go
One thing to note about Crab Island is that there have been more government restrictions going into place over the past few years, regarding the vendors and businesses allowed here, so make sure you check for updates online before you go!
Coming To Crab Island From Miramar Beach?
Check Out This Crab Island Shuttle Boat From Baytowne!
Where To Stay Nearby
Destin has a number of wonderful accommodations near Crab Island!
The first time I stayed in Destin, I stayed at The Palms of Destin, which is close to many of the popular area attractions, such as Henderson Beach State Park and The Track.
This place also has some great amenities, including a large outdoor pool and a nearby private beach.
Here are a few recommended accommodations.
⇓ Click Below For Details!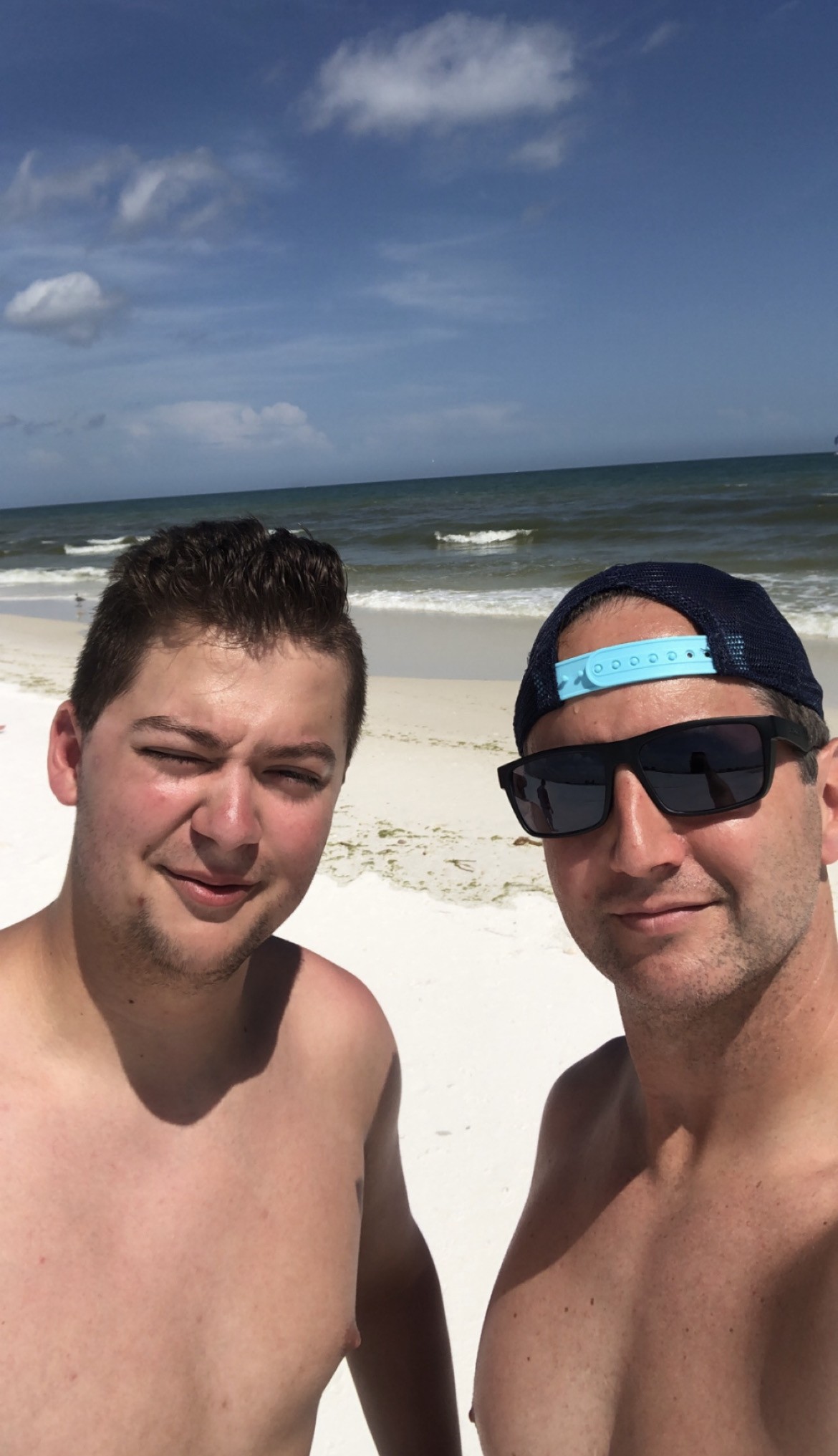 My son and I enjoying the beach near Crab Island!
Final Thoughts- Crab Island Destin Florida
There are many great things to do at Crab Island and it's easy to see why this is one of the top places to go in Destin, Florida!  I hope you've found this guide helpful.
For more Florida adventures, check out these
Unforgettable Things To Do In Anna Maria Island!
Travel Resources
Book Your Next Trip!  For Accommodations and short-term rentals, I recommend Booking.com as they are the best in the business when it comes to rates and places to stay.
To Book Activities- For activities, I suggest booking with Viator, they have thousands of 5-star activities to choose from!
Looking To Start Your Own Travel Blog Or Take Yours To The Next Level? 
Check Out This Free Workshop!– I personally joined Scale Your Travel Blog in 2021 and my website has grown exponentially.