Last Updated on November 19, 2022
Always On The Shore contains affiliate links and is a member of the Amazon Services LLC Associates Program.  If you make a purchase, we make a small commission at no cost to you. For more information, please read the disclaimer page. 
Seaside, Florida is a memorable city along Scenic Highway 30A on Florida's Gulf Coast.  This post will cover the best things to do in Seaside and nearby, including the best 30A beaches!

This charming resort town in Northwest Florida offers something for everyone in the family.  For starters, Seaside is filled with beautiful colorful houses that line its streets, creating a picture-perfect postcard setting.

Seaside, Florida is an amazing small-town experience with plenty of fun things to do.  This idyllic place is just what you need to get away from reality and relax on your next vacation!
Here are some of the best things to do in Seaside, Florida, and nearby, including the best beaches!
17 Amazing Things To Do In Seaside, Florida (+Best Beaches)!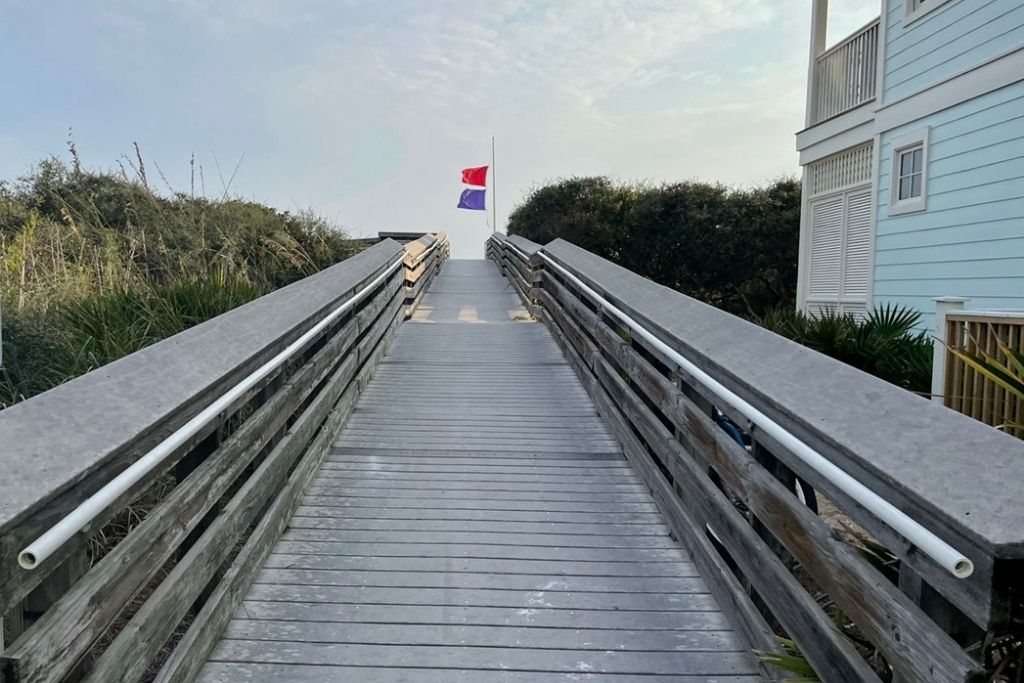 1. Spend The Day At Van Ness Butler Beach

It wouldn't be a day in Seaside, Florida without hanging out at the incredible 30A area beaches!

Van Ness Butler Jr. Regional Beach Access is located on the border of WaterColor and Seaside, with great scenery and amenities.
There are lifeguards during the busy season and is handicapped accessible with a ramp.  There is a big, free parking lot with parking/restrooms across the street located at 20 Western Lake Drive.
It's also located next to the town center with all the food trucks and shops!
Van Ness Butler Jr. Regional Beach Access
1931 E Scenic Hwy 30A, Santa Rosa Beach, FL 32459
Looking for a beach activity to do with the family or friends?
Whether it's just one person or a large group, their coaches will come to the beach you're at and give you 2-hour lessons.
With their tips and techniques, you'll be building art in the sand in no time!
2. Take A Swim At Seagrove Beach

Another one of the most popular Scenic Highway 30A beaches, Seagrove Beach has several public beach access points throughout, such as San Juan Beach Access.

This beach is right in the heart of Seagrove.  San Juan Beach Access only has a small parking lot so get here early.  There are limited amenities at this beach, but the wonderful Gulf views make up for it!

Seagrove Beach is a great place for swimming or just relaxing at the beach with the family.  You can even make your night at the beach more special with a bonfire at the beach!  (You can do this in Seagrove Beach but not Seaside).

San Juan Beach Access #18
Explore The Other
Beaches Near Seaside, Florida!
3. Blue Mountain Beach

Blue Mountain Beach is a hidden gem that not many people know about! It's located just northwest of Seaside and offers gorgeous emerald waters and sugar-white sands, and nearby is some of the best food in the area.

It gets its name from the large sand dunes, which put this area at the highest elevation in South Walton.   It's also named after the blue flowers that grow in the sand dunes.

There are also nearby trails for people who enjoy hiking or biking on their vacations.  Blue Mountain Beach and its emerald waters is ranked as one of the best 30A beaches in Florida!

While here, be sure to visit the Blue Mountain Beach Creamery for some ice cream or frozen yogurt!

Blue Mountain Beach
475 Blue Mountain Rd, Santa Rosa Beach, FL 32459
4. Santa Rosa Beach (Ed Walline Beach Access)

Ed Walline Beach Access provides easy beach access for locals and tourists alike!

This free public park features parking, restrooms, picnic tables, pavilions, a viewing platform, and lifeguards during peak season.

If you're looking for a great place to relax and spend your day on the Gulf Coast soaking in the sun and enjoying some fun in the sand with friends or family members, then check out Ed Walline Beach in Santa Rosa Beach.

This beach is one of the best things to do in the Seaside area, and is right across the street from Gulf Place shops and restaurants!
5. Dune Allen Beach

Just a short drive from Seaside, Dune Allen is located on the west end of Scenic 30A, with seasonal lifeguards, parking, and restrooms, near several beaches and coastal dune lakes.

The beach access offers a beautiful and unspoiled beach to enjoy in Santa Rosa Beach Florida. It is located on Scenic Highway 30A.

This public access has plenty of parking for cars with restrooms nearby as well as lifeguards during the summer months.

The area also features several coastal dune lakes that are great spots for fishing or kayaking.  There are picnic tables at this location along with a long stretch of soft white sand, perfect for relaxing in a beach chair while watching sunsets over the Gulf of Mexico!

Dune Allen Beach- Fort Panic Beach Access
6. Topsail Hill Beach

If you're looking for adventurous things to do while in Seaside, Florida, Topsail Hill Preserve is nearby and a unique Florida spot that offers the best of everything.

This Florida state park is the perfect location for enjoying all that the area has to offer including fishing, swimming, kayaking, and paddleboarding on the Gulf of Mexico or biking trails along scenic routes.

The preserve covers over 1,000 acres and protects both land and water resources.  There are areas set aside for camping, wildlife viewing, picnic tables, and shelters, as well as a lighthouse.

It's also home to some of the most beautiful sand dunes in Florida.  If you're looking for family fun on the beach this summer then be sure to visit Topsail Hill Preserve State Park!

It's about a mile walk to the beach from the park entrance but they have a trolley that comes through every 20-30 minutes and will give you a ride to the beach.

Topsail Hill Preserve State Park
7525 West County Highway 30A, Santa Rosa Beach, FL 34259
Seaside honors the late Vincent Scully with this large mural in the downtown area. 
7. See The City Landmarks

For such a small community, Seaside has many things to do and iconic places that are a must-visit while here!

The Truman Show House
The Truman Show House is one of the most popular attractions in Seaside Florida. It was featured in the movie "The Truman Show" starring Jim Carrey and should be on your to-do list, for any fan of this classic film.

This landmark is located at 31 Natchez Street, Santa Rosa Beach, FL, 34259. 

In the movie, the city was called Seahaven and was on an island, but Seaside is not actually on an island!  Go here to see more places from Seaside that were shown in the film!

The Chapel at Seaside
The Chapel at Seaside is located near the center of town behind Ruskin Place Park.  It's a favorite place for visitors and pictures, it's also a popular wedding spot!

The Chapel is a must-visit while in Seaside.  It's located at 658 Forest Street, Santa Rosa Beach, FL 34259.

Beach Pavilions
As Seaside, Florida is known as a unique vacation destination, the city is also known for its distinct architecture and design.

The city has 9 pavilions that serve as landmarks and entrances to the beach. The pavilions are maintained by the different street associations throughout the community, and they look different from one another.

Seaside Post Office
The Seaside Post office is not only one of the oldest buildings in the community and an iconic photo spot, but it's also one of the most important ways that Seaside has legitimized itself as a city.

Located at 99 Central Square, Santa Rosa Beach, FL, 34259.

8. Hang Out At Central Square Or Visit The Farmers Market

Located between the Seaside's shops and food trucks (next to Modica Market) is Central Square!

One of the most relaxing things to do in Seaside, Central Square is a grassy park area with lots of room for the kids to run around and play.  It also makes a great spot to catch a Florida sunset!


Come here every Saturday for the Seaside Farmers Market and different events during the year, including the Harvest Wine & Food Festival.

They also have movies and shows at the Amphitheater around holidays and throughout the year.  Bring your lawn chairs or sit in the grass for a fun evening with the whole family!
Photo Credit Trip Advisor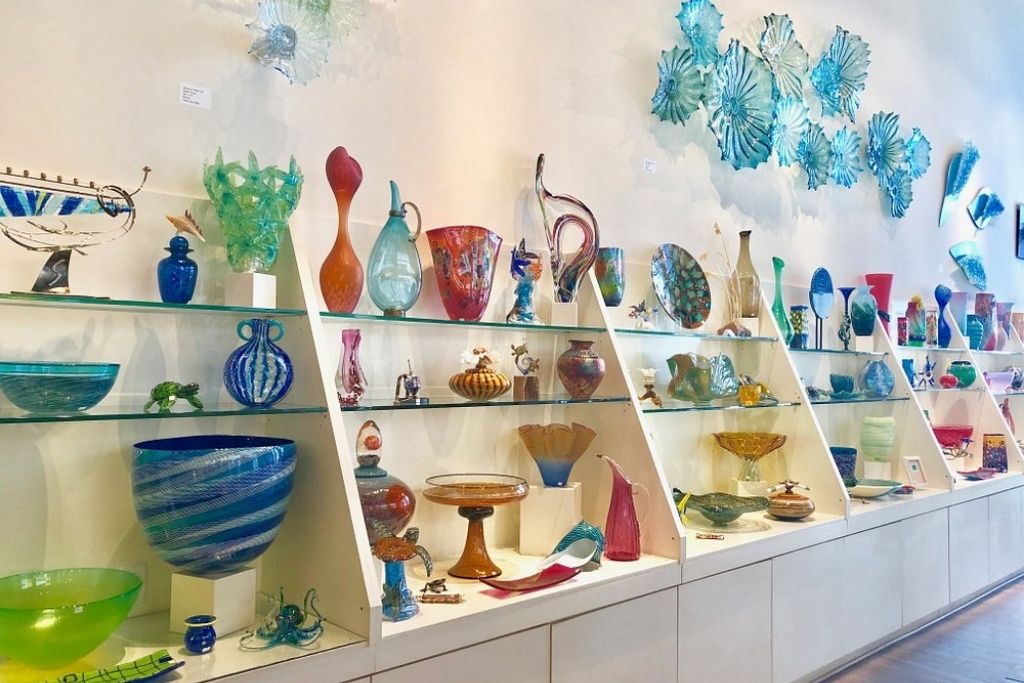 9. Stop By The Art Galleries And Shops

Located next to the town square area, Seaside has a number of shops!

Fusion Art Gallery has been serving the community for over 20 years by providing an outstanding venue for artists to showcase their work.

The art gallery and shop features glass art, jewelry, ceramics, paintings, and sculptures created by more than 150 visual artists from around the world!

Other nearby shops and stores include:
10. Grab A Bite To Eat From The Food Trucks

One thing that gets your attention as you're driving through Seaside, Florida is all of the food trucks right along the highway at Central Square!

From gyros to bbq to hot dogs to shaved ice to grilled cheese, these airstream trailers have the foods that you're looking for!  Most of the food trucks serve drinks or beer, too.

Grab a bite to eat and have a little picnic on the grass at the town square.  There is plenty of space here to hang out and eat your food.  Or you can walk across the street towards the beach to find more seating.

The food trucks here include:
Just across the street, there are several more restaurants and bars right along the waterfront! 
Cocina Cubana
has Cuban food and bowls.
Pickles is known for their burgers, shakes, chili dogs, and of course their fried pickles!
The Shrimp Shack
has steamed shrimp, oysters, gumbo, and lobster rolls.   They serve, beer, wine, and daiquiris here, too.
Great Southern Cafe
is a cozy spot next to Sundog Books with seafood, sandwiches, and southern foods.
Cool off with a Bushwacker or one of the other frozen drinks at b.f.f.'s right next door.
11. Ride Bikes Around Town!

If you're going to be in Seaside, Florida for an extended amount of time, then renting bikes is a great option for getting around the area!

Watercolor, Seaside, and Seagrove Beach are all so close to each other and there are lots of cool shops, restaurants, and beaches in all of these communities.

Seaside sits in between WaterColor and Seagrove, which are only just over a mile apart!

Most of the beach accesses have bike racks and they have them in many of the public areas, as well.

There are many companies in the area, these are just a few options!

Seaside Transit Authority
30A Bike Rentals
Peddlers
Looking For A Convenient Way To Get Around Seaside?
Hop On One Of These Electric Bikes!
12. Visit Grayton Beach

Just a few minutes' drive from Seaside, Florida is Grayton Beach!

Grayton Beach is a beachfront town known for its beaches and activities near the Gulf along 30A Highway.

Just a block away from the public beach are popular restaurants such as The Red Bar and Chiringo.  Be sure to check out the art as seen above when nearby!

AJ's Grayton Beach and Grayton Brew Pub are just north along Highway 30A.

Grayton Beach is most well known for Grayton Beach State Park, which features miles of hiking and biking trails, fishing, paddling, campgrounds, cabins, and a nice stretch of beach.

13. Travel The 30A Scenic Route

One of the best things to do while in Seaside, Florida is exploring the Santa Rosa Beach area.

As Highway 98 takes you from Destin to Panama City Beach, Highway 30A often runs parallel and takes you along the scenic coastal route!

Starting in Santa Rosa Beach, Scenic Highway 30A takes you along the Gulf Coast through beach towns such as Dune Allen Beach, Blue Mountain Beach, Grayton Beach, WaterColor, Seaside, Seagrove Beach, Watersound, Seacrest, Alys Beach, and Rosemary Beach.

With many beaches, access points, parks, restaurants, and shops along this 20-plus mile stretch, the 30A scenic route is worth checking out!

14. Have Dinner With A View At Bud & Alley's Waterfront Restaurant

Bud & Alley's has been around for over 30 years and offers the best dining experience in Seaside, Florida!

The waterfront restaurant is a cozy, relaxed place to enjoy fresh seafood and drinks with friends and family.

You can sit on the rooftop terrace or in their dining areas overlooking the water.  They have an extensive wine list, craft beers, and specialty cocktails.

Their menu features fresh fish of the day, steaks, and seasonal specials prepared with local ingredients whenever possible.

If you're looking for a little more casual atmosphere, they also feature outdoor casual eateries next door including Bud & Alley's Taco Bar, as well as the Pizza Bar & Trattoria.

Bud & Alley's Waterfront Restaurant & Bar
15. Go Kayaking At The Beach Or Nearby Lakes

There's no better way to enjoy the Emerald Coast than by getting on the water!

When you're in Seaside, Florida you have some great options for kayaking including right at the beach, Western Lake at Grayton Beach State Park, and Eastern Lake at Point Washington.

Northwest Florida has some of the best landscapes and opportunities for watersports but always be safe and use caution!

Here are a couple of the best options for rentals:

WaterColor Boathouse -Kayaks and Paddleboards
Yellowfin Ocean Sports– Kayaks, Paddleboards, and Bikes
16. Explore The Trails At Point Washington State Forest

If you're looking to get away into nature for a little bit, come enjoy a day or afternoon at Point Washington State Forest.

This beautiful park offers plenty of opportunities for outdoor activities like hiking, biking, horse trails, and more!

You can also fish, hunt, or camp overnight in one of their campsites. With over 15 thousand acres available to explore, there's no way your adventure will be boring!

Other nearby state parks include:

Topsail Hill State Preserve
17. Visit The WaterColor Shops & Restaurants

Of course, one of the best things to do while in Seaside, Florida is to visit the neighboring shops and restaurants.  Just a short walk from Seaside is Watercolor and its boutiques, shops, and restaurants right by the Gulf!

WaterColor is one of the area's best-kept secrets and much like Seaside has a small-town vibe to it.

Cozy restaurants and eateries such as Scratch Biscuit Kitchen and 30A Beach Happy Cafe make WaterColor a nice and relaxing place to visit.

If it's casual fine dining that you're looking for, The Wine Bar is a great option.

Fish Out Of Water is an area favorite and has incredible Gulf views.

And if you're looking for outdoor activities while here, Watercolor is perfect for fishing and kayaking since Western Lake is right nearby, or you can take a stroll around Cerulean Park.
Where Is Seaside, Florida located?

Seaside is part of the Santa Rosa Beach area and is located near a couple of major Florida cities, Destin and Panama City Beach.

Located roughly 40 minutes east of Destin and 45 minutes west from Panama City Beach, Seaside, Florida is tucked away on Scenic Highway 30A.

Highway 30A has many great beaches along this route, which runs along the Gulf Coastline in South Walton County Florida!
Other cities near Seaside, Florida include WaterColor, Miramar Beach, Grayton Beach, and Seagrove.

Both WaterColor and Seagrove are within walking distance of Seaside.  Every place and activity in this post is within 20 minutes of Seaside!
Things To Do In Seaside- FAQ's
What Is So Special About Seaside, Florida?

From the pastel homes to the beach pavilions and the downtown area, Seaside, Florida is known for its unique architecture and was founded as a New Urbanist community.
This means that Seaside was designed from the ground up to encourage friendly and walkable streets, while also preserving its natural beauty.  Visiting this city feels like taking a step back in time, which is why it was a perfect location for filming the movie The Truman Show!

The town has pristine beaches and nearby 30A beaches that are great for swimming or surfing, while white picket fences surround beautiful homes.

Seaside's town square area is popular to visit, with people checking out the farmers' market, food trucks, quaint shops, and landmarks.

Is Seaside, Florida Worth Visiting?

Whether you're looking for something to do for the afternoon or an extended vacation, Seaside, Florida and the nearby towns have a lot of activities to do and are definitely worth visiting.

Seaside really is a much different feel and experience than other resort towns in Florida!

What Airport Should I Fly Into For Visiting Seaside?

The Northwest Florida Beaches Airport is only 45 minutes away in Panama City Beach.   I've also used the Pensacola International Airport which is just 2 hours from Seaside.

Day Trips From Seaside, Florida
√ Panama City Beach
√ Miramar Beach
√ Destin 
√ Pensacola 
√ Navarre Beach
Restaurants In Seaside, Florida & Nearby
√ Bud & Alley's
√ Shrimp Shack 
√ Fish Out Of Water
√ The Wine Bar-  Watercolor
√ Scratch Biscuit Kitchen
√ Surfing Deer
√ Great Southern Cafe
√ Food Trucks On Airstream Row
When Is The Best Time To Visit Seaside?

October through April are the best months to visit since the temperatures are a bit cooler and the humidity has gone down.

Plus, you will avoid the summer crowds and you can usually get better prices on hotel rentals in the area.

Where To Stay In Seaside, Florida & Nearby!
There are several beach resorts lined up along the Gulf Coast.  Take a look at these vacation rentals and hotels in Seaside and nearby!
Conclusion: 17 Amazing Things To Do In Seaside, Florida (+Best Beaches)!
As you can see, there are several amazing beaches along Scenic Highway 30A and many great things to do in Seaside, Florida, and nearby!
For more fun near Seaside, check out how to spend an amazing day at
Crab Island in Destin, Florida!
Travel Resources
Book Your Next Trip!  For Accommodations and short-term rentals, I recommend Booking.com as they are the best in the business when it comes to rates and places to stay.
To Book Activities- For activities, I suggest booking with Viator, they have thousands of 5-star activities to choose from!
Looking To Start Your Own Travel Blog Or Take Yours To The Next Level? 
Check Out This Free Workshop!– I personally joined Scale Your Travel Blog in 2021 and my website has grown exponentially.