Always On The Shore contains affiliate links and is a member of the Amazon Services LLC Associates Program.  If you make a purchase, we make a small commission at no cost to you. For more information, please read the disclaimer page. 
Shell Island, Florida is a 7-mile-long stretch of land with pristine beaches and beautiful white sand, just off the coast of Panama City Beach.  In this post, we look at things to do at Shell Island and tips for visiting this Florida gem!  
This undeveloped barrier island sits right on the Gulf Coast and allows visitors to have the rare experience of enjoying a Florida beach without the large crowds.
It's a fairly small island, spanning just ¾ of a mile at its widest point. 
On one end of the island is St. Andrews State Park, and on the other is the Tyndall Air Force Base.
Being only accessible by boat makes this Florida beach much less visited than other popular locations, and allows it to remain quite serene.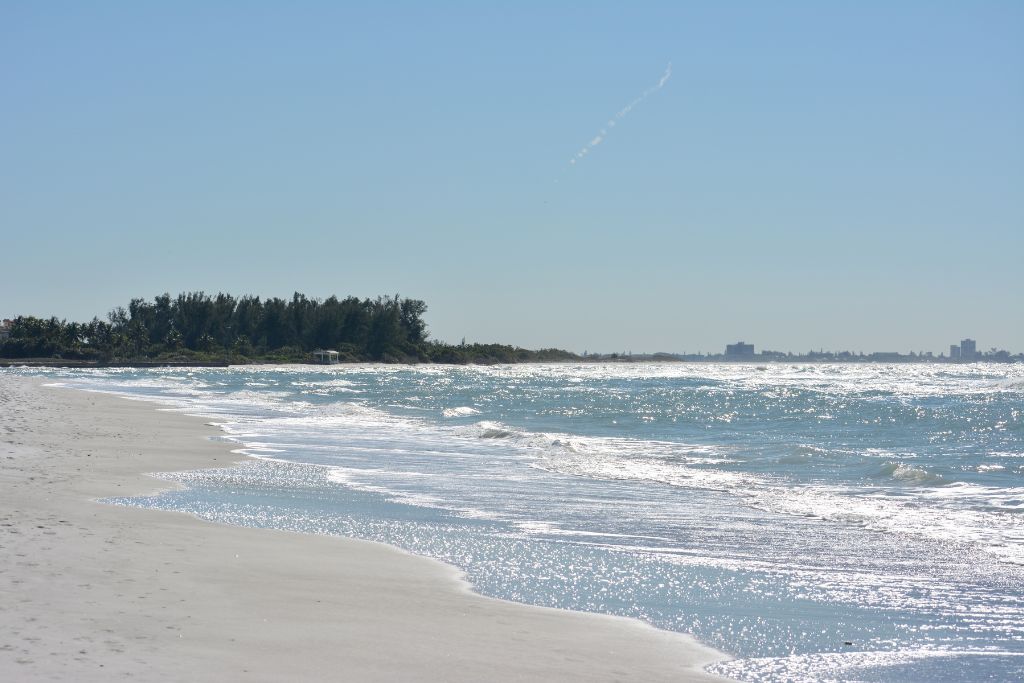 Is Shell Island Worth Visiting?
Yes, Shell Island is very worth visiting.
This beautiful location on the Gulf of Mexico is undeveloped and allows visitors and locals to enjoy the natural beauty without being interrupted by huge crowds.
Many people are surprised at its pristine beauty.
You'll also have the opportunity to see bottlenose dolphins, as the island is home to one of the world's largest resident populations of them!
If you have the means of getting to the island, since it is only accessible by boat, it's definitely worth the visit!
How To Get To Shell Island, Florida
Since you can't drive to Shell Island, it does take a bit of planning to arrive on the island.
The best way to get there is via the official Shell Island Shuttle, which runs daily in the spring, summer, and early fall.
The shuttle leaves from Panama City Beach and is the easiest and fastest way to get to the island. 
In the summer, the boat departs about every 30 minutes, so you're able to stay for as long as you'd like until the last boat ride of the day. During spring and fall, the boat leaves every hour.
Another popular option for getting to the island is renting your own pontoon boat, which allows you to drive around the bay side of Shell Island at your own pace.
You can then explore other parts of the island that you may not have been able to if you take the shuttle.
How Much Does It Cost To Visit?
Aside from the shuttle or boat rental to get to the island, there is no additional cost to simply visit Shell Island, Florida.
For a round-trip ticket, the shuttle costs $24.95 per adult and $17.95 per child.
Pontoon rentals vary based on how long you need the boat but typically range from about $150-$400.
If you choose to do any tours, such as snorkeling or dolphin watching, you'll need to add the cost of that in.
Also, if you'd like to visit St. Andrew State Park, on the western tip of the island, the cost is $8 per vehicle.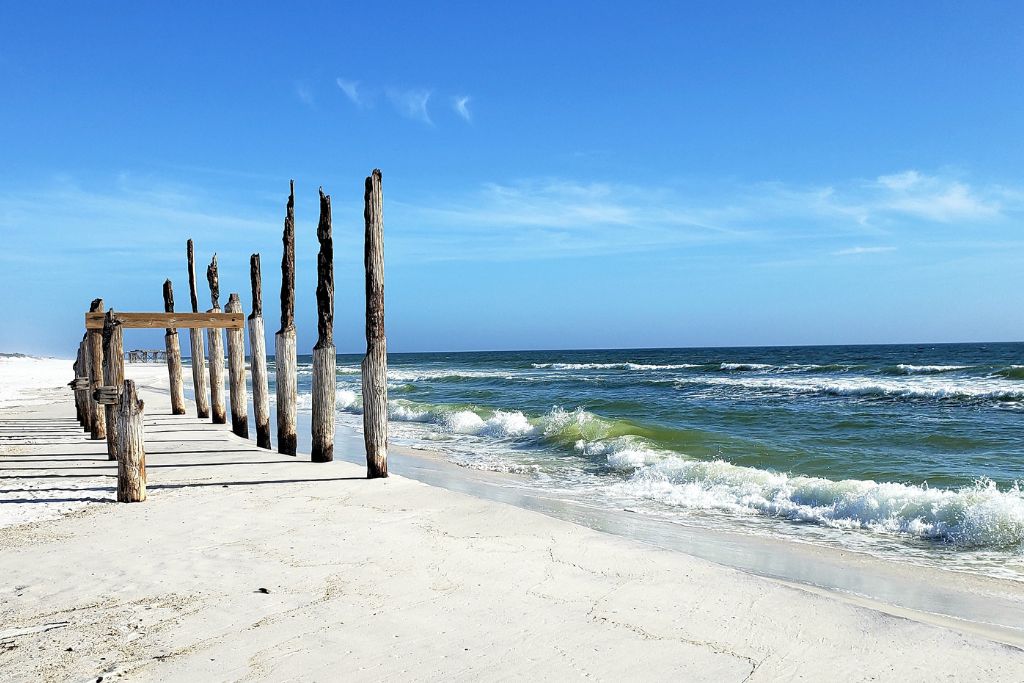 Tours & Things To Do On Shell Island
Take A Snorkeling Boat Tour
On this snorkeling tour, you'll spend one hour at Shell Island and two hours out on the water in search of dolphins and beautiful views.
During this time, keep an eye out in the water for the bottlenose dolphins that call this area home, as they're often spotted during the tour.
You'll have use of snorkel gear and will be able to search for sand dollars, tropical fish, and other sea creatures.
There is also a slide on the boat that goes into the water for young children to enjoy.
Go On A Deep-Sea Fishing Tour
If you're a fan of fishing, then you may be interested in a deep-sea fishing tour, such as the ones held by Captain Anderson's Marina in Panama City Beach.
There are a variety of tours available that vary by time out on the water as well as by what time the tour leaves.
Dolphin Seafari also offers private fishing charters, which allow you to head out on the water with just your group and no other strangers.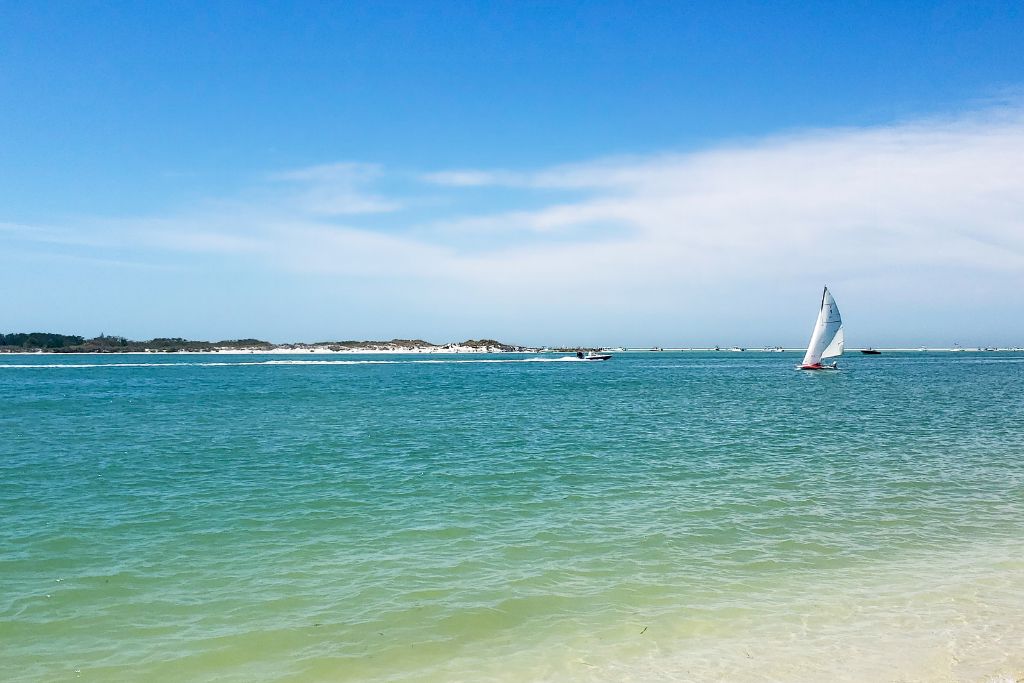 Go On A Sunset Catamaran Cruise
Board a catamaran for this nice sunset cruise around the Gulf of Mexico and enjoy some of the most beautiful views from the water.
Keep an eye out for dolphins as you watch the sun go down beyond the horizon, and enjoy a complimentary drink.
This is the perfect way to spend an evening with a special someone or just as a family.
Snorkel Near The Shore Of Shell Island
If you aren't quite up for taking a tour, you can also rent snorkel gear from the Shell Island Shuttle and just snorkel right off of the shore!
The western side of the island, often known as the 'Children's Pool,' offers some pretty great snorkeling in shallow waters.
Once you've gotten more comfortable with it, you can venture out a bit further into the Gulf and look for tropical fish, crabs, and the island's resident dolphins.
Rent A Pontoon Boat
Renting your own boat rather than taking the shuttle allows you to better explore hidden parts of the island with your group.
Most boats can hold up to 10 people, so you're able to fit a pretty large group onboard.
It also allows you to head out into the water and search for dolphins on your own without having to book a tour or wait to get back on the shuttle.
Boat rentals are available at a few different vendors in Panama City Beach including from the Shell Island Shuttle company.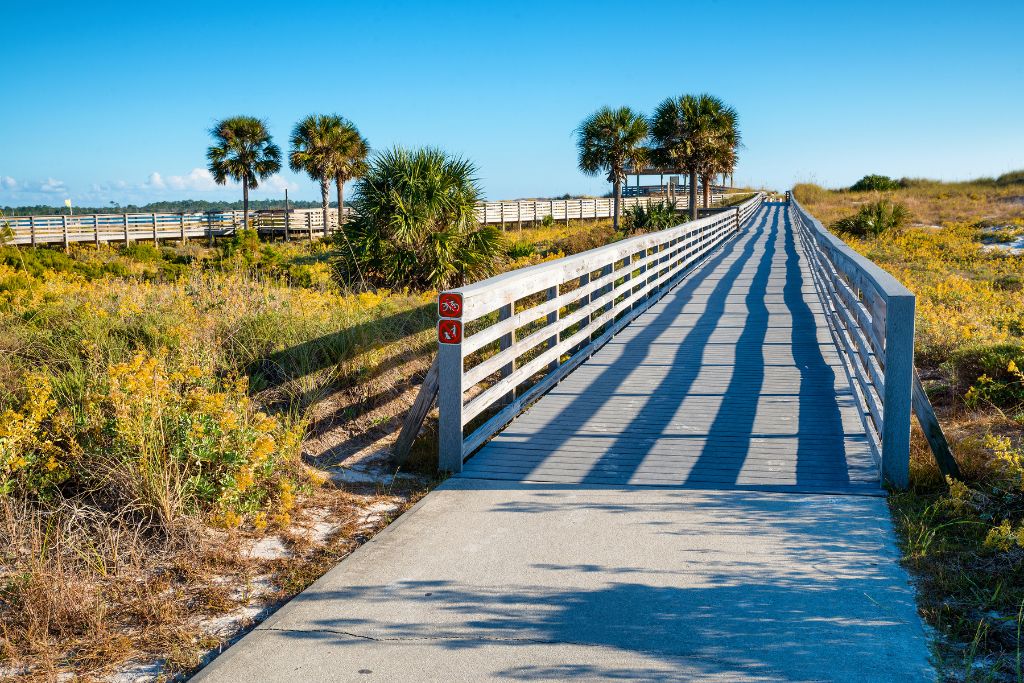 Hike Or Bike At St. Andrews State Park
St. Andrews State Park is a 1,200-acre park with sand dunes and coastal scrub forests to explore.
The Gator Lake Trail is a popular 0.5-mile trail that passes Gator Lake with the chance to see wildlife, including alligators. 
Jetty Beach and Sandy Point are other popular spots in the park where you can lounge on the soft sand.
There also is a 2-mile paved bike trail that you can check out with their bike rentals.
Search For Seashells
Hence the name, you can stroll along the coast of the Gulf of Mexico in search of shells while you're on the island.
Sand dollars, conch shells, moon snail shells, and more are some of what you might find in your hunt.
Relax On The White Sand Beach
The gorgeous white sand on Shell Island acts as one of the best places to just lay out your towel and relax under the palm trees.
Spend some time watching out in the clear waters for dolphins, or wading in the shallow water, right off the coast, as you soak in the sunshine.
Watch For Wildlife In Their Natural Habitat
A variety of wildlife call Shell Island, Florida home including shorebirds, ghost crabs, loggerhead turtles, a large pod of resident bottlenose dolphins, and more.
Walk along the beach and see if you can spot any dolphins out in the water or any turtles during nesting season, which is May through October.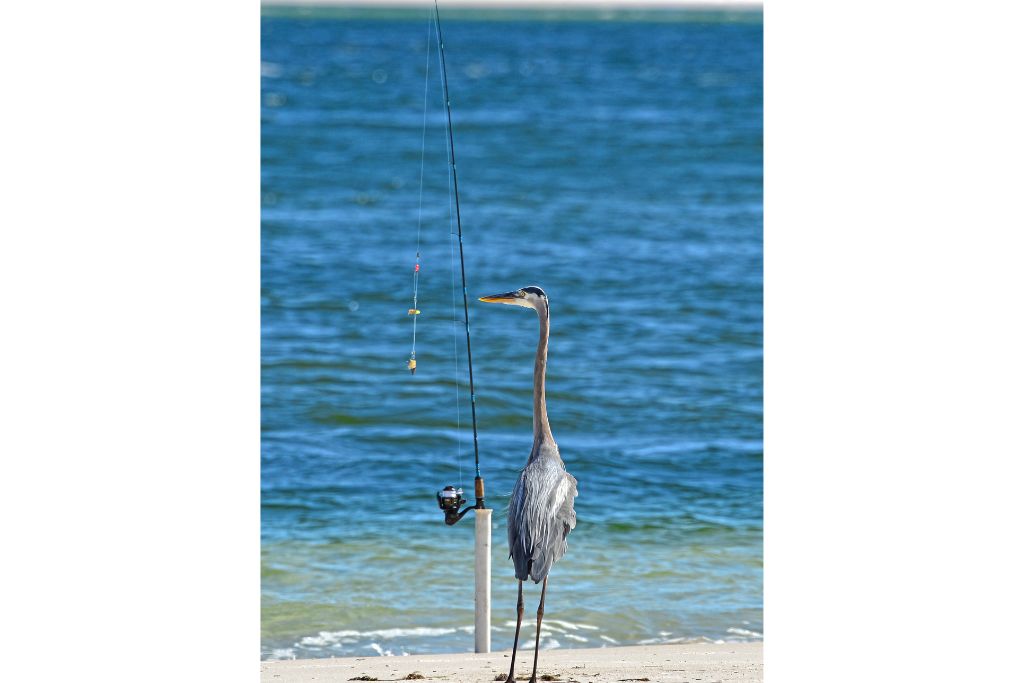 Tips For Visiting Shell Island
Before heading to Shell Island, be sure to follow these tips to ensure that you have an enjoyable experience.
Plan to have enough food and water with you for the entire time that you'll be on the island, as there are no restaurants, snack bars, or vending machines available.
Bring a small bag with you for collecting seashells, as you are allowed to take some home, as long as there is no living creature inside.
Pack plenty of sunscreen as the Florida sun can get very hot!
Bring an umbrella with you for some shade as there is minimal shade on the island.
There also is no bathroom on Shell Island, so be sure to use it before you get on the shuttle!
Shell Island Florida- FAQs
Can You Swim On Shell Island?
Yes, swimming is allowed on both the Gulf coast and the Bay Side of Shell Island, which is surrounded by beautiful turquoise water.
What Is The Best Time To Visit Shell Island?
The best time to plan a visit to Shell Island is in the spring and fall because the temperatures aren't as unbearably hot and there are fewer crowds.
If you'd like to see dolphins, they tend to be most active in the late afternoon and early morning.
Does Shell Island Have Food?
No, because Shell Island is undeveloped, there is no food on the island. Be sure to pack your own lunch and snacks for the day!
Is There Anything On Shell Island?
Aside from the visitors and pure beauty, Shell Island is uninhabited and undeveloped, so you won't find anything on the island.
There are no facilities, bathrooms, concession stands, or trash cans.
Please be sure to leave the island as you found it!
Shell Island Florida: Final Thoughts
If you're looking for a beautiful pristine beach in Florida where you can relax, spot wildlife, and spend time away from the huge crowds, consider a visit to Shell Island.
Shell Island, Florida is an undeveloped, long, barrier island off the coast of Panama City Beach that is highly worth a visit during your next family vacation in the Sunshine State!
Travel Resources
Book Your Next Trip!  For Accommodations and short-term rentals, I recommend Booking.com as they are the best in the business when it comes to rates and places to stay.
To Book Activities- For activities, I suggest booking with Viator, they have thousands of 5-star activities to choose from!
Looking To Start Your Own Travel Blog Or Take Yours To The Next Level? 
Check Out This Free Workshop!– I personally joined Scale Your Travel Blog in 2021 and my website has grown exponentially.