Last Updated on January 18, 2023
South Florida is world-renowned for its beautiful beaches.  From the famous Miami Beach to the secluded beaches of Anna Maria Island, there are amazing beaches on both the Gulf and Atlantic Coasts. 
Whether you are looking for a place to relax and soak up the sun or you want to enjoy some of the best fishing and surfing in the country, South Florida has a beach that is just for you.
The clear, warm waters of South Florida are perfect for swimming, snorkeling, and scuba diving.  There are also many charter boats available for deep sea fishing trips.
For those who prefer to stay on land, there are plenty of opportunities for sunbathing, picnicking, and just exploring the natural beauty of South Florida's beaches.
Here are some of the best beaches to visit while in South Florida!
7 Amazing South Florida Beaches To Visit!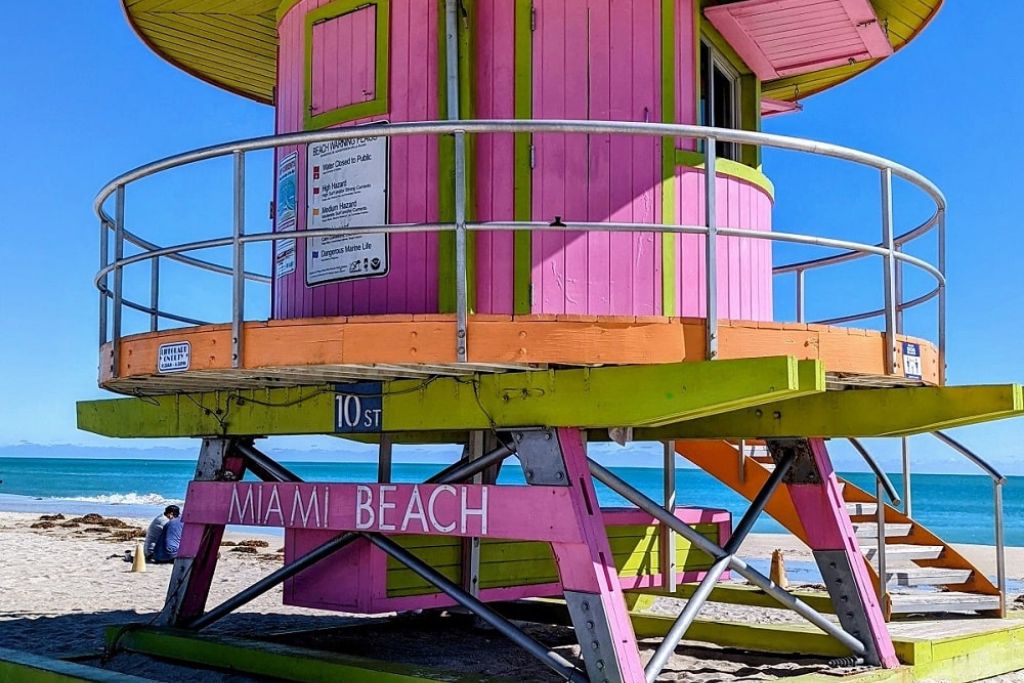 1. Miami Beach
If you're visiting South Florida, you can't miss checking out one of the most famous beaches in the US — Miami Beach!
Visiting here is more than just exploring and relaxing on the 10 miles of gorgeous white sands. The area home to Miami Beach is known for epic nightlife, high-end shopping, and an abundance of dining — it even beckons celebrities from across the globe.
It's hands down one of the best things to do in Miami and also one of the best areas in Miami to stay, especially if this is your first visit!
If you're not into an all-night party scene, it is a good idea not to book accommodations on Ocean Drive (across from Lummus Park), which is home to countless bars and nightclubs. Choose a hotel a couple of streets away.
The best time to visit Miami Beach for optimal weather and fewer crowds is between March and May (except for spring break). 
June through November is Atlantic hurricane season, so keep that in mind if you see a fantastic airfare deal — the weather could be risky.
Recommended by Rebecca Gade Sawicki from Veggies Abroad
Hotel Recommendation In Miami Beach
2. Anna Maria Island
Located just off the coast in Florida's Gulf is the state's hidden gem, Anna Maria Island.  Not only does it offer the most beautiful white sandy beaches, it is also rich in history and culture too.
Anna Maria Island is sunny on average 360 days of the year, so wash away your winter blues with a trip here.
With only 7 miles of private coastline, you can enjoy the secluded beaches of Anna Maria, Bradenton Beach, and Holmes Beach.
From outdoor adventures to water excursions, Anna Maria Island offers it all.  Catch a wave or paddle board out and see a few tropical fish.
Don't forget to go sightseeing on a dolphin tour to get a panoramic view of the island from your boat. If you are a history buff, don't worry, this is the place for you.
Make sure to check out the Historic Green Village to enjoy the architecture and charm of this old neighborhood. 
You will want to make sure you stop by the Blue Marlin, a locally owned restaurant with so much to offer.
Enjoy the gulf-front or bay-front seating and sunset while you dine on the delectable seafood. Anna Maria can accommodate a group of any size, small or large.
The unique vacation rentals they offer on the island truly make it feel like home.
Recommended by Savannah Smith from Anna Maria Island Beach Rentals  
Hotel Recommendation In Anna Maria Island
3. Jupiter/Juno Beach
Jupiter and Juno Beach kind of merge together in the northernmost part of Palm Beach County.  Known as a fishing and golfing destination, Jupiter is a great alternative to some of the busier beaches further south in Florida.
During the winter and spring months, the beaches here do get busy and police will block off the parking lots, but it is nothing like the crowds of South Beach or Fort Lauderdale beach. 
Large clumps of seaweed can be a problem at these beaches in the summer months, but during the busy season, the beaches are beautiful and Caribbean-like. 
Aside from the physical beauty, one of the most attractive aspects of the Jupiter and Juno beaches is that they have free parking.
As you go south of Boynton Beach, every beach charges for parking, but these more northern beaches still offer free parking. 
Besides the huge number of golf courses in the area, there are lots of other activities like nature walking, a lighthouse museum, snorkeling, kayaking, paddleboarding, occasionally surfing, a sea turtle rehabilitation center, a wildlife sanctuary, jet ski rentals, boat rentals and more.
You can also find a dog friendly beach closer to the Juno Beach pier if you're traveling with your furry friends. 
The best areas to find hotels near or on the beach are at US Highway 1 and Donald Ross as well as US Highway 1 and Indiantown.
Another popular and cute area to stay a little further inland is Abacoa where they have a main street with restaurants and shops, professional baseball games, golf, parks and frequent shows and events. 
Although it is the busiest and most expensive time to visit, the winter and spring seasons are the best times to visit Jupiter and Juno Beach.
The summer and fall months will be cheaper but rain is more common, hurricanes are a possibility and the seaweed is smelly and annoying. 
Recommended by Haley from Fernweh Foreigner
Hotel Recommendation In Jupiter
4. Key West
It is true that there are several other beaches you can explore in Florida.  However, Smathers Beach is the biggest among all of them.
Apart from that, its fascinating features are worth checking out especially from March – May.
You can start by visiting Paradise Café.  This is the best place to enjoy breakfast.  Louis Backyard also offers some unforgettable dishes and wines.
In case you don't have the budget to visit these places, sunbathing and swimming are free.  Some water sports you can take part in are jet skiing, parasailing, and banana boating.
Just rent the necessary pieces of equipment and start exploring the beach.
There are also some nearby attractions you can take advantage of in this location.  For instance, you can check out Key West Garden Club which is about 1.1miles from the beach.
Admission here is free.  Furthermore, there is also Fort East Martello Museum which is around an 18 minute drive from Smathers Beach.
Finally, you can check out Duval Street.  This is 2.1miles away from the beach.  This street is known to be always lively.
There are numerous restaurants, celebrated attractions, galleries, shops, cafes and bars.  There are lots of things to do in Key West and exploring the popular Smathers Beach is one of them. Please note that although there is free parking, metered parking will cost you $4/hour.
Recommended by Phil from JOURNICATION Travel Blog
Hotel Recommendation In Key West
5. Siesta Key
Siesta Key Beach, with its white quartz sand and moderate waves, is one of the most beautiful beaches not only in Florida but in the entire United States!
Unlike many other beaches in Florida, this public beach offers free parking, modern locker rooms, and even a special shuttle for vacationers. 
As a result, Siesta Key Beach is a great choice for a self-guided vacation on a budget.
Many other beaches on the Gulf Coast have a lot of shells on the sand that are uncomfortable to walk on barefoot, but Siesta Key Beach is a really wonderful sandy beach with a gentle shore and soft sand, which makes it one of the best beaches in Florida.
How to Get There
During the holiday season, you can reach Siesta Key Beach directly through Sarasota.  There is a small international airport that offers mostly domestic flights called Bradenton International Airport. 
Unfortunately, even during the holiday season, it is quite difficult to find cheap flights to this destination. So, consider flying to the nearest major city of Orlando.  There are also cheap tickets to Tampa, which is just 1.5 hours from Siesta Key Beach.
Where to Stay
The most affordable prices to stay in are in the city center, not the island itself. If you come by car, then you can easily get to the beach. Without a car, you have to use taxis or shuttles.
However, the ideal option is to stay right on the barrier island. Then, you will be a few minutes from the beach.
Accommodation options on the island or in the city itself can be found on Booking.com.  During the high season (from May to October), it is better to book well in advance.
Tips and Tricks
There are 35 miles of beaches in Sarasota County and three beaches on Siesta Key.  The two to the north (Siesta Beach and Crescent Beach) are adjacent and flow from one to the other.
For simplicity, they are both called Siesta Beach.  In the southern part of the island, there is another beach called Turtle Beach.
Siesta Beach is the most popular, but it is definitely worth looking the rest, as each of them are different from one other.
Near the beach, luxurious and expensive accommodation options are available, such as the Hyatt Residence, as well as more budget-friendly, but equally good options, such as the Tropical Breeze Resort or Twin Palms at Siesta.
You don't have to stay at an expensive hotel, as local hotels also offer good facilities, including pools.
Before the trip, you can find all the relevant information on the pages of the official website.
Recommended by Kristina from Flight Tickets Info 
Hotel Recommendation In Siesta Key
6. Fort Lauderdale
About 40 minutes south of West Palm Beach, Fort Lauderdale is a beautiful beach city by the Atlantic Ocean in the state of Florida. 
The beach is known for its postcard-like scenery of palm trees, golden sand, and blue water.
Apart from the vibrant nature, this beach is popular among locals and tourists for the numerous fun activities and events organized throughout the year.
Unlike other Florida beaches, Fort Lauderdale Beach has a calm and relaxing atmosphere.  The vast coastal area can accommodate many people at once without making it too crowded.
There are several boating tours and water activities that visitors can take part in.  Take a swim or try jetskiing, kayaking, surfing, and other watersports.
You can also parasail above the ocean. Book a tour with fishing charters to enjoy a day of fishing on the seas.
The experienced staff of these organizations will take you to the best fishing spots and even guide you in setting your bait and catching a fish.  Hop into a nearby spa center near the beach to enjoy a day of relaxation.
There is a line of food stalls and souvenir shops on the beach.  Some of these are classic and high-end, while others are more on the rustic side.
Dine at 3030 Ocean to enjoy an elegant oceanfront view and live jazz music with your dinner.
You can also find beach bars and cafes like 411 South Bar and Grill, Blondies, and others.  There are several ice cream shops to cool down your body after a beach day.
As it's a popular tourist spot, accommodation options are plenty here.  Atlantic Hotel and Spa and Alcazar Resort are two such examples.
Recommended by Ruma from The Holiday Story
Hotel Recommendation In Fort Lauderdale
7. Naples
Naples, Florida is a beautiful beach town located on the Gulf of Mexico, about 45 minutes south of Fort Myers Beach and 30 minutes north of Marco Island. 
The city has over 30 miles of white sand beaches, and is known for its warm weather and beautiful sunsets. 
Visitors to Naples can enjoy swimming, relaxing on the beaches, or fishing at The Naples Pier.  The Naples Pier is also one of the best places to catch a Florida sunset. 
Tin City is a fun place to visit while in the city with several restaurants and shops located along the waterfront.
If you're looking for some of the best beaches in Naples, Florida, look no further than these top spots.
Vanderbilt Beach Park is in North Naples is a great choice if you're looking for amenities and a wide range of activities to keep you busy, from beach toys and swimming and sunbathing and picnicking.
For more great beach experiences in Naples, check out Lowdermilk Beach Park or Barefoot Beach Preserve.
Lowdermilk Beach Park is perfect for families with volleyball courts, 2 kids' playgrounds, and picnic areas.
For a more secluded experience, Barefoot Beach Preserve is just south of Bonita Beach Park and offers 345 acres of nature trails, undeveloped beaches and wildlife.  Enjoy the Butterfly & Cactus Gardens, Natural History Exhibits, and a host of other amenities.
No matter which beach you choose in Naples, you will be sure to enjoy the stunning views of the Gulf of Mexico.
Hotel Recommendation In Naples
South Florida Beaches- FAQ's
What Is The Best Beach In South Florida?
Although it's a matter of taste, Siesta Key is consistently ranked as one of the top beaches in the country.
The soft, white quartz sand and crystal clear blue water make this a favorite, and the wide beach ensures plenty of room for the family on crowded beach days.
With plenty of dining options nearby and things to do for kids, everyone that comes to Siesta Key is sure of have a great time.
Here are a few other notable beaches in South Florida that weren't listed:
√ South Beach
√ Delray Beach 
√ Bahia Honda State Park 
√ Deerfield Beach 
What Is The Clearest Beach In South Florida?
There are many beaches in Florida with amazing clear water but here are some that are most well known for their crystal clear waters.
√ Miami Beach 
√ Key West 
√ Jupiter 
√ Fort Lauderdale Beach 
For more Florida beaches with the clearest waters, go here! 
Final Thoughts:
7 Amazing South Florida Beaches To Visit! 
As you can see, South Florida is home to some of the most beautiful beaches in the world.
From the white sand beaches of the Florida Keys to the stunning blue waters of the Gulf Coast, there are many memorable beaches in this region.
So if you are planning a trip to South Florida, be sure to check out all of the amazing beaches that this area has to offer!
Travel Resources
Book Your Next Trip!  For Accommodations and short-term rentals, I recommend Booking.com as they are the best in the business when it comes to rates and places to stay.
To Book Activities- For activities, I suggest booking with Viator, they have thousands of 5-star activities to choose from!
Looking To Start Your Own Travel Blog Or Take Yours To The Next Level? 
Check Out This Free Workshop!– I personally joined Scale Your Travel Blog in 2021 and my website has grown exponentially.