Last Updated on November 7, 2023
Always On The Shore contains affiliate links and is a member of the Amazon Services LLC Associates Program.  If you make a purchase, we make a small commission at no cost to you. For more information, please read the disclaimer page. 
There are many great Florida vacations for families. Whether you are looking for a beach vacation, a trip to visit the theme parks or just a nice place to relax, there is a perfect destination for you in Florida.
If you are looking for a more action-packed vacation, then Orlando is the place for you.
Home to some of the world's most popular theme parks, including Walt Disney World and Universal Studios, Orlando is a mecca for families who love to have fun.
Alternatively, if you are looking for the best family beach in Florida, there are several beach towns in this post that may be a perfect spot for you.
These cities are home to beautiful beaches, amazing waterfront restaurants, and more. Your family will love spending time exploring all that these Florida towns have to offer.
No matter what kind of vacation you are looking for, Florida is a perfect destination for your family.  So start planning your next trip today and experience all that this great state has to offer!
Table of Contents
Best Florida Vacations For Families – Florida Panhandle
1. Destin
One of the best vacations for families is Destin, Florida.  This beautiful town has everything you need for a perfect beach getaway.
With its white-sand beaches, emerald green waters, and plenty of activities, your family will never be bored in Destin.
Destin has some of the best family beaches in all of Florida and these include Henderson Beach State Park, Norriego Point, and James Lee Park. 
The Okaloosa Island Pier and Boardwalk is also just a few miles from Destin.
The kids will surely love Big Kahuna's Water Park and Fat Daddy's Arcade. 
Right next door to the arcade is Gator Beach (located at Fudpucker's Restaurant), where you can see live alligators and get up close to them!
Crab Island is a famous sandbar and one of the most popular family activities to do in Destin.
Most people come to Crab Island on a boat, but you can also get here by jet-ski, kayak, and paddleboard.
HarborWalk Village is another fun place to visit in Destin with laser tag, mini-golf, axe throwing, and other activities for the family. 
Of course, there are lots of shopping and waterfront restaurants to try.
The best time to visit Destin is in April or May, in order to avoid the summer heat and larger crowds. 
September and October are also good months to visit Destin, and it's definitely a bit quieter during this time.
 2. Panama City Beach
One of the most laidback places to visit along the Panhandle is Panama City Beach. It is especially perfect for families looking for a fun and relaxing beach getaway in Florida.
There are plenty of things to do in Panama City Beach, including spending your days on the white sand beaches (made from crystal quartz), taking a dip in the emerald green sea, or doing a sailing trip to the nearby famous Shell Island (just make sure you visit on a weekday when it's super quiet!).
If you're looking for rainy day activities for the family then Panama City Beach has you covered.  It is home to Pier Park, a beachside shopping, dining, and entertainment complex that is designed to keep the entire family happy!
Pier Park has 124 shops, plenty of restaurants and bars, a SkyWheel (that gives you a panoramic view of the city), and plenty of entertainment options like an IMAX theater, mirror maze, escape room, arcade, and laser tag.
Other must-visits for the family include:
📌 Dog Beach, located opposite Pier Park. It is the only beach in Panama City Beach that allows pups and is a really fun place for dog-loving families.
📌 Thomas Donut & Snack Shop, this beachside restaurant has been open for more than 50 years and serves family favorites such as hotdogs, sandwiches, ice cream, and of course a wide array of exceptional donuts.
📌 PCB can be visited all year round but April/May is a great time as it gets much hotter in the summer, which may be uncomfortable for kids.
📌 Panama City Beach can be reached by plane from Northwest Florida Beaches International Airport (ECP) which is only 20 minutes drive from the beachfront.
Roshni- The WanderlustWithin
3. Seaside
One of the best Florida destinations for families is Seaside, Florida.  Tucked away in the Panhandle of the Sunshine State, Seaside is a unique beach town that is known for its quaint, old-fashioned feel.
The town has been carefully planned to preserve its small-town atmosphere, and as a result, it has become a popular destination for families who are looking to escape the hustle and bustle of bigger vacation spots such as Orlando and Miami.
One of the main highlights of Seaside is Seagrove Beach. This beautiful, sandy beach is the perfect place to relax and enjoy the Florida sun with your family.
The water is a beautiful shade of blue, and the waves are perfect for swimming or boogie boarding. Other nearby beaches include Miramar Beach and Grayton Beach State Park.
In addition to its lovely beaches, there are other great things to do in Seaside. You can rent bicycles and explore the town, go on a nature walk, or hang out at Ruskin Place.
You can also have a unique dining experience at Airstream Row where you can sample a variety of food in vintage airstreams that function as food trucks.
Seaside Amphitheater is also a great place to catch a live show or festival. Seaside is also brimming with fun indoor activities for rainy days.
The town has several unique shops, art galleries, and museums. The two most notable attractions are the Seaside Post Office and the Chapel at Seaside.
The best time to visit Seaside is between April and May since the snowbirds and spring breakers have subsided.
The weather is also great with minimal rain and warm days. However, Seaside is a great place to visit any time of year.
Disha- Disha Discovers
Best Florida Vacations For Families – Southwest Florida
Indian Rocks Beach (IRB) is the perfect choice for the best family-friendly beach in Florida. Savvy parents love IRB because it is less crowded and less expensive than surrounding and built-up beach areas.
Indian Rocks Beach is more peaceful and quiet than its northern neighbor (Clearwater Beach) and a better value than its southern neighbors St Pete Beach and Anna Maria Island.
The best things to do in Indian Rocks Beach are hanging out on the amazing beaches (especially for sunsets) and savoring fresh Gulf coast seafood at its restaurants. 
The calmer water on Florida's Gulf Coast makes Indian Rocks Beach a favorite destination for families from all over the US and even the world.
Beach entrances on nearly every street—and each with free parking spots, showers, and benches—make IRB the most wallet-friendly and convenient Florida Gulf Coast beach destination for families. 
More active children of all ages will love Kolb Park (skateboard area along with basketball, pickleball, baseball fields, and a playground). 
Nature lovers can head to the excellent boardwalk trail over the mangroves at Indian Rocks Beach Nature Preserve.
Indian Rocks Beach is a skinny island where people can fish, boat, swim, and play in the Gulf and even calmer Intracoastal waters.
Vacation rentals—including houses, condos, apartments, beach cottages, and cabins—are the norm in Indian Rocks Beach and are ideal for families, two or more couples, multi-gen gatherings, or even couples. 
IRB is a superb place to be any time of the year but February through May is most popular and Spring Break time is most desired.
Post your spectacular US Gulf Coast sunset photos a minute or two earlier than everyone else because Indian Rocks Beach is the westernmost spot of land along the Florida Gulf Coast. 
Charles- McCool Travel, US Gulf Coast Travel
When it comes to family-friendly beaches and destinations in Florida, it's hard to beat Marco Island in southwest Florida.
This coast of Florida is often referred to as the Paradise Coast, and it's not far from the truth. 
With its gorgeous soft white sand beaches and the perfect combination of shopping, dining, and unique things to do, Marco Island is perfect for kids of all ages.
Ideally located at the southern end of southwest Florida, Marco Island is the largest of the Ten Thousand Islands and offers a perfect jumping-off point for exploring the Everglades as well.
The island is surrounded by water, ideal for boaters and watersports.
One of the best beaches on Marco for families is Tigertail Beach, a most unusual beach that offers two unique swimming areas and lots of places for kids to safely explore.
There are actually two different beaches at Tigertail; the inner lagoon beach and the outer beach on the white sand of the Gulf of Mexico. 
As its name implies, you can walk to Tigertail Beach, but it's more fun to wade through the water of the lagoon to reach the outer white sand beach.
To explore around the island, there are plenty of well-marked kayaking trails at Rookery Bay, and several unique boat tours that will take you through the Bay and out to Keewaydin Island.
Shelling is also a favorite family pastime and the beaches are known for delivering up beautiful souvenirs by the handful!
Most families love to visit in the spring and winter when the temperatures aren't so hot but don't overlook some amazing hotel deals during the shoulder seasons of May into June and September into October.
Lori- Naples Florida Travel Guide 
Anna Maria Island is one of Florida's best-kept secrets and is known for its pristine white beaches and laid-back vibes. 
It is one of the best beach destinations in Florida to have a family vacation since there is so much to explore and experience here. 
The island is only about 7 miles long and is lined with beautiful beaches all the way along the coast. However, there are a few that steal the spotlight including Manatee Beach, Coquina Beach, and Bayfront Park Beach.
Manatee and Coquina Beach are both great for families, there is always a lifeguard stationed at these beaches, and you'll find plenty of amenities nearby including cafes and restrooms. 
While Bayfront Park Beach is beautiful, you won't find many amenities here which can be difficult if you're on a family vacation with little ones. 
There are also plenty of things to do on Anna Maria Island as a family including the aquarium, the city pier, and Coquina Baywalk.
You can also explore the Historic Bridge Street, rent bicycles for the day, or even head out on a wildlife-watching boat trip. 
Going on a boat trip is a favorite with the kids, but may not be suitable for really young children.
When it comes to beautiful beaches, you'll be spoiled for choices if you decide to visit Anna Maria Island.
If you are planning to visit Anna Maria Island, you don't really need a rental car. You can rent bikes, and a golf cart, or use the free trolley to get around the island from 6 am to 9 pm.
If you are traveling by car, keep in mind that the island has very limited parking.  The best time to visit is January – March or October because it's cooler on Anna Maria Island around then.
These times of the year are also the quietest if you are looking for uncrowded beaches. 
Paula- Paula Pins The Planet
7. Siesta Key
A perfect place for a family vacation in Florida is Siesta Key. Siesta Key has some of the prettiest beaches in the United States.  It is a great destination for relaxing at the beach, water sports, and small island vibes.
The beaches in Siesta Key are known for their beautiful white sand and blue water; the largest public beach access point is at the Siesta Key Pavilion.
Here you can find lots of great amenities like lifeguards, volleyball courts, and showers.  This is also the largest parking lot.
If you are looking for a quieter part of the beach, you can use Siesta Key Access 4 at 180 Beach Road.  You can park at the Siesta Village's main strip or walk from the larger parking lot located at Access 7.
Some other fun nearby beaches are Turtle Beach, Crescent Beach, and Venice Beach.
Venice is a famous beach for collecting fossilized shark teeth.  It is known as the shark tooth capital of the world.
Siesta Key Village is a fun downtown area with great restaurants, boutiques, and souvenir shops.  This area is known for its quirky and unique boutiques.
Be sure to stop by the local ice cream shop for a tasty treat the kids will love.  Another great place to do some shopping in nearby Sarasota is St. Armands Circle.
If it is a rainy day and you aren't sure what to do with your kids, consider driving over to Circus Sarasota.
Sarasota is considered the Circus Capital of the World. The performances in the circus highlight the culture in Florida.
Some other fun activities for a rainy day include Regal Hollywood – Sarasota, the Monte Marine Laboratory and Aquarium, and the Classic Car Museum of Sarasota.
Candice- CS Ginger
8. Sanibel & Captiva Islands
There are many great beach destinations in Florida for families to visit.  But one vacation spot has been beloved by families for generations — the island of Sanibel and Captiva.
Actually, this island is technically two conjoined islands that were slightly separated by a hurricane in 1921. Today the islands are joined by a small, two-lane bridge that you can walk across in less than a minute.
The unique barrier island of Sanibel and Captiva lies just off the coast of Ft. Myers in southwest Florida. 
There's only one road on and off the island, which makes for heavy traffic in the busiest months of the year.
The winter months of December through March are the most popular time to visit, though off-season visitors reap the rewards of far less traffic and a sleepy island the way it was 50 years ago.
Sanibel Island is known for its shelling — the gently sloping sand deposits loads of beautiful shells at your feet every minute of the day and has earned its title as the Shelling Capital of the World.
In fact, this one activity is the reason you'll see locals and visitors alike doing the Sanibel Stoop, forever hunched over to find the next lovely gift from the sea.
Besides shelling, one of the best ways to experience the island's natural world is at the J. N. "Ding" Darling Wildlife Refuge, where you can kayak, hike, and explore the unique mangrove estuary.
There are several dining and shopping areas on the island but you won't find fast food joints or chain restaurants. 
This has been part of Sanibel's appeal for decades, and people love it that way. It's a simple place where families go for ice cream and kids still run wild along the beach.
Lori- Travlinmad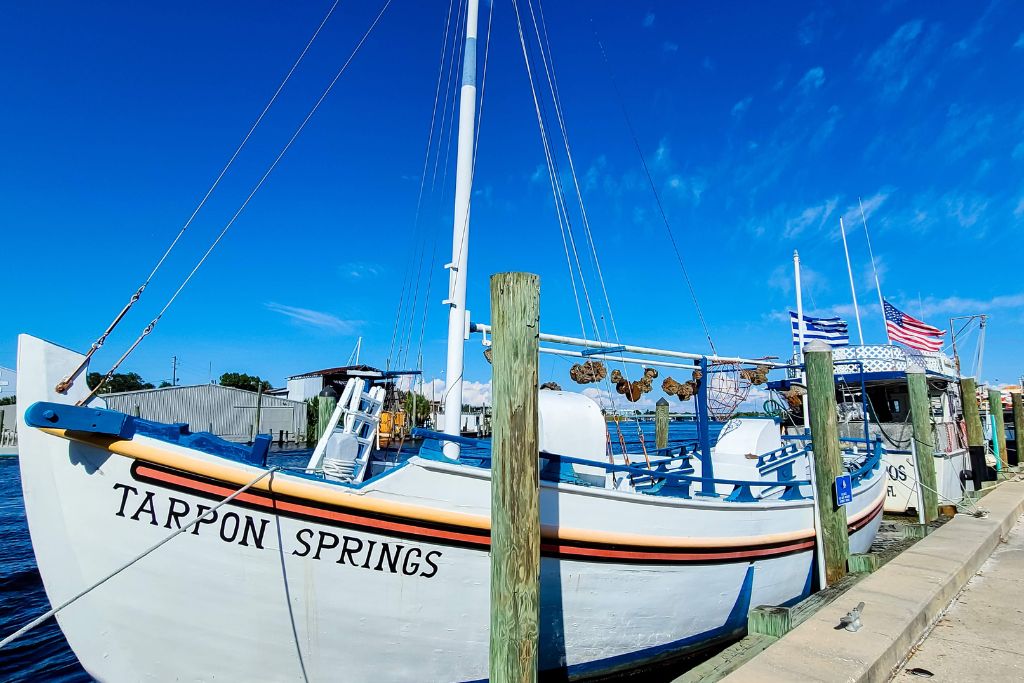 9. Tarpon Springs
Tarpon Springs is on Florida's Gulf Coast, near Clearwater and Tampa.  Known for being the "sponge capital of the world", the area is steeped in history and Greek culture. 
With 51 miles of coastline, there are so many amazing places for families to explore around the area on land and sea. Fred Howard Park is just ten minutes outside of downtown Tarpon Springs and only costs $5 to enter.  
The park has 9 pavilions, clean restrooms, 2 playgrounds, and a ball field.  It's a great place to have a family picnic before or after hitting the beach!  
Drive, walk, or bike along the one-mile causeway to Fred Howard Beach, which has clear water and tons of shade trees. Here you can snorkel, swim, kayak, or play in the white powder sand!
Downtown Tarpon Springs was founded in the early 1900s by Greek sponge divers looking to harvest the natural sea sponges that are in abundance here.  
Today, all aspects of the sponge industry are available to view at the docks, from the harvesting to the sale of natural sponges.  And the Greek culture still thrives to this day, so you can find authentic Greek restaurants, music, cathedrals, and shops downtown. 
Stroll through the town to touch and learn about the neat sponges, grab some fresh ice cream or baklava, or take a boat tour out to Anclote Key Reserve State Park and look for unique shells!
A trip to Tarpon Springs is best in the off-season so it is not so crowded, from September through April.  The temperatures are not too hot and you will see the most amazing sunsets!
Erin- Super Simple Salty Life
Best Florida Vacations For Families – Central Florida
 10. Disney World 
Walt Disney World in Orlando is a perfect family vacation since it offers something for every member of the family.  Disney World measures 101km² and has 5 theme parks, 33 resort hotels, 2 water parks, and several sports facilities.
Magic Kingdom is for the true magic Disney feeling. If you've got a foodie, a world traveler, or a game lover in your group then visit Epcot.  Lovers of movies and stunts head to Hollywood Studios.
Animal enthusiasts will find their joy at Animal Kingdom. The latest addition, Star Wars: Rise of the Resistance, ensures days of fun for Star Wars fans.  
Typhoon Lagoon and Blizzard Beach are perfect for fans of hours of water fun. There are golf courses and mini-golf tracks so staying busy shouldn't be a problem.
The hotels offer swimming pools, restaurants, and fun activities.  Think outside movie nights and organized games in the pools.
Pop Century Resort for instance has an arcade, enough for hours of inside fun.  Several rides and attractions in the parks are indoors, so still perfect when it's raining.
Orlando is the theme park capital of the world since it not only has Disney World, but also Universal Studios, SeaWorld, Legoland, and numerous smaller parks.
Disney World is fun all year long, however, in October there's Mickey's Not-So-Scary Halloween Party and in December there's Mickey's Very Merry Christmas Party.
Expect huge crowds, but also lots of extra things happening in the parks.  Summertime is hot and with rain showers.
Winter time can be a bit colder.  Spring and Fall are just warm or hot, but less rain than in the Summer. 
Cosette- KarsTravels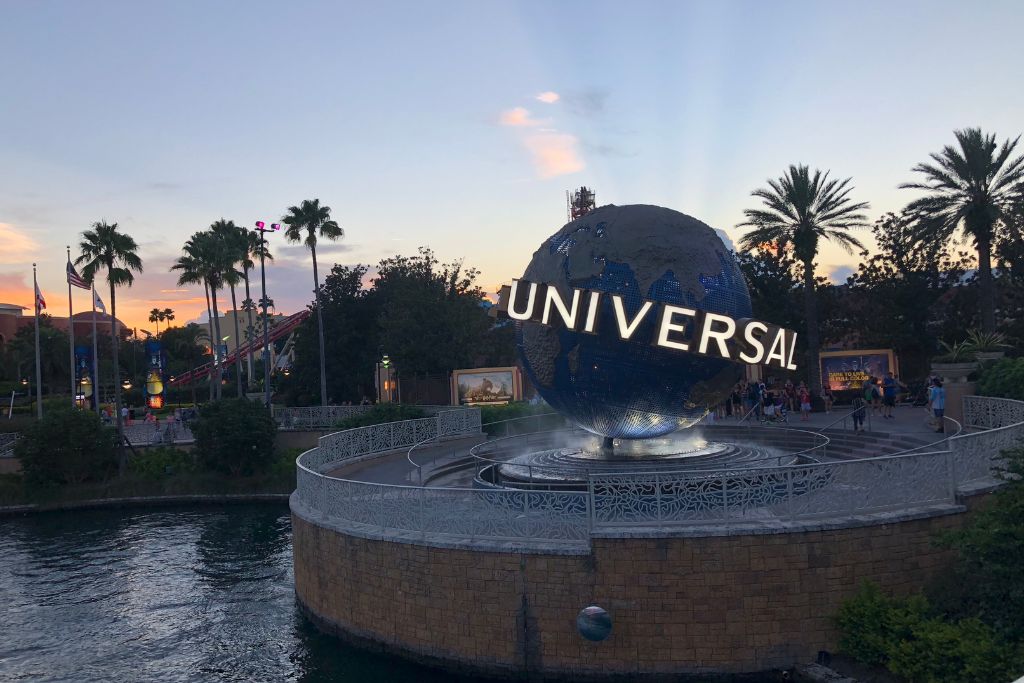 11. Universal Orlando
One of the best things to do in Orlando, if you love amusement parks, is to set aside a couple of days and go to Universal Orlando.
Universal Orlando comprises two gigantic amusement parks and one water park.  Universal Studios Florida opened in 1990 and is the original one.
Then, in 1999, Islands of Adventure opened.  They are located next door to each other with separate entrances.
However, you can easily walk between the two entrances or once you are in one of the parks, you can move between the two parks without having to exit through either of the main entrances.
Lastly, there is a water park called Volcano Bay which is located elsewhere in Orlando.
It goes without saying that these amusement parks are incredible.  There are heart-pounding roller coasters, fantastic virtual rides that capture your wildest imagination, and awesome shows.
If you are a fan of Harry Potter, each park hosts the Wizarding World of Harry Potter.  In Islands of Adventure, you will find Hogwarts Castle and you can spend your time exploring Hogsmeade Village.
At Universal Studios Florida, you enter and explore Diagon Alley. Both offer their own rides, stores, and experiences and are truly amazing.
Unfortunately, Universal Orlando can be expensive and very busy, especially if you go in the summer, on any school holiday, or on a statutory holiday.
However, there are some specific Universal Studios Orlando tips that can help you save time and money.
Come mid-week and when the kids are in school for less expensive tickets and smaller line-ups.

Stay at one of the designated Universal Studio hotels and get free front-of-the-line passes and admission into the park at least 30 minutes earlier than general admission.

Go into the single rider line.  This line is much shorter than the regular line. The downside is you will likely not sit with someone you know on the ride.  However, for the time that you save, it is worth it. 

Go in the early morning, take a break and go back to your hotel in the middle of the day, then come back in the early evening.  There are fewer people in the park during these times. 

Head to the shows in the middle of the day when the park is busy. 

Nicole- Go Far Grow Close
Best Florida Vacations For Families- Atlantic Coast
Located on Florida's eastern shore, Vero Beach is a fantastic, family-friendly destination for those looking for a beach getaway away from all the hustle and bustle of many of Florida's bigger resort towns.
There are strict limitations on beach development which means that Vero Beach has retained its relaxed, laid-back vibe, and beaches are usually mostly empty, even during high season.
Here you won't be fighting the crowds for a great spot at the beach; you'll have plenty of room to spread out and enjoy time with family.
Other than setting up on the beach, favorite activities include airboat rides in the marshlands where you can spot birds and crocodiles, always a favorite with kids.
You'll also find McKee Botanical Gardens, with its brand new Children's Garden complete with interactive exhibits to learn about nature and a fantastic playground shaped like a pirate ship.
You'll also find a Disney resort just north of town on Orchid Island if you're looking for a family-oriented place to stay.
Complete with a spectacular stretch of private beach, multiple swimming pools, and a fun waterpark for kids to enjoy, it has a lot to offer families with young kids.
Older kids might like staying closer to town – the historic Driftwood Resort often has live music, is home to one of the best casual restaurants in town, and faces its own idyllic stretch of beach.
Make sure to check out the restaurants just across the street, such as Cravings, a favorite ice cream spot, and the Lemon Tree for delicious brunches.
Carly–Home To Havana
Miami is a popular holiday destination in Florida with a lot of attractions for families and children.
South Beach is only a boat ride away from the city of Miami and it has a vibrant mix of cafes, restaurants, galleries, boutiques, and markets along the long beaches with white sands.
Head to Miami Beach or South Beach for all sorts of water sports like swimming and surfing; the best months to visit the beaches are between March and May when the sun shines with temperatures at 70 degrees.
SoBe has also the world's largest art deco building cluster, and a great way to explore all these buildings, museums, and weekend markets is to rent a bike and explore the town at your own pace.
In the city of Miami, the newly renovated Pérez Art Museum Miami (PAMM) is now located at the city's Museum Park, together with the Philip and Patricia Frost Museum of Science.
PAMM was founded in 1984 and it is the most prestigious modern art museum in the region. 
The building itself is a sleek and modern architecture with spacious galleries, showcasing large-scale installation art created by American, Western European, African, and Latino artists in the 20th and 21st centuries.
It has a permanent collection of over 1,800 artworks, including renowned artists like Kehinde Wiley, James Rosenquist, Purvis Young, Joseph Cornell, Frank Stella, and Kiki Smith.
The Philip and Patricia Frost Museum of Science was opened in 2017; it is a leading science museum and a great educational opportunity for family visitors, with lots of hands-on exhibits about weather and technology, wildlife, and a planetarium.
Kenny- Knycx Journeying
The city of Titusville is one of the best Florida destinations for families. 
Located on what is known as the "Space Coast" of Florida, it offers a lot of family-friendly attractions.  It's also a place that you can visit any time of the year.
One of the main things to do in Titusville is to visit Kennedy Space Center.  You can spend an entire day there, going around the buildings in the main complex but also driving out by bus to some of the restricted areas.
A lot of the things at Kennedy Space Center are interactive too, which is great for the kiddos.
Titusville also has some great family beaches on Canaveral National Seashore. It stretches for 24 miles and is all undeveloped, meaning no condos, shops, or restaurants.
It's a great place to relax and play in the sand, but remember to bring snacks.
If the weather isn't cooperating, Titusville also has some cool museums, like the American Police Hall of Fame & Museum, the American Space Museum & Space Walk of Fame, and the North Brevard Historical Museum.
For some tasty seafood and great views of the Intracoastal waterway, we recommend heading over to Pier 220. If your kiddos are picky eaters, Titusville also has all of the usual fast-food restaurants.
Vicky- Buddy The Traveling Monkey
One of the best Florida beach destinations for families is St. Augustine–the oldest city in the USA. This charming location has cobblestone streets, fairytale-like Spanish architecture, and 43 miles of beautiful beaches.
Kids and adults will both love touring the Castillo de San Marcos, the largest masonry stone fortress in the United States. It's stood for over 300 years on the coast of Florida and will surely become a favorite attraction of any castle lover in your family.
The Fountain of Youth is another top-rated family attraction that you'll find nearby. 
Located in the area first explored in 1513 by Juan Ponce de Leon, this 15-acre archaeological park encourages visitors to take a sip from the Spring of Eternal Hope.
When all that adventuring has left you hungry, head to one of the best St Augustine restaurants on the water and watch the sunset while dining on The Reef's back patio.
If the weather is rainy, head indoors to see the world's largest collection of over 800 authentic pirate artifacts at the St. Augustine Pirate and Treasure Museum. This is also the place where you can see the world's only surviving pirate treasure chest!
St. Augustine makes a great vacation any time of the year, but spring and fall are the best times to visit to avoid the scorching heat of Florida summers. 
There's definitely something for everyone in this charming southern town, and you won't be disappointed if you consider St. Augustine for your next family vacation in Florida.
Jillian Michelle- Adventure Dragon
 16. The Everglades
Everglades National Park is the perfect Florida vacation destination for those who love the outdoors.  It's a wonderful place to learn about Florida wildlife, go hiking or biking, take a boat ride and enjoy the night sky. 
The best time to visit the Everglades is in the winter and spring, during the dry season. 
December to April is best because there will be little rain and mild temperatures. If you visit during the summer wet season, you can expect daily thunderstorms and very high heat. 
Some of the best things to do in the Everglades include biking or taking the tram to the Shark Valley Observation Tower, going on an airboat tour, and hiking the Anhinga Trail at the Royal Palm Visitor Center.
Rain or shine, the Robert is Here Fruit Stand is a wonderful place to visit.  There, you can try rare and exotic fruits, see a variety of farm animals, and eat lunch.
For a unique activity in the Everglades, go on a ranger-led wet walk. The ranger will provide a walking stick and lead you out through the water into a cypress dome.
It's an incredible way to see a different side of the park and learn about the unique ecosystems that exist there. The walk is kid-friendly and doable for most abilities. 
Many visitors camp inside the Everglades.  If camping isn't for you, the nearest cities for hotels are Homestead on the west and Everglades City on the east.
If you stay in Homestead, you can also easily combine your Everglades trip with visits to Biscayne National Park or Miami.
Lydia- Lost With Lydia
Closing Thoughts: Best Florida Vacations For Families
As you can see, there's no place like Florida for beaches and family vacations.  The Sunshine State has something for everyone, from world-famous theme parks to pristine beaches and everything in between.

The Gulf Coast has many contenders for the best family beach in Florida with beach towns such as Destin, Siesta Key, and Anna Maria Island, amongst others.  However, the Atlantic Coast has its own amazing beaches, like the ones in Vero Beach and St. Augustine. 

Whichever Florida destination on this list you decide to visit, you'll be sure to find the best beach vacations for your families.

For more fun things to do in Florida, check out this post on the best places to go kayaking with manatees in Florida!