Last Updated on March 24, 2023
Always On The Shore contains affiliate links and is a member of the Amazon Services LLC Associates Program.  If you make a purchase, we make a small commission at no cost to you. For more information, please read the disclaimer page. 
Clearwater Beach is one of the most stunning areas in Florida with its beautiful beaches and fun activities.  I loved it here and in this post, I'll be sharing some of the best things to do in Clearwater Beach and across the causeway in Clearwater, Florida- including the beaches, Pier 60, and restaurants, such as Frenchy's Rockaway Grill. 

Let's dive in!


What Is Clearwater, Florida Best Known For?
Clearwater Beach is famous for its white sands and clear blue waters on the Gulf Coast.  Both the beaches in Clearwater Beach and the sunset out at the pier make this part of Florida a must-see.
There are numerous beach activities to enjoy on this barrier island, such as swimming, boating, fishing, and kayaking. 
Traveling To Clearwater Or St. Pete Beach?!  
Get The Itinerary For the Ultimate Vacation- 🏆
Click Below For Details! 

Another great thing to do in Clearwater Beach is to explore the area's many shops and restaurants.  For shops- there is something for everyone, from casual beachwear stores to snacks and ice cream. 

You'll also find a variety of dining options, ranging from seafood shacks to fine dining establishments. 

And don't forget to check out the nightlife scene in Clearwater Beach – there are plenty of bars that keep the energy high into the night. 
Clearwater Beach
Clearwater Beach is known to have some of the best beaches in Florida, and this is the perfect place to take a trip!   
Best Things To Do In Clearwater Beach, Florida
1. Visit Clearwater Beach

This one is pretty obvious right?! Clearwater Beach is the main beach in the city of Clearwater Beach and is amazing with its soft, white sand, and you could spend your entire trip here, just relaxing.

The beach is really clean and there are plenty of umbrellas to relax under in the shade.  There are also plenty of places to stay right at the beach since the area is lined up with hotels and resorts.

The weather here was a nice and sunny 82 degrees on New Year's Eve.  However, the water is a little chilly this time of year, around 60-65 degrees- but there were still a good number of people in the water!

Clearwater Beach is not only one of the best beaches in Florida, but it's often considered to be one of the best beaches in the United States.
For me, there's just something so peaceful and serene about the waters of the Gulf of Mexico.  Typically with lighter waves than the Atlantic side of Florida, Clearwater Beach is swimmable with lifeguards on duty throughout the entire year.

The beach is about a half-hour away from both Tampa and St. Petersburg.

The drive from Tampa to Clearwater Beach has the most gorgeous views and you're often surrounded by the waters of Tampa Bay and go over some long bridges.

If you're coming from Orlando, it's about an hour and a half drive.

It can be a little difficult to find a parking spot right at the beach.  This Clearwater Beach access point shares parking with Frenchy's and other restaurants, so it was full and we weren't able to park there.

However, there is a parking ramp just a couple of blocks away in the downtown area and it's fairly inexpensive to park there.
 Clearwater Beach Boat Tours & Water Activities

Clearwater Beach is popular for year-round water activities such as parasailing, kayaking, paddle boarding, and jet-skiing.

There are scuba diving and fishing charters in the area, as well as sightseeing boat tours, pirate cruises, and boat rentals.

Here are some recommended activities if you're looking to get on the water while in Clearwater, Florida, and nearby!

2. Tiki Boat Cruise

A Tiki Boat Cruise is the perfect place to let loose and have some fun.  They take you out on the floating bar and show you around the Gulf of Mexico and the amazing views of Clearwater Beach.

Bring your own snacks and drinks, and experience the best party on the water.

The cruise is perfect for any occasion, so gather your group of friends (up to 6 people total) and come join them for a day or evening you won't forget.

3. Private Boat Tour

Clearwater Beach is a top tourist destination for a reason!  And one of the best things to do is go on a private boat tour.

You get to cruise the Gulf of Mexico waters on a double-decker boat and see all sorts of wildlife in the water, like manatees, stingrays, and dolphins.

They take you to the best area beaches and also offer shelling, swimming, snorkeling…the list goes on!

These private boat tours are perfect for your friends and family, up to 10 people.

√ We Recommend This Private Boating Tour In Clearwater Beach
4. Dolphin Boat Adventure

Dolphin Adventures in Clearwater Beach offers cruises throughout the day so you can see these beautiful creatures up close.

The captain will teach you about the wildlife in the area, and you can purchase drinks (beer, wine, soda, and water) on the boat.

You'll have a chance to get up close and personal with dolphins on a cruise.

There are several time slots throughout the day to choose from, so book this adventure on your schedule.

Bring your friends and family along for a fun day out on the Gulf of Mexico waters.

5. Caladesi Island Kayak Adventure

A kayak tour offers a guided journey through the mangrove tunnels of Caladesi Island.

You'll have the opportunity to spot dolphins, manatees, and other wildlife as you paddle along.

Plus, the knowledgeable guides will teach you about the history and ecology of the area.

The kayaks are stable and easy to maneuver, so you can relax and enjoy your surroundings.

And you make frequent stops so you can take pictures, explore the area, and learn more about what you're seeing.

It's a perfect way to spend a day in Clearwater Beach!
6. Helicopter Tour

If you're looking for an adventure above the water, a helicopter tour is a great option!  Fly over some of Florida's most beautiful beaches and see the area from a whole new angle.

Whether it's a romantic date night or just an activity to do with a small group of friends, a helicopter tour takes you high above Tampa Bay.

You'll see some of the area's most famous landmarks including Tropicana Field, The Don Cesar in St. Pete Beach, and of course Clearwater Beach!

For More Information And The Best Sunset Cruises & Boat Tours In Clearwater Beach, Go To This Post!
7. Get Some Food By The Beach

We got a late lunch at Frenchy's Rockaway Grill.  It's a bar and grill right on the beach just a couple hundred yards away from the water.

This place is well known for its local caught seafood and different Grouper sandwiches.  They have a large selection of drinks at the bar, from fruity beach drinks to tap beers and wine.

Frenchy's Rockaway Grill was also featured on the food tv show, Food Paradise.

The restaurant has both indoor and outdoor dining. Their patio is a popular place for watching sunsets and they often have live music.

It was about a 45-minute wait for a table, so it gave us some time to hang out at the beach for a little while before eating, and also grow a larger appetite.

This place is oyster heaven!  We got the baked and steamed oysters, as well as Crab fries.   I also got the Cajun Grouper sandwich.

You can also get this grilled, fried, Caribbean style or Buffalo. Or you can even try the Grouper Reuben sandwich.

I really love the food and drinks here.  The Grouper sandwiches are really good and I see why they are famous for them.  Definitely one of the best things to do in Clearwater Beach!

My friend thought the food was good and even liked his Grilled Grouper sandwich, but he likes the food more at Grills Tiki Bar, near Cocoa Beach.

They are both excellent places for seafood, just on different sides of Florida's coast.

There are 5 Frenchy's restaurants in Clearwater Beach and Dunedin Causeway.  Frenchy's Rockaway Grill is the biggest restaurant.

And just a couple blocks away from the Rockaway Grill, off of Mandalay Avenue, is the original Frenchy's Cafe.

8. Go To Pier 60 At Clearwater Beach

The beaches in Clearwater Beach are known for their beautiful Florida sunsets over the Gulf, and there's probably not a better place to watch them, than right here at Pier 60.

Pier 60 Clearwater is about 3/4 of a mile down the beach from Frenchy's Rockaway Grill.  It's a great place to walk around and check out the dolphins and fish in the water.

The pier has vendors selling their arts and crafts, and oftentimes street performers as well.  Many people also come here for fishing.

Clearwater's Pier 60 has fishing year-round and sells everything from daily, weekly, and monthly fishing passes, equipment, and bait.

Popular fish caught here at Pier 60 are Grouper, Whiting, Bluefish, Seatrout, Redfish, Black Drum, Snook, and Spanish Mackerel.
What Is There To Do In North Clearwater Beach?
The northern end of Clearwater Beach along Mandalay Avenue is really nice and is only a block or so from the beach.
As I mentioned they have the original Frenchy's Cafe here.  They have several other restaurants and bars on this main drive, too.
North Clearwater Beach also has Pelican Walk, which is a plaza with 2 floors of shops including a surf shop, pizza place, ice cream shop, arcade, spa, bars, and more.  They have a DJ or live music here on weekends, too. 
I've always been a big wrestling fan and I grew up idolizing Hulk Hogan so it was nice seeing that they have a Hogan's Beach shop here at Pelican Walk.  You can buy memorabilia, clothing, and other merchandise.

10. Have A Drink At One Of The Bars

Just a few steps from Hogan's Beach Shop is Hogan's Hangout, which is a bar and grill right on the corner of Mandalay Avenue.  We stopped here for a couple of drinks.

The bar area is nice and one side opens to the outside so people can enjoy their drinks outdoors while sitting at the bar.

It's a pretty fun and lively area, especially at night.  They also have a little shop section here where you can buy a Hulk Hogan shirt.

Next door to Hogan's Beach Shop is The Brown Boxer, a sports bar and grill.  They often have live entertainment and the arcade that I mentioned, also.  The outdoor area at The Brown Boxer is dog friendly.
 11. Clearwater Marine Aquarium

We didn't get a chance to make it here during this trip but I wanted to recommend the aquarium since it's often ranked as one of the best things to do in Clearwater Beach.

At the Clearwater Aquarium, you can see rescued animals such as dolphins, sharks, stingrays, sea turtles, pelicans, and otters.

They have several different exhibits here.  A couple of these include Dolphin Terrace where you can watch the dolphins and learn about them, and Otter Oasis, where you can see the otters play.

See online for hours and ticket prices.

12. Take a Segway Tour

Segway tours are a great way to see all that Clearwater Beach has to offer.

You'll be able to glide along the Causeway, taking in the sights and sounds of this lively area.

And you can head down to Pier 60 by the beach and enjoy the gorgeous views of the water and sand.

Either way, Segway tours are a fun and unique way to explore Clearwater Beach.

Tours typically last around 2 hours, and all participants will receive training on how to use the Segway before setting off.

Tours are led by experienced guides who will share interesting facts and stories about Clearwater Beach as you go.

If you're looking for a fun and different way to explore Clearwater Beach, be sure to check out Segway tours!

We Recommend Booking Your Tour Ahead Of Time Through This Company
13. Explore Sand Key Park
Sand Key Park is a beautiful beach park located in Clearwater Beach, Florida.

The park offers stunning views of the Gulf of Mexico and its white-sand beaches and clear waters are simply gorgeous.

Visitors can enjoy plenty of activities like swimming, fishing, kayaking, or just soaking in the sun.  

This park offers a boardwalk, nature trail, picnic area, grills, and a dog park. 

There's also a variety of restaurants located nearby. 

Sand Key Park is definitely a must-visit destination for anyone looking to enjoy the clear waters of Florida!

Other beach parks in Clearwater Beach include Honeymoon Island State Park and Caladesi Island State Park, which are both north of the city and great if you're looking for a private adventure.
Fun Things To Do Near Clearwater Beach!
14. Honeymoon Island State Park and Honeymoon Island Beach

Honey Moon Island State Park is the perfect place to relax and enjoy nature.

Spend your time surfing, fishing, swimming, or just being in the great outdoors.

There's also a nature center where you can learn about the animals and history of the island; there are exhibits and activities for the kids, as well.

With over 4 miles of beautiful beaches, a pine tree forest, salt marshes, and wildlife, you can't go wrong with spending your vacation here.

What's even better is that you can take the ferry to Caladesi Island- where you can go on a treasure hunt for shells and explore the island.

So not only will you be able to relax at the park, but you can visit other areas as well.


15. Caladesi Island State Park (Dunedin)

Just a short drive from Clearwater, Caladesi Island State Park is a hidden gem in Florida that offers a unique experience for visitors.  It's only accessible by boat, so it's the perfect place to go fishing, kayaking, or camping.

There's plenty of wildlife to see, including dolphins and manatees in the water during the ferry ride, and ospreys and other birds.  You may even see tortoises and keep an eye open for snakes!

Caladesi Island is also a popular place for sea turtles to hang out and you may even spot bald eagles or other birds.

16. Moccasin Lake Nature Park
Visiting Moccasin Lake Nature Park is another fun Clearwater activity!  This 51-acre park is an awesome place to walk on trails, sight wildlife, take your kids to the playground, or catch a wildlife program.
Moccasin Lake has multiple environmental and science instructors who teach classes, lead camps, and help with various programs.
There are also several injured birds of prey there, which offers opportunities for learning!
The boardwalks and trails are beautiful and lead beneath oak trees and over creeks and ponds.
Pack a picnic lunch, set up in a pavilion, and enjoy a fun day in nature, playing on the green area, or relaxing with a good book or a travel hammock.
Moccasin Lake is open from 10 am to 5 pm Tuesday through Sunday. It is closed on Mondays. You can find the park at 2750 Park Trail Lane close to Drew Street and U.S. 19. 
Need more information? Call (727) 793-2976.
17. Hammock Park- Dunedin 
Hammock Park in Dunedin is another cool way to spend a day.  This 90-acre park is a top spot to see butterflies.
Visit the butterfly garden where native plants attract these pretty insects. Up to 35 different butterfly species have been recorded here!
Birding is another excellent activity to enjoy in Hammock Park.  If you're a resident of Dunedin, you can score a "birding backpack" at the Dunedin Library.
Otherwise, consider picking up the "Great Florida Birding Trail Book" and using it as a guide.
Some of the birds you can see year-round include osprey, barred owls, and wading birds.
In the winter, you can see rails, sparrows, sandpipers, and ducks.  Spring and fall bring a host of warblers, wood thrushes, scarlet tanagers, black-billed cuckoos, and more.
There are also five miles of nature trails, a boardwalk, observation platforms, playgrounds, picnic pavilions, and restrooms.
Hammock Park is located at 1900 San Mateo Drive, Dunedin Florida. The park is open from sunrise to sunset.
For information on programs, and butterfly and birding checklists, call (727) 812-4530 or check the Friends of Hammock Park Facebook group.
18. Indian Rocks Beach
Ready for a fun outing? Consider heading to Indian Rocks Beach for a tranquil day enjoying sand, surf, and sunshine!
This quiet beach town is only 20 minutes from downtown Clearwater, making it perfectly accessible for a day or half-day trip!
Indian Rocks Beach features three miles of white sand and over 27 beach access points.
You can also find free parking near the beach access points on First, Second, Fourth, Eighth, Twelfth, Fifteenth, and Sixteenth avenues. Several also have showers for rinsing off the sand.
Go shelling, watch for dolphins in the surf, play in the ocean, work on your tan, or snack on a chilled watermelon while you enjoy the chill vibes.
Once you've absorbed enough vitamin D, stop by Guppy's on the Beach for mouth-watering seafood.
To access Indian Rocks Beach, take the South Belleair Causeway then turn left onto 183 Gulf Boulevard.
Drive until you reach your preferred beach access point.
19. Pass-A-Grille Beach
One of my favorite low-key spots, Pass-A-Grille beach makes for another fabulous beach day destination.
This beautiful strip of sand features turquoise water and sweeping dunes.  It's a top spot to go shelling, swimming, or simply relax and enjoy the view.
One of the perks of going to Pass-a-Grille is that it is much nicer and more local than St. Pete Beach.  The water is warmer than in Clearwater as well.
Try to get there early for the best chance of finding parking close to the beach.
Once you're ready for a break from the sun, cool off with some ice cream at Paradise Sweets.  If you go on a Saturday, you might find artisan booths in town. Fun!
Pass-a-Grille Beach is about 51 minutes from Clearwater or 20 minutes from St. Petersburg.  Either way, it is worth the drive!
20. Johns Pass Boardwalk- Madeira Beach

John's Pass is a great way to spend the day!  This boardwalk is in Madeira Beach with lots of shops, restaurants, and water activities.  30 minutes from Clearwater Beach.

Go here to see the best waterfront restaurants and activities at John's Pass!

21. St Pete Pier- St. Petersburg

The St. Pete Pier is over 3,000 feet long and offers fishing, activities for kids, and restaurants right on the water.

Located in downtown St. Petersburg, a 40-minute drive from Clearwater Beach.

Downtown St. Petersburg also has many shops, restaurants, and fun museums to visit!

22. Treasure Island
30 minutes from Clearwater Beach, Treasure Island is just a short drive from John's Pass.

This little town is located on the Gulf of Mexico and offers incredible beaches with the highlight being the City of St. Petersburg Municipal Beach.
Photo Credit- Mylo Kaye/Pexels
23. Busch Gardens- Tampa

Busch Gardens is a theme park that offers thrilling rides, exciting animal tours, and plenty of activities for kids.

And if that's not enough, you can come for free beer in the summer.  45 minutes from Clearwater Beach.

24. Zoo Tampa At Lowry Park- Tampa

Zoo Tampa is the perfect place to take your kids for a day of learning and fun.

This zoo has everything from panthers to hippos to elephants to manatees.

You and your family will have a blast exploring all the different exhibits they have here.

Zoo Tampa is a 40-minute drive from Clearwater Beach.

25. Tampa Riverwalk
Ready to go a bit further from Clearwater Beach?  Consider driving about 40 minutes to get to the Tampa Riverwalk. 
This scenic walkway runs for 2.6 miles from the Heights Market Armature Works down to Garrison Channel.
If walking isn't your thing, you can also bike or ride a scooter. For extra fun, stop at bars, restaurants, and attractions along the way.
Alternatively, rent water bikes from the Tampa Bay Water Bike Company and paddle along the river.
The Riverwalk is also beautiful at night when it is adorned with colored lights.
If you go in the evening, try to catch a show at the Straz Center for the Performing Arts.  Grab dinner at Ulele Restaurant before or after for a super delicious evening.
Other top attractions along the Riverwalk include the Curtis Hixon Waterfront Park, the Florida Aquarium, the Tampa Bay History Center, the Tampa Museum of Art, and the Glazer Children's Museum.
26. Fort de Soto Park
Another great day trip from Clearwater is to Fort de Soto Park.  This park is about an hour from downtown Clearwater and features 1,136 acres of land spanning five different islands.
It's a perfect spot for history buffs, fishermen, dog lovers, camping fanatics, nature lovers, and families.
The old fort at Fort De Soto was built for the Spanish-American War but wasn't finished until after the conflict had already ended.
It never took hostile fire, but was equipped with cannons and mortars–which you can still see today!
Along the waterfront, you might see dolphins, manatees, and sharks, as well as lots of different sea birds.
Walk or ride your bike along the paths, take your dog to the dog beach or play areas, or drop a fishing line from a scenic spot.
As far as amenities go, there are lots of restrooms, a couple of gift shops, and snack bars.  The pirate ship playground is a favorite among the kiddos.
Want to go camping? Check out the park's camping information page.
27. Florida Botanical Gardens
Tranquility and beauty await at the Florida Botanical Gardens in Largo Florida.  This is only a 20-minute drive from downtown Clearwater, and is completely free!
Enjoy walking through the 150-acre grounds enjoying Florida habitats, formal gardens, demonstration gardens, and picturesque landscapes. 
The patio garden features herbs, vegetables, and plants that attract butterflies. It is meant to inspire visitors to add more touches of creativity and beauty to their own backyards.
Further in, you'll find tropical fruit gardens and an exotic cactus garden with gravel paths and gorgeous succulents.
There's also a garden dedicated to bromeliads and another to palm trees.
Near the back of the property is a 60-acre natural area of restored Florida wilderness.  There are trails throughout with interpretive signs.
The Florida Botanical Gardens are open from 7 am to 5 pm daily.  You can access the gardens from 12211 Walsingham Road or 12520 Ulmerton Road.
Events are held throughout the year with the most special and spectacular being Holiday Lights in the Garden.
Over one million LED lights adorn the garden over the winter holidays.  Beautiful!
28. Clearwater Threshers
Love baseball?  Take yourself out to a ball game while you are in Clearwater!
The Clearwater Threshers are fun to see playing at the BayCare Ballpark.
This Minor League Baseball team dates back to 1985 when they were called the Clearwater Phillies (in honor of their affiliation with the Philadelphia Phillies).
The ballpark features a grass berm, Kids' Zone, and a Tiki pavilion for groups.
Does that sound like fun?  If so, nab tickets to the next Clearwater Thresher game.
The BayCare Ballpark is located at 601 N, 601 Old Coachman Rd.  You can call 727-712-4403 or 727-712-4432 for more information.
29. Crest Lake Park
Crest Lake Park is a beautiful little oasis right in the center of Clearwater.  The centerpiece is the lake and the walking path that goes around the water feature.
Cool statues add an artsy touch to the pretty scenery and quiet vibes.  You'll also have the chance to see lots of wildlife and over 83 types of trees.
If you fancy a workout, you can make use of the outdoor gym.  The kids can have fun on the splash pad, the playground, or visit the arboretum. Scan the QR codes to learn about the plants there.
Additional amenities include volleyball courts, restrooms, picnic pavilions, and a great dog park. 
There's also a fountain in the center of the lake that is illuminated at night.
Stop by to see it if you have a chance! Or go in the evening for a romantic picnic of grapes, cheese, and gourmet crackers.
Crest Lake Park is located at 201 S Glenwood Ave. It is open from sunrise until 11 pm.
30. Visit All Of The Tampa Area Beaches

There are several amazing Tampa area beaches in both Hillsborough and Pinellas County.

These include St. Pete County Beach in St. Pete, Ben T. Davis Beach in Tampa and so more!

Many of these beautiful Florida beaches are just a short drive from Clearwater.

Indoor Activities Near Clearwater Beach
31. Escape Room Clearwater Beach

Located at Pelican Walk Plaza, Escape Room Clearwater Beach is an interactive live-action game where players are locked in a room and have to use their wit and teamwork to solve puzzles and escape within 60 minutes.

It's perfect for family fun, date night, corporate team building, or just a group of friends looking for something different to do.

They offer escape room experiences such as Pirate Ship and Zombie Underground.

The escape rooms are set in immersive environments with plenty of clues and puzzles to challenge you.

Can you solve the mysteries and escape before time runs out?

Photo Credit- Surfstyle/Facebook
32. Flowrider Indoor Surfing
Ride the waves, located at Surfstyle in Clearwater Beach.  Flowrider Indoor Surfing is a great place to surf indoors all year round.
Whether you are a beginner or an experienced surfer, Flowrider Indoor Surfing is the perfect place to catch some waves. 
33. Simcenter Tampa Bay- Clearwater

Located in Clearwater, enjoy this awesome virtual reality facility with flight, space, and race car simulators.

Simcenter is a popular place for team-building events, birthday parties, and more.

34. Celebration Station- Clearwater
Indoor and outdoor activities in Clearwater, Florida.  Arcade, bumper cars, and mini-golf.
Celebration Station is a great place to spend a day with family and friends.  And when you need a break from all the fun, you can enjoy a meal at the on-site restaurant!  
Photo Credit- Ruth Eckerd Hall
35. Ruth Eckerd Hall- Clearwater
Take in a show or live music by a big-name performer at Clearwater's legendary venue!
Ruth Eckerd Hall is a performing arts center located in Clearwater, Florida.  The facility has been around for 40 years and has hosted a variety of events, including concerts, comedy shows, and more.
Whether you're looking for a show for the kids or an evening of musical entertainment with your partner, Ruth Eckerd Hall has it all.  Check their website for a complete listing of upcoming events.
36. Clearwater Brewery- Clearwater
Clearwater Brewery is a local brewery located in the heart of Clearwater, Florida.
The brewery specializes in small-batch, handcrafted beers that are designed to be enjoyed by both beer lovers and those new to the craft beer scene.
Grab a beer or a glass of wine at this popular Clearwater establishment.  They have open mic nights every Wednesday night.
37. Sky Zone Trampoline Park
If you have kids overflowing with energy, taking them to the Sky Zone Trampoline Park could be the best thing ever.  And hey, if you're a kid at heart, there's no reason why you can't join in the leaping climbing fun.
Sky Zone offers fabulous summer deals and places for non-jump-inclined adults to chill.
Glow Night is a huge draw, but their ninja warrior course, foam pits, jousting, dodgeball, and basketball are sure to be a blast as well.
Find the Clearwater Sky Zone at 13000 66th Street, Largo FL 33773. For more information call (727) 900-5867.
The park is open from 2 pm to 9 pm. Food and drinks are available for purchase.
Note that it can get quite busy on the weekend so those hours may not be ideal for young children. You'll need to buy socks for jumping.
Tip: Check Groupon for deals before going!
Things To Do In Clearwater Beach- FAQ's
Does It Cost Money To Go To Clearwater Beach?

Clearwater Beach is one of the most famous beaches in Florida and best of all, it's free to visit!  You just have to pay for parking.  Most parking spots are about $3 an hour.

As mentioned, there is beach parking next to Frenchy's, and the North Beach Parking Plaza is just a few minutes' walk to the beach and is open 24-7.
Which Part Of Clearwater Beach Is Best?

North Clearwater Beach is arguably the best part of the area and is the area most covered in this post.  Start at Pier 60 Fishing Pier near the center of Clearwater Beach, and head north for amazing restaurants, shops, and activities.

If you're looking for more nightlife options, then South Clearwater Beach is a better option.
Clearwater Beach Hotels

If you're looking to stay in Clearwater Beach or nearby, check out these great hotel accommodations!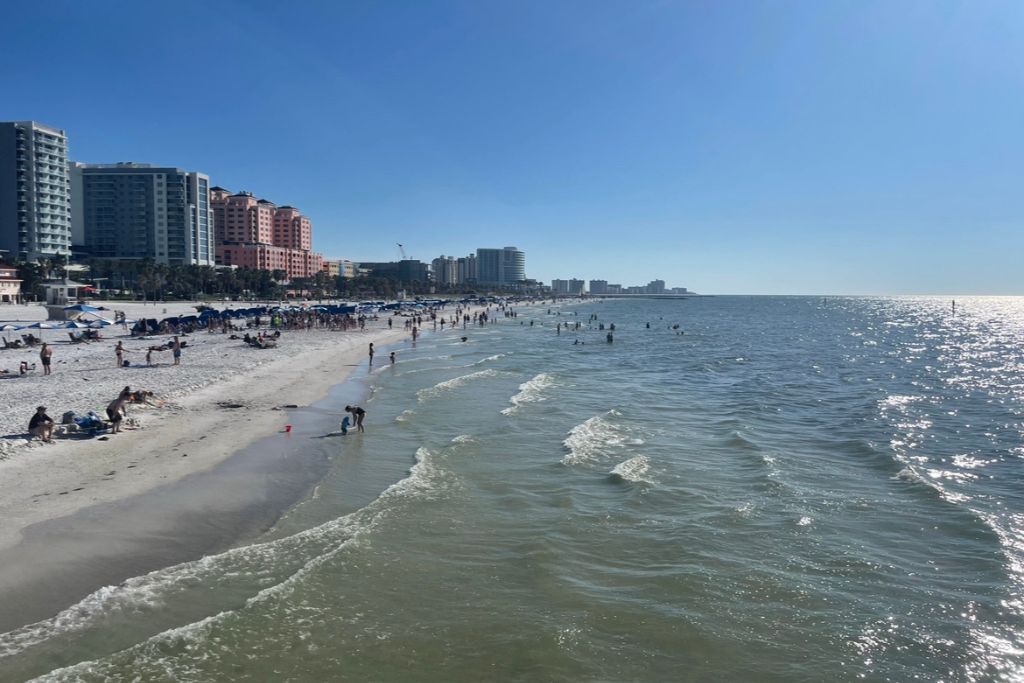 Best Things To Do In Clearwater Beach, Florida- Final Thoughts
Clearwater Beach is a really great place to go and take a trip.  There are plenty of fun things to do in the area and the Clearwater, Florida beaches are amazing.
Many of the activities in Clearwater Beach are within walking distance from the beach.  The Clearwater Marine Aquarium is about a mile and a half away from the downtown activities.
Sand Key Park is about a 2-mile drive.  Also, Clearwater, Florida is just across the causeway and has lots of activities for everyone.
Check out Clearwater Beach.  And for more fun nearby, visit
Anna Maria Island,
just an hour from Clearwater Beach!
Traveling To Clearwater Or St. Pete Beach?!  
Get The Itinerary For the Ultimate Vacation- 🏆
Click Below For Details! 

Travel Resources
Book Your Next Trip!  For Accommodations and short-term rentals, I recommend Booking.com as they are the best in the business when it comes to rates and places to stay.
To Book Activities- For activities, I suggest booking with Viator, they have thousands of 5-star activities to choose from!
Looking To Start Your Own Travel Blog Or Take Yours To The Next Level? 
Check Out This Free Workshop!– I personally joined Scale Your Travel Blog in 2021 and my website has grown exponentially.  
Recent Posts
Check out my other recent posts!
Always On The Shore contains affiliate links and is a member of the Amazon Services LLC Associates Program.  If you make a purchase, we make a small commission at no cost to you. For more information, please read the disclaimer page.  Less than 200 miles off the coast...