Last Updated on November 29, 2023
Always On The Shore contains affiliate links and is a member of the Amazon Services LLC Associates Program.  If you make a purchase, we make a small commission at no cost to you. For more information, please read the disclaimer page. 
Is JetBlue a good airline? That's an important question if you're considering flying for work or vacation.  After all, having a good travel experience can add (or detract) a LOT from your trip.
In this post, we'll cover 14 important things to know about JetBlue so you can make the best possible choice.
I have been flying several times a year since 2016 and have a lot of experience in reviewing airlines and finding the best of the best!
JetBlue is one of the biggest airline operators in the U.S.A. and is based out of John F. Kennedy International Airport in New York City.
With that said, let's take a look at the pros and cons of JetBlue Airways.
Table of Contents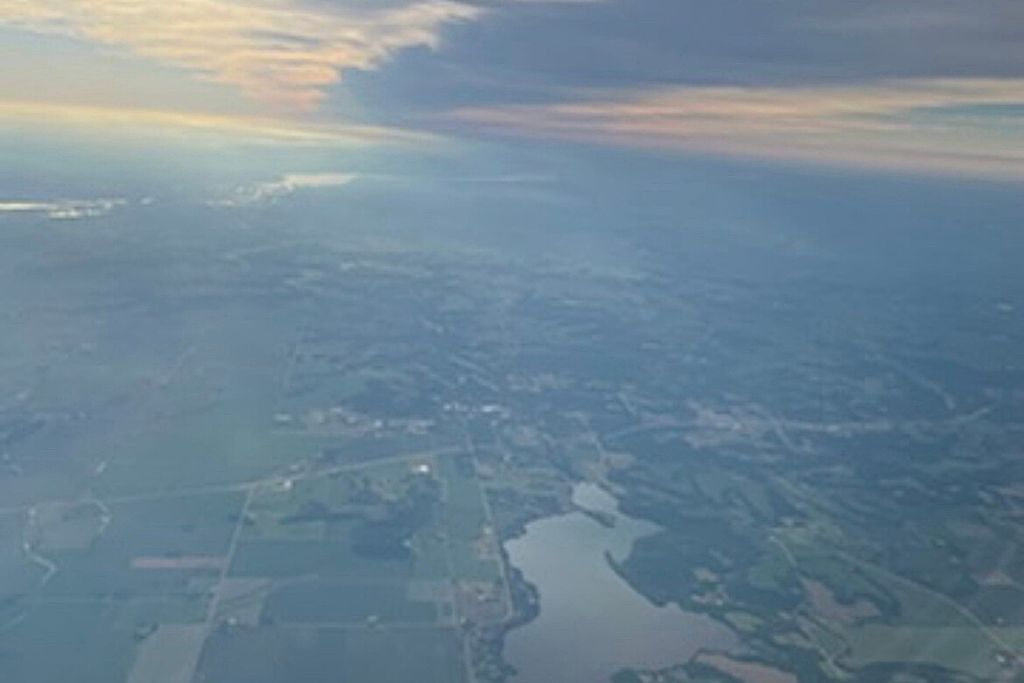 Is JetBlue A Good Airline? Pros
To begin, let's take a look at what JetBlue does well, from great cabin features, snack selections, and top-notch entertainment to Mint Suite on-plane apartments complete with lie-down beds.
Here are eight things to love about JetBlue.
1. Cabin Features
If there's one thing JetBlue does well more times than not, it's the cabin features on the company aircraft. The technology on the plane can make a big difference in your comfort in the air.
Most planes have USB ports and some have in-seat power.  The entire fleet is equipped with free high-speed WiFi, known as FlyFi (with no app needed to download), a good selection of entertainment, and plenty of drink and snack options.
Some of the food and beverages are complimentary, and others are available for purchase.
If you've upgraded to their Mint class, you'll get plenty of free food, beverages, alcoholic drinks, a blanket and pillow, a wellness kit, and a set of headphones.
Reviewers enjoyed the modern amenities.  As one person put it, "I felt like an airline had finally made the best out of what is locking you in a flying box!!"
2. Seatback TV Screens On All Seats
In-flight entertainment is a major factor when it comes to how much you enjoy your flying experience.
Spending hours and hours trapped in your seat with nothing to do is a recipe for a terrible time.  Fortunately, JetBlue does a fantastic job busting boredom for its customers.
All of the seats on JetBlue aircraft have a TV screen on the back of them. Bring your own wired earphones to plug in and watch a movie or jam to some tunes, or buy earphones on board.
Currently, JetBlue offers in-flight entertainment through Amazon. However, in Spring 2023, the airline will launch its exclusive partnership with Peacock, NBC Universal's streaming service.
Passengers will be able to watch blockbuster movies, TV shows (through Direct TV), live sports, Peacock originals, as well as Universal Pictures and DreamWorks Animation movies.
As an added perk, those customers enrolled in JetBlue's TrueBlue loyalty program will get exclusive Peacock subscription discounts. Some members will even receive a one-year subscription for free.
If you'd rather not watch on the HD TV on the seatback, you can also connect your device to the WiFi and stream, chat, or browse at your leisure.
3. Claim To Have The Most Legroom In Coach And Comfortable
Seats
Another important consideration when it comes to passenger comfort is legroom.  JetBlue was rated number one in passenger comfort in North America for 2018, 2019, and 2020.
The distance between seats (also called the pitch) on JetBlue aircraft is 32 to 33 inches, which is pretty good compared to other airlines in the US.
However, it isn't as good as it was a few years ago when they offered 34 inches of pitch on their A320 planes.
In general, expect 32 inches of legroom on JetBlue's A320 planes, 33 inches on their transcontinental A321 aircraft, and 37-41 inches of pitch if you pay extra for their "even more space" add-on.
4. Eliminated Change And Cancellation Fees In Most Fare Tiers
Travel these days can feel a bit like playing slots, so if there's any way to nab yourself a changeable and/or refundable ticket, it is well worth it.
Fortunately, JetBlue gives passengers plenty of freedom to change their plans.
They offer free changes and cancellations on almost all fare classes except Blue Basic.  Keep in mind that not all flights are refundable though.
As an added perk, if you know you're going to miss your flight, you can opt for the JetBlue Same Day Switch which is available for all fare classes.
This cool feature allows you to switch your flight to another flight on the same day for only $75.
If you hit traffic, have an emergency, or some other unforeseen event, this can be a huge money saver.
Of course, if you are traveling Blue Basic, change and cancellation fees are pricey.
Expect to pay $100 per passenger for changing or canceling a flight in the Caribbean, Central America, and North America, and $200 for a flight to other places.
5. Mint Suite And Studio Suites In Many Newer Planes
If you want to fly in the lap of luxury, you're going to love JetBlue's Mint Suite and Studio Suite business class options.
Flying Mint means you don't just get a seat, you get your own mini apartment complete with a 6'8" lie-flat bed, 15-inch TV (or larger), sliding door for privacy, memory foam cushion, and more.
The studio suites are even roomier, with storage nooks, a guest seat, a fold-down table, a mirrored vanity, and a 22-inch TV.  Wowsa!
The amenities are also fabulous when flying Mint. You'll get a Tuft & Needle snooze kit, a Wanderfuel wellness kit, Master & Dynamics MH40 noise-isolating headphones, delicious snacks from NYC Hu's, and all-you-can-drink beverages and cocktails.
Certain routes also offer rotating small plate menus complete with custom playlists to complement the food.
You can fly Mint when traveling with JetBlue to and from London and on certain Caribbean, Latin American, and US coast-to-coast routes.
6. Good Selection Of Snacks And Drinks- Meals, And Alcohol Available For Purchase.
If you're anything like me and get hungry when you fly, you'll be happy to know JetBlue has a wonderful selection of snacks, meals, drinks, and alcoholic beverages.
Their free snacks can include Cheez-Its, Vegan Butter Pretzel Braids, Seed Cookies, Plantain Chips, and Goodie Girl Cookies.
The free beverages include a variety of sodas, and juices, as well as hot drinks such as black tea, green tea, coffee, and decaf.
You can also buy a number of different wine, beer, liquor, and premium liquor brands good news for those having long-haul flights.
Still hungry? You can buy snack boxes, cheese plates, croissants, kale salad, and turkey sandwiches.
If you are flying Mint or on a London flight, you'll have even more great meal service options with gluten-free, kosher, vegan, and low-calorie menus.
7. Great Reward Perks, Loyalty Rewards
If you are a frequent flier, choosing an airline might come down to its loyalty program.  You want your miles and points to count for something and get you enjoying more amenities and better deals.
Is JetBlue a good airline when it comes to loyalty programs? The company's TrueBlue program lets you earn 3 points for every dollar you spend on the airline's flights, vacation packages, hotels, rentals, and activities (available on Paisley).
You can also earn points through their partner airlines and buy through Amazon and the TrueBlue Shopping Portal.
You can earn even more by getting one of the JetBlue credit card, traveling with your pet, and opting for more legroom.
This program is best suited for people living on the East Coast of the US or who fly to London, Central America, South America, and the Caribbean.
US News evaluated 9 different airlines and ranked Jetblue's TrueBlue program 7th. They listed the following perks: the points never expire, you can pool points so groups get reward positions together, and there are no blackout dates on JetBlue flights.
The cons are: that there may be blackout dates on partner airlines, and there are fewer destinations available than with larger airlines.
8. Low Cost Airline
Where JetBlue really shines is in its prices.  It is one of the premier choices for passengers looking for low fares and budget-friendly airlines.
Their short-haul and transatlantic direct flights can be much more economical than the competition.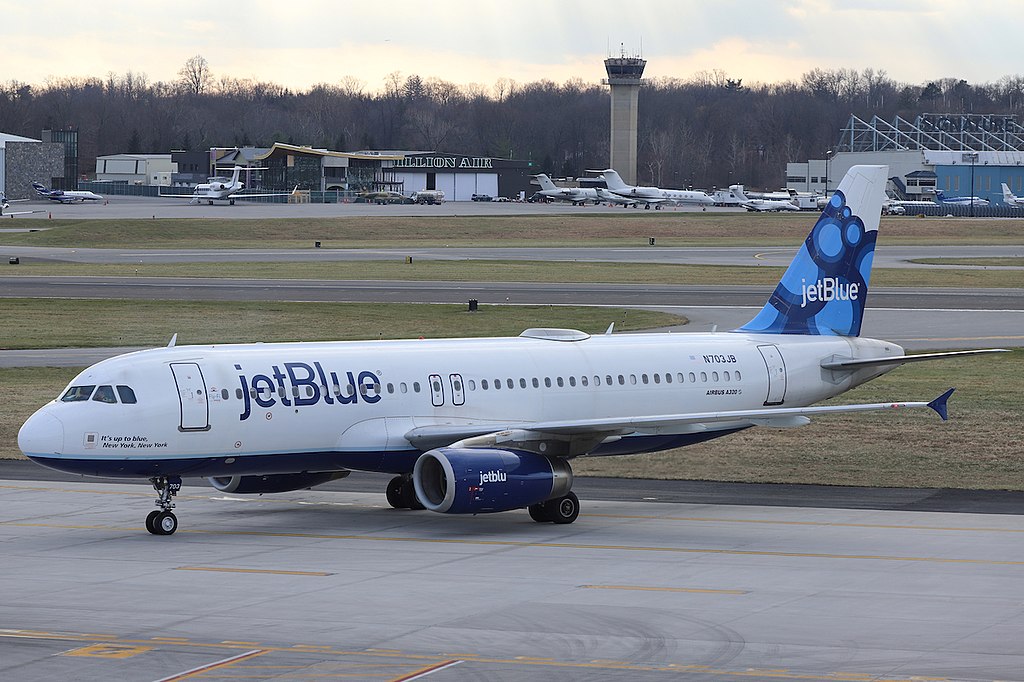 Is JetBlue A Good Airline? Neutral
This part of the list is for things that are not exactly pros and not exactly cons.
9. Boarding Process
Some passengers find the JetBlue boarding procedure confusing.  The process is designed to stagger travelers as they board and give them more time and room to get settled.
You can see your JetBlue boarding group on your boarding pass near the seat number.
JetBlue observes the following boarding order:
1. Pre-Boarding for customers with disabilities
2. Mosaic and Mint® passengers
3. Even More® Space passengers (Group A)
4. Courtesy Boarding for active military personnel and passengers with small children
5. Group B
6. Group C
7. Group D
8. Group E
9. All remaining passengers
Is JetBlue A Good Airline? Cons
No airline is perfect, and there are always some cons to be aware of when traveling.  Here are some things you should know about the cons of flying with JetBlue.
Let's answer the question "Is JetBlue a good airline?" once and for all.
10. Customer Satisfaction And Complaints
Reviews are always a mixed bag, but they can give us some insight into an airline's performance.  We're going to take a look at TripAdvisor and Trustpilot passenger JetBlue reviews.
JetBlue has good reviews on TripAdvisor, scoring 4.0 out of 5 stars overall.  The airline even scored #1 in customer satisfaction for its legroom, seat comfort, and affordable fare options for three years running (2018-2020).
On TripAdvisor, 49% of customers gave JetBlue an "excellent rating," 23% left a "good" rating, and 16% left a "terrible" rating.
Unfortunately, JetBlue gets a much poorer showing from TrustPilot, with a staggering 78% of customers leaving a one-star review (the lowest possible rating).
JetBlue's overall rating on TrustPilot is an abysmal 1.4 out of 5 stars.  Most of the complaints seemed to center on the response of the customer service team, delayed flights, and baggage handling.
Many customers said that JetBlue Airlines staff and flight attendants were rude and unhelpful (though there are exceptions to this).
11. Mishandled Baggage
If you check through reviews on TrustPilot, you may come across a number of negative reviews about baggage handling.
One reviewer called JetBlue's baggage handling "atrocious" and said he would never fly JetBlue again.
But how bad is it really? According to The Travel Bag Experts, JetBlue comes through with a "fairly safe" ranking when it comes to baggage handling.
JetBlue mishandled an average of four bags out of 1000, garnering the fourth spot on the "airline least likely to lose your luggage" scale. (After Allegiant, Hawaiian, and Frontier).
As a comparison, American Airlines mishandled an average of seven bags out of 1000, while Delta, Spirit, United, and Southwest mishandled 3-4 bags out of 1000.
JetBlue uses a "Next-Generation Baggage" handling system which uses RFID tags to track luggage as it is loaded and unloaded.
12. Delayed flights
According to Business Insider, JetBlue is one of the worst-ranked airlines for arriving on time, and for canceling both domestic and international flights.
Only 38% of JetBlue flights arrived on time between January and July 2022.
A staggering 62% of flights were at least 15 minutes late.  JetBlue also canceled 5.39% of its flights between January and July 2022.
Flights between 7 p.m. and 10:59 p.m. were more likely to experience delays and late arrivals than morning flights.
13. Several Flight Classes And Have To Pay For Add-Ons With
Many Of Them
Another con of flying with JetBlue is that you have to pay attention to the flight classes.  If you fly with the lower-tier classes, you're more likely to have to pay for add-ons and amenities.
Although this isn't necessarily a deal breaker, it is something to be aware of when it comes to choosing the best fare for you.
One of the major considerations is how much luggage you are allowed to bring and how much it costs.  We'll talk more about that in the next section.
Cancellation and change fees are also a consideration and can vary across class types.
14. High Baggage Fees In Many Of The Classes
One of the biggest cons of flying JetBlue's Blue Basic class is that you aren't allowed to bring a carry-on.  You can only bring a personal item for your baggage allowance that fits under the seat in front of you.
There are exceptions to this.  For example, Mosaic members, passengers flying from London, and Blue Basic passengers who have opted for the Even More Space upgrade get rights to one free carry-on bag.
The cost of checked bags also varies depending on the fare type and the route.
For example, Blue Basic, Blue Plus, Blue Extra, and JetBlue Plus cardmembers flying from London and the UK get one free checked bag.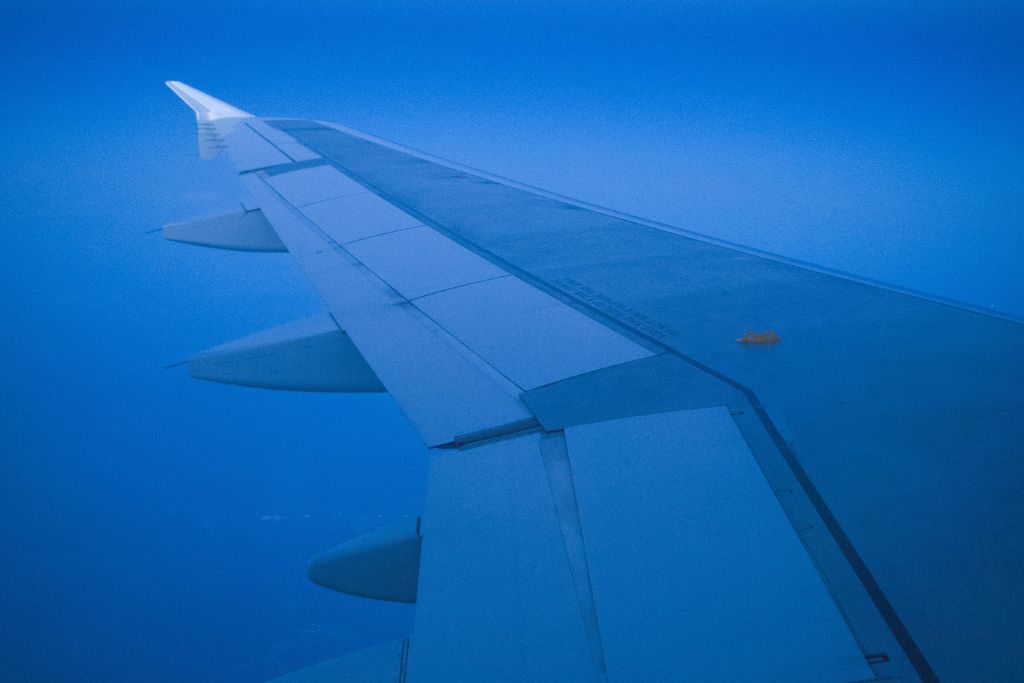 Recap- Is Jetblue Airline A Good Airline?  Pros And Cons
The company offers service to over 100 destinations in the Americas.  They also fly to London and offer some sweet upgrades and luxury flying experiences for their U.K. flights.
The airline is best known for being one of the most affordable airlines in the U.S.  The company offers many budget-friendly flights in the United States and to international destinations.
Pros- Upgrades and low cost
JetBlue also has a good frequent flier program, good in-cabin amenities, and few to no change and cancellation fees depending on which class you fly.
Of course, there are also important cons to be aware of when it comes to JetBlue, including negative reviews about baggage handling, baggage fees, delayed flights, and customer service.
Cons- Negative reviews, delayed flights, customer service
Is JetBlue A Good Airline? Final Thoughts
If you are looking for a budget airline with good amenities, great in-flight entertainment, and decent legroom, JetBlue could be a great choice for you.  The company is also a great choice for transatlantic flights.
For international travel, their London routes offer passengers even more great amenities including lie-down seats in Mint class, good food, large TVs, and more.
Of course, there are also some cons to be aware of, especially baggage fees and the airline's propensity to cancel and delay flights.
So what do you think?  Is JetBlue a good airline for you?  What air travel company will you book for your next trip?
Safe travels!
Me on a flight to Florida in 2023
Travel Resources
Book Your Next Trip!  For Accommodations and short-term rentals, I recommend Booking.com as they are the best in the business when it comes to rates and places to stay.
To Book Activities- For activities, I suggest booking with Viator, they have thousands of 5-star activities to choose from!
Looking To Start Your Own Travel Blog Or Take Yours To The Next Level? 
Check Out This Free Workshop!– I personally joined Scale Your Travel Blog in 2021 and my website has grown exponentially.