Always On The Shore contains affiliate links and is a member of the Amazon Services LLC Associates Program.  If you make a purchase, we make a small commission at no cost to you. For more information, please read the disclaimer page. 
Known as "The World's Luckiest Fishing Village", and nestled along the shimmering Emerald Coast of Florida, Destin is a captivating seaside city that beckons travelers from far and wide.  However, with lots of travelers come risks, so in this post, we ask the question, is Destin safe?  
Located in the northwestern part of the state, Destin is situated in Okaloosa County and spans approximately 8.2 square miles. 
Its prime location places it between Pensacola to the west and Panama City Beach to the east, making it easily accessible for those seeking sun-soaked adventures.
If you are thinking about taking a trip to one of the most captivating destinations in the Sunshine State, you probably have the radiant shores of Destin, Florida on your mind. 
But before you go, let's address whether Destin, Florida is safe or not. In this guide, we will delve into the myriad reasons why Destin, Florida, is not only a captivating destination but also a safe place to visit.  In fact, I've been to Destin several times and it's one of the places that I traveled solo.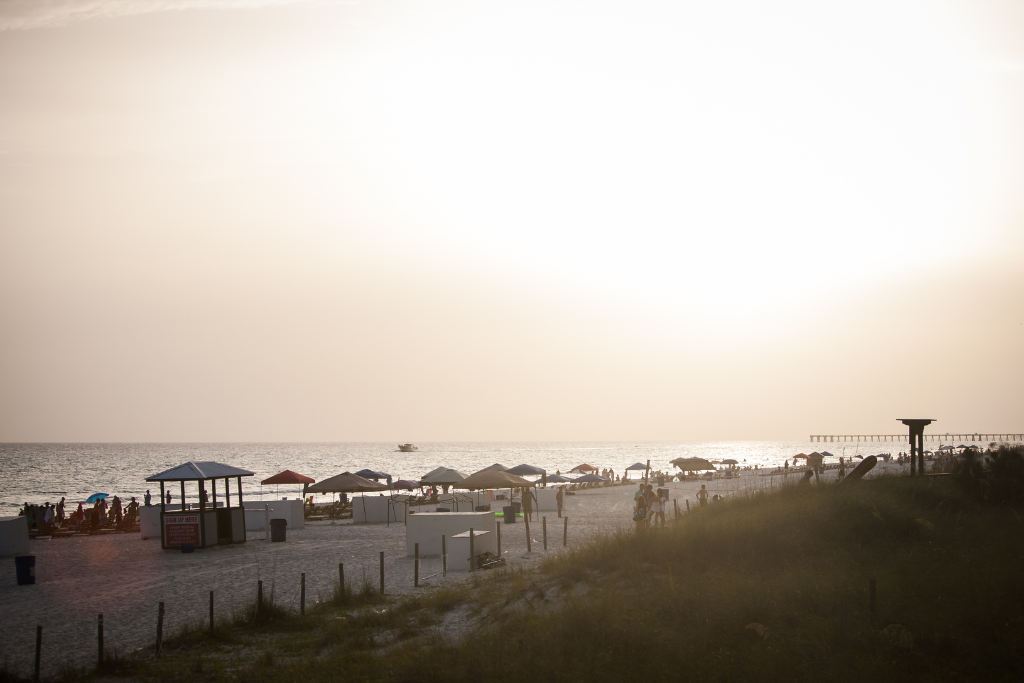 What Exactly Makes Destin Florida A Safe Place? 
Low Crime Rates: Destin boasts remarkably low crime rates, providing a sense of security to both residents and visitors.
The local law enforcement agencies work diligently to maintain a safe environment, ensuring that you can explore and enjoy the city with peace of mind.
Tourism Security Initiatives: Destin places a strong emphasis on tourism security. Local law enforcement collaborates closely with tourist-oriented organizations to enhance safety measures.
Dedicated tourist police units and increased patrols in popular areas help maintain a secure environment, ensuring the well-being of visitors throughout their stay.
Welcoming and Supportive Community: The local culture in Destin is known for its warmth, friendliness, and strong sense of community.
The residents take pride in their city and genuinely embrace tourism.
Their hospitality extends to ensuring the safety of visitors, making them feel welcomed and secure during their time in Destin.
Well-Maintained Infrastructure: Destin boasts well-maintained infrastructure, including reliable road systems and transportation networks.
Safety regulations are in place for public facilities and attractions, ensuring a secure experience for visitors.
The city's commitment to maintaining its infrastructure contributes to a safe and enjoyable environment for all.
Beach Safety: Destin's pristine beaches not only offer breathtaking beauty but also prioritize visitor safety.
Lifeguard services are available at designated beach areas, providing an extra layer of protection for those enjoying the Gulf of Mexico.
Additionally, beach safety regulations and information on rip currents are readily available to ensure that visitors can make informed decisions while enjoying the coastal waters.
Natural Disaster Preparedness: Being located in a coastal area, Destin has measures in place to address potential natural disasters, particularly during hurricane seasons.
Local authorities and emergency services are well-prepared to handle such situations, ensuring the safety and well-being of residents and visitors alike.
Photo credit – Unsplash by Taylor Deas-Melesh
Is Destin Safe For Visitors?
While no destination can guarantee a complete absence of risk, Destin's commitment to safety, low crime rates, and welcoming community make it a safe place to visit. 
Is Destin Safe For Families? 
The residents of Destin are known for their friendliness and hospitality. They welcome visitors with open arms, creating a warm and inviting atmosphere. 
Whether it's receiving helpful recommendations, finding assistance if needed, or feeling a sense of belonging, visitors can expect a positive and safe experience in the community.
Plus, with a range of family-friendly attractions, such as water parks, mini-golf courses, and interactive museums, there's something for everyone.
The city prioritizes safety, making it an ideal choice for families with children.
For Solo Travelers?
Destin, Florida is a safe destination for solo travelers. The city's low crime rates, tourist-oriented environment, and well-lit public spaces contribute to a secure atmosphere.
Additionally, the vibrant community and bustling nightlife create a lively and welcoming environment, making solo travelers feel comfortable and safe while exploring all that Destin has to offer.
Is Destin Safe At Night?
Destin, Florida is widely regarded as a safe destination for nighttime exploration, offering a range of factors that contribute to its secure reputation.
The local law enforcement agencies work diligently to maintain a safe environment, ensuring regular patrols and a visible presence throughout the community.
Additionally, Destin takes proactive steps to ensure that its public spaces, such as streets, parks, and beaches, are well-lit during nighttime.
Adequate lighting not only enhances visibility but also serves as a deterrent against potential criminal activities.
And last, Destin's vibrant nightlife scene offers a plethora of entertainment options for nocturnal adventurers.
The city is home to numerous establishments, including restaurants, bars, clubs, and live music venues.
These bustling hubs not only provide ample opportunities for entertainment but also tend to have increased foot traffic and activity.
What Part Of Destin Is The Riskiest Or The Most Dangerous?
While there is no specific area in Destin that is widely recognized as particularly risky or dangerous, it is still advisable to take necessary precautions and follow general safety guidelines. 
What Part Of  Destin Is The Safest?
Areas close to popular tourist attractions, such as the Destin Harbor Boardwalk and the beaches along Scenic Highway 98, often have a higher level of activity, increased surveillance, and a stronger presence of law enforcement, which can contribute to an enhanced sense of security.
Is Destin's Crime Rate High?
No, Destin, Florida does not have a high crime rate. It is generally considered a safe city with a lower crime rate compared to many other destinations.
Is Destin Safer Than NYC?
Yes, Destin, Florida is generally considered safer than New York City (NYC).
While both Destin and NYC are popular tourist destinations, they have different crime rates and overall safety profiles.
Destin, being a smaller city with a focus on tourism and a relatively lower population density, tends to have lower crime rates compared to larger metropolitan areas like NYC.
Destin's emphasis on public safety, active law enforcement, and a community-oriented approach contributes to its reputation as a safe destination.
On the other hand, New York City is a bustling metropolis with a higher population density and diverse neighborhoods.
While NYC has made significant strides in reducing crime over the years, it still has higher crime rates compared to smaller cities like Destin.
Photo credit – Unsplash by Joseph Rizzo
Destin Safety Tips
1. Be Mindful of Water Safety: If you plan to enjoy the beautiful beaches and water activities in Destin, always prioritize water safety.
Follow lifeguard instructions, swim in designated areas, and be aware of rip currents. It's advisable to swim with a buddy and keep a close watch on children at all times.
2. Secure Your Belongings: Whether you're at the beach, exploring attractions, or dining at a restaurant, always keep a close eye on your personal belongings.
Avoid leaving valuables unattended and consider using a waterproof bag or locker to protect your belongings while enjoying water activities.
3. Stay Together: Keep your family members within sight and establish a meeting point in case you get separated.
It's essential to keep an eye on children at all times, especially in crowded areas or near water.
4. Share Your Itinerary: Inform a trusted friend or family member about your travel plans, including your accommodations, activities, and contact information.
Regularly check in with them to keep them informed of your whereabouts.
5. Use Reliable Transportation: When moving around Destin, opt for reputable transportation options such as licensed taxis, rideshare services, or public transportation. Avoid unmarked or unofficial taxis.
6. Stay in Well-Lit and Populated Areas: When exploring Destin at night, stick to well-lit and populated areas. Avoid isolated or poorly lit places, especially if you're alone.
Is Destin Safe – FAQs
Is It Safe To Swim In The Ocean In Destin?
Yes, it is generally safe to swim in the ocean in Destin, Florida.
Destin is known for its beautiful beaches and clear waters, attracting visitors from around the world.
When swimming in the ocean in Destin, it's important to follow safety guidelines.
Pay attention to posted signs and warnings regarding water conditions, such as rip currents or high surf. 
Green flags indicate calm conditions, while yellow or red flags suggest rougher waters or strong currents.
Swim in designated areas supervised by lifeguards, who can offer assistance and monitor conditions. 
Be cautious of rip currents; if caught in one, stay calm, swim parallel to the shore, and avoid swimming against the current
Is It Worth It To Go To Destin?
Yes!  Destin, Florida is one of my favorite places to go and definitely worth a visit.  Destin is renowned for its stunning, white sandy beaches and crystal-clear emerald waters.
The picturesque coastline offers an idyllic setting for relaxation, sunbathing, and enjoying water activities such as swimming, snorkeling, or paddle boarding.
While every traveler's preferences may vary, the combination of beautiful beaches, outdoor adventures, family-friendly attractions, delectable seafood, and a vibrant atmosphere make Destin a worthwhile destination.
Whether you're seeking relaxation, excitement, or a memorable family getaway, Destin has something to offer for everyone.
Photo credit – Unsplash by Taylor Deas Melesh
The Wrap-Up: Is Destin Safe? 
Destin, Florida is generally considered a safe destination for visitors.
The city boasts low crime rates, a welcoming community, and a tourist-oriented environment that prioritizes the safety and well-being of its residents and visitors. 
With the presence of law enforcement, well-lit public spaces, and a focus on maintaining a secure environment, Destin strives to create a safe and enjoyable experience for all. 
However, as with any travel destination, it's always advisable to exercise caution, be aware of your surroundings, and take necessary precautions to ensure personal safety. 
By staying informed, following safety guidelines, and using common sense, visitors can have a pleasant and secure time exploring the beauty of Destin.
Travel Resources
Book Your Next Trip!  For Accommodations and short-term rentals, I recommend Booking.com as they are the best in the business when it comes to rates and places to stay.
To Book Activities- For activities, I suggest booking with Viator, they have thousands of 5-star activities to choose from!
Looking To Start Your Own Travel Blog Or Take Yours To The Next Level? 
Check Out This Free Workshop!– I personally joined Scale Your Travel Blog in 2021 and my website has grown exponentially.