Always On The Shore contains affiliate links and is a member of the Amazon Services LLC Associates Program.  If you make a purchase, we make a small commission at no cost to you. For more information, please read the disclaimer page. 
If you're planning a visit to Florida's panhandle and are wondering which to go to, Destin vs. Miramar Beach, then you're in the right place.  And if you've been following my travels for some time, then you'll know that the Florida Panhandle is one of my favorite places to visit, particularly Destin and Miramar Beach! 
Although right next to each other, these two cities both offer their own unique aspects that will make your vacation great.
Each has plenty of activities, lots of sunshine, and stunning views of the Gulf of Mexico. 
In this post, I'll share with you everything that you need to know to choose where to spend your time vacationing in the Sunshine State!
Destin vs Miramar Beach: Which Is Better?
It can be really tough to decide where you're going to spend your hard-earned vacation time, especially when Florida is so packed with great destinations.
But luckily, if you're choosing between Miramar Beach or Destin, your decision doesn't have to be as solid, since they're so close.
Both are home to beaches to relax on, stores and restaurants to visit, and plenty of things to keep you busy for your entire trip.
And because they're just a short 20 minutes apart from each other, you may even be able to visit both of them on the same trip.
Photo credit – Unsplash by Laura Fuhrman
Things To Do In Destin
Crab Island
As one of the most popular things to do in Destin, you most definitely can't miss a visit to Crab Island.
This raised sandbar is found off the coast of the Florida panhandle and has become a popular place for boats to gather and enjoy the clear water.
Everything from floating bars to inflatable obstacle courses has made its way out to Crab Island, making it the perfect family-friendly destination.
HarborWalk Village
This lively entertainment center in Destin is home to all of the fun that happens during the day and after dark!
Join a tour during the day to explore the crystal clear waters of the Gulf Coast, or wander through the small shops that line the streets.
There are also plenty of great restaurants to eat at if you're hungry, including popular places like Margaritaville.
Destin Commons
If you're a lover of shopping, then a visit to Destin Commons will be the perfect addition to your trip!
This large, open-air shopping center offers shoppers a huge variety of stores, featuring over 80 stores and restaurants.
You'll find large-name stores like American Eagle and Forever 21, as well as smaller local shops, as well as many unique places to grab a bite to eat.
Henderson Beach State Park
This stunning state park is the perfect place to escape into a natural oasis and enjoy some sunshine during your Florida vacation.
Massive 30-foot sand dunes line the shore of the Gulf of Mexico and make for a perfect spot to explore.
You can swim at the beach in the park, hike or bike around the trails, go fishing, watch for wildlife and more.
Norriego Point
Another stunning beach location is Norriego Point. The long, sugar-white sand beach is a popular place to swim and relax along the shore.
The area is enclosed by a variety of jetties and is often overlooked by lifeguards, who make swimming easy.
James Lee Park
One of the best free things to do in Destin is to visit James Lee Park, where you'll find a gorgeous swimming beach, multiple picnic areas, a playground, and more.
There is plenty of space along the beach to spread out and enjoy the sunshine, or walk down the coast in search of seashells.
The dunes that line the coastline are also beautiful and create a unique scenery to enjoy as you soak up the sun.
Go here for more of the best things to do in Destin and nearby!
Photo credit – Unsplash by Yaw Afari
Things To Do In Miramar Beach
Baytowne Wharf
The small village of Baytowne Wharf is one of the best things to do in Miramar Beach when you're planning your vacation.
There are all sorts of entertainment options for the entire family, from the Baytowne Adventure Zone to the Baytowne Carousel and farmers markets throughout the year.
The Wharf also has great nightlife, so if you're looking for something to do after dark, this is where to be!
Miramar Beach Regional Access
One of the best free things to do in Miramar Beach is to visit the Miramar Beach Regional Access.
It's one of the best beaches in the area and features a long stretch of white sand that lines the teal ocean water.
Lifeguards are on duty during peak season, and nearby you'll find a variety of restaurants to grab a bite to eat at while you're enjoying the stunning beach.
Grand Boulevard 
Similar to the Destin Commons in Destin, Grand Boulevard is an open-air shopping center that features a large variety of stores to shop around in.
There are local boutiques as well as a large array of chain stores such as Billabong and Lululemon.
At Grand Boulevard, there is also something known as the Coastal Culture, where you can find different events like farmers' markets, shows and live music, or other seasonal happenings.
Things To Do Near Destin
If you've done everything in Destin and want to venture out a bit, here is the best thing to do within a short distance!
Okaloosa Island (Fort Walton Beach)
Just a short distance away, Okaloosa Island is a popular day trip from Destin or Miramar Beach.
You'll find plenty to do on the island, including many beaches that are often less crowded than the ones in Destin, and entertainment for the entire family, like the Gulfarium Marine Adventure Park.
The Boardwalk hosts family-friendly events throughout the year and also has a lot of shopping and dining options to check out
Okaloosa Island also features a pier that you can walk out onto for a small fee and enjoy the views of the coastline.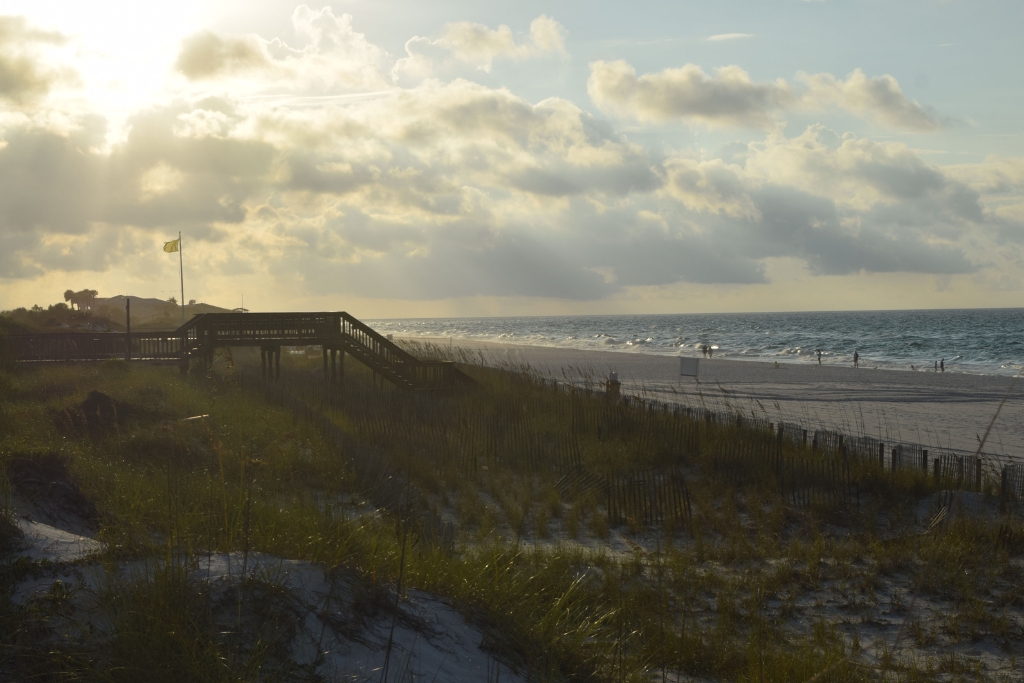 Things To Do Near Miramar Beach
Just like Destin, Miramar Beach has even more fun things to do nearby! Here are the best.
Santa Rosa Beach
Just a quick 15-minute drive from Miramar Beach will put you in the small town of Santa Rosa Beach, where you'll find multiple other beaches that are less crowded than Miramar.
Ed Walline Public Beach Access is the best way to get down onto the coastline and spend some time relaxing on the white sand beach.
Seaside
Another small beach town just a short drive from Miramar Beach is Seaside, which has aptly been given its name.
Here you'll find a small waterfront town that truly lives on 'Island Time.' 
Wander along the beach, dine at the many local restaurants, and check out the town center area.
In the Seaside town center, you'll find plenty of local boutiques to stop and shop in, as well as a huge variety of food trucks, housed in vintage RVs and Airstreams, that serve up some delicious meals and treats.
Miramar Beach vs Destin: Which Is Better For Couples?
If you're looking for a romantic getaway with your partner, then Destin tends to be the winner between Miramar Beach and Destin.
Because of the many great restaurants, the lively nightlife, and the day trips that can be taken together, Destin makes a great place for a Florida vacation for couples.
Which City Is Best For Families?
Florida is a popular destination for family vacations, and Destin is the perfect place to go if you're looking for a fun-filled getaway!
With so many family-friendly activities like the many beaches, Big Kahuna's Water & Adventure Park, and the dozens of water activities that you can participate in from Destin, it's the clear winner for which town is best for families.
Destin Or Miramar Beach: Which Has Better Events Throughout The Year?
Both Destin and Miramar Beach feature a variety of events throughout the year.
In Destin, you'll often find things going on in HarborWalk Village. From live music to parades and silent disco parties, there are things to do for the whole family.
Similarly, Miramar Beach's Baytowne Wharf features live music, farmer's markets, festivals, concerts, and more.
Depending on when you visit each destination, you'll likely find a variety of events happening during your trip!
Which City Has The Best Food?
Since Miramar Beach and the Destin area are located right on the Gulf Coast, they both serve up some of the most delicious seafood around.
Both towns have great restaurants that offer fresh, locally caught fish for you to enjoy. 
And if you aren't a seafood fan, there are still many other places to go in either town that sells classic foods like juicy burgers and tasty pasta.
It's a really tough call to say which has the best food since they are so close and have such similar tastes.
Best Restaurants In Destin
Brotula's Seafood House
This casual, family-friendly restaurant makes for the perfect place to grab a bite to eat when you're craving seafood.
With things on the menu like locally caught fish, steamed and boiled seafood platters, and seafood gumbo, you might have a hard time deciding what to choose!
Boshamp's Seafood And Oyster House
Located right on the Destin Harbor and with over 40 years of experience, Boshamp's is here to serve freshly caught seafood.
Order things like crab chowder or seafood gumbo to start, and then their catch of the day as your main dish. They also have a large patio that overlooks the shallow waters.
Best Restaurants In Miramar Beach
Pompano Joe's
This brightly colored seafood shack located right on the water in Miramar Beach is one of the best places in town to eat.
Pompano Joe's specializes in making some of the best seafood around, including almost every fish that you can think of!
They also have a selection of oysters, gumbos, and a huge list of tropical desserts. 
Whale's Tail
You can dine for breakfast, lunch, and dinner at Whale's Tail, which is found just off the beach at Seascape Resort.
Relax indoors or enjoy the cool ocean breeze on their outdoor patio while you dine on foods like crab legs, shrimp, mahi mahi, and more.
Destin vs Miramar Beach: Which Is Cheaper?
When it comes to the price tag of these twins, both Destin and Miramar Beach are pretty comparable.
Because of how close they are together, it's tough to distinguish a real difference in the prices of everyday needs like food and drinks.
The place that you may see a higher expense is in the tours that you're intrigued to take, because the Destin area offers lots of water sports and tours, from watching marine life to jet skis.
Photo credit – Unsplash by blanca aguilar
Which City Has Better Beaches?
Of course, one of the top considerations when choosing between Destin and Miramar Beach is which has the best beaches.
The beaches are pretty comparable, but many people tend to enjoy the ones in Destin better.
In Destin, the water tends to be more clear and the white sand beaches are beautiful in contrast with the turquoise water.
Although the crowds at Destin can be large, so if you're looking to escape the busyness, then you may want to visit Miramar Beach or the other smaller beach towns nearby.
Destin vs Miramar Beach FAQs
Is Destin And Miramar Beach The Same?
No, Destin and Miramar Beach are two separate towns and beaches, although they are only located just a short 15-minute drive apart.
Is Miramar Beach Nicer Than Destin?
It's tough to say which of these destinations is better because they both feature pristine beaches along the Gulf of Mexico.
Miramar Beach tends to have fewer tourists, but Destin has clearer water and more to do.
Where Is Miramar Beach Compared To Destin?
When looking at Destin vs Miramar Beach, we can see that the two cities are only about 15 minutes apart. Miramar Beach is just 9 miles East of Destin in the Florida Panhandle.
Is Miramar Beach Swimmable?
Yes, many people love to swim on the sandy coastline of Miramar Beach.
Photo credit – Unsplash by Charles Bell
Wrap-Up: Destin vs Miramar Beach
Whether you've visited Florida before or this is your first time, choosing which cities that you'll visit is a crucial part of your vacation planning!
And if you're wondering which is better, Miramar Beach vs. Destin, it's really a close tie.
These two beach towns are so close by that you really could pair both of them together and make one nice Sunshine State vacation!
Travel Resources
Book Your Next Trip!  For Accommodations and short-term rentals, I recommend Booking.com as they are the best in the business when it comes to rates and places to stay.
To Book Activities- For activities, I suggest booking with Viator, they have thousands of 5-star activities to choose from!
Looking To Start Your Own Travel Blog Or Take Yours To The Next Level? 
Check Out This Free Workshop!– I personally joined Scale Your Travel Blog in 2021 and my website has grown exponentially.