Last Updated on December 6, 2023
Always On The Shore contains affiliate links and is a member of the Amazon Services LLC Associates Program.  If you make a purchase, we make a small commission at no cost to you. For more information, please read the disclaimer page. 
Are you struggling to decide between Destin vs Gulf Shores for your next vacation?  If so, this post has all the information you need to make the best possible choice.
The Gulf Coast is my favorite place to visit and both of these amazing cities are located along the Gulf! 
We're going to cover key details about each city ranging from budgetary considerations to the quality of the beaches, range of recreation options, and beauty.
If you're wondering which destination is better for couples or families, we'll cover that too.
Let's dive in!
Is Destin FL Or Gulf Shores AL better?
Is Destin Florida or Gulf Shores Alabama better?  The answer depends on your preferences.
If you're in search of the clearest emerald water you've ever seen, Destin Florida wins hands down. 
Destin is also a prime spot to enjoy golfing, parasailing, watersports, dolphin cruises, and theme parks. 
As far as cons go, it can be crowded, and the traffic might be a nightmare, but you can't have everything.
Gulf Shores Alabama, on the other hand, also boasts amazing turquoise water. It might be slightly less clear than in Destin, but still beautiful. 
Dolphin tours, golf courses, fun parks, water parks, and shopping opportunities abound.
It tends to be less busy and has fewer traffic issues than Destin, but there are also fewer beaches and less nightlife.
Photo credit – Unsplash by Zach Vessels
About Destin Florida
Destin Florida, also known as the "World's Luckiest Fishing Village" is located on the Florida Panhandle between Panama City Beach and Pensacola Beach.
It lies on the shores of the Gulf of Mexico along Florida's "Emerald Coast."
This lovely destination is actually located on a barrier island between the Gulf of Mexico and Choctawhatchee Bay.
It's an epicenter for fishing, outdoor adventures, boating trips, amusement parks, aquariums, and sugar-white beaches that are powdery soft.
About Gulf Shores Alabama
Gulf Shores Alabama is east of Destin and is also along the delightful shores of the Gulf of Mexico.
This resort city is located in Baldwin County and is the southernmost settlement in the state of Alabama.
The water is turquoise and warm, beautifully clear, and features powdery white sand.
Visitors to Gulf Shores love the watersports, amusement parks, dolphin tours, and nature opportunities in the area.
Gulf Shores also feature great lodging and restaurant options. It has a quieter, more small-town feel than Destin.
Is Destin Or Gulf Shores Cheaper?
When it comes to Destin vs Gulf Shores, both cities can be pricey.  A lot depends on what activities you plan to do.
If you're looking for paid entertainment options and tours, Destin will be slightly more expensive than Gulf Shores. 
Expect to pay similar prices for lodging and restaurants in both cities.
If you want to save money on a trip to either destination, consider booking your vacation during the non-summer months.
Look for lodging that is further from the ocean and save on meals by choosing accommodations with a kitchen or kitchenette.
Both cities offer many wonderful free activities from parks and beach days to boardwalks and bike shares.  Take a look at these free and cheap things to do in Destin! 
Photo credit – Unsplash by Gary Runn
Which Has Better Beaches?
The beaches at Gulf Shores and Destin are both miles long and feature super soft white sand. 
In general, the water is going to be slightly clearer and more beautiful in Destin Florida thanks to the filtering action of Choctawhatchee Bay.
The water is emerald-colored and gorgeous.  There are occasional instances of June grass and sea lice, but overall the beaches and ocean here are fantastic.
Gulf Shores can lose a bit of water clarity due to sediment, but a lot will depend on which direction the wind is blowing.
If it comes from the east, you'll get comparable water to Destin (the water will be coming from that direction). 
If the wind blows from the west, there may be a bit more sediment in the water.
Overall, the water here is usually beautiful and clear, just not quite as clear as Destin.
Is Destin Or Gulf Shores Better For Food?
If you're a foodie, both Destin and Gulf Shores offer amazing food.
As you might expect with coastal cities, seafood takes center stage.  Enjoy oysters, fresh-caught buckwater, and shrimp galore.
Tip: If you have children, head to Lulu's in either city.  They have good food and tons of space for the kids to play.
Best Restaurants In Destin
Destin has dozens of excellent restaurant options, but a few you'll want to try include:
Dewey Destin's – a popular fish and seafood restaurant right on the water
Boshamps Oyster House – more incredible seafood, especially the red snapper on pasta
Moe's Original BBQ – for amazing smoked meat, ribs, seafood, and pulled pork.
Camille's – Offers a combination of seafood and offerings for the kids.
For more of the best restaurants in Destin, go here! 
Best Restaurants In Gulf Shores
Restaurants in Gulf Shores offer amazing seafood, barbecues, burgers and desserts.
Tacky Jacks – this is a perfect spot to watch the sunset, enjoy tasty food, and drink a peach margarita.
Matt's Homemade Ice Cream – when the weather heats up, head over here for some fabulous frozen treats.
The Hangout Gulf Shores – yummy food and fun foam for the kids.
Flora-Bama Lounge – This beach bar offers great live music, yummy food and top-notch drinks.
Is Destin Or Gulf Shores Better For Events Throughout The Year?
Both Destin and Gulf Shores have great events. Check out the offerings and choose your destination based on what sounds like the most fun for you.
In Destin, you can enjoy annual events such as the Destin Seafood Festival, Paddle at the Park, Destin Fishing Rodeo, and the Mattie Kelly Arts Foundation Concerts in the Village, to mention only a few.
Gulf Shores also features a calendar of fun annual events including bull riding, a triathlon, a shrimp festival, and more.
Photo credit – Unsplash by Nick Agee
Destin vs Gulf Shores: Which One Is Better For Families?
When it comes to Destin vs Gulf Shores, both cities are family-friendly.
From Waterville USA in Gulf Shores to HarborWalk Village in Destin, there are tons of great activities available in both locations from beach days to waterparks to kid-friendly dining.  Both cities also have The Track amusement park with go-karts, rides, and arcade games. 
However, Gulf Shores have more of a small-town feel compared to Destin.  There might be fewer visitors doing crazy things.
The Takeaway?  You can have a great experience in either destination.
Destin vs Gulf Shores: Which One Is Better For Couples?
Are you looking for a great place to spend a vacation as a couple?
If you're looking for nightlife, Destin has a lot more options than Gulf Shores.  You can head to Destin Harbor for restaurants, concerts, plays, clubs, cultural events, and more.
Although the romantic options in Destin are endless, a few activities worth mentioning include going on a dinner and dancing cruise, going out on a tiki cruise, or chartering a sailboat.
Gulf Shores is quieter than Destin.  Couples activities here can include building sandcastles together, hiking through the wildlife refuge, and grabbing delicious milkshakes at The Yard.
Destin vs Gulf Shores: Which Is Better For Recreation? 
Gulf Shores and Destin both offer excellent outdoor activities on land and water.
You can go sailing, go on a dolphin cruise, rent a boat, paddleboard, kayak, or even rent Jet Skis in both Destin and Gulf Shores.
While Destin offers more nightlife options, Gulf Shores offers biking, hiking, and Segway tours.
Best Things To Do In Destin
One of the best things to do in Destin is to visit Crab Island.  This giant shallow sandbar is a huge attraction and can accommodate hundreds of watercraft.
Rent one of your own, pack a picnic and lots of cold drinks, and head out to Crab Island for a fun day on the water.  Swim, relax, and enjoy.
Another great spot to visit in Destin is the Baytowne Wharf.  Here you can enjoy lots of fun nightlife both for adults and kids.
If you visit during the day, you can even see fishermen bringing in their catch. It might make you hungry for seafood.
Hanging out at the various beaches and beachfront parks is an unmissable activity in Destin.  Delight in the emerald water, white sands, and beautiful horizons.
Fishing in Destin is unparalleled, so renting a fishing charter is an excellent idea–especially if you enjoy the thrill of the fighting chair.
Dolphin tours, paddleboard or kayak rentals, and tiki cruises are additional fun activities to enjoy in this resort city.
Best Things To Do In Gulf Shores
Gulf Shores offers plenty of attractions, but one of the best is to take a dolphin cruise.
Seeing these fun creatures playing in the waves will make your trip extra memorable.
Spending at least one morning at the beaches of Gulf Shores goes without saying.
The turquoise water will feel marvelous, and you can build sandcastles or read a book to your heart's content.
For family-friendly fun, you and your kids can spend many hours of diversion at Waterville USA.
And as mentioned, The Track Family Fun Park is another top spot to take your children.
Things To Do Near Destin And Gulf Shores
If you choose to visit Destin, you won't want to miss making trips to three lovely beach towns nearby.
Grayton Beach, Seaside, and Santa Rosa are all lots of fun to visit and offer plenty of charm.
Gulf Shores also offers wonderful nearby attractions.  Fairhope Alabama has an uber fun downtown, excellent park, museum, castle, and ice cream shop.
You can also visit Oak Hollow Farm for horseback riding.
Free Things To Do In Destin And Gulf Shores
Both Destin and Gulf Shores offer many excellent free things to do.
Free Things To Do In Destin
√ Artists At Gulf Place – This cool spot is an art gallery featuring work by local artists.  It's definitely worth perusing!
√ Boardwalk At Okaloosa Island – a beautiful beach and boardwalk offering fun family-friendly events and even sandcastle lessons.
√ Destin Commons – Wander and window shop at the Destin Commons, a fun collection of shops and entertainment options. 
√ Gator Beach –  Check out the alligators at Gator Beach. Nature is the show.
Free Things To Do In Gulf Shores
√ Bike Share Through Gulf State Park – Grab some bicycles at the Gulf State Park and spend up to three hours cycling around and enjoying the outdoors.
√ Gulf Shores Public Beach – Enjoy the tranquil waters and creamy white sands of this public beach.
√ The Wharf – Explore the Orange Beach Wharf window-shopping, taking in the fun atmosphere, or splurging a little for rides, mini golf, or restaurant fare.
√ Bon Secour National Wildlife Refuge – Hit the trails at this wildlife refuge for a chance to sight sea turtles and migratory birds.
Destin vs Gulf Shores – FAQs
Why Is Destin Water Clearer Than Gulf Shores?
The water in Destin is usually clearer than the water at Gulf Shores because there is little to no sediment.
The Choctawhatchee Bay acts as a sediment filter, helping keep the ocean here insanely clear.
Add the touch of emerald green from microscopic plankton and you have a beach scene from paradise.
The water in Gulf Shores is generally clear, but it can experience some sediment from the Mississippi River, usually when there is wind from the west.
Is Destin Or Orange Beach Better?
If you're looking for a lively destination with lots of nightlife, and a fun beach vibe, and don't mind traffic and crowds, Destin is the way to go.
Orange Beach is more tranquil and outdoor-oriented. It's also a bit smaller with fewer options, but still excellent to have a great time.
Is The Water Pretty In Gulf Shores?
Yes, the water is usually gorgeous in Gulf Shores. Unless there is a westerly pushing sediment along the coast from the Mississippi River, the water here is very clear and beautiful. 
Of course, if waves stir up the sand or there is a lot of rain, the water will be less clear. 
Usually, the water in Gulf Shores is turquoise and lovely.
Final Thoughts: Destin vs Gulf Shores 
Hopefully, this post has helped you decide which destination wins out in the Destin vs Gulf Shores battle.
To summarize, both of these resort cities make excellent destinations and offer many of the same amenities and activities.
However, Gulf Shores tends to be less busy. It has a more laid-back small-town vibe.
Destin is the place to visit for nightlife.  There are more beaches, more entertainment options, and more lodging choices.  There are also bigger crowds and more traffic.
Which destination sounds best to you?
Additional Destin Travel Posts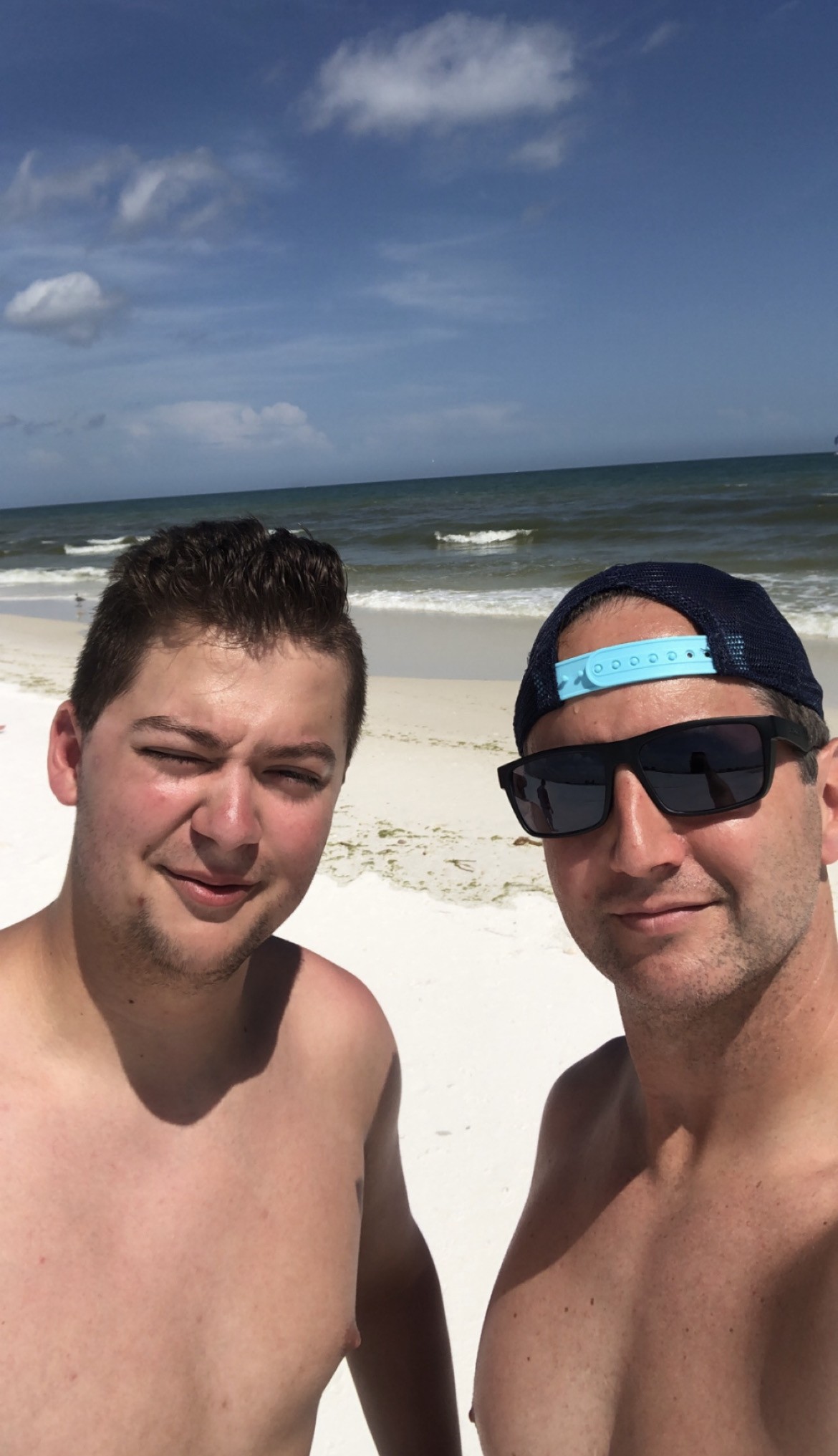 My son and I hanging out at the beach on one of my recent trips to Destin!
Travel Resources
Book Your Next Trip!  For Accommodations and short-term rentals, I recommend Booking.com as they are the best in the business when it comes to rates and places to stay.
To Book Activities- For activities, I suggest booking with Viator, they have thousands of 5-star activities to choose from!
Looking To Start Your Own Travel Blog Or Take Yours To The Next Level? 
Check Out This Free Workshop!– I personally joined Scale Your Travel Blog in 2021 and my website has grown exponentially.