Always On The Shore contains affiliate links and is a member of the Amazon Services LLC Associates Program.  If you make a purchase, we make a small commission at no cost to you. For more information, please read the disclaimer page. 
Planning a trip and wondering if you should visit Florida in June?  You're in the right place!  We're going to tell you everything you need to know about visiting Florida in June. 
From weather and events to beaches and activities, June is a great time to visit the sunshine state. 
Florida is gearing up for a summer of sunny beach days and park adventures in June, along with a variety of attractions that the warm weather is ideal for visiting. 
Let's take a look at travel tips and insider details about visiting Florida in June.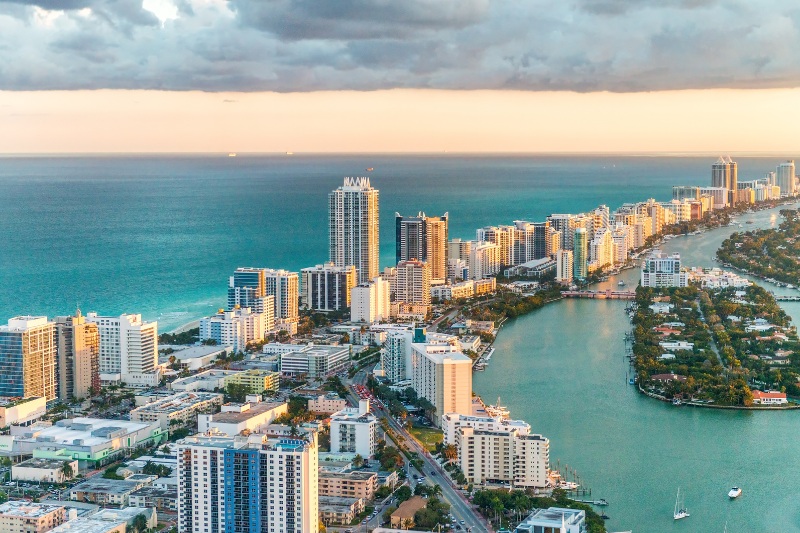 Florida In June: Everything You Need To Know!
Florida weather in June is warm, sunny, and a great time to visit!
It's the perfect time for beach days and exploring the freshwater springs around the state. 
As school is letting out for the summer, Florida hotels and resorts are preparing for the busy season.
This is especially true near amusement parks like Disney World, Gator Land, and Fun Spot America. 
If you love warm weather and outdoor activities, Florida in June is the perfect time to plan your vacation.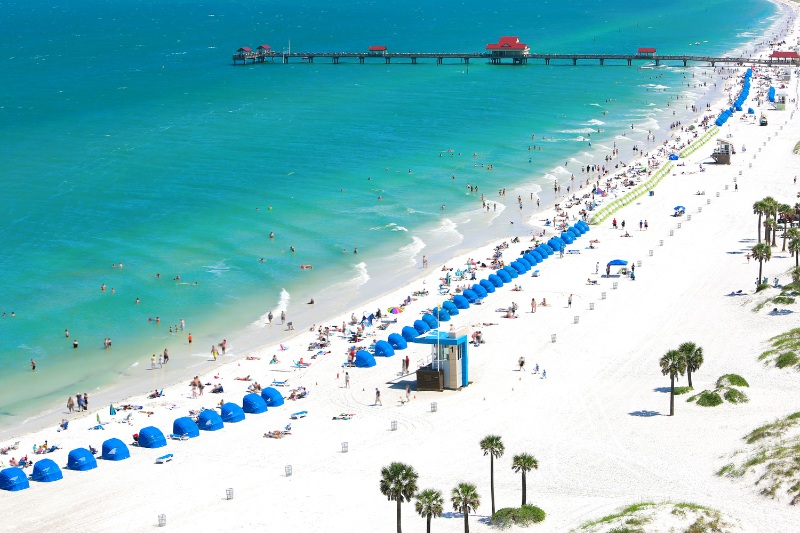 Average Temperature Of Florida In June
The average high Florida temperature in June is 86° F to 91°F. 
Temperatures vary throughout the state. The hottest part of Florida in May is Central Florida.
Orlando averages 91°F in June with up to 92% humidity.
Florida weather in June averages:
Jacksonville: High 90° Low 73°

Orlando:  High 91° Low 73°

West Palm Beach: High 89° Low 74°

Miami:  High 86° Low 77°

Key West:  High 88° Low 80°
How Hot Is Florida In June?
Florida can get very hot in June with temperatures reaching over 90° F.
Areas like Orlando and Tampa in June reach average highs up to 91°F.  So, on a humid day, these cities can be very hot.
In other areas near the beach, like Miami and Key West, you can enjoy some ocean breezes near the water, but temperatures still average 88°F.
Is June The Rainiest Month In Florida?
June is the rainiest month in most parts of Florida, with the expectation of Key West, which sees its rainiest month in September.
The average rainfall in Florida during June is 6-8 inches.  June is also a very humid month, with increasing rainfall.  The average humidity is 77% but can reach up to 92%.
The rainy season in Florida runs from June to October.  However, don't let the rainfall stop you from visiting.
While Florida may see afternoon showers in June, they typically pass over quickly and rarely ruin a nice day! 
Water Temperature In Florida In June
June is the best time to visit Florida to jump in the warm ocean waters of the Atlanta and Gulf of Mexico.
Water temperatures from the north to the south of the state are 80°F – 86°F. 
In the northern part of the state, like Jacksonville, you'll find cooler 80° temperatures.
In Miami and Key West, water temperatures reach 86°F.
Wherever you are in Florida, the water will be the perfect temperature to enjoy a boat ride or relaxing swim.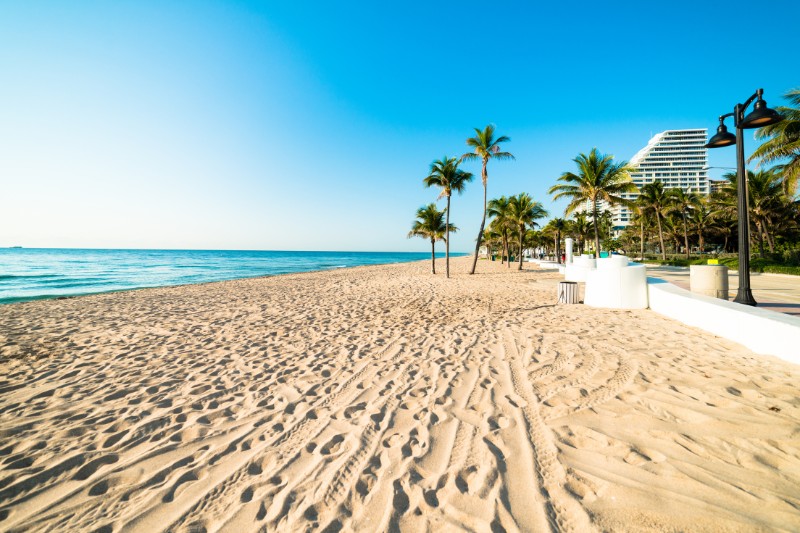 Best Beaches To Visit In June
June is the beginning of the warmest season in Florida.
Unlike Florida in March or April, you can visit any part of Florida and find sunshine and warm ocean water.
From Jacksonville to Key West and anything in between, June is the perfect time to explore all of the beaches that Florida has to offer. 
Florida's best beach destinations June:
Key West Beaches

Fort Lauderdale

Daytona Beach

Pensacola Beach

Siesta Key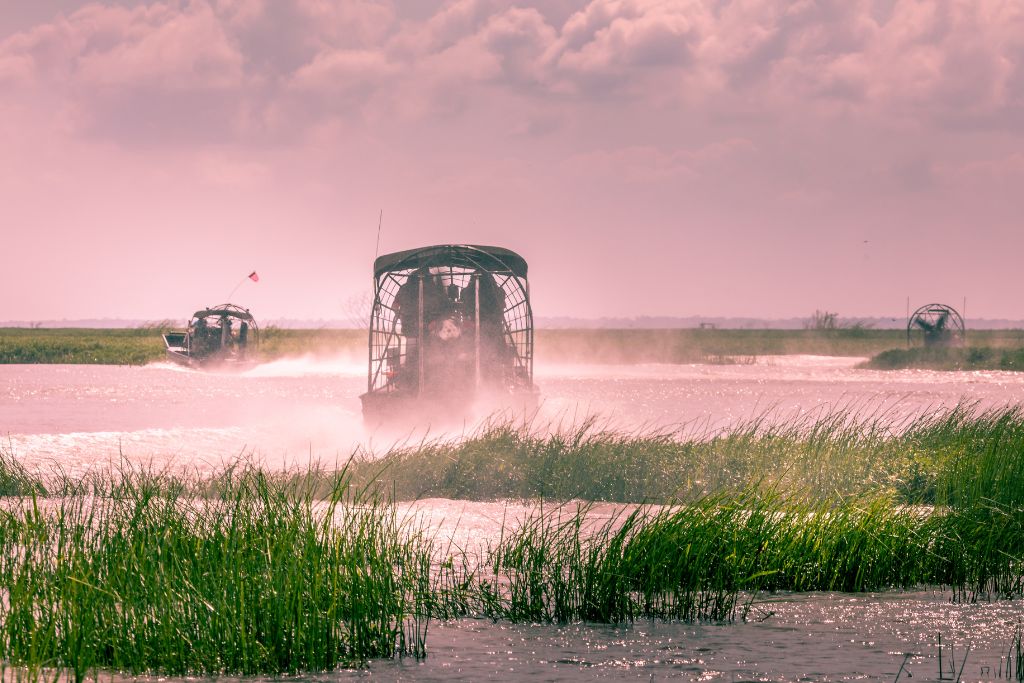 Top Things To Do In Florida In June
June is the best time to explore the nature and outdoor activities Florida has to offer.
Whether you want to golf, snorkel, or ride roller coasters, there's something for everyone this month. 
1. Everglades National Park
The alligators and crocodiles of Everglades National Park love the summertime months in Florida.
They're most active during the hot and wet months.  This makes June the perfect time for a trip to the Everglades.
Take an airboat tour around the National Park and explore the incredible wildlife and birdwatching opportunities the park has to offer.
And of course, be on the lookout for the Everglades gators and crocs!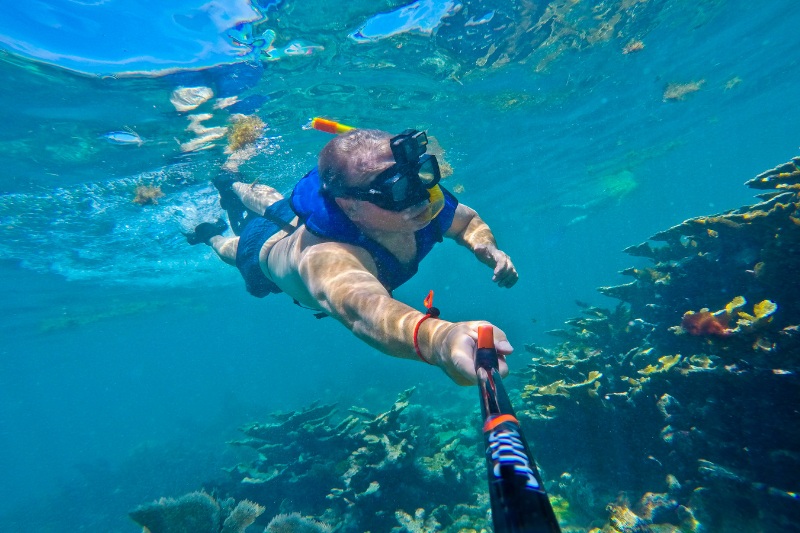 2.
Snorkeling in the Florida Keys
If you love snorkeling in warm water, don't miss your chance to visit the Florida Keys in June.
Key West sees high temperatures of 88 degrees and lows of 80 in June…and the water is just as warm.
The ocean in Key West is filled with incredible coral reefs and marine life.
Plus, the water is clear enough to see right to the bottom!
Take a kayaking trip in Key West or a boat tour out to the best snorkeling spots on the islands. 
Interested in snorkeling in June?  Take a look at these snorkeling tours in Key West!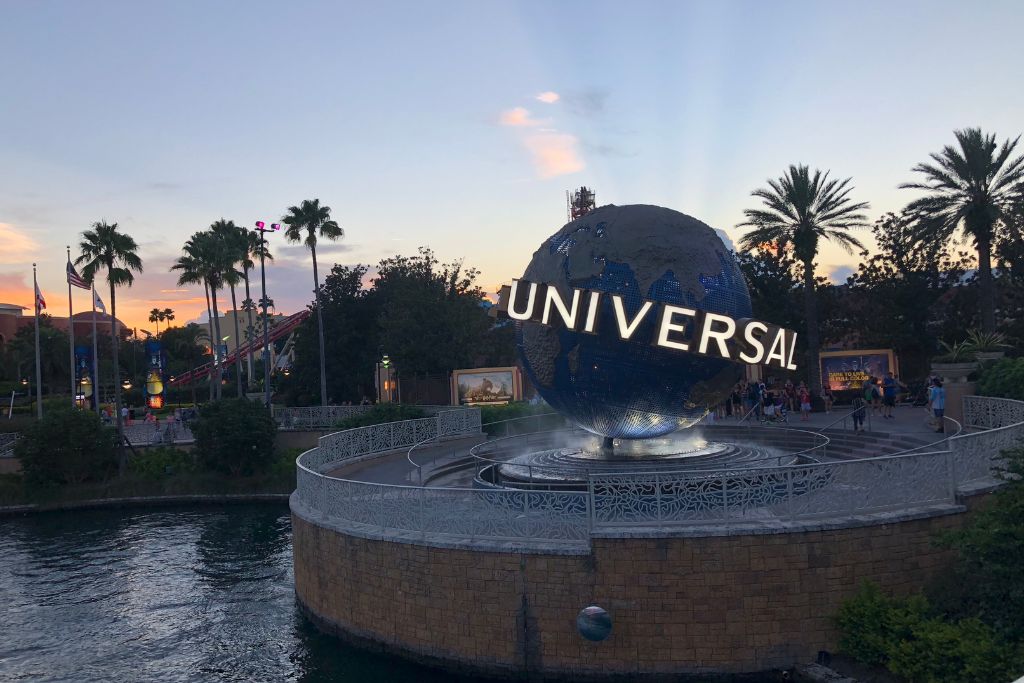 3. Walt Disney World And Universal Studios 
For families that want to take advantage of summer vacation, Walt Disney World and Universal Studios are waiting for you.
With a variety of attractions, cuisine, and adventures, you can ensure fun for families of all ages in these Orlando Parks.
The weather is very warm, so it's a great time to cool off in one of Disney's waterparks as well.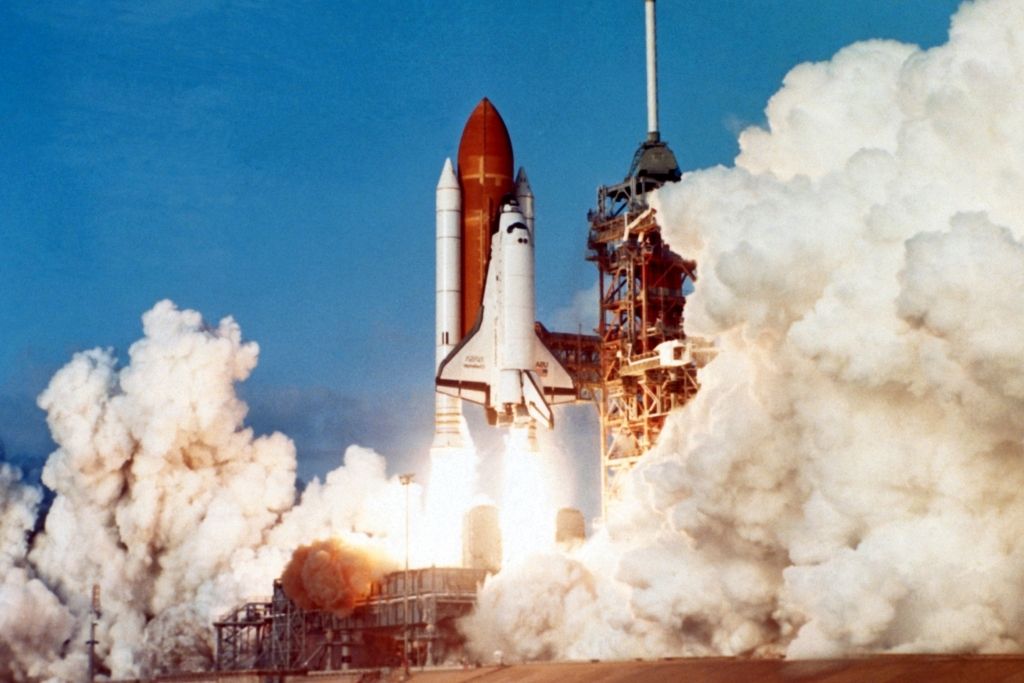 4. Kennedy Space Center
50 miles from Orlando you'll find the famous Kennedy Space Center on Merritt Island.
This is a perfect day trip from Orlando for a rainy day or Florida getaway to escape the sun.
It's great for adults and children alike.
You will find interactive experiences, tours, and exhibits showcasing NASA's long history of space exploration. 
5. Visit State Parks And National Parks
Most people know Florida as a beach town and a theme park vacation.
What you may not know is how many protected state and national parks are hiding all over!
Florida is an incredible place to explore nature and get away from the hustle and bustle of busy cities.
You can camp, hike, fish, snorkel, and more in the parks.
Try visiting Canaveral National Seashore, Blue Springs State Park, or Rainbow Springs State Park. 
6. Golfing
Florida is famous for its PGA tours and exquisite golf courses.
Though you may hit some afternoon showers, June is perfect for golfing.
With over 1000 golf courses to choose from, Florida has the most golf courses out of any other state in America.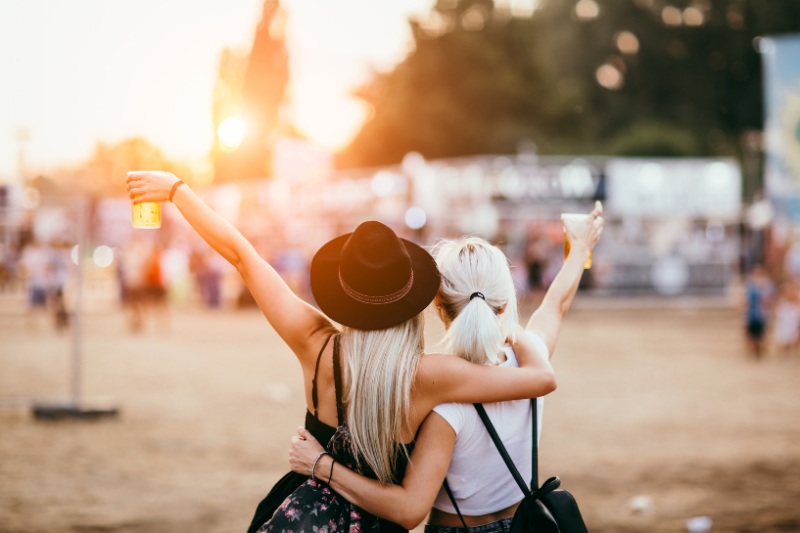 Festivals And Events In June
Chiefland Watermelon Festival 

Waterlily Celebration 

Digital Art Fest

FilmGate Short Film Festival 

Summer Magick Festival

Jacksonville Pride 

Forbidden Kingdom Music Fest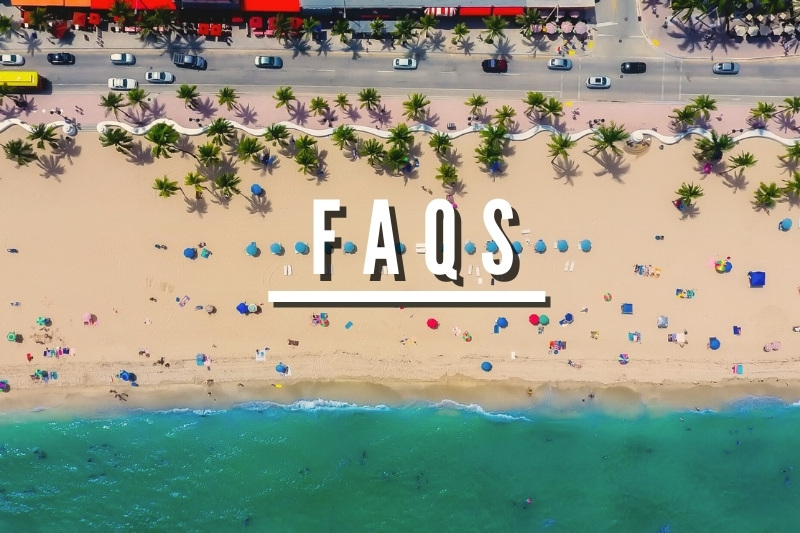 FAQs About Florida In June 
Now that you know the important details about visiting Florida in June, here are some of the most frequently asked questions about visiting the Sunshine State during this summer month. 
Is June A Good Time To Visit Florida? 
June is a good time to visit Florida.  The warm weather and water temperatures make it perfect for spending days at the beach.
With plenty of sunshine, you can also explore the parks and freshwater springs throughout the state.
With the ability to choose between a tropical getaway or a fun adventure, Florida in June is perfect for any type of vacationer. 
Which Part Of Florida Is Warmest In June? 
The average weather in Orlando in June is one of the hottest and most humid places in Florida.
But temperatures do drop during the night.
The days in Orlando reach 91° F but drop as low as 73°F during the evenings and nights.
Tampa sees similar warm temperatures as well, with slightly less humidity.
However, in Miami, the temperatures are slightly cooler but don't drop as significantly at night. 
What's The Wildlife Like In Florida In June?  
A great part about the humidity and rain in Florida in June is the wildlife!
Alligators love the hot and wet summer days.  This makes it one of the best months to visit the Everglades.
Florida's favorite protected species, the manatees, search for the warmest waters all year.
The Florida springs in summer are some of the manatee's favorite months.
You can also enjoy bird watching in many of Florida's National Parks and snorkeling for fish, dolphins, and sharks in the ocean. 
What To Wear And What To Pack For Florida 
Light clothes and a rain jacket are the most important things to pack for Florida in June.
You'll also want to bring comfortable shoes and sneakers since you'll probably be spending lots of time walking around amusement parks, museums, and state parks. 
With the humidity, you'll want to pack lots of lightweight shirts and shorts, sundresses, and coverups. 
Of course, don't forget to pack plenty of bathing suits as well!
If you're visiting Florida during the summer, you're most likely going to be hitting the beaches or waterparks. 
Bring lightweight water bottles to stay hydrated during long, hot days, a fanny pack, and a towel for the beach.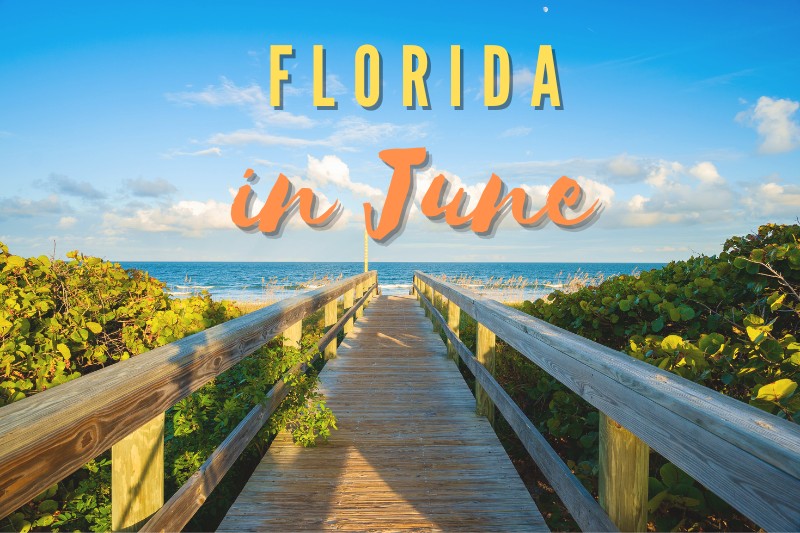 Final Thoughts: Florida In June 
Are you ready to pack your bags and bathing suits and head to Florida this summer? 
June is an amazing time to visit Florida, especially if you love beaches and parks.
Be prepared for some afternoon rain showers.
On a hot and humid day, the afternoon showers are a great way to cool off. 
With temperatures in the 80s in every part of the state, there's no better way to kick off your summer vacation than a trip to Florida in June. 
Travel Resources
Book Your Next Trip!  For Accommodations and short-term rentals, I recommend Booking.com as they are the best in the business when it comes to rates and places to stay.
To Book Activities- For activities, I suggest booking with Viator, they have thousands of 5-star activities to choose from!
Looking To Start Your Own Travel Blog Or Take Yours To The Next Level? 
Check Out This Free Workshop!– I personally joined Scale Your Travel Blog in 2021 and my website has grown exponentially.