Last Updated on January 1, 2023
Always On The Shore contains affiliate links and is a member of the Amazon Services LLC Associates Program.  If you make a purchase, we make a small commission at no cost to you. For more information, please read the disclaimer page. 
Are you looking for the perfect beach to relax on during your vacation?  Then check out these 11 best Exuma beaches!  With crystal-clear water and soft white sand, you'll love spending time at any of these stunning spots.
In fact, these beaches are so beautiful, they found themselves in the background of timeless movies like James Bond and Pirates of the Caribbean.
So whether you're looking for a secluded spot to soak up the sun or enjoy some lively activities, there's definitely a beach for you in Exuma.  Keep reading for more information on each one!
Don't have time? Here are our quick picks. 
Most Popular Beach in Exuma: Tropic of Cancer Beach
Best Beach for Families: Coco Plum Beach
Best for Snorkeling and Diving: Stocking Island Beach
Best Exuma Beaches Bahamas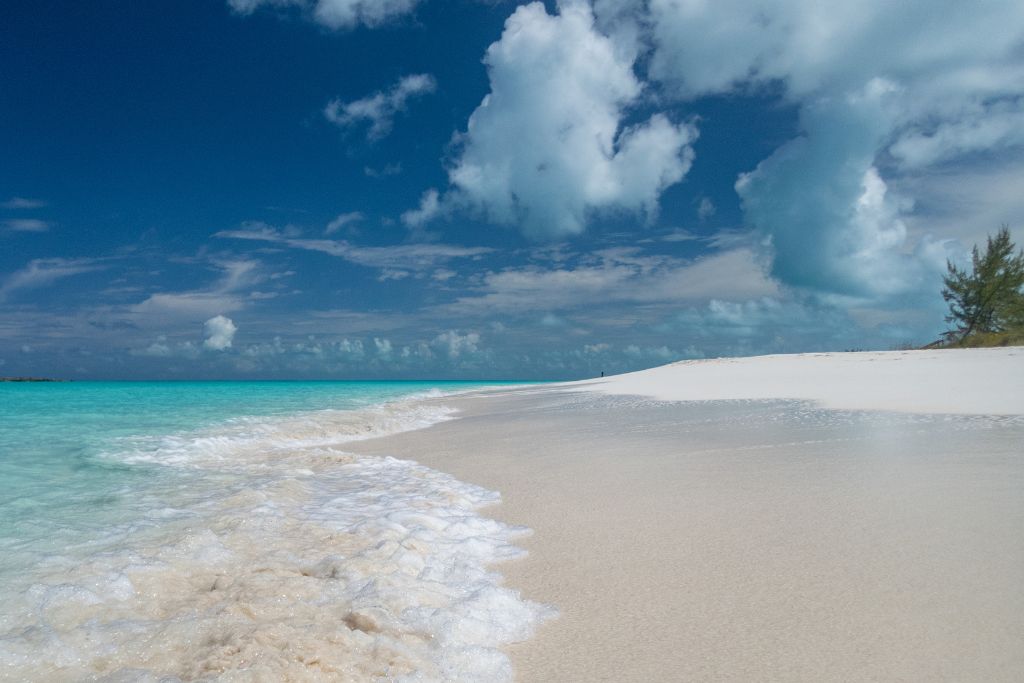 1. Tropic of Cancer Beach (Pelican Beach)
If you're looking for a truly unique beach experience, look no further than Tropic of Cancer Beach, located just north of William's Town.
Also known as Pelican Beach, it's the longest beach in the Exuma chain and boasts turquoise shallow waters perfect for snorkeling offshore.
Tropic of Cancer Beach is frequently named one of the best Exuma beaches.
And since there are no amenities on this hidden beach, except a little hut landmark, you won't have to worry about running into too many other visitors.
So if you're looking for a quiet spot to relax and enjoy some time in nature, Tropic of Cancer Beach is definitely worth a visit.
2. Jolly Hall Beach
Jolly Hall is an excellent beach in Exuma for a few reasons.  First, it's a short walk from restaurants and hotels, making it a convenient location to dip your toes in the sand before or after lunch.
Second, its location forms very few waves, making it perfect for a relaxing swim through the clear waters.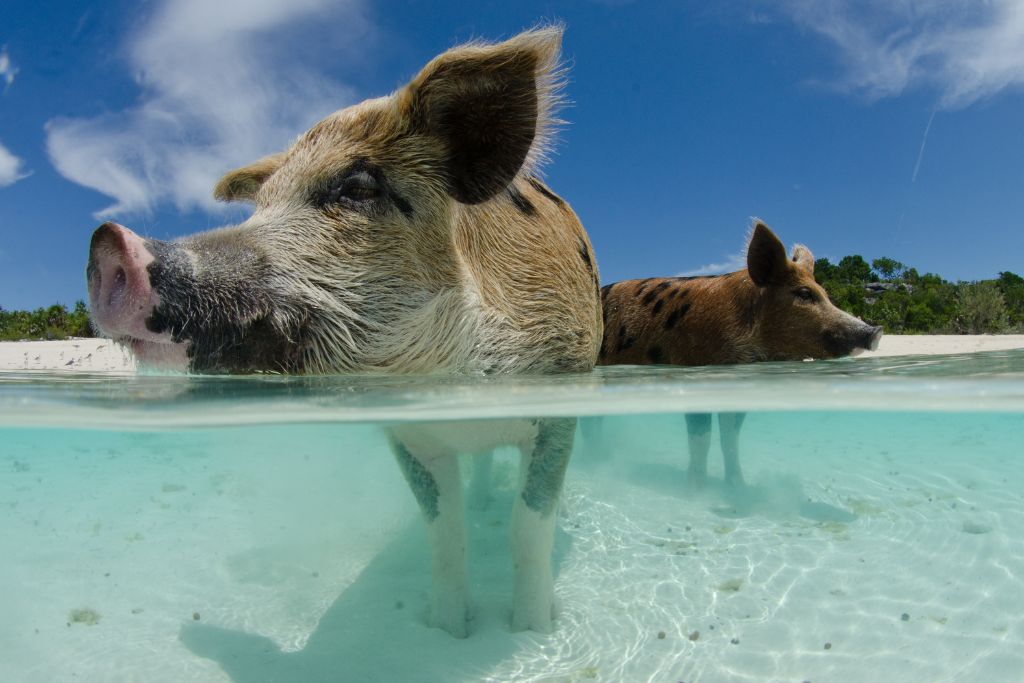 3. Pig Beach
Have you ever seen a picture of pigs swimming in crystal clear waters and wondered where that could be?
Pig Beach is located approximately 55 miles from George Town's Exuma International Airport (GGT).  You can take a ferry or speedboat to see these famous swimming pigs at Big Major Cay.
It is not known how these pigs got to an uninhabited island in the middle of the ocean, but they are happy to take advantage of the Bahama sun!
Pig Beach is sure to be a memorable day trip during your vacation.
4. Coco Plum Beach
Coco Plum Beach is a long, shallow stretch of beach, perfect for spending the whole day.  This family-friendly beach is a short walk from Grand Isle Resort and Spa.
At low tide, wade through the waters and hang out on the sand bars that will appear and search for sand dollars!
Be sure to leave the darker sand dollars alone; the dark color means they're still alive.
5. Stocking Island Beach
A favorite among snorkelers and scuba divers, Stocking Island Beach offers white sand and vibrant marine life.
The coral reefs and caves make for an excellent exploration, and the oldest macro-fossils on the planet are found here.
This private island is perfect for those seeking a secluded vacation, as there are a few vacation rentals available.
A quick ferry ride from Elizabeth Harbour will get you to this hidden gem and its beautiful beaches.
6. Starfish Beach
Starfish Beach is a popular beach on Stocking Island in Exuma.  Stocking is known for its snorkeling and scuba diving and Starfish Beach is no different!
There's a variety of colorful marine life you can view from the surface of these translucent waters.
If you do see a starfish, be sure not to remove it from its natural habitat.  If removed and replaced in water incorrectly, the starfish will not survive.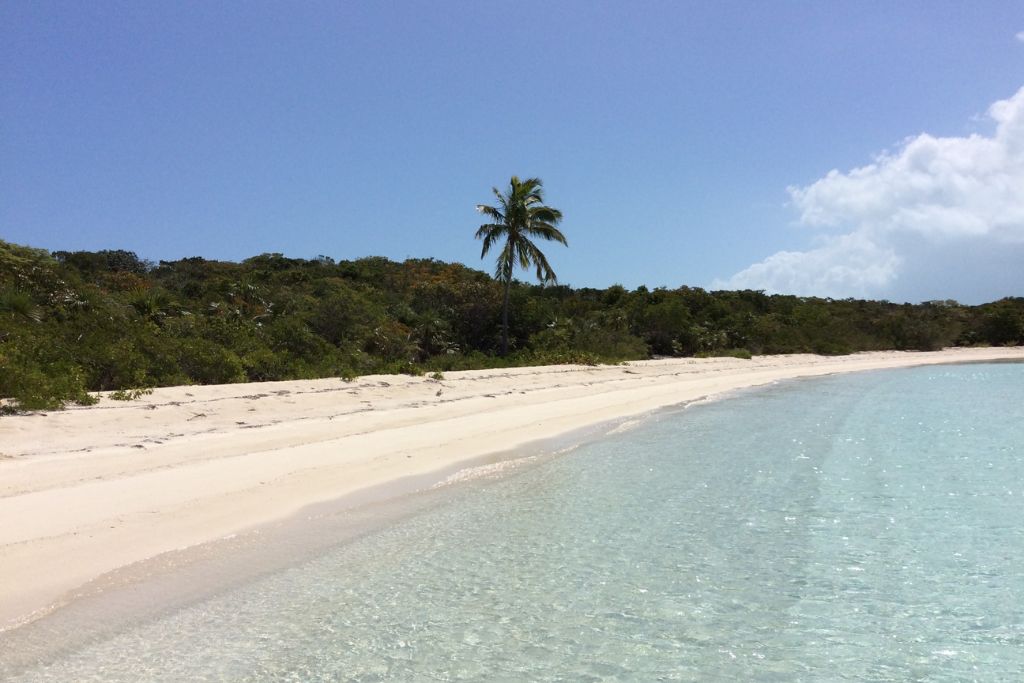 7. Three Sisters Beach
Three Sisters Beach is not only home to a white sandy shoreline and bright blue waters, but also home to the legend of Three Sisters Rock.  Legend says these three sisters were in love with the same man.
When his ship departed from the island, all three sisters attempted to swim out to sea to reach him, but were caught in the rough seas and drowned.
The three rocks grew next to each other where the sisters drowned on their journey.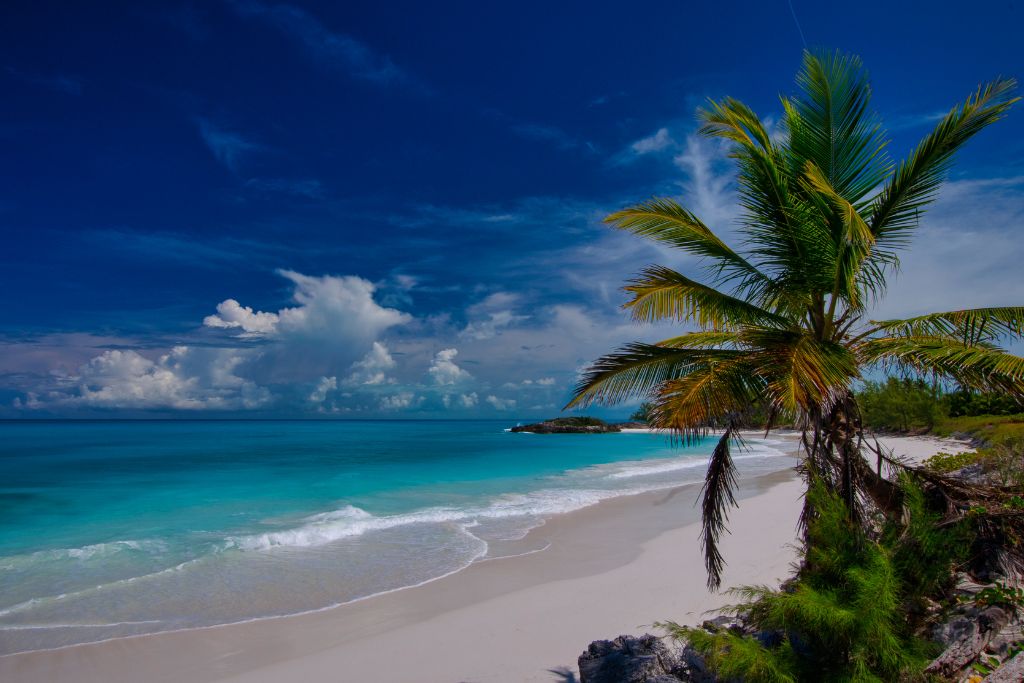 8. Forbes Hill Beach
South of George Town off of Queen's Highway you'll find Forbes Hill Beach.  The soft sand at Forbes Hill Beach will make it hard to leave.
If you adventure into the clear waters, you'll find a rock wall offshore, perfect to view the coral reefs during a snorkel.
The rock formations are great for exploring and the untouched shoreline will make you feel like you're relaxing in your own hidden oasis.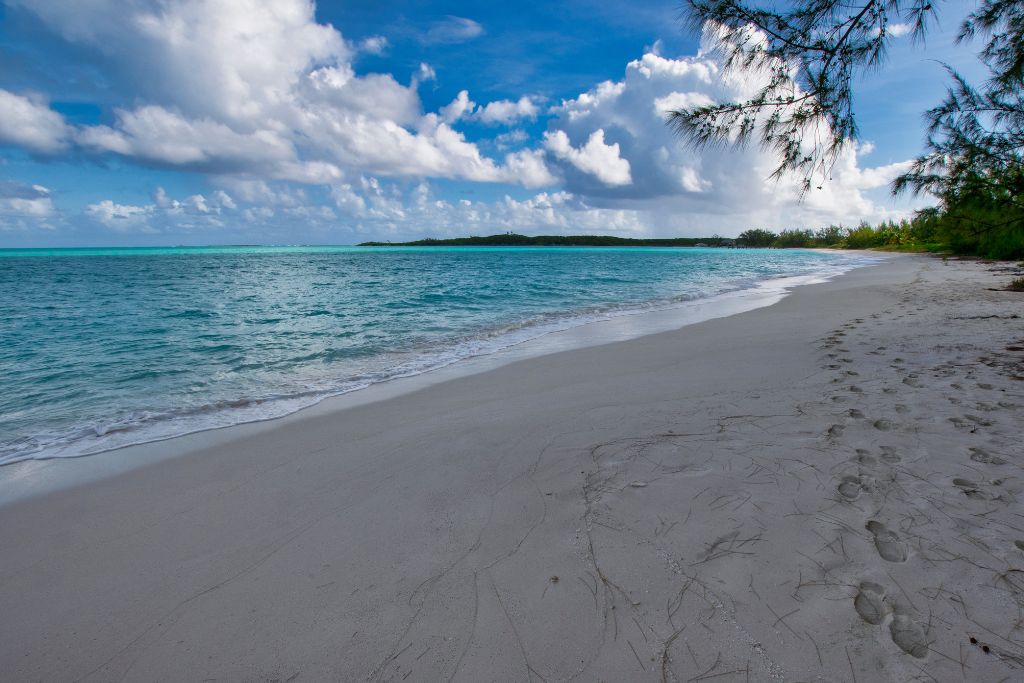 9. Hoopers Bay
Hoopers Bay is the beach to visit if you love swimming with sea turtles.  There's plenty of shade around the beach, so you can pack a picnic and spend the day there.
Once you make it to the beach, just hop in and you'll find a plethora of wild turtles swimming around.  The beach is protected from large waves, so you can float peacefully in the bay.
Don't forget, you can't touch sea turtles.  Take all the photos you want, but leave the little sea critters alone!
10. The Cut/Lazy River Beach
This natural wonder is just what it sounds like – a lazy river on the beach!  This natural wonder will take you from Moriah Harbour Cay.
This land is protected under a national park, and the natural beauty will take your breath away.
To access to the lazy river, you'll want to find a tour guide that will take you out to float, kayak, or paddle board down this natural current!
11. Moriah Harbour Cay National Park
Moriah Harbour Cay National Park is a nature lover's paradise.  The park covers almost 23,000 acres of land, including untouched beaches and waterways.
It's home to an abundance of plant and animal life, including several endangered species.
Visitors can take part in a variety of activities, including hiking, swimming, kayaking, and windsurfing.  There are also plenty of opportunities to relax and enjoy the scenic views.
Vacation rentals are available for those who want to stay on the harbour, and boats can be rented for those who want to explore the park's many beaches.  You can also take a tour if you want to make it a day trip.
Whether you're looking for a day of adventure or a relaxing getaway, Moriah Harbour Cay National Park has something for everyone.
Is Nassau Or Exuma Better?
Nassau is the capital city of the Bahamas.  It offers more of a nightlife and tourist vacation.  Nassau is the better choice if you're looking for a vibrant vacation full of excursions and commercialized island fun.  However, if you're looking for a uniquely Bahamian experience, then Exuma is the place for you.
Nestled in the heart of the Bahamas, Exuma is an archipelago of 365 cays and islands, turquoise waters, pristine beaches, and endless adventure.
From swimming with pigs to snorkeling with sharks, Exuma offers travelers a truly unique experience.
Nassau, on the other hand, is the capital city of the Bahamas and home to Cable Beach, one of the most popular tourist destinations in the country.
While both Nassau and Exuma have their own charms, we think Exuma is the clear winner.
What Is The Nicest Beach In Exuma?
This comes down to personal opinion.  However, if you're looking for one of the most beautiful Exuma beaches, Tropic of the Cancer Beach is frequently named one of the best beaches on the island.
For snorkel, diving, and watersport lovers, Forbes Hill Beach takes the medal for the best beach.  You can't go wrong with any of these spectacular beaches Exuma offers.
Are The Exuma Beaches Public?
Yes.  While some resorts or residential areas may restrict access points to the beach from land, they have no rights past a certain point from the water.
So yes, all Exuma beaches are public beaches.  Some may be harder to get to than others though!
What Is Exuma Bahamas Known For?
Exuma is home to some of the most beautiful beaches in the world.  With powdery white sand and crystal clear water, it's easy to see why many magazines name Exuma's beaches some of the best in the world.
In addition to its stunning beaches, Exuma is also home to a variety of attractions including Thunderball Grotto, an underwater cave made famous by James Bond, and Pig Beach, where you can swim with – you guessed it – pigs!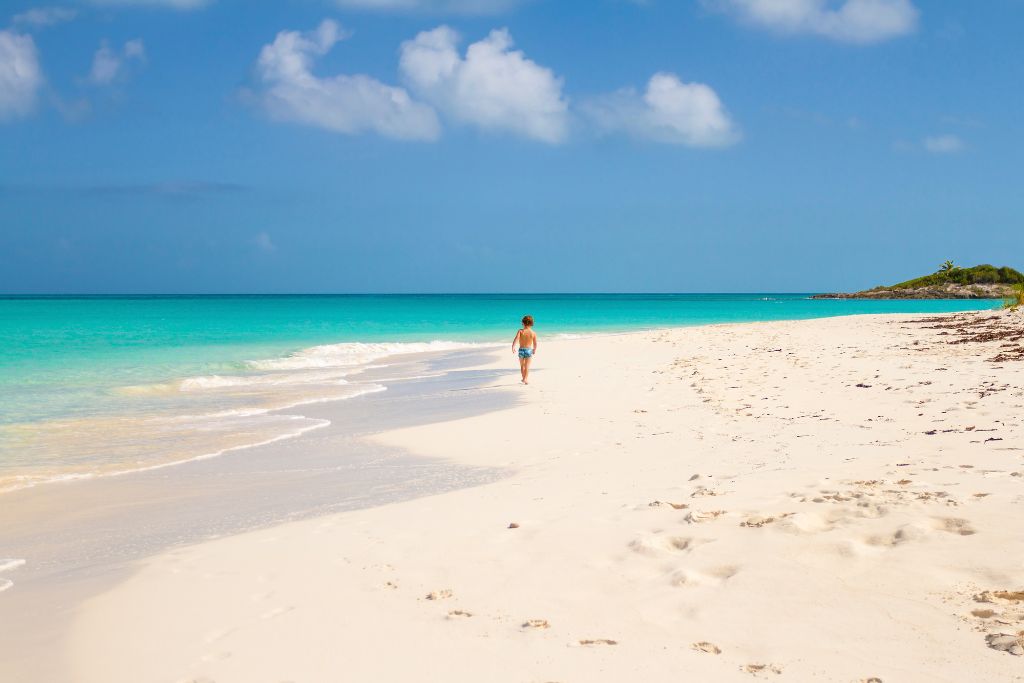 Recap: 11 Best Exuma Beaches In The Bahamas (2023)!
If you're looking for a beach vacation in the near future, look no further than Exuma Bahamas.  With crystal clear water and white sand beaches, these eleven Exuma beaches are sure to please.
When you head to Exuma, you'll find the tranquil island life you dream about when planning a Caribbean vacation.  Start planning your trip now – we promise it will be worth it!
Best Exuma Beaches Quick Picks: 
Most Popular Exuma Beach: Trop of Cancer Beach
Best Beach for Families: Coco Plum Beach
Best for Snorkeling and Diving: Stocking Island Beach
You may be interested in these related posts:
Travel Resources
Book Your Next Trip!  For Accommodations and short-term rentals, I recommend Booking.com as they are the best in the business when it comes to rates and places to stay.
To Book Activities- For activities, I suggest booking with Viator, they have thousands of 5-star activities to choose from!
Looking To Start Your Own Travel Blog Or Take Yours To The Next Level? 
Check Out This Free Workshop!– I personally joined Scale Your Travel Blog in 2021 and my website has grown exponentially.