Always On The Shore contains affiliate links and is a member of the Amazon Services LLC Associates Program.  If you make a purchase, we make a small commission at no cost to you. For more information, please read the disclaimer page. 
Are you taking a trip to the Bahamas and want to day a Nassau to Exuma day trip?  You're in the right place! 
Exuma, Bahamas is home to 365 cays – all filled with soft white sand and picturesque Bahamian blue water.
In just under an hour from Nassau, you'll find a variety of unique adventures to explore in Exuma. 
From the Exuma Rock Iguanas to the famous Big Major Cay, home of the swimming pigs, a day trip is an incredible way to experience everything the island has to offer. 
I've found the best ways you can experience the beauty and luxury of Exuma. Let's get started!
Top Choice √ Best Nassau To Exuma Day Trip
Nassau To Exuma- Best Day Trip Options In 2023!
Photo Credit-  Shore Thing Escapes
This tour is rated 5 Stars on Viator with over 570 reviews!
Tour length- Approximately 8 hours
If you're ready for a full day of adventure and exploration in Exuma, this is the perfect experience for you.
This full-day trip will take you to some of the most beautiful spots around Exuma. 
To make sure your Nassau to Exuma day trip runs smoothly, this all-inclusive tour includes everything you'll need.
Breakfast, lunch, alcohol, soft drinks, and snorkeling equipment are all included. 
You'll start out bright and early and head to Allen's Cay to hang out with the Exuma Rock Iguanas.
Then, snorkel through Norman's Cay before making your way to Big Major Cay. Big Major Cay is home to the world-famous swimming pigs. 
Hang out, feed, and swim with the pigs on the island before heading out to feed some docile nurse sharks.
This incredible adventure won't disappoint, as guests love everything from the boat ride, unique experiences, and friendly captain and crew. 
Here's what a past guest said about this tour:
"This was such a fun experience! So worth it for the money. The Bahamian lunch was delicious and after we all jumped off the dock into the water. The water was so clear it was an unbelievable time."
Jodie_K ⭐⭐⭐⭐⭐
Photo Credit- Aqua Shores – Luxury Powerboat Tours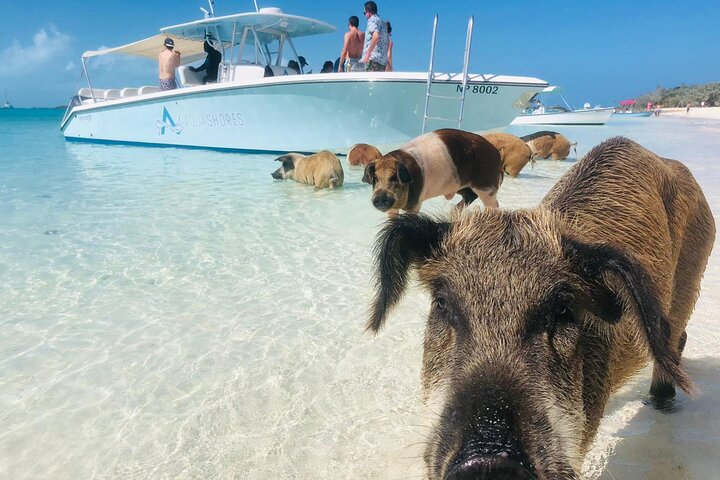 This tour is rated 5 Stars on Viator with over 210 reviews!
Tour length- Approximately 8 hours
Feel the wind in your hair on this exciting powerboat Nassau to Exuma day trip.
This 8-hour adventure takes you to all of the fascinating stops around Exuma. Explore the wildlife, enjoy delicious food, and take in the views along the way. 
The powerboat will pick you up from the Paradise Island Ferry Terminal.
You'll stop at various cays along the way to observe and feed iguanas and swim with nurse sharks. 
Of course, it wouldn't be an Exuma adventure without stopping at Big Major Cay to jump in the water with the Bahamas swimming pigs.
After you've had your fill of unique wild animals, your captain with take you to Staniel Cay Yacht Club for a delicious lunch. 
Your lunch and drinks are included in the tour, so all you have to do is sit back, relax, and enjoy the ride. 
Here's what a past guest said about this tour:
"What an unbelievable day! Being in the Exumas is like being in a postcard. The Aquashores team was easy to work with and very helpful. We had a blast with our captains Miguel and Breydon. Couldn't have asked for better hosts!"
Susan_D ⭐⭐⭐⭐⭐
Photo Credit- Vacations In Paradise Transportation & Tours
This company is rated 5 Stars on Viator!
Tour length- Approximately 7-9 Hours 
Looking to experience the beauty of Exuma Bahamas in luxury?
It doesn't get any better than this private tour by charter boat and plane from Nassau. 
This exclusive, private group tour with take you on an unforgettable journey. Create a personalized itinerary based on your interests.
You can fill your 8-hour day swimming with pigs and sharks.  Or, simply head to one of the 300 cays in Exuma and pick your favorite beach to swim and enjoy. 
This trip is ideal for small groups or families that don't want to worry about crowded, touristy day trips. 
Your knowledgeable guide will give you a private tour around the islands like never before. 
This once-in-a-lifetime trip also includes lunch and drinks along the way. 
Here's what a past guest said about this tour:
"My experience with Captain Mario was a great one. My family & I went on a day excursion to Black Point, Exuma. We swam with the pigs & nurse sharks, took pictures with the iguanas, went snorkeling & the best of them all we went through the aquarium…"
A Tripadvisor Reviewer ⭐⭐⭐⭐⭐
Photo Credit- 3Ns Vacation Services
This tour is rated 4.5 Stars on Viator with over 235 reviews!
Tour length- Approximately 6 Hours 
This seven-stop tour is perfect for those who want to explore the Bahamas without worrying about a long boat ride out.
With a maximum of fourteen travelers, this trip allows you and your friends or family to easily explore some of the most beautiful islands in the Caribbean. 
The best part about this tour is that it includes all essential amenities such as fresh towels, snorkeling equipment, snacks and sodas, and lunch.
PLUS, it even includes roundtrip flights and transfers from Nassau to Exuma airports. 
For families traveling with infants, infant seats are also available so everyone can enjoy their time on board. 
This Nassau to Exuma day trip starts at Pig Beach and Iguana Cay.
You'll also make stops at Thunderball Grotto to snorkel through hundreds of brightly colored schools of fish and sea life.
If you love snorkeling, jump in at Stanel Cay to see the  Pablo Escobar plane wreck.
To end your day, you'll enjoy lunch at a local restaurant and relax at the sandbar before your flight back to Nassau.
Here's what a past guest said about this tour:
"This was a bucket list trip for me and it did not disappoint. It was an incredible experience and I loved every minute of it. The islands are breathtaking with every color blue you can imagine."
Susan_M  ⭐⭐⭐⭐⭐
Can You Do A Day Trip To Exuma From Nassau?
Yes, you can take a day trip to Exuma from Nassau.  Depending on how you plan to get there, the trip can take anywhere between 30 minutes and 3 hours.
There are many tour options to help you plan your day trip, or you can charter your own private boat to explore the area. 
How To Take A Nassau To Exuma Day Trip 
There are a few ways to take a day trip from Nassau to Exuma.  The most popular way is a day trip with a tour company.
You can also take a quick flight from Nassau to Exuma, or charter a boat and explore the waters on your own. 
Exuma Day Trip By Tour
There are many popular Nassau to Exuma day trip tours available in the Bahamas.
You can choose between taking a boat or a plane.  Tours will stop at the most popular sightseeing spots in the Bahamas.
You'll get to swim with Pigs on Big Major Cay.  Many tours also include visiting the Exuma Rock Iguanas and nurse sharks.
Your guides will take you to the best snorkeling spots and to local favorite restaurants.  
Tours are the best to explore the hundreds of Cays in Exuma without having to worry about logistics. 
Exuma Day Trip By Plane
Flights are available from Nassau to Exuma. This is the fastest way to start your day trip.
Some tours include roundtrip flights and ground transportation.
However, choosing this option means planning logistics to and from the airports and planning your day when you arrive at Exuma. 
Exuma Day Trip By Chartering A Boat
The last way to take a day trip from Nassau to Exuma is to charter your own private boat!
Many boat charters come with a captain.  So, you'll not only have private transportation, but also a private local guide.
This gives you the chance to create your own itinerary and spend as much time as you like in your favorite locations in Exuma. 
This will be the most expensive way to take your day trip, but if you want a private experience, it's a great option!
Nassau To Exuma Day Trip FAQ's 
Now that you know the best ways to get from Nassau to Exuma, here are some common questions people ask before planning their trip. 
How Long Is A Boat Ride From Nassau To Exuma?
The boat ride from Nassau to Exuma takes about 1-1.5 hours.  The ride depends on how rough the waters are and where you are going.
It takes longer to get to Staniel Cay than it does to Big Major Cay.
It's best to ask your captain or tour guide how long the boat ride is to your first destination of the day!
How To Get To Exuma From Nassau?
The only way to get from Exuma to Nassau is by boat or hopper plane.  There are many tours that will take you each way.
Flights are short and cheap.  Boat rides vary in time by where you are planning to go.
Overall, getting to Exuma from Nassau is easy!
Is Exuma Worth Going To?
Exuma is worth going to if you want a variety of unique experiences.
Exuma has over 365 cays with clear blue water.  You can swim with the famous island pigs, feed iguanas, and swim with nurse sharks.
There are snorkeling opportunities with lively sea life and plane wrecks, and hidden beaches along the way. 
What Should I Bring On The Day Trip? 
Summary Of Nassau To Exuma Day Trips 
There you have it!  The best Nassau to Exuma Day trips for your next vacation to the Bahamas.
A tour to Exuma is not only the best way to see everything the island has to offer but also leaves you with no worries about your trip.
Most of these tours include everything you need to have the perfect day. Drinks, snacks, a delicious local lunch, amenities, and more.
Choose whether you want to visit by boat or by plane for an exciting adventure.
From swimming with pigs in the Bahama blue waters to snorkeling among nurse sharks, you'll be in awe of the wildlife and beauty.
There's no shortage of unique experiences for travelers on a day trip from Nassau to Exuma. 
Whether you're traveling as a family, couple, or solo explorer, these amazing adventures will make lasting memories!
Travel Resources
Book Your Next Trip!  For Accommodations and short-term rentals, I recommend Booking.com as they are the best in the business when it comes to rates and places to stay.
To Book Activities- For activities, I suggest booking with Viator, they have thousands of 5-star activities to choose from!
Looking To Start Your Own Travel Blog Or Take Yours To The Next Level? 
Check Out This Free Workshop!– I personally joined Scale Your Travel Blog in 2021 and my website has grown exponentially.