Last Updated on March 18, 2023
Always On The Shore contains affiliate links and is a member of the Amazon Services LLC Associates Program.  If you make a purchase, we make a small commission at no cost to you. For more information, please read the disclaimer page. 
Less than 200 miles off the coast of Miami, you'll find an otherworldly tropical cluster of islands known as the Bahamas.
One of the most popular cruise destinations in the world, the capital of Nassau is home to shiny beaches, clubs, and a diverse food scene.
However, deciding when to visit the Bahamas can be tricky. This can be due to the long cruise season, large crowds, the possibility of hurricanes, or flight and hotel prices.
You, too, might be wondering if the towns you want to explore will be too crowded in the summer, rainy in the winter, or expensive during high season.
Read below to learn about weather conditions, places to escape the crowds, must-see sites, and why it's best to visit the Bahamas in March.
Is March A Good Time To Visit The Bahamas?
The Bahamas are a great place to visit year-round, but of course, there are pros and cons to everything.
Since the islands enjoy a tropical Caribbean climate, temperatures rarely dip below 60 Fahrenheit, even in winter.
Average temperatures in March hover around 75 degrees. Evenings and mornings can be slightly chilly during this time, but even then, the sun shines warmly. 
Of the many great reasons to visit the Bahamas in March, is that there are no hurricanes!
In fact, March is the driest month in the Bahamas with just light showers. Perhaps the only downside to visiting the Bahamas in March, is that it's a popular destination for Spring Break.
Don't worry, though. There are still plenty of places throughout the Bahamas you can enjoy in peace and quiet.
How Hot Are The Bahamas In March? What's The Weather Like?
Even though it can get hot in the Bahamas, it's rarely unbearably hot.  Paired with the humidity can sometimes make the air feel warmer than it is.
However, these temperatures are typically still very bearable, especially if you include some water activities in your itinerary to cool off. 
With more than 700 islands, weather patterns vary slightly. The northern islands of the Bahamas experience cooler and breezier weather than the islands in the south.
Daily low temperatures hover around 71 degrees, and rarely fall below 60 degrees or exceed 57°F.
The hottest recorded day of the year is August 6 at 88°F, while January 15, is the coldest day of the year at 70 degrees.
Best Beaches To Visit In March?
Many factors can come into play when choosing your beach destination on vacation.
Average sunshine, water temperature, average rainfall, and daily temperature are a few of those factors.
Below are a few recommendations for top beaches to visit in the Bahamas in March considering weather conditions and water temperature:
1. Little Exuma Island
The average maximum daily temperature is 86 degrees. The average water temperature is typically 75 degrees,  and the beach experiences 8.6 hours of sun per day.
2. Paradise Beach
The average maximum daily temperature is 81 degrees. The average water temperature is typically 75 degrees , and the beach experiences 8.4 hours of sun per day.
3. Half Moon Cay Beach
The average maximum daily temperature is 81 degrees. The water temperature is usually 75, and the beach experiences 8.3 hours of sun per day.
Check out these best beaches in Exuma, Bahamas!
Best Things To Do In The Bahamas In March
1.  Swim With Pigs And Nurse Sharks At Compass Cay
They may sound intimidating, but Nurse sharks are some of the most docile sharks in the ocean.
In fact, they are perfectly safe to swim and interact with. 
2. Play A Round Of Golf At Exuma's Greg Norman Championship Course
If you're looking for the perfect destination to golf in the winter, the Bahamas have some amazing courses.
The best way to do this is to complete a round or two at the 18-hole championship golf course at the Sandals Emerald Bay Resort. 
3. Do A Rum Tasting At John Watling's Distillery.
This historical 1789 Buena Vista Estate in Downtown Nassau is a must-visit.
It's one of the top rum distilleries in the Bahamas! You can taste premium rum straight up, or have them mix you a cocktail. 
4. Explore Lucayan National Park
This 40-acre national park is brimming with white sandy beaches and a lush jungle.
It's the perfect place to escape the crowds, spot wildlife, and walk among the mangrove swamps and pine forests.
Best Places To Visit For Spring Break?
And Best Places To Avoid The Party Crowds
More than 200,000 U.S. citizens travel to The Bahamas for Spring Break every year.
It's one of the top Spring Break destinations in the world.  If you're looking to party, Freeport, Bahamas is where you go.
The most popular spot spring breakers go in Freeport is Port Lucaya Square.  Here, there are more than 30 bars and restaurants that host parties, live musicians, and plenty of drink specials every night.
If you want to avoid the rowdy spring break crowds, avoid towns like Nassau and Freeport and head to the Exumas instead.
With more than 350 cays and islands, you'll enjoy cleaner water and far fewer people.
Many travelers claim that Great Exuma and Little Exuma are the best options.
Book tours that spring breakers likely wouldn't be on including museum or cultural tours rather than water activities or bar crawls.
Festivals And Events In March
One of the most popular events in the Bahamas happens in March.
The Nassau Paradise Island Wine & Food Festival runs from March 15 to 19 at Atlantis Bahamas Resort.
This five-day foodie extravaganza brings world-class chefs together for dinners, tastings, and demos.
Chefs like Andrew Zimmerman, Duff Goldman, JJ Johnson, Aaron Sanchez, and Alex Guarnaschelli all make appearances.
With venues set up throughout the resort, you can expect master classes, cocktail receptions, local cuisine, and plenty of free-flowing wine.
What's The Wildlife Like?
The tropical islands of the Bahamas are known for their vast collection of unique animals.
In fact, you have probably heard of the swimming pigs. They are one of the most popular attractions many visitors go to the Bahamas to see.
No one knows for sure why or how they got to their current home of Big Major Cay.
However, the swimming pigs are extremely friendly and actually depend on tourists for food including lettuce and apples.
Although rare to see, the Bahamian rock iguana is one of the other unique animals you can witness in the Bahamas.
These pinkish in color reptiles are friendly and love to get up close and personal with humans on the Exuma Islands.
Stingrays, West Indian flamingos, Abaco parrots, Tiger sharks, and great hammerhead sharks are some of the other unique animals you can encounter when in the Bahamas.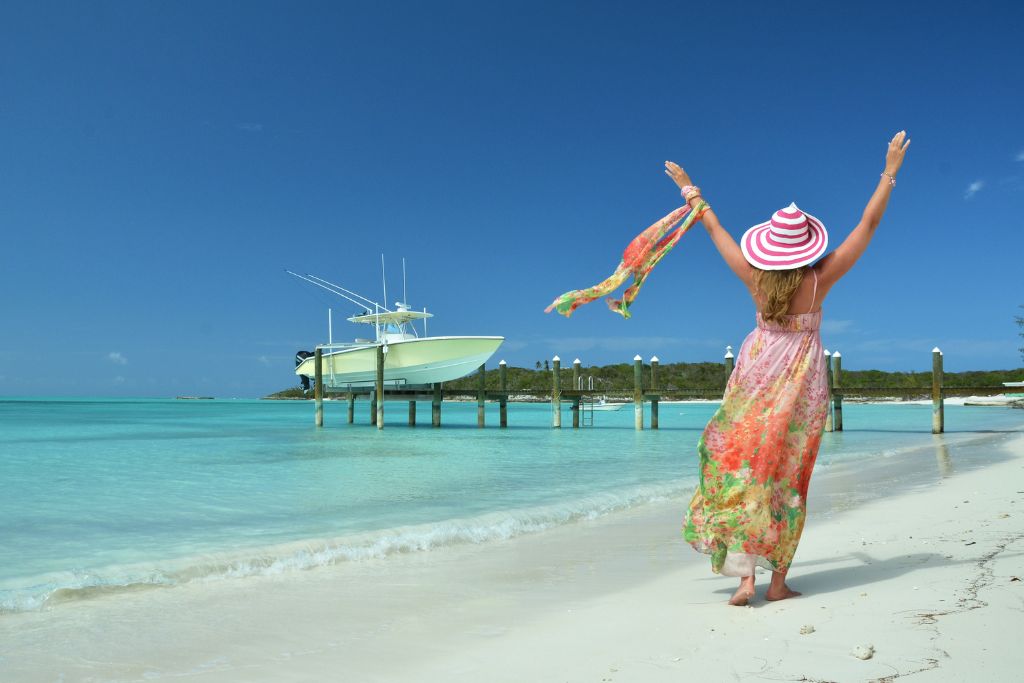 What To Wear? Should Visitors Hit The beach?
While the month of March might be "winter" in some parts of the world, that's just not the case in the Bahamas.
For the most part, visitors dress pretty casually (think beach-chic).  Since it's rather warm all year round, it's best to dress in light, thin layers to be comfortable in the humidity. 
Some options include shorts, skirts, tank tops, bathing suit cover-ups, short sleeve button-ups, and sundresses.
Depending on what time of year you are visiting, it can get cooler once the sun goes down.
Be sure to pack a thin sweater, pashmina, or windbreaker just in case.  And don't forget your swim gear and sunglasses!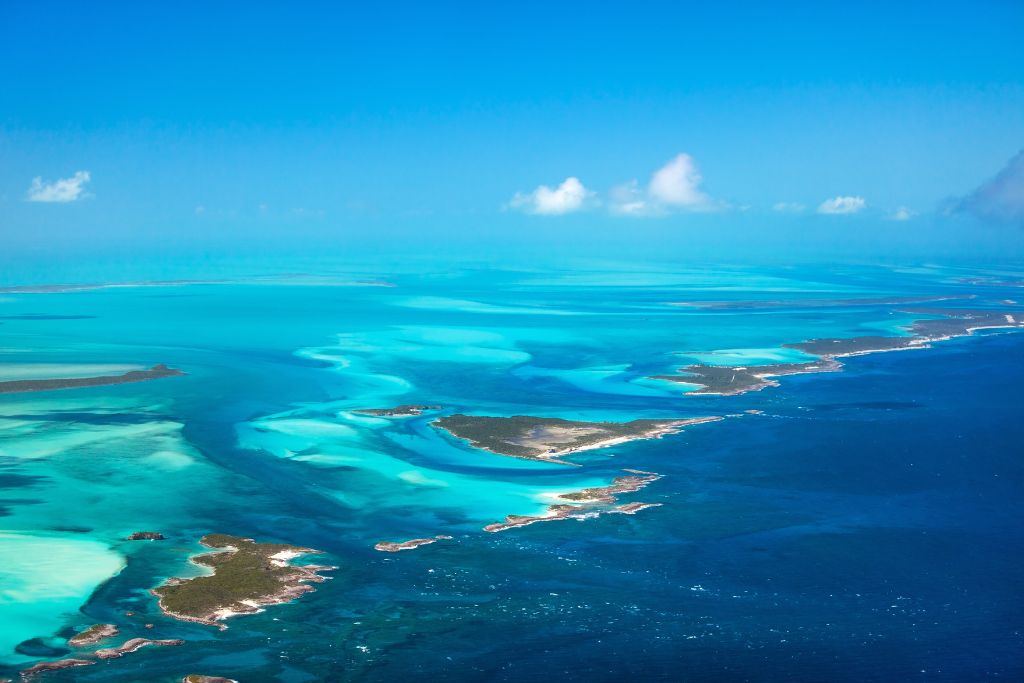 Bahamas In March FAQs
Is March A Good Time To Go To The Bahamas?
It's one of the best times to visit!  Vacationing in the Bahamas in March means milder weather conditions, comfortable breezes, and plenty of things to do and see.
It's also outside of the Atlantic Hurricane Season which is an added bonus for those worried about the weather raining on their parade (literally)!
The only factor to be aware of is the crowds.  As mentioned previously, March marks the beginning of Spring Break.
Hundreds of thousands of young party-goers will flock to popular towns across the islands from mid-March to early April.
They will be in search of sun and fun, so be sure you do your research in advance to avoid the party towns and get the best deals on hotels. 
Is March Rainy Season In The Bahamas?
Due to its location in the Caribbean, the Bahamas is prone to rainy days, tropical storms, and hurricanes during certain months.
Most of the time, the islands experience short bursts of rain or steady drizzle that clears and makes way for moments of sun. 
March brings cloud cover for about 25 percent of the month, but not always rain.  In fact, March is the driest month of the year.
The wettest month of the year is August with an average rainfall of 6.2 inches.
The clearest day of the month is March 7, so be sure to book your favorite excursions on this day!
Is It Warm Enough To Swim In The Bahamas In March?
Absolutely!  The seawater around the Bahamas remains around 75 degrees, which means swimming for long periods of time will be very comfortable.
Participating in other water activities will be very enjoyable, as the air temperatures are also very warm and mild year-round.
You can choose to lounge by the pool or take to snorkeling a reef without feeling chilly or uncomfortable.
The latter half of March also sees longer days and periods of sun. The sun rises at 7 am and doesn't set until 7.30 pm, leaving you with plenty of time to take to the water. 
What Is The Best Month To Go To The Bahamas?
There's really no "bad" time to go to the Bahamas. Deciding when to go depends on your interests and the type of vacation you want to have. 
If you're looking for fewer crowds, you may want to visit in November or late April (after the Spring Break crowds have left).  These months are also still outside of the Atlantic Hurricane season. 
Are you a budget traveler? You'll want to visit during the low season from August to November.
The weather will be less ideal during these months, but flight, hotel, and resort rates will stretch your money further.
To avoid the rain as much as possible, visit between November and June.  The wet season begins in July and ends in December.
Regardless of when you choose to visit the Bahamas, you're sure to enjoy plenty of sun, a rich and diverse culture, and make endless memories!
Travel Resources
Book Your Next Trip!  For Accommodations and short-term rentals, I recommend Booking.com as they are the best in the business when it comes to rates and places to stay.
To Book Activities- For activities, I suggest booking with Viator, they have thousands of 5-star activities to choose from!
Looking To Start Your Own Travel Blog Or Take Yours To The Next Level? 
Check Out This Free Workshop!– I personally joined Scale Your Travel Blog in 2021 and my website has grown exponentially.