Last Updated on September 21, 2023
Always On The Shore contains affiliate links and is a member of the Amazon Services LLC Associates Program.  If you make a purchase, we make a small commission at no cost to you. For more information, please read the disclaimer page. 
Still undecided about which one to choose between Destin vs Siesta Key for a perfect Florida vacation? You've landed in the right place!
As a Florida traveler, I can relate to the situation where you might find yourself torn between these two paradise-like destinations.
Both offer dazzling beaches and idyllic coastal getaways. But which one really is the ultimate Florida beach getaway?
In this blog post, we will dive deep into the Destin vs. Siesta Key showdown, providing a comprehensive comparison, insights, and recommendations from your seasoned Florida traveler.
Let's get started!
Booking a last-minute trip to Destin or Siesta Key?  
If so, we have you covered.  
Top Tours in Destin and Siesta Key – Viator
Top Rated Hotels & Accommodations – Booking.com
Looking To Get Around In Destin and Siesta Key? 
Check out rental car rates here! 🚗
Destin vs Siesta Key: Which Has Better Things To Do?
Best Things To Do In Destin
Golf
Destin has several golf courses, including championship courses with incredible views of the Atlantic Coast.
Golf enthusiasts will find plenty of opportunities to tee off in places like Sandestin Golf and Beach Resort, Emerald Bay Golf Club, and Regatta Bay Golf and Yacht Club.
Shopping
Shopping at the Destin Commons and Silver Sands Premium Outlets are two of the best things to do in Destin, especially for retail therapy opportunities.
Here, you can find various stores, boutiques, and dining options catering to varied tastes and budgets.
Nature And Wildlife
If you are a nature and wildlife enthusiast, Destin will surely not disappoint you!
The natural beauty of the area has been well preserved in places like the Topsail Hill Preserve State Park and the Gulf Islands National Seashore.
This perfect place is great for nature trails, birdwatching, and enjoying the native flora and fauna.
Deep Sea Fishing
Destin has often been called the "World's Luckiest Fishing Village" because of its easy access to the Gulf of Mexico's abundant marine life like tropical fish, sea turtles, corals, and more.
Destin also offers numerous opportunities for deep-sea fishing charters. It is a great way to catch (and release) some of the Gulf of Mexico's most prized fish species.
Art And Culture
As much as Destin is for outdoor enthusiasts, there is an artistic side to Destin that culture lovers would enjoy.
Art galleries like the Pearl Galleria, Kaleidoscopes Gallery Of Art, and the Wyland Art Gallery are all perfect places to visit.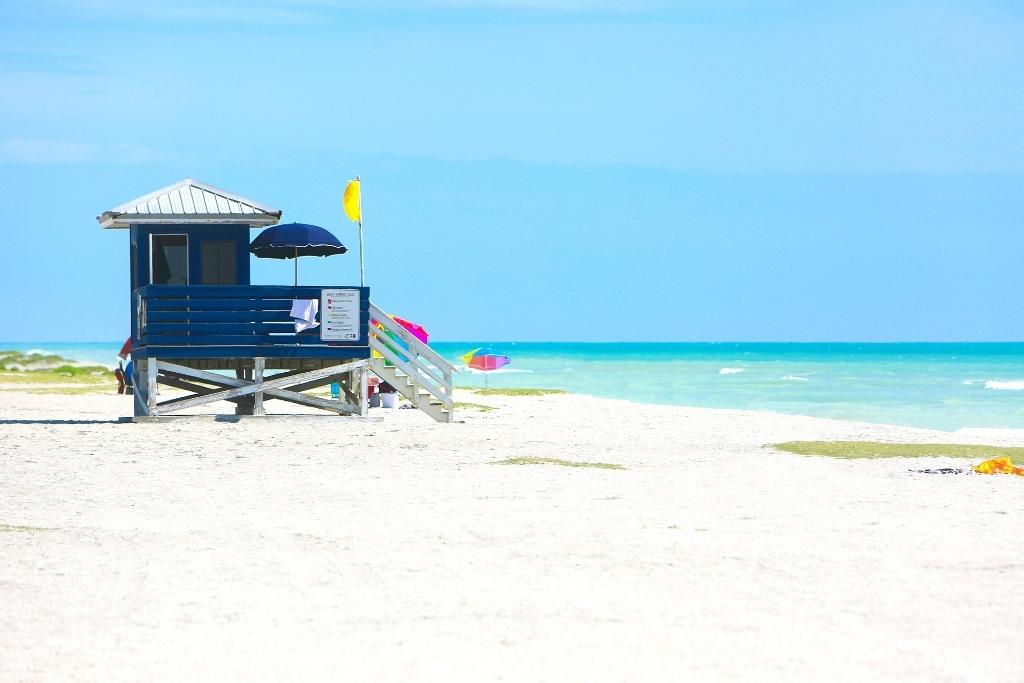 Best Things To Do In Siesta Key
Beach Time
Siesta Key beaches are definitely the main attraction in the Siesta Key area, and the best ones found in all of Florida Keys.
Siesta Beach consistently ranks as one of the best beaches in the United States and is nicknamed the beach with the "world's whitest sand".
Spend your days sunbathing, swimming, building sandcastles, or playing on the volleyball courts.
Adjacent to Siesta Beach, Crescent Beach is another beautiful stretch of shoreline.
It's a bit quieter and offers excellent shelling opportunities.
Siesta Key Village
Explore the Siesta Key Village, a charming shopping and dining district where you can find boutiques, galleries, cafes, and restaurants.
It's a great place for souvenir shopping in the Florida keys, enjoying a meal and people watching to acquaint yourself with this town's local way of life.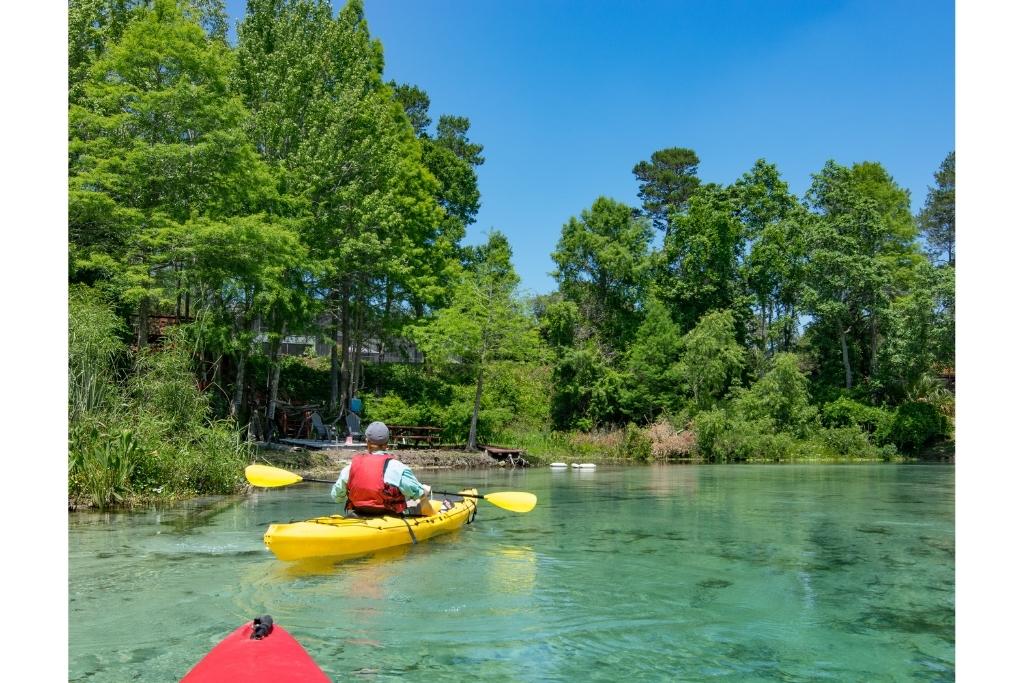 Kayaking And Paddleboarding
Renting a kayak or a paddleboard for water sports is one of the best ways to explore the crystal-clear waters of the Intracoastal Waterway, which runs along the eastern side of Siesta Key.
Dolphin Watching
There is more to Siesta Key than just Siesta Key beaches.
Dolphin-watching tours are a great way to see the playful creatures in their natural habitat.
Many local operators offer guided boat tours including Siesta Dolphin Tours, Siesta Key Watersports, Suncoast Adventure Tours, and many others.</p
Yoga And Wellness
The Siesta Key area is also the perfect place to attend beach yoga classes and wellness events.
Participating in a session can be a serene way to start your day.
Centers like Siesta Key Beach Yoga Tranquility by the Sea and The Breathing Space Wellness House are worth checking out if you are ready to dip your feet in the wellness world!
Things To Do Near Destin And Siesta Key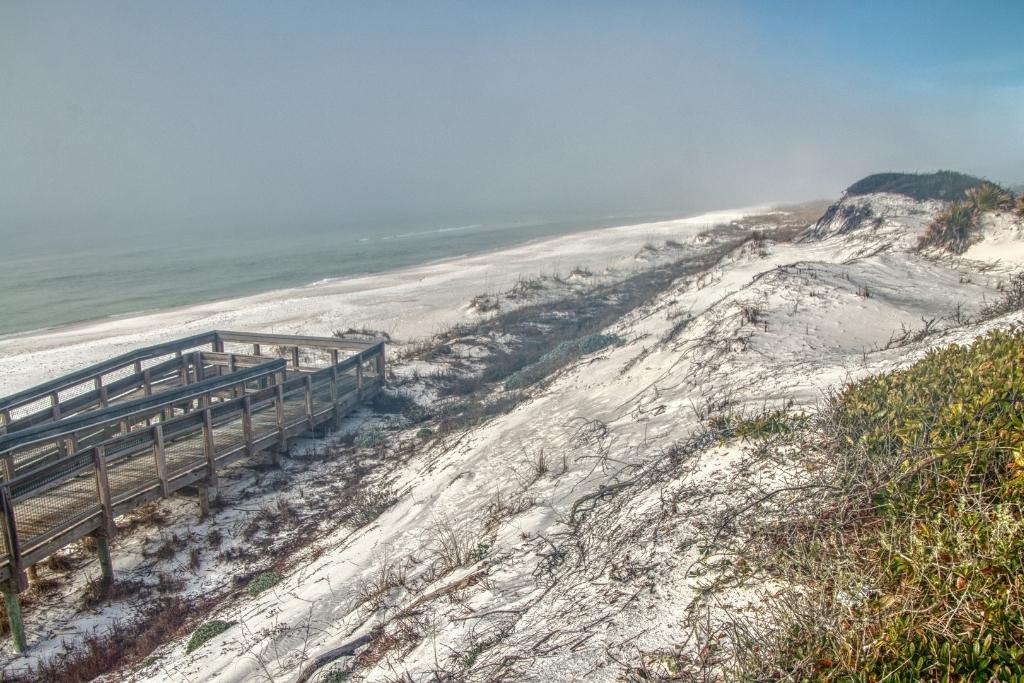 Things To Do Near Destin
Grayton Beach State Park
Located just a short drive from Destin, this park offers beautiful white sand beaches, nature trails, and the picturesque Western Lake, perfect for kayaking, paddleboarding, and other water sports.
Gulf Islands National Seashore
This national park includes beautiful barrier islands like Santa Rosa Island, Perdido Key, and Petit Bois Island.
These islands with their blue waters and pristine white sand beaches offer opportunities for hiking, birdwatching, wildlife spotting, and even snorkeling and scuba diving.
Crab Island
Located in Choctawhatchee Bay, Crab Island is a sandbar where people gather for fun in the sun.
It is one of the perfect places near Destin for water activities.
You can rent paddleboards, jet skis, kayaks, and floating cabanas in shallow waters or even play at the volleyball courts.
It is a great place for socializing and enjoying the crystal clear waters along with some water sports.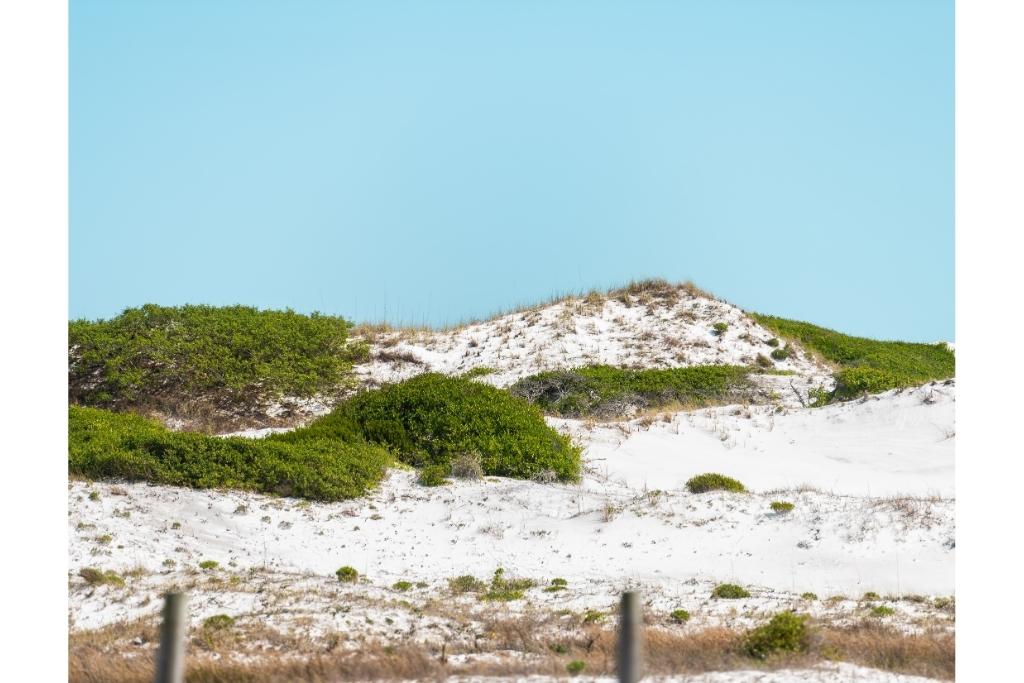 Okaloosa Island
Just east of Fort Walton Beach, about 7 miles from Destin, this island features a scenic fishing pier, restaurants, and activities.
Enjoy water activities like swimming in shallow waters, parasailing, jet skis, and dolphin tours, which makes for the perfect day trip from Destin.
Eglin Air Force Base
Located in the Florida Panhandle, Eglin AFB is the largest air force base in the world.
It is open to the public in the form of group tours from April to October on Thursdays from 9 a.m. to 2 p.m.
You can also visit the Air Force Armament Museum, which showcases a variety of military aircraft and weapons used throughout history.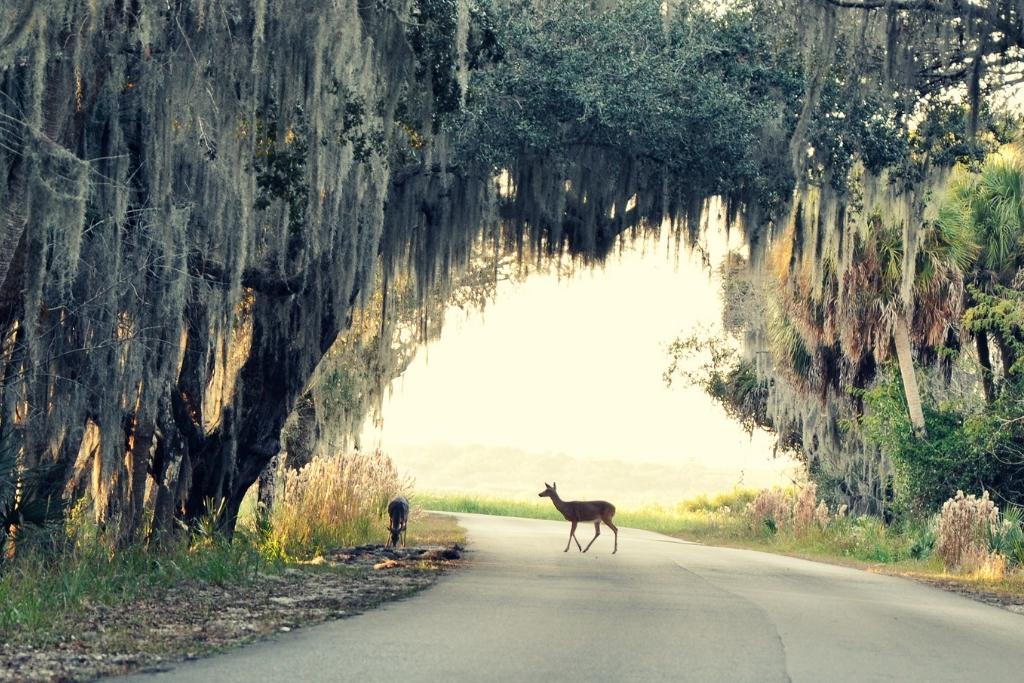 Things To Do Near Siesta Key
Myakka River State Park
This expansive park is known for its wildlife, hiking trails, and scenic boat tours.
Look out for alligators, deer, and a variety of bird species.
Historic Spanish Point
This is an outdoor museum dedicated to the history and archaeology of the Manasota Culture.
Located just 7 miles from Siesta Key, this museum features preserved pioneer-era buildings, gardens, and scenic waterfront views.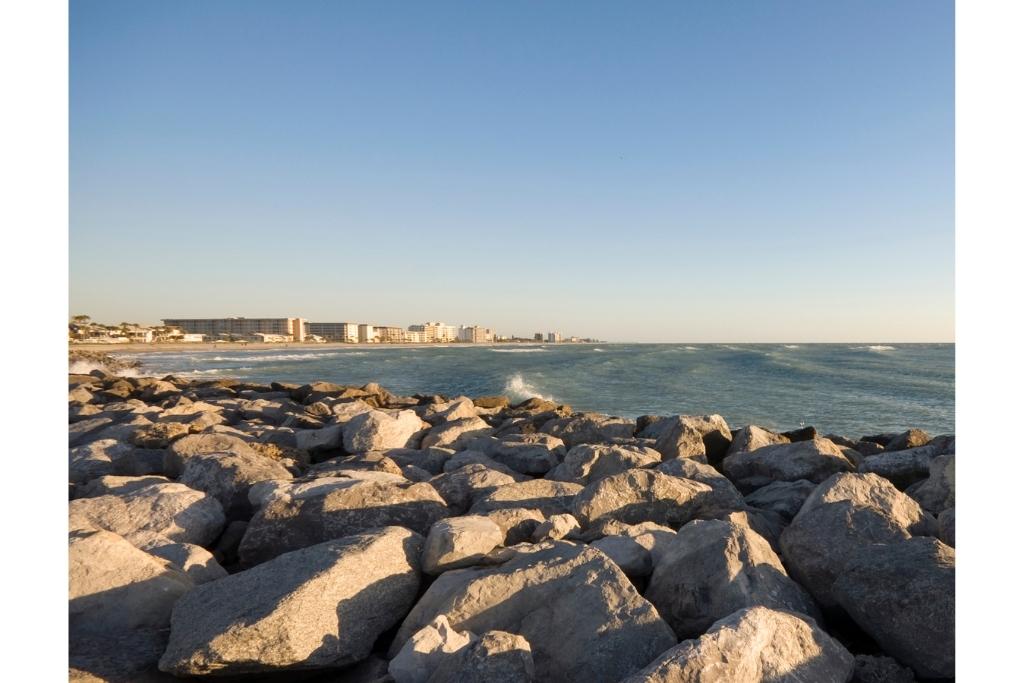 Oscar Scherer State Park
This Siesta Key beach offers hiking and biking nature trails, picnicking areas, and opportunities for birdwatching and wildlife viewing for outdoor enthusiasts.
Venice
The nearby city of Venice is known for its charming historic district, water activities, jet skis, beautiful white sand beaches, and the unique "Shark Tooth Capital of the World" experience.
Which is going on the lookout for fossilized shark teeth – one of the most unique experiences in all of Florida keys!
Sarasota Opera House
For some cultural entertainment, performances, and events, head to the historic opera house in downtown Sarasota which first opened its doors in 1926.
Free Things To Do: Destin vs Siesta Key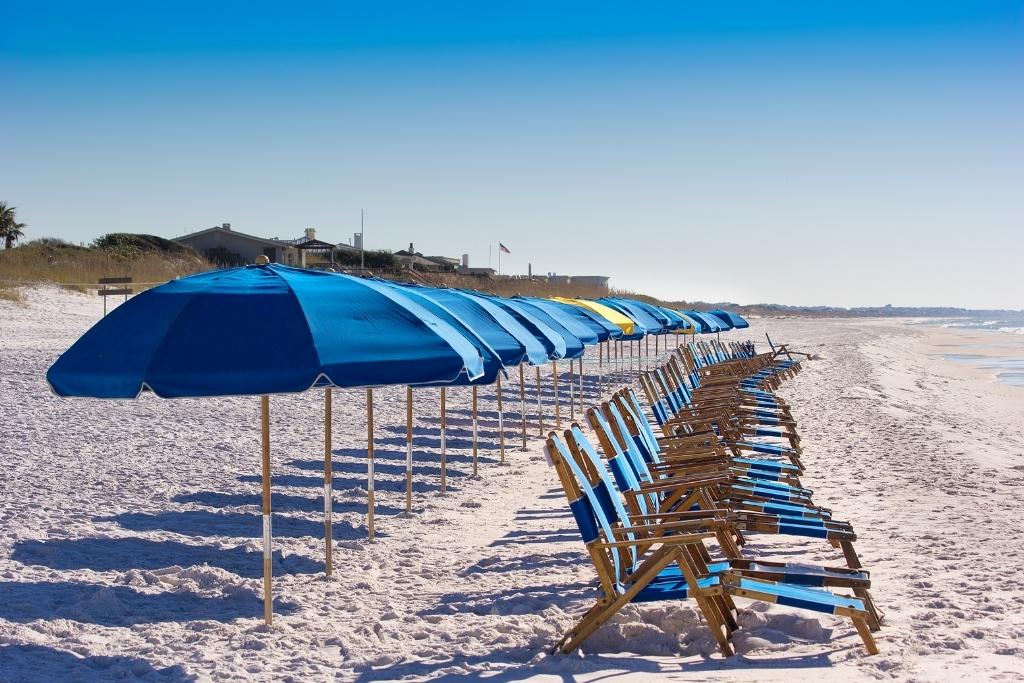 Free Things To Do in Destin
Beach Time
The main attraction in Destin is its stunning white sand beaches.
Destin beaches like June White Decker Park, James Lee Beach, and Henderson Beach State Park.
Which is perfect for spending your days sunbathing, swimming, building sandcastles, or simply taking in the breathtaking views of the Gulf Coast.
Destin Harbor Boardwalk
Stroll along the Destin Harbor Boardwalk, which is lined with shops, restaurants, and entertainment options.
It's a great place to watch the sunset and see boats come in.
Bayview Park
Located in the nearby Fort Walton Beach, Bayview Park offers a playground, picnic areas, and a fishing pier with beautiful views of Choctawhatchee Bay to spend a relaxed day out in nature.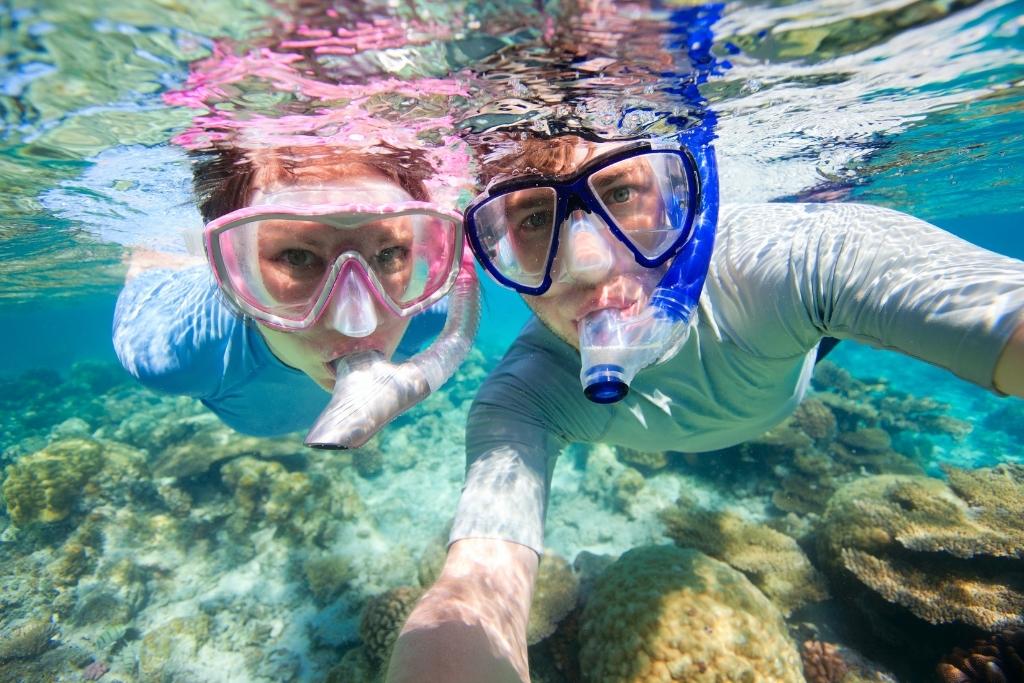 Free Things To Do In Siesta Key
Siesta Key Drum Circle
Join in or simply enjoy the lively Siesta Key Drum Circle, a local tradition that takes place on Siesta Beach near sunset every Sunday evening.
It's a great place for artists, tourists, and locals to all come together in a judgment-free space and have a fantastic time dancing, playing, or simply enjoying the live music.
Snorkeling
Point of Rocks is a rock formation at the southern end of Crescent Beach.
It is a Siesta Key beach and is the best spot for snorkeling in all of Florida Keys because of its mesmerizing blue waters.
This is a great place to discover marine life like colorful fish, seashells, sea turtles, and vibrant corals.
Shelling
Located on the northern tip of the island, Shell Beach is a Siesta Key beach that truly lives up to its name.
This beautiful beach offers an abundance of seashells for collectors and shellers to take back as natural souvenirs!
Things To Do For Families: Destin vs Siesta Key
Photo credit – Big Kahuna's Water And Adventure Park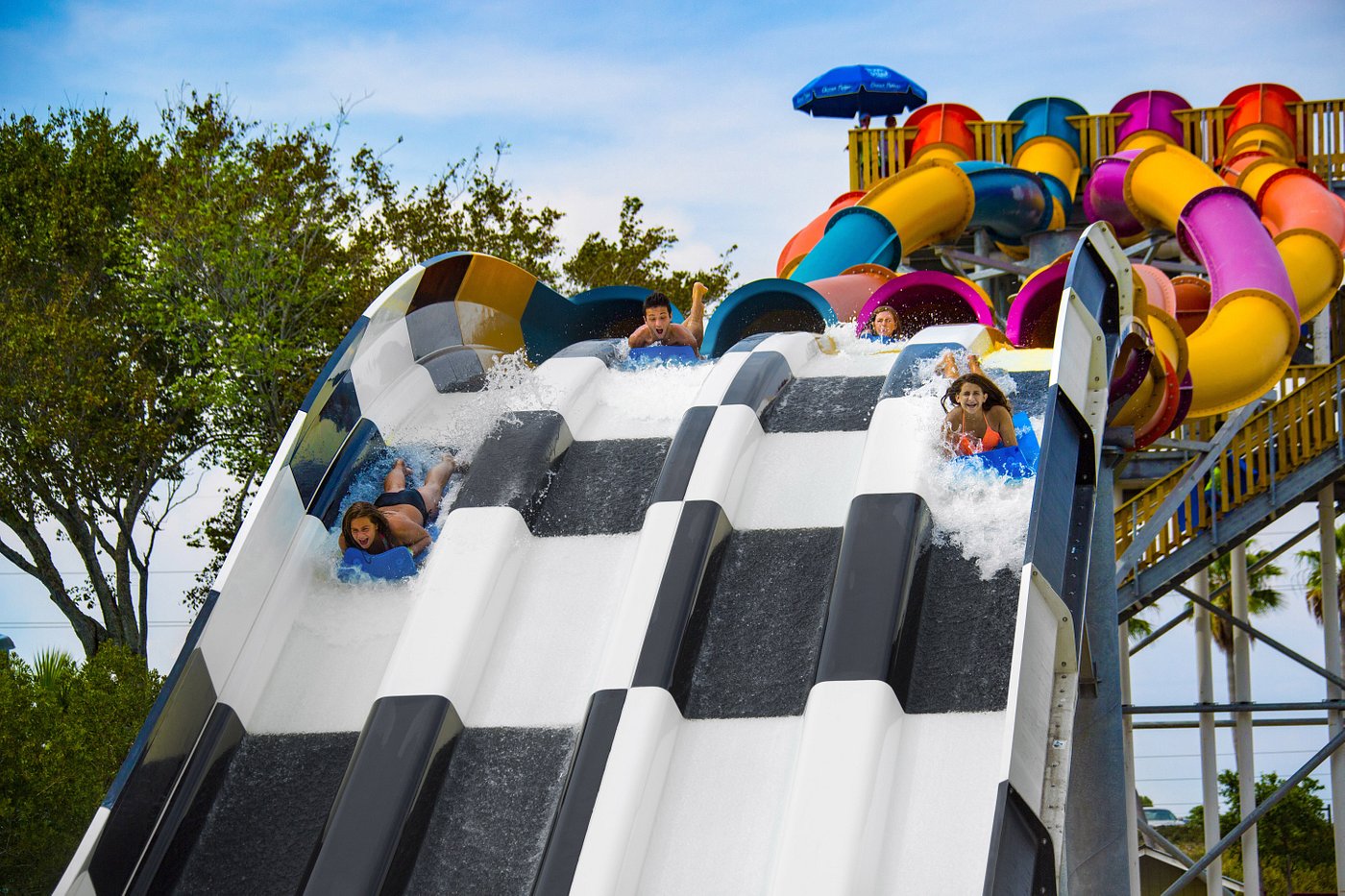 Things To Do For Families In Destin
Big Kahuna's Water And Adventure Park
This family-friendly water park offers water slides, lazy rivers, wave pools, mini-golf, and other attractions for a fun family day out, especially on a hot day.
The Track

The Track is an amusement park that allows you to enjoy go-karts, mini-golf, bumper boats, and an arcade that the entire family enjoys!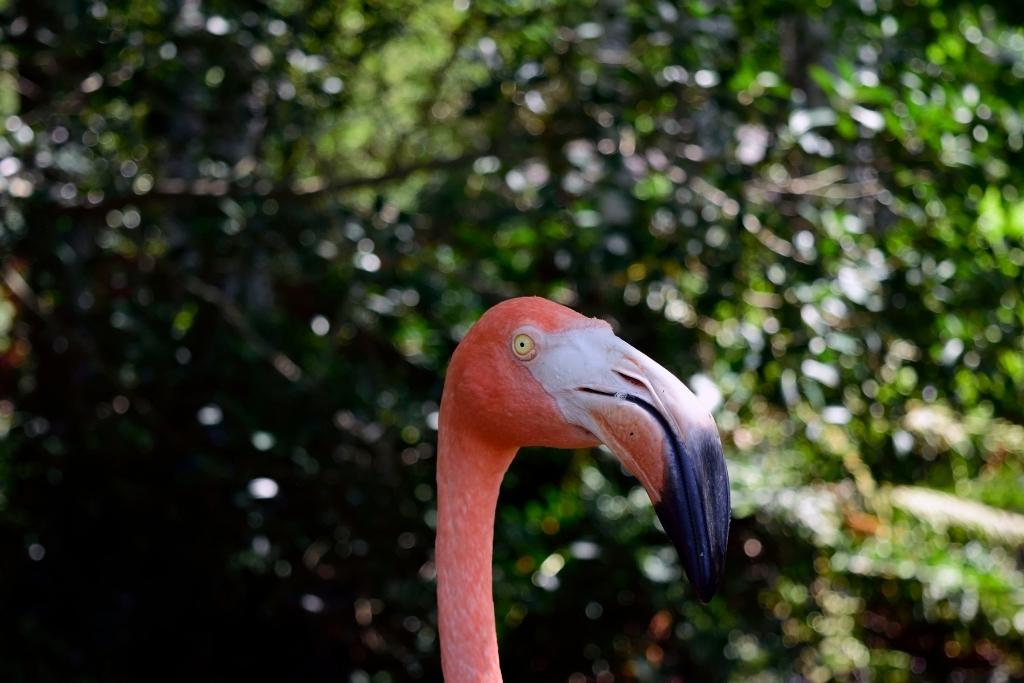 Things To Do For Families In Siesta Key
Sarasota Jungle Gardens
Exploring lush gardens and interacting with exotic animals is surely a fun way to spend time with your entire family!
Just a short drive from Siesta Key, this attraction features free-roaming flamingos, alligators, crocodiles, and other reptiles, deer, and even a petting zoo.
Mote Marine Laboratory & Aquarium
Located in Sarasota, this aquarium and research facility showcases marine life in the Gulf of Mexico through interactive exhibits and live animal displays and is great for an education day out with your kids.
Bay Island Park
Located on the eastern side of the island, this park offers a playground, picnic areas, and a fishing pier along the Intracoastal Waterway.
It's a perfect place to enjoy the crystal clear waters and wildlife with your entire family!
Things To Do For Couples: Destin vs Siesta Key
Things To Do For Couples In Destin
Sunset Cruise
There are plenty of places to catch a sunset in Destin, and taking a sunset cruise along the Gulf Coast to witness the breathtaking sunset views is one way to set a truly romantic mood.
Many tour operators offer romantic sunset excursions such as Smile N' Wave and Destiny Water Adventures.
Dinner With A View
Destin Harbor is known for its excellent dining options.
Couples can enjoy a romantic dinner with waterfront views at one of Destin's many seafood restaurants.
Or you could even choose a restaurant with beachfront seating on the Destin beaches, where you can dine with your toes in the sand while watching the waves roll in.
Some great options include The Back Porch, Beachwalk Cafe, and Soleil.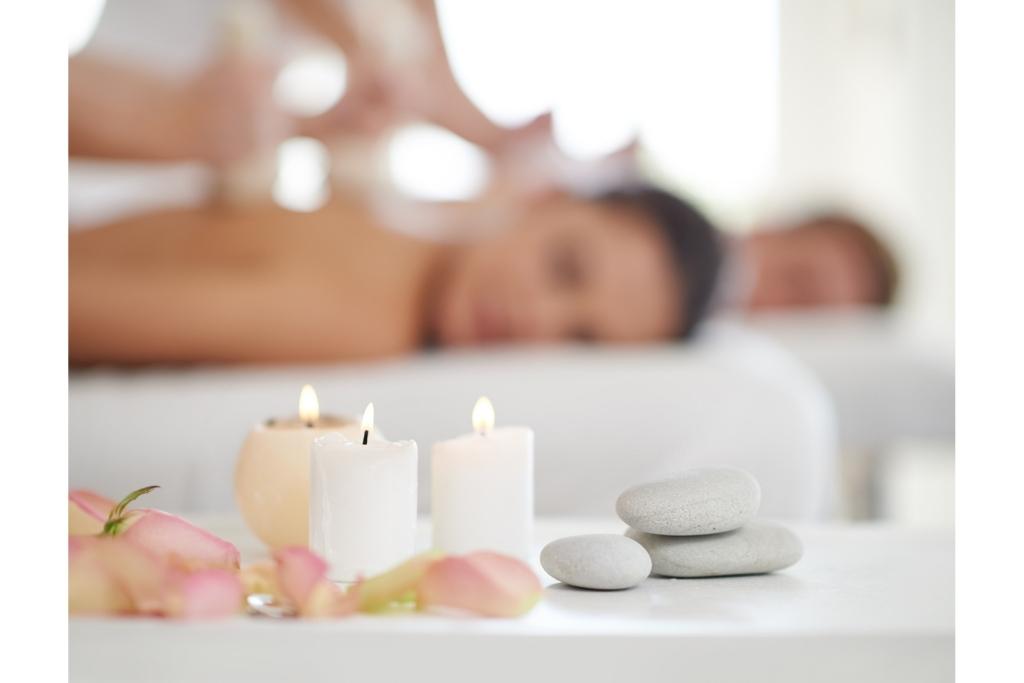 Couples Massage
Book a couples' massage at a local spa or wellness center for a relaxing and intimate experience.
Some great centers offering couple massages include Om Relaxation Spa and Edge of Paradise Day Spa.
Wine Tasting
Visiting a local winery or wine bar to sample some of Florida Panhandle's wines and getting tipsy together sure sounds like fun, doesn't it?
Consider checking out Emerald Coast Wine Cellars and Wine World for some great options.
Helicopter Tour
Experience Destin's beauty from the air by taking a romantic helicopter tour over the Emerald Coast.
Timberview Helicopters are the most well-known service providers in this industry in the Destin area.
They are sure to make your trip memorable!
Things To Do For Couples In Siesta Key
Private Beachfront Dining
Many beachfront restaurants offer private, candlelit Siesta Key beach dinners for couples seeking a romantic dining experience.
Ophelia's on the Bay and Little Palm Island Resort are some great options to consider.
Sunrise Yoga
A Siesta Key beach sunrise yoga class can be a peaceful and invigorating experience for couples to have together.
Lindsay offers an amazing 60-minute Vinyasa yoga class by the Atlantic Coast which is worth considering.
Sunrise Beach Photography
If you would like to take back memories of your romantic getaway, consider waking up early for a beautiful sunrise together with a Siesta Key beach photography session.
Ying Photography and Britt and Bean are some incredible photographers to consider.
Stargazing
Thanks to Siesta Key's dark skies, this beach town makes for an excellent spot for observing stars.
Lay out a blanket on a Siesta Key beach at night and stargaze to identify different constellations and galaxies and spend a romantic evening together!
Best Restaurants: Destin vs Siesta Key
Best Restaurants In Destin
McGuire's Irish Pub
This iconic Irish pub is famous for its steaks, seafood, and extensive beer selection.
The interior is filled with quirky memorabilia, making it quite Instagrammable as well!
Louisiana Lagniappe
A Cajun and Creole restaurant known for its fresh seafood and New Orleans-style dishes.
It has a cozy and romantic atmosphere, perfect for a date night with some incredible food choices.
Beach Walk At Henderson Park Inn
If you're looking for fine dining with views of the Atlantic Ocean, Beach Walk is a top choice.
The restaurant is part of the Henderson Park Inn and offers a prix-fixe menu, with some stellar seafood choices and a very well-done key lime pie too!
Harbor Docks
A longtime local favorite for fresh seafood, sushi, and waterfront dining, this restaurant is known for its commitment to sustainable seafood practices.
Pompano Joe's Seafood House
Located right on the white sand beach, Pompano Joe's is a popular destination for seafood and Gulf Coast views.
They are known for their Caribbean-inspired dishes which can be enjoyed with your toes dipped in the sand – an actual win win situation!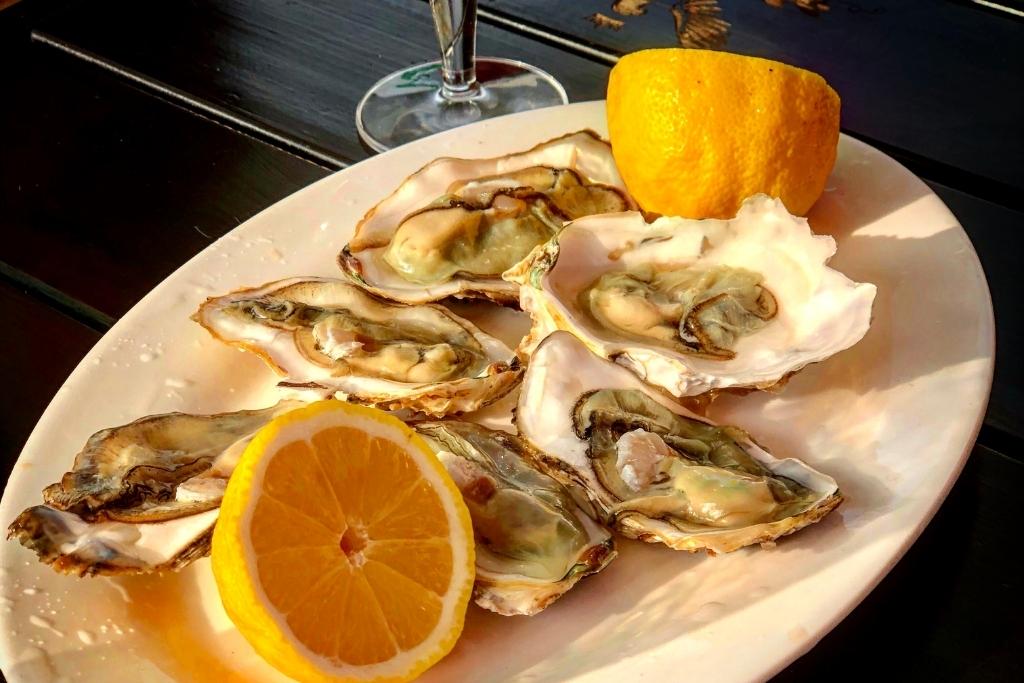 Best Restaurants In Siesta Key
Clayton's Siesta Grille
This restaurant offers a blend of American and international flavors with an emphasis on fresh seafood.
It's known for its inventive dishes and friendly service.
Siesta Key Oyster Bar (SKOB)
A laid-back and lively spot, SKOB is famous for its seafood, oysters, and casual beachy vibe.
It's a popular destination for locals and tourists alike.
The Hub Baja Grill
Known for its Baja-style cuisine, The Hub offers tacos, seafood, and a variety of margaritas in a colorful and lively setting.
Siesta Key Breakfast House
A popular destination for breakfast and brunch, known for its generous portions and delicious morning fare.
Best Beaches: Destin vs Siesta Key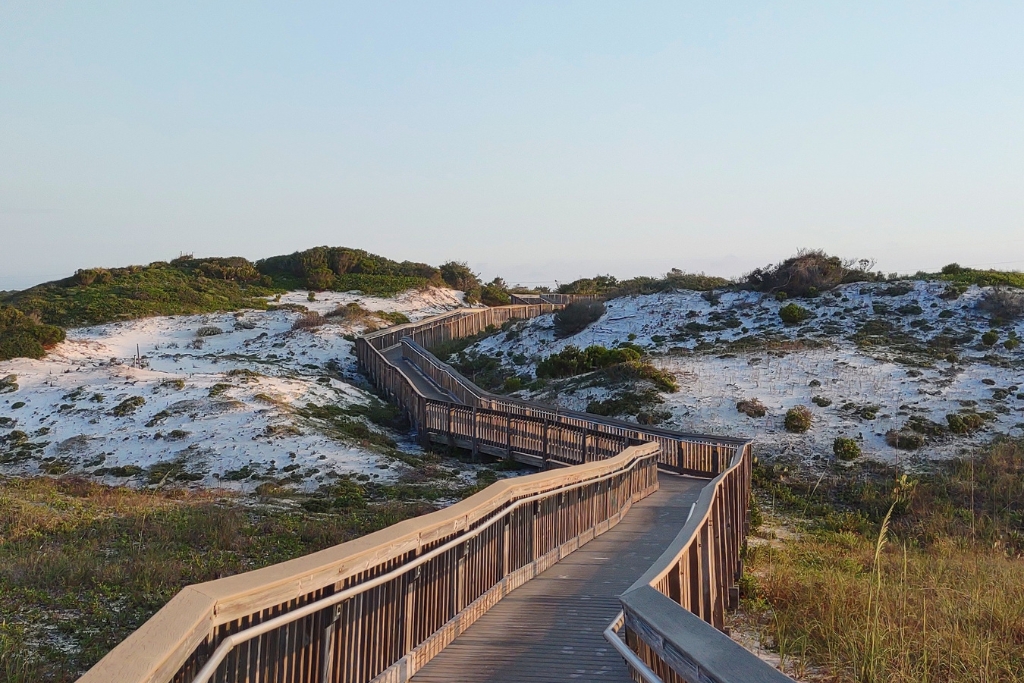 Best Beaches In Destin
Henderson Beach State Park
This park offers over a mile of pristine beachfront with sand dunes and coastal scrub.
It's a great place for swimming, picnicking, hiking, and wildlife viewing.
There's also a nature trail if you want to explore the coastal ecosystem.
Crystal Sands Beach
Located in the heart of Destin, Crystal Sands Beach is known for its crystal clear waters and soft, powdery white sand.
It's a popular destination for sunbathing and swimming.
James Lee Park Beach
This public white sand beach park offers a wide expanse of sandy shoreline and amenities like picnic areas, showers, and restrooms.
It's a family-friendly destination with crystal-clear waters.
Norriego Point
Located at the entrance to the Destin Harbor, Norriego Point is a unique beach with a mix of sandy shoreline and rocky outcrops.
It's great for fishing, kayaking, water sports, and watching boats come in and out of the harbor.
Jetty East Beach
This white sand beach is near the East Pass and is known for its excellent fishing, snorkeling, and the chance to see dolphins and sea turtles in the blue waters.
It's also a good spot for collecting seashells.
Best Beaches In Siesta Key
Siesta Beach
Siesta Beach is often rated as one of the top beaches in the United States.
It's famous for its cool-to-the-touch quartz powdery white sand on the Atlantic Coast.
This white sand beach offers excellent swimming conditions and has lifeguards on duty.
There are picnic areas, restrooms, and concessions nearby.
Crescent Beach
Crescent Beach is a Siesta Key beach known for its quieter and more relaxed atmosphere.
It's a great spot for sunbathing, beachcombing, and taking leisurely walks along the shoreline.
Turtle Beach
Located at the southern end of Siesta Key, Turtle Beach is a popular spot for shelling and fishing.
It has a boat ramp, picnic areas, and a playground, making it suitable for families.
Shell Beach
Located on the north end of the key, Shell Beach is aptly named for the abundance of seashells you can find here.
It's a lovely spot for beachcombing and shelling.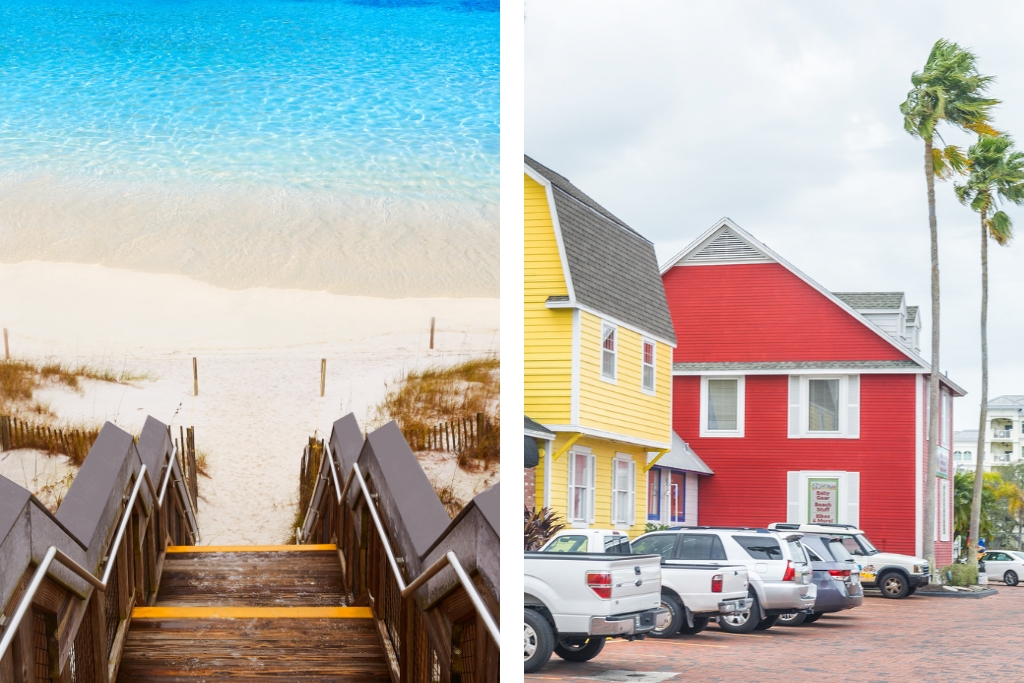 Which Is Cheaper: Destin Or Siesta Key
The average daily budget to visit Destin is usually somewhere between $240 to $280.
On the other hand, the average daily budget to visit Siesta Key is $280 to $330.
While both of these destinations are clearly not suitable for the average budget traveler, Destin definitely is cheaper to visit than Siesta Key.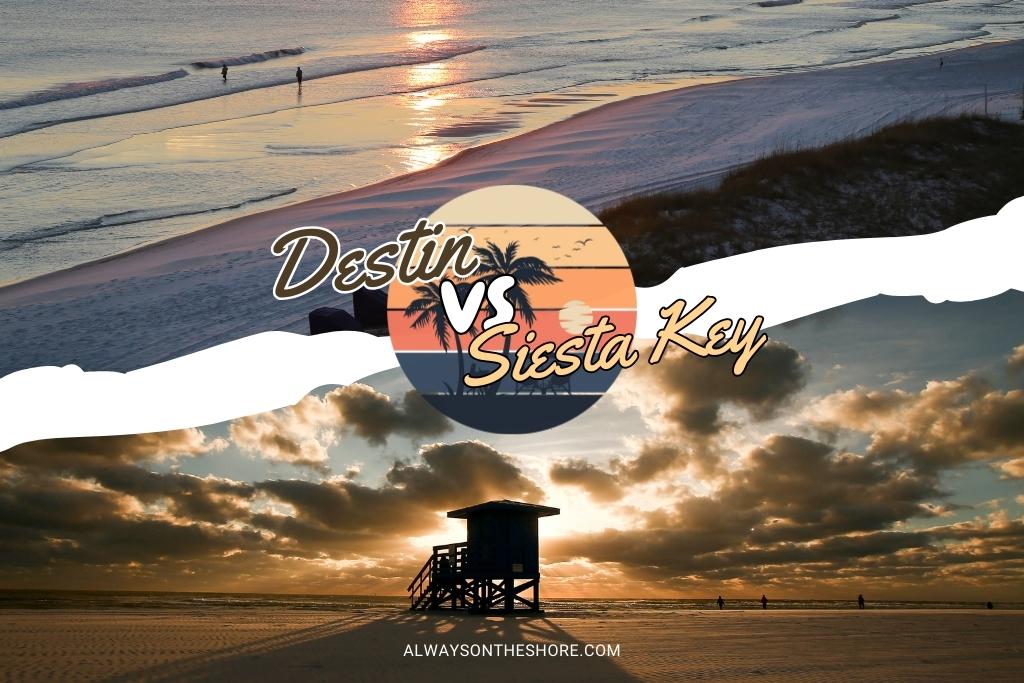 Destin vs Siesta Key: Frequently Asked Questions
Which Beach Is Better Destin Or Siesta Key?
Both Destin and Siesta Key are known for their beautiful white sand beaches, but which one is "better" depends on your personal preferences and what you're looking for in a beach destination.
However, the Gulf Coast at Siesta Key is always a few degrees warmer than Destin owing to its location further down south.
In the winter, Siesta Key beaches also become home to snowbirds from the northeast, making it a more spectacular sight.
What Beach Is Better Than Destin?
For those looking for a more upbeat and livelier beach scene than Destin, Panama City Beach may be a better choice. 
How Far Is Destin From Siesta Key?
The distance between Destin, and Siesta Key by road is approximately 270 to 280 miles, depending on your specific starting and ending points within each destination.
It typically takes around 4.5 to 5.5 hours to drive between the two destinations without major delays.
Destin vs Siesta Key – Final Thoughts
In conclusion, both Destin and Siesta Key offer beautiful beach destinations with their own unique charms.
Ultimately, the choice between Destin vs Siesta Key depends on individual preferences. 
Both destinations have their own appeal, ensuring that travelers can find the perfect coastal experience to suit their tastes and preferences.
Travel Resources
Book Your Next Trip!  For Accommodations and short-term rentals, I recommend Booking.com as they are the best in the business when it comes to rates and places to stay.
To Book Activities- For activities, I suggest booking with Viator, they have thousands of 5-star activities to choose from!
Looking To Start Your Own Travel Blog Or Take Yours To The Next Level? 
Check Out This Free Workshop!– I personally joined Scale Your Travel Blog in 2021 and my website has grown exponentially.