Last Updated on October 22, 2023
Always On The Shore contains affiliate links and is a member of the Amazon Services LLC Associates Program.  If you make a purchase, we make a small commission at no cost to you. For more information, please read the disclaimer page. 
If Christmas turned out to be exhausting, or the low temperatures and snowstorms in your area have you down, why not take a trip to Destin?
Rental prices plummet, resorts offer special deals, the beaches empty out, and the fishing is top-notch.
Plus, the Atlantic hurricane season of late fall should be well past.
Destin is my favorite place to visit in Florida so if you're interested in coming here, you're in for a treat! 
Read on to discover 7 great reasons to visit Destin Florida in January. 
7 Reasons To Visit Destin Florida In January
1. Cooler weather 
One of the top reasons to consider a Destin vacation in the month of January is the weather.
While the summer season in the Sunshine State is humid and sweltering, the winter offers much cooler temperatures with less humidity.
If you're coming from the frigid streets of Green Bay, Wisconsin, or the snow-covered slopes of Washington State, the relatively mild weather in Destin offers a welcome opportunity to beat off winter blues.
Average Temperatures In The Low 60s
In Destin, the average high in January is 60 degrees Fahrenheit, while the average low is 37 degrees.
The Destin area usually receives about 5.4 inches of rain during the month.
Usually, the month offers a mix of warm sunny days and chilly ones with some cloud cover.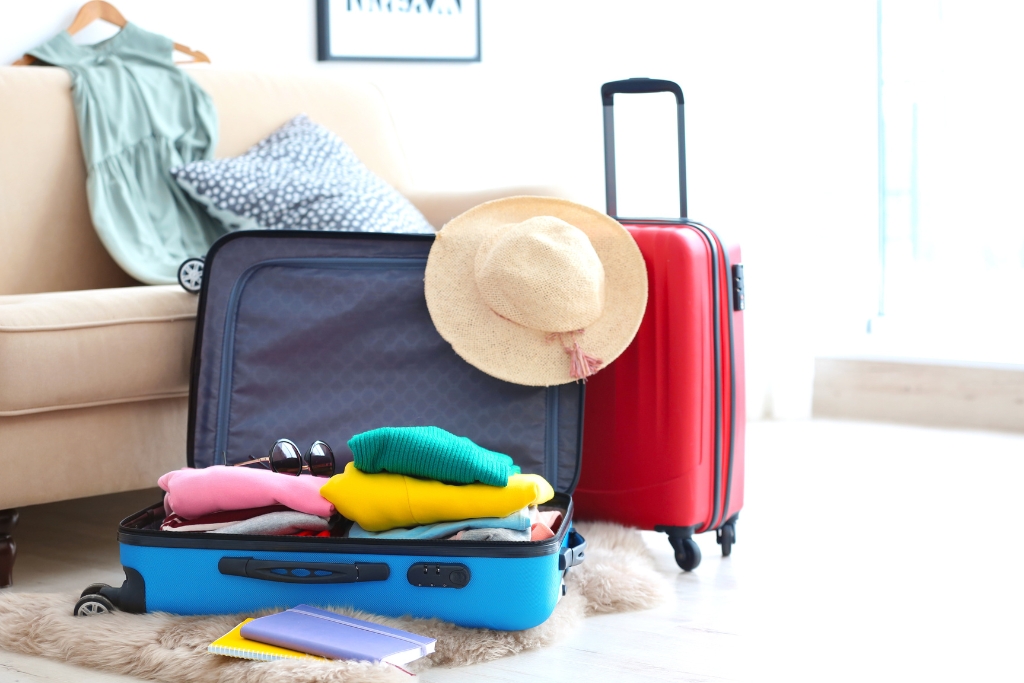 What To Pack For The Weather Conditions In Destin?
It's a good idea to pack warmer clothes such as a sweater, jeans, a light jacket, and/or a rain jacket. 
You might want winter gear, such as a scarf, a hat, and gloves.
Why You Might Not Need A Bathing Suit?
The water temperatures are usually an average of 64 degrees, so beaches and watersports aren't a big reason to visit Destin in the first month of the year.
Visiting water parks, going on banana boat rides, or snorkeling to see marine life are best in the summer months.
However, January is a fabulous time to watch the sunset, go on a dolphin cruise, and enjoy these top 15 fun indoor activities in Destin.
If you really want to swim, pick a hotel with a heated pool.
2. Good prices
One of the best things about Destin in January is that the rental prices tend to be low.
Since fewer people come to the Emerald Coast during the winter months, you'll have a chance to cash in on low-season rates.
You can find great deals on resorts and condo rentals in January. 
Looking for an Amazing Beach Rental in Destin?
Check out this Holiday Home 👉 Beach House III 🏠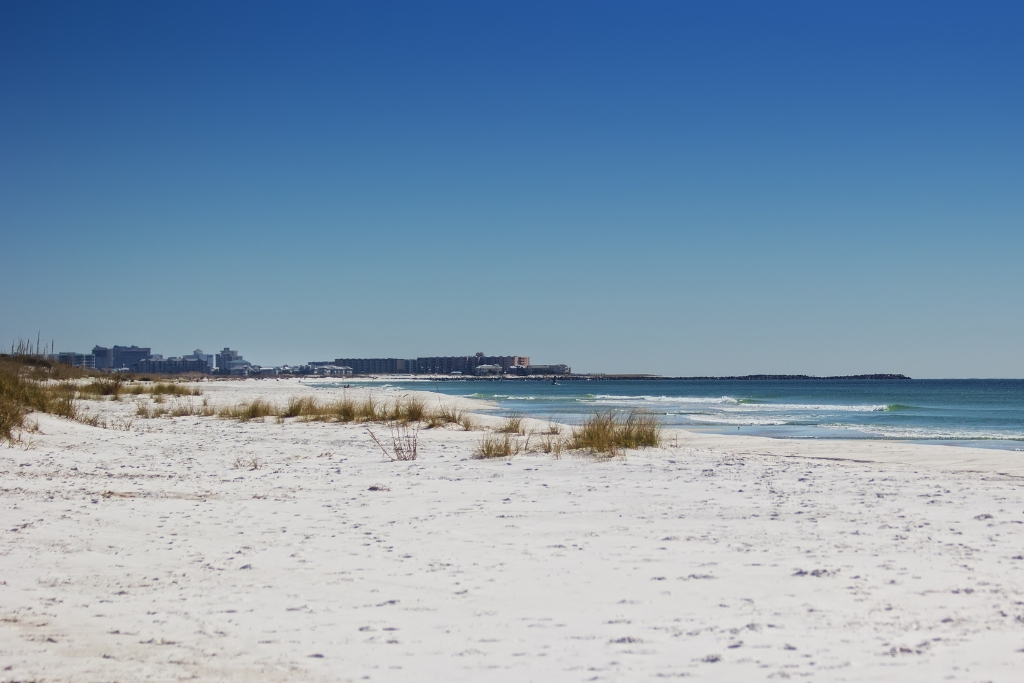 3. Fewer people
Avoid the summer crowds by heading to Destin in January.
Although there tend to be more people from mid-December through New Year's Eve, when families are on school vacation, this month is generally very chill.
January is the perfect time of year to go on breezy strolls along Destin's beautiful beaches, enjoy live music, shop for winter specials, and eat delicious cuisine at Destin's greatest restaurants–all without fighting through Mardi Gras masses or spring break swarms. 
4. Perfect Time For Florida Panhandle Roadtrip- Head to 30A 
The mild temperatures, low average rainfall, fewer crowds, and low prices of Florida vacation rentals offer a perfect opportunity to go on a Florida Panhandle Road trip.
Head west from the Destin area to discover the most exciting things to do on East County Highway 30A.
Gorgeous scenery, delicious seafood, live shows, beach bonfires, and intriguing tourist attractions make 30A a treasure trove of activity.
Visit the 30A Axe Throwing Company for a family-friendly competition involving axes, Viking battle cries, craft beers, and tasty small-plate appetizers.
The Big Chill 30A in Watersound is another fantastic place to visit for adults and kids alike.
Listen to music, set your kids loose to play games, dance, watch movies, and eat mouth-watering burgers.
Other stops on your road trip can include hiking through Point Washington State Forest and biking the Timpoochee Trail.
January is also a great month of the year for golfing.
5. Events 
Although January is a relatively quiet month in Destin, there are still plenty of things to do. 
Beach bonfires, bingo nights, salsa lessons, bachata lessons, trivia nights, open mic nights, country line dancing, karaoke, and farmer's markets are only a few of the activities that make January a prime time to visit.
Winter Wonderland in the Village of Baytowne Wharf is a lot of fun, with Christmas-themed activities and real snow.
Baytown on Ice gives kiddos a chance to skate around.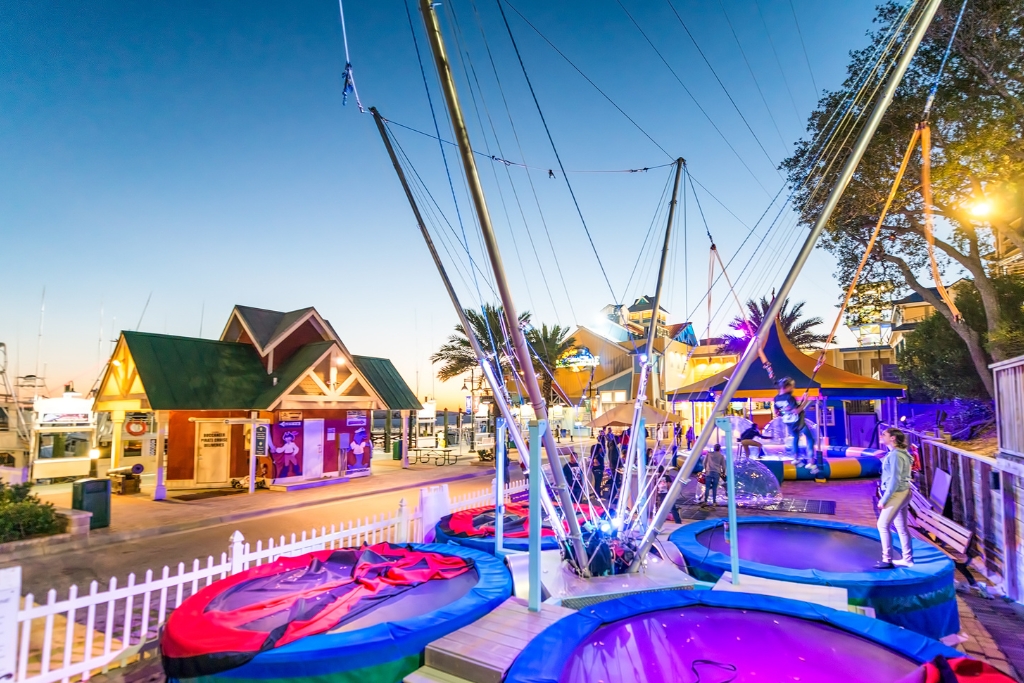 6. HarborWalk Village
If you're looking for a great time while in Destin, look no further than HarborWalk Village–the city's entertainment center.
Pirate ship excursions, live music, cultural shows, art exhibits, an Adventure zone for kids, and a plethora of restaurants make this an awesome place to visit at any time of the year.
A few of the events you can enjoy in January include the New Year's Eve Countdown and Ball Drop, the Best of the West Jazz Competition, and Melodies and Mimosas–a tasty Sunday brunch accompanied by live music.
January at HarborWalk Village offers perfect weather to wander around, scenic ocean water views, and endless opportunities for fun.
7. Great Fishing
January is an ideal month to go fishing in Destin, whether you cast in a line from the beach or book a fishing charter for a deep-sea adventure.
The winter season is perfect for catching red snapper, grouper, cobia, and flounder.
Fry whatever you catch for a melt-in-your-mouth seafood dinner.
With discounted rates on charters and hotels, amazing views from the water, and plenty of fish ready to bite, January is one of the best months in Destin for anglers.
A few of the top spots to fish include Choctawhatchee Bay and Crab Island.
For those who decide to go with a fishing charter, you won't have to worry about bringing gear along on your Destin West vacation since most outfits have everything you'll need.
If you don't fancy a sweltering summer climate, crowded beaches, and elevated prices, January is one of the best times of year to visit Destin.
While much of the United States suffers from frigid daytime temperatures, cold weather forecasts, and days of rain or snow, Destin offers relatively warm weather, fun events, and amazing fishing.
Booking a last-minute trip to Key West Florida?  
If so, we have you covered.  
Top Tours in Key West – Viator
Top Rated Hotels & Accommodations – Booking.com
Looking To Get Around In Key West Florida? 
Check out rental car rates here! 🚗
Travel Resources
Book Your Next Trip!  For Accommodations and short-term rentals, I recommend Booking.com as they are the best in the business when it comes to rates and places to stay.
To Book Activities- For activities, I suggest booking with Viator, they have thousands of 5-star activities to choose from!
Looking To Start Your Own Travel Blog Or Take Yours To The Next Level? 
Check Out This Free Workshop!– I personally joined Scale Your Travel Blog in 2021 and my website has grown exponentially.