Last Updated on November 29, 2023
Always On The Shore contains affiliate links and is a member of the Amazon Services LLC Associates Program.  If you make a purchase, we make a small commission at no cost to you. For more information, please read the disclaimer page. 
Are you looking for the perfect vacation spot in Florida's beautiful panhandle region?  Then look no further because, in this post, we'll cover the best cities near Destin Florida to vacation in 2023.
Whether you are looking for a beach getaway, an outdoor adventure, or a quaint southern town feel, the towns of the Florida Panhandle are perfect for all types of vacationers.
As someone who has traveled extensively through the state of Florida, I can assure you that these are the best vacation spots!
From Pensacola to Panama City Beach and everywhere in between, here are the best places and top cities near Destin Florida for an unforgettable vacation in the Panhandle.
Table of Contents
1. Sandestin

Sandestin is one of the best little cities located near the city of Destin, Florida.  This small city is part of Walton County and serves as an upscale beach resort town with a rich Destin history.
Sandestin is near miles of white sand beaches, luxurious accommodations, excellent restaurants, and plenty of activities to make your vacation perfect.
The area also features championship golf courses, full-service marinas, tennis courts, and numerous shopping opportunities.
However, for the best family experience in Sandestin, visit the small fishing village of Baytowne Wharf, with kids' activities, shopping, and restaurants, along Choctawhatchee Bay.
Sandestin is a great place to get away from it all and enjoy the beautiful Florida sunshine and stunning scenery especially during the summer months.
2. Panama City Beach
Panama City Beach is a welcoming and vibrant town situated on the stunning white-sand beaches of Florida's Panhandle.
Whether you are looking for laid-back beach vibes, shopping for souvenirs, or going wild with your friends on the famous party beaches, Panama City Beach is sure to have something for everyone.
The area offers a host of activities from boating and fishing to swimming, diving, surfing, and, sunbathing on the public beaches.  You can also take part in fun water sports such as parasailing, water skiing, and stand-up paddle boarding.
If you are looking for some retail therapy, there are lots of shopping options at Pier Park.
There are also activities such as laser tag, arcade games, mini golf, axe throwing, and an escape room.
Or you can take a ride on the giant Ferris wheel and get awesome views of the park, Russell-Fields Pier, and the Gulf of Mexico.
There is a movie theater at Pier Park if you are in need of a rainy-day activity.  Pier Park is really a perfect place for the whole family.
However, Panama City Beach is probably most well known for its countless Gulf beaches- some of the best white beaches include Dog Beach (next to Pier Park), M.B. Miller County Pier, St. Andrews Park, and Shell Island.
Panama City Beach is the perfect place to enjoy a stress-free vacation in the sun- it's no wonder Panama City Beach is one of the top destinations for Florida Panhandle vacations.
🚘 1 hour, 20 minutes from Destin
3. Navarre Beach
Navarre Beach is a stunning coastal town on the Florida Panhandle, with some of the most beautiful beaches in all of the United States.
It's an ideal vacation spot for anyone looking to relax and enjoy sunny days, with plenty of activities available to keep everyone entertained.
Navarre Beach also offers some interesting attractions to explore and enjoy as part of your vacation.  If you're an animal lover, you'll enjoy the Sea Turtle Conservation Center and the nearby Gulf Breeze Zoo.
There are also a number of parks with picnic areas and trails, offering outdoor activities such as hiking, biking, and fishing.  The Naval Live Oaks Area is nearby and a perfect spot to get out in nature and explore.
Navarre Beach is also known for its excellent restaurants.  Places like Dewey Destin's (also in Destin), Beach House Bar & Grille, and Windjammers offer waterfront views and incredible food.
Head to Juana's Pagodas for food and drinks, live music, and beach volleyball along the Santa Rosa Sound.
Take a stroll or try your luck fishing on the Navarre Beach Pier, or if you want to relax, you can just lay back on the beach and listen to the waves coming in.  After all, this small beach town calls itself "Florida's Most Relaxing Place"!
Navarre Beach is the perfect destination for anyone looking for a quick day trip and amazing Florida Panhandle vacation.  With its stunning beaches and fascinating attractions, it provides an ideal setting for a fun and memorable getaway.
Hanging out at the Seaside Town Square
4. Seaside
Located in the Florida Panhandle along Scenic Highway 30A, Seaside is a quaint beach town that makes for an ideal vacation spot.  If this small town looks familiar to you, it's because the Jim Carrey movie, The Truman Show was filmed here!
With its pristine white sand beaches, lush rolling dunes, and crystal clear waters of the Gulf of Mexico lapping at its shoreline, you can't help but feel relaxed and stress-free when visiting this peaceful coastal paradise.
Whether you are looking for a romantic getaway or a fun family vacation, there's something here to suit all kinds of travelers.
Spend your days sunbathing on the beach, playing in the waves, or exploring the nature trails at nearby Point Washington State Forest.
There are plenty of activities available including fishing charters, dolphin-watching tours, and kayaking excursions – just to name a few.
In the evenings, take a stroll through the town and enjoy some of Seaside's unique shops and restaurants.  Sample delicious seafood dishes from local restaurants like Bud & Alley's or grab some food at one of the airstream row food trucks.
No matter what type of stay you are looking for, Seaside is an ideal location to get away from it all and experience everything that makes Florida's Panhandle so special.
Views of Pensacola Beach from the Pensacola Beach Pier
5. Pensacola Beach
With miles of white sand beaches and emerald waters, Pensacola Beach offers one of the best vacation spots in the Florida Panhandle.
From the azure waters of the Gulf of Mexico to the tranquil bay to the coastal dune lake, there is a variety of outdoor activities that make Pensacola Beach an ideal vacation spot.
Explore all that Pensacola has to offer fishing trips, parasailing, kayaking, or stand-up paddle boarding along Big Lagoon State Park, or simply relaxing on the beach soaking in the sun and enjoying local seafood – any way you choose to spend your time here will be unforgettable.
After days spent exploring nature's beauty and discovering hidden gems around the town and city center, guests can enjoy unique nightlife experiences with awesome seafood restaurants and entertainment throughout.   For live entertainment, one popular acttivity is visit Flounder's Chowder House for spectacular seafood and music.
If you're not in the mood for seafood, that's no problem because one of the best restaurants in Pensacola Beach is Water Pig BBQ, located in the heart of the city.
The National Naval Aviation Museum is a must-see spot for anyone interested in aviation history, featuring interactive exhibits that bring the past to life.
You can't visit Pensacola Beach without visiting the Pensacola Beach Boardwalk, along Santa Rosa Sound.   Here, there are lots of shopping and food options.  Grab some of Italian's best at Papa's Pizza.
Just across the street from the boardwalk is Casino Beach and the Pensacola Beach Pier.  With fishing on the pier, restaurants on the beach, and entertainment throughout the year, there is plenty to do here!
When in Pensacola Beach, be sure to visit the Gulf Islands National Seashore, with miles of powder white sand beach.  The National Seashore sits between Pensacola Beach and Navarre Beach.
 🚘 1 hour, 10 minutes from Destin
Topsail Hill Beach- Santa Rosa Beach
6. Santa Rosa Beach
Santa Rosa Beach is a popular tourist destination for vacationers looking to explore the Florida Panhandle and its sandy beaches.
Located along 30A in Walton County, the town of Santa Rosa Beach has become a premier beach destination for visitors from all over the country.
The crystal clear Gulf waters are just steps away from charming boutique shops, local restaurants, and popular attractions along Scenic Highway 30A.
With miles of white sand beaches and turquoise water views, it's no wonder why so many vacationers flock to this idyllic spot each year.
For those seeking an active adventure, there are plenty of enjoyable activities available. Visitors can choose to rent paddle boards or kayaks at one of the nearby rental spots or take a hike through the sand dunes.
Topsail Hill Preserve is a nice park to explore with trails, lots of wildlife, and a secluded Gulf beach.  The beach is about 3/4 mile from the entrance but you can take a ride on the trolley if you don't want to take the hike!
If you're looking for something a bit more relaxing, Santa Rosa Beach has plenty of options for that too. Take some time to relax in the sun at Ed Walline Beach or Dune Allen, or spend an afternoon shopping and dining in one of the local shops and restaurants.
There are cute shops, restaurants, and an outdoor art gallery, Artists At Gulf Place, just across the street from Ed Walline Beach Access.
From its beautiful white beaches and endless activities to its quaint downtown area and delicious food scene, this Florida Panhandle town is definitely worth visiting!
 7. Miramar Beach
 
Situated in Walton County, along the beautiful Emerald Coast, Miramar Beach is an ideal vacation destination.
From luxurious resorts and shopping centers to nature trails, water parks, and amusement parks, there are plenty of fun activities in this amazing beach town.
The pristine beaches are perfect for relaxation or recreation.  Whether you want to sunbathe on the soft white sands or challenge yourself with some watersports like kayaking or stand-up paddleboarding, Miramar has you covered.
They offer rentals and even parasailing right at Miramar Beach Regional Access, right next to Pompano Joe's.
Aside from its numerous activities, Miramar Beach also offers visitors plenty of places to shop and eat.
Silver Sands has a ton of outlet stores and restaurants, while Grand Boulevard offers a more upscale dining and shopping experience.
Scenic Highway 98 runs from Destin to Miramar Beach along the coast and has restaurants such as Crab Trap, Pompano Joe's, and one of my favorites, Whale's Tail.
All in all, Miramar Beach is an excellent destination for a Florida Panhandle vacation.
With its gorgeous beaches, rich wildlife, and abundance of activities, there's no better place to get away from everyday life and enjoy some much-needed rest and relaxation in your beach vacation.
8. Fort Walton Beach
With its sugar-white sand beaches, miles of natural trails, and several outdoor activities to do, Fort Walton Beach is an ideal destination for families and beachgoers alike.
Located in the north of Destin, the Emerald Coast's turquoise waters offer a wide range of exciting water sports like jet skiing and kayaking.
Visitors can also head from the closest airport of Destin-Fort Walton Beach Airport to The Boardwalk At Okaloosa County, a waterfront complex with shops and restaurants, right next to the beach and pier.
Located just a short drive between Fort Walton Beach and Destin Harbor Boardwalk, The Okaloosa Island boardwalk is perfect for families, with a playground, splash pad, and gelato shop.
The whole family will love the Gulfarium Marine Adventure Park, with dolphin shows and plenty of sea life. 
For more activities, Wild Willy's Adventure Zone is just across the highway from the boardwalk and has an arcade, mini golf, and water activities.
Whether it be unwinding on the beach or taking part in one of many thrilling adventures, Fort Walton Beach is one of the best cities and closer places near Destin Florida!
9. Grayton Beach 

Grayton Beach is an idyllic coastal town located in a barrier island of Florida Panhandle.  With its white sand beaches, clear Gulf of Mexico waters, and relaxed vibes, Grayton Beach makes for a perfect vacation destination.
The small-town feel of Grayton Beach is a refreshing change from other heavily populated beach cities near Destin Florida.
The area contains many unique shops, restaurants, galleries, and more – all within walking distance of each other.
Visitors have the opportunity to explore this charming beach village at their own pace while enjoying some of the best seafood and casual dining around.
Restaurants such as The Red Bar and Chiringo offer great food and are just a block's walk from the ocean.  Try the Lobster Roll at Chiringo!
Nature lovers will appreciate Grayton Beach's generous access to local state parks such as Point Washington State Forest and Grayton Beach State Park.
Hikers, bikers, campers, and wildlife enthusiasts will all enjoy the miles of trails available to explore throughout these parks.
There are several water sports centers offering paddleboarding, kayaking, and more as well as an array of other recreational options such as golf courses and fishing charters.
Grayton Beach is truly a Florida Panhandle vacation destination unlike any other.  If you prefer spending your days exploring nature or taking part in exciting activities, Grayton Beach has you covered.
Where Is Destin Florida?
Located on the Florida Panhandle along the Gulf of Mexico and Choctawhatchee Bay, Destin is also known as the "world's luckiest fishing village" and has amazing Destin beaches that have a laid-back atmosphere making it the perfect spot for a relaxing vacation.
For those looking to get on the water, there are fishing charters and boat tours at HarborWalk Village.
HarborWalk is a great place to spend the day along the waterfront, filled with shops, lots of activities for the family, and of course, some amazing restaurants.
If you're seeking some adventure, the total area offers plenty of outdoor activities, such as kayaking and parasailing.
They also have amazing theme parks such as the Big Kahuna's Water & Adventure for your family to enjoy.
When in Destin, be sure to check out beautiful Crab Island, a popular sandbar, just north of the Marler Bridge.  Here, you can splash around in about 2-4 feet of water, have drinks, and hang out with other groups.
For a little more leisurely pace, there's also plenty of shopping at Destin Commons and nearby Okaloosa Island.
The best beaches in Destin include James Lee Beach, Henderson Beach State Park, and Norriego Point.
In conclusion, the Florida Panhandle offers a wide array of different vacation options for travelers. 
No matter what type of vacation you're looking for, these cities and beach towns near Destin Florida are sure to provide you with the perfect getaway!
Additional Destin Travel Blogs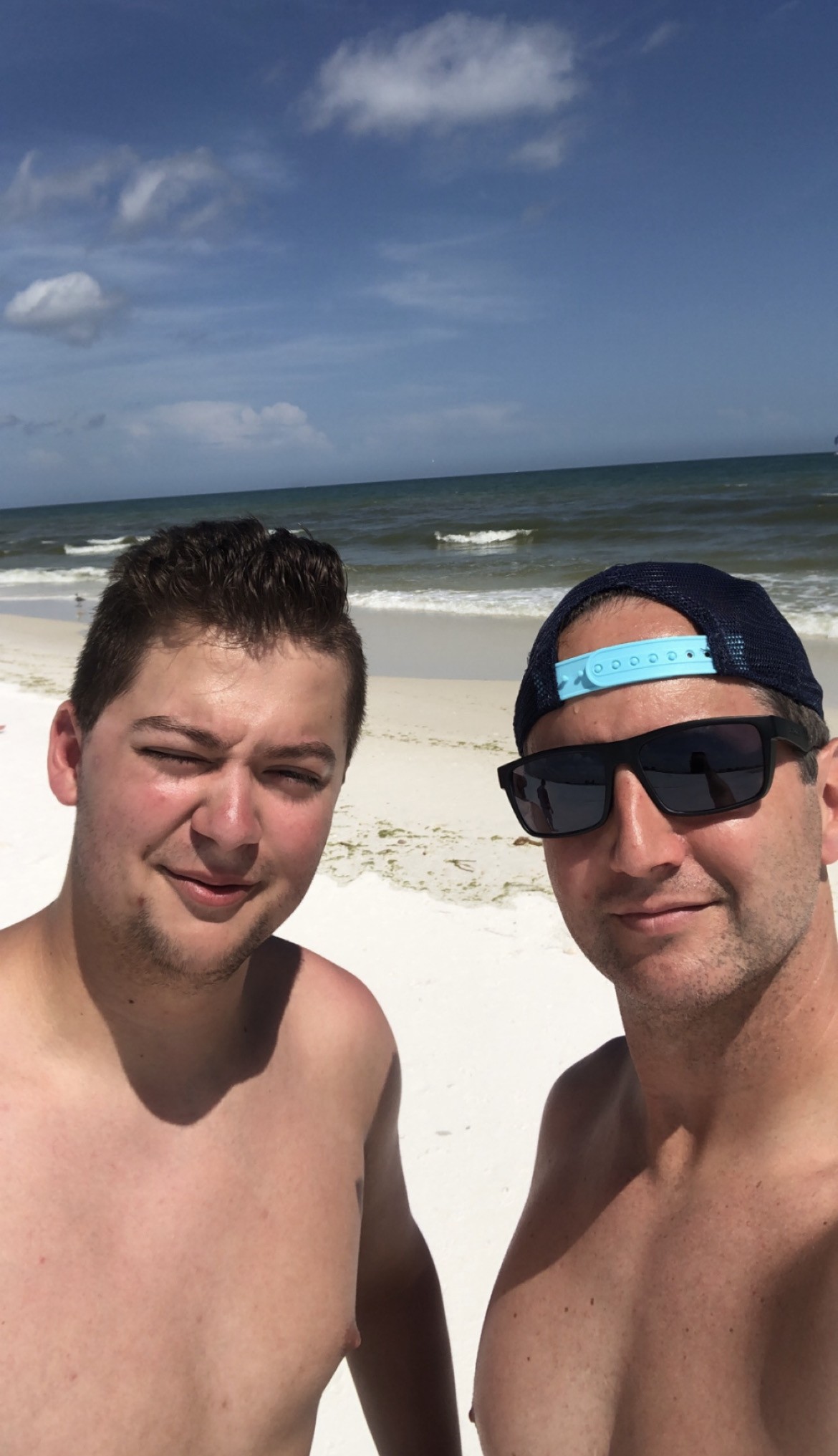 My son and I hanging out at the beach on one of my recent trips to Destin!