Last Updated on August 6, 2022
Peanut Island is a gorgeous 79-acre tropical island in Florida near Lake Worth Inlet and Riviera Beach.  In this post, we'll list fun things you can do and give you tips for having the best experience at Peanut Island! 
This small state park is complete with white sand beaches, towering palm trees, schools of tropical fish, and clear turquoise water.
If that sounds like paradise, we agree with you!  Peanut Island is one of Florida's top beaches and a premier snorkel spot.  Plus, it's an island, which ratchets the experience to a whole new level of spectacular.
Let's dive into everything you need to know to have an incredible day on Peanut Island Florida.
Peanut Island Florida- The Complete Visitor's Guide!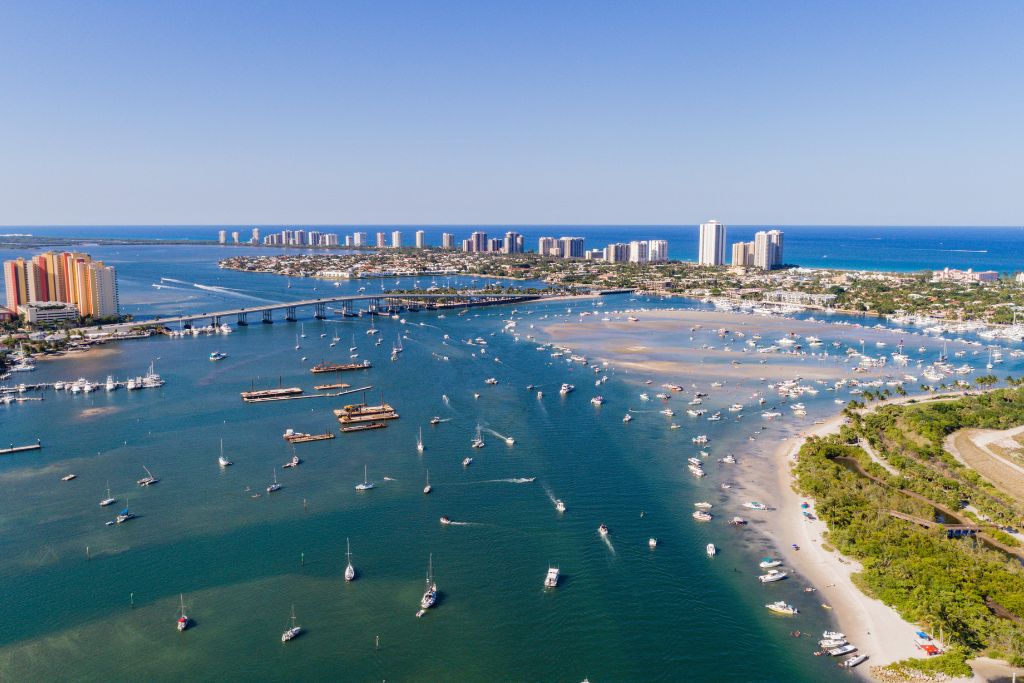 Is Peanut Island Worth Visiting?
Yes!  Peanut Island Park is an amazing place to visit, offering something for everyone.
You can snorkel among parrotfish and manatees in the reefs and lagoon, party in a boat or on the sandbar, fish off the fishing dock, have a cookout, see the outside of the JFK bunker, and revel in the beauty of sand, sunshine, and unspoiled ocean.
Things To Do On Peanut Island
There are plenty of activities to enjoy on Peanut Island, from swimming and snorkeling to exploring the mangrove boardwalk or having a barbecue.
Hang Out On The Beach
The beaches which ring Peanut Island are its primary attraction. But which ones are best?
The beaches on the north and west side are smaller, and the water is less clear. The best beaches are on the south and east side of the island.  These beaches are wide and sandy with crystal clear water.
During certain seasons, lifeguards will be on duty on the southeast beaches, making it the ideal spot for swimmers, snorkelers, and families.
To get to the southeast beaches, simply turn left when you get off the Peanut Island shuttle and walk south along the paved path towards the lagoon.
There are many lovely spots along the water, with trees providing natural shade. One of the most tranquil locations is on the last strip of beach next to the lagoon.
Swim In The Beautiful Water
Nothing beats swimming at Peanut Island Florida. The best part? You can swim here during every month of the year!
The water temperature stays warm from January to December, often staying above 85ºF well into October.
Snorkel In The Reef And Lagoon
Yahoo Travel named Peanut Island one of the 12 best snorkel spots in the United States in 2016.  And for good reason! 
During high tide, water flows through the Palm Beach Inlet, improving the water visibility to an insane degree.  High tide is the best time for snorkeling.
You can snorkel among the man-made reefs surrounding the island, or in the lagoon.  The best snorkeling is on the southeastern beaches.
Some of the sea life you can see includes octopus, rays, squid, stonefish, parrotfish, stingrays, snook, French Grunts, lobsters, small sharks, and starfish.  If you're lucky, you may spot sea turtles as well. 
Take a look at these other spots for snorkeling nearby!
Fish Along The Shore
Another fun thing you can do on Peanut Island Florida is go fishing.
If you're a Florida resident fishing from the shore, you don't need a fishing license.  Not a resident?  Head to the Florida Fish and Wildlife Commission for more information.
The fishing pier is on the northeast part of the island. 
Watch Manatees
During the winter, you may get to see manatees entering the Peanut Island Lagoon.
Use polarized sunglasses to cut the glare on the water and enjoy observing these cute sea creatures.
Go here for the 10 best spots for kayaking with manatees in Florida!
Peanut Island Beach Combing
Another fun activity you can do is comb the beach.  It's best to comb the beach after high tide when there is the highest likelihood of finding Florida shells or other washed-up treasures.
It's also a great time to explore the tide pools for starfish.
Have a Picnic/BBQ on Peanut Island
There are no restaurants on Peanut Island, so bringing a packed lunch is a must!  This could be something simple, such as egg salad sandwiches.
Or you could bring charcoal and lighters and go all out grilling a fabulous feast.  It'll make the day feel even more festive.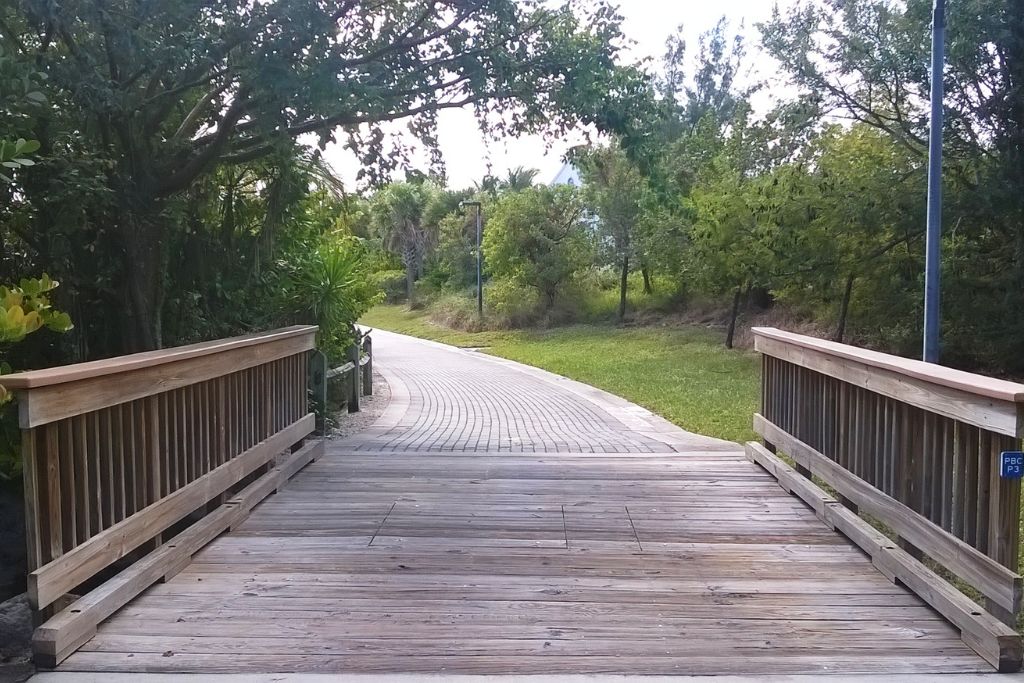 Walk the Paved Path
Another fun activity is to walk the paved trail along the Peanut Island shore.  It is about 1.25 miles long and takes 40 to 60 minutes to walk at a moderate pace.
This is a fun way to see the entire perimeter of the island, enjoy the views from different beaches, and find your favorite hang-out spot.
Tip: Do this activity early in the day before the sun gets too intense.
Kayak on Peanut Island
If you are into paddle sports, kayaking around Peanut Island is a splendid way to pass the time, enjoy the gorgeous water, and relax.
You can take your kayak on the Peanut Island ferry for an additional fee, but many people also enjoy kayaking to the island from Phil Foster Park, the Riviera Beach Marina, or another location.
Tip: Stay aware and alert to boat traffic on your way out and back.
Photo Credit: The Palm Beach Post
See the JFK Bunker & Coast Guard Station
Did you know that there is an atomic bomb bunker on Peanut Island?  This secret fallout shelter was built for President John F. Kennedy in 1961 during The Cuban Missile Crisis.
It was made of several layers of concrete and rebar, then covered with earth. The entry is through a 90-degree blast-hardened tunnel.
Two other interesting buildings you can see on Peanut Island are the Coast Guard Station and boathouse.   The Coast Guard Station was built in 1936.
During World War II, it was used as a base for patrols and rescue missions and remained operational until 1995.
The JFK Bunker and Coast Guard Station are on the southern part of the island.  Follow the paths inward towards the woods for a look.
Although these historic buildings are no longer open to the public, you can still see the outside of the buildings, which are fascinating in themselves!
Peanut Island Boat Rental
Peanut Island is a popular destination for boaters. On the weekends, it's a prime spot for party boats, which anchor off-shore.
Other people like to visit the island in their own boats and have fun swimming, snorkeling, and enjoying the park's amenities.
If you'd like to rent a boat rather than take the Peanut Island Shuttle, check out Get Wet Watersports.  They rent boats, jet skis, and paddleboards.
Peanut Island Sandbar Party
If you are into parties, Peanut Island is a fun destination for you, but there are a few things you should know.
First, you aren't allowed to bring alcohol onto Peanut Island (unless you are camping). 
This is a state park, so alcohol is a no-go.  However, you CAN bring alcohol onto the sandbar that is off the north shore of Peanut Island.
During low tide, this sandbar is a popular party spot.
You can also bring a private or rental boat to the waters surrounding Peanut Island and enjoy drinks, sunshine, and off-boat swimming and snorkeling. 
Tip: Keep an eye out for other boats, and keep your boat out of the Lagoon, designated swimming areas, and Manatee Protection Zones.
Camping On Peanut Island Florida
Another amazing thing to do at Peanut Island State Park is to spend a night (or few) camping.
What better way to enjoy the natural splendor of this tropical island than to enjoy it when few other people are there? Stargaze, have a bonfire and watch the sunrise.
There are only seventeen campsites on the island, so you must make a camping reservation to ensure your spot. 
Although entrance to the state park is free, there is a fee for camping. Check out the cost section below for camping prices.
Each campsite comes with a tent pad, picnic table, and grill.  You'll have access to bathrooms, hot showers, a fire ring, and a pavilion for picnics.
Facilities At Peanut Island
Three Bathroom Buildings with water fountains

Outdoor Showers

Picnic Shelters with Picnic Tables

Charcoal Grills

Day-use Boat Docks

Paved Walking Trail

Benches along the walking trail

Mangrove Board Walk

Beach Cleanup Station

Historic Buildings

Camping Sites

Artificial Snorkeling Reefs
What To Bring To Peanut Island Florida
There are no food, drinks, or supplies for sale or for rent on Peanut Island, so it's important to go prepared!
Here are things you might want to take on a trip to this tropical paradise.
Food & Drinks (plenty for the day!)

Condiments

Plates, cups, utensils, serving spoons

Cooler with icepacks

Charcoal, lighter (If grilling out)

Reef safe sunscreen

Rash Guards

Sunshade/Umbrella

Beach Blanket

Towels

Hat

Sunglasses (Polarized is a plus)

Bathing Suit

Small Wagon*

Beach Chairs

Snorkel gear

Water shoes (to protect feet from sharp rocks)

Flip-flops (the paths get hot!)

Waterproof camera with a polarizing filter 

And/or Smart Phone polarizing filter and waterproof bag

Tweezers & a thermos with hot water (

Jellyfish sting first aid

)

Kayak*
*If you're going on the ferry, there is an extra charge for these items
Tip: Need a water refill? There are water fountains inside the restroom buildings.
Peanut Island Hours
Peanut Island State Park is open to day visitors from sunrise to sunset daily.
Rules At Peanut Island State Park
Alcohol is prohibited except in the campground

Feeding wildlife is prohibited

Boat docks are first-come first-serve during daytime hours

The park closes to everyone but campers from sunset to sunrise

You cannot rent a campground for day use

Dogs must be on a leash that is 6ft long maximum

Scooters, bikes, skateboards, skates, rollerblades, and motorized vehicles aren't allowed
Check Camping Specific Rules.
How To Get To Peanut Island
It is easy to get to Peanut Island State Park.  Pick the method that works best for you and enjoy!
Take The Peanut Island Shuttle
One of the most common ways to get to Peanut Island is the take the shuttle or ferry boat.
This is the simplest way to get to the island, especially if you have camping gear, coolers, and/or children.
The Peanut Island Shuttle runs from the

Riviera Beach Marina

to Peanut Island from 10 am to 5 pm daily. (Or 9 am to 5 pm during the summer and spring)

The ferry runs every 25 minutes

If it starts raining, they will come and pick you up

The trip only takes ten minutes and the ticket prices are for a round-trip voyage.

The last boat to the island leaves at 3 pm

The last boat from the island leaves at 5 pm

It costs an extra $5 to bring a beach wagon that's over 30 inches long

It costs an extra $16 to bring a kayak on board

Ticket prices are higher if you're camping

You can buy cold drinks, snacks, and sunscreen from the ferry

You can also rent Hobie Cats and snorkel gear from this company
Tip: Check the Peanut Island Shuttle website for the most up-to-date information.
To find the shuttle, simply head to the southeast end slip numbers at 200 E 13th St Riviera Beach FL, 33404.
Go On A Boat, Jet Ski, Kayak, Or Paddleboard
If you'd like to get to Peanut Island on your own, you can do so!  This will save paying the shuttle boat fees.
Plus, it's just FUN!  How cool to kayak to a tropical island?
Where To Park To Get To Peanut Island
Car Parking
Park your car at the free Peanut Island Parking Lot in Riviera Beach Marina Village.
The parking lot is well-labeled, so you shouldn't have trouble finding it.
Boat Docking
Dock your boat at one of the day-use slips on the north and west sides of Peanut Island State Park.
Note: The day slips are first-come first serve. If you don't make it in time, you can dock for ten minutes to unload passengers and gear before anchoring out.
How Much Does It Cost To Go To Peanut Island?
Peanut Island is a State Park with no entrance fees.  However, you must pay to camp on the island. 
If you're going on the shuttle boat, you must also pay for a round-trip ticket.
And if you go to Peanut Island on your own water vehicle, you might not have to pay anything.
State Park Fees
Entrance: Free
Camping Permit: $31.64 for one campsite or $63.28 for an extended campsite (taxes included)
Shuttle Boat/Ferry Fees
Adults: $16
Children: $8
Adult Camper: $28
Child Camper: $12
Camping Three Nights or More: $5
Extra Gear Allowance: $10
Camper Shuttle Boat Restrictions
Campers must make a shuttle reservation 24 hours in advance minimum.  They must arrive and return between 10 am and 3 pm.
Campers can only bring 1-2 bags, a tent, and one cooler per person.
Safety Tips for Peanut Island Florida
Sun Safety
The sun in Florida is intense!  Plan ahead by bringing reef-safe sunscreen, hats, sunglasses, shades, and plenty of hydrating fluids.
Try to arrive at Peanut Island early when the sun isn't as strong, and take plenty of breaks in the shade.
Rash guards are a great way to protect yourself from the sun, save on the cost of sunscreen, and protect the environment from the chemicals in sunscreen.
Jelly Fish Safety
Quite a few visitors get stung by jellyfish when swimming at Peanut Island.  Wear a rash guard when you're swimming to help prevent stings.
If a jellyfish stings you, use tweezers to remove any visible tentacles, then soak the area in hot water for 20 to 45 minutes.  DON'T rub the sting, pee on it, or put alcohol on it.
Be aware of stingrays and sea urchins as well!
Sharp Rocks
There are sharp rocks in the water around the island, and some visitors cut their feet.  Take water shoes to prevent cuts and scrapes.
Swim Safety
There are currents and rip tides around Peanut Island.  If possible, swim on the southeast portion of the island. 
Lifeguards are on duty seasonally.
Boat Safety
One of the biggest dangers when you're in the water around Peanut Island is all the boat traffic.
If you're swimming, snorkeling, kayaking, or paddle boarding, do what you can to make yourself visible.
Swim with a buddy, and pay attention.  Some boat drivers aren't careful or aware.
Peanut Island- Frequently Asked Questions
When Is The Best Time To Visit Peanut Island?
Best Time To Avoid Crowds
Peanut Island State Park is the busiest on weekends.  If you'd like to arrive at a quieter time, we recommend visiting during the week.
Take the earliest shuttle boat, or better yet, take a private boat or rental boat so you can get there before the ferry starts running.
The earlier you go, the better!
Best Time For Parties
If you're hoping to check out the Peanut Island Party scene, go on a weekend or holiday.
If you want to party on the sandbar, low tide is best.  Check the tide charts before you go.
Best Time For Snorkeling
Snorkeling is great all year, but visibility is best during high tide.  Check the tide charts to help plan your trip.
Best Weather
December, January, February, and March are the coolest months on Peanut Island, with temperatures ranging between 58ºF to 79ºF on average.
November, October, April, May, and June are warm months, with average temperatures ranging between 69ºF and 89ºF.
July, August, and September are the hottest months on Peanut Island.  The low average temperature is 77ºF and the high is 91ºF.
The water temperature in Peanut Island is pleasant for swimming all year round.  Here are the water temperature averages by season:

Winter: 77.2ºF
Spring: 78.6ºF
Summer: 78.6ºF
Fall: 82.9ºF
Can You Stay On Peanut Island?
You may camp on Peanut Island if you have a camping permit.  There are only 17 campsites on the island.  You can reserve a campsite up to 90 days ahead.
It's recommended that you make reservations as far out as possible so you have a higher chance of getting a campsite.
If you aren't into camping, check out the Hotels Near Peanut Island section above.
Is Peanut Island Pet friendly?
Yes!  Peanut Island is pet friendly.  However, you must keep your pet on a leash (maximum 6 feet long) and clean up after your pet.
Be sure to take a water bowl so your pet can stay hydrated.
Are There Bathrooms On Peanut Island?
Yes!  Peanut Island State Park has three large bathroom facilities.  There are also outdoor shower stations dotted around the park so you can rinse off the sand and salt before heading home.
Can You Buy Food On Peanut Island?
There is no food for sale on Peanut Island.  The best plan is to bring everything you need with you.
In a pinch, you can buy snacks from the Peanut Island Shuttle Boat.
Another option that could be available from April 1st to October 1st is Romano's Pizza Delivery Boat.
Romano's is based on East Blue Heron Blvd. in Riviera Beach.  The restaurant offers New York style pizzas.
During parts of the year, they have a delivery boat that will take orders to Peanut Island.
Be sure to call ahead to double check, though, as it'd be unfortunate to get to the island with no food and find out the service isn't available.
Contact Romano's Pizza: (561) 840-9150 / (561) 506-0900
Where Can I Drink Alcohol On Peanut Island?
You can drink alcohol in the campground if you are camping overnight, on the sandbar off the northern point of the island, and in boats anchored offshore.
No alcohol is permitted in any other area.
History of Peanut Island
Peanut Island is a man-made island that was created in 1918.  When Lake Worth Inlet was excavated, all that sand needed somewhere to go, so the excavators piled it up into a ten-acre island which they called Inlet Island.
The name got changed to Peanut Island prior to 1946 because of a scheme to use the island as a terminal for peanut oil export.  Although no peanut oil was ever excavated from the island, the name stuck!
Ever since 1923, the Port has used Peanut Island as a place to deposit sand dredged from the Forth Worth Inlet.  Because of this maintenance dredging, the island has grown from ten acres to nearly 80 acres.
Thanks to an arrangement between the Port Authority and Palm Beach County, visitors are allowed to enjoy the perimeter of the island as a state park.
The island also houses a fallout shelter built for President John F. Kennedy during The Cuban Missile Crisis and a Coast Guard​​ Station that was active during WWII.  Pretty cool!
Closing Thoughts:
Peanut Island Florida
As you can see, Peanut Island is a great place to visit if you're looking for a unique and beautiful experience in Florida.
The island has something for everyone, from its stunning beaches to its rich history.  Peanut Island is definitely worth a visit!
Travel Resources
Book Your Next Trip!  For Accommodations and short-term rentals, I recommend Booking.com as they are the best in the business when it comes to rates and places to stay.
To Book Activities- For activities, I suggest booking with Viator, they have thousands of 5-star activities to choose from!
Looking To Start Your Own Travel Blog Or Take Yours To The Next Level? 
Check Out This Free Workshop!– I personally joined Scale Your Travel Blog in 2021 and my website has grown exponentially.