Always On The Shore contains affiliate links and is a member of the Amazon Services LLC Associates Program.  If you make a purchase, we make a small commission at no cost to you. For more information, please read the disclaimer page. 
If you're planning a Florida vacation and are trying to decide between visiting Destin vs Clearwater, you'll want to consider a few things.
While both cities have their own unique charms, choosing between the two can be a daunting task!
With each having so many beautiful beaches, attractions, and fun things to do, it's tough to choose one.
Both cities are similar, but you'll want to consider a few key differences before booking your trip!
In this post, we will explore the pros and cons of visiting Destin vs Clearwater, and help you decide which destination is best suited for your next Florida vacation.
Destin vs Clearwater: Which Is Better?
Whether you decide to vacation in Clearwater or Destin, both have so much to offer to visitors that you'll have a blast either way!
Destin is found in what's called the Emerald Coast and is known as the 'World's Luckiest Fishing Village, thanks to its wide variety of fish species off the coast.
It's also known for its pristine beaches and sunny weather!
On the other hand, Clearwater has long been a favorite to spring breakers and family travelers.
It has theme parks like Busch Gardens and the Clearwater Aquarium, as well as one of the most popular beaches in America, Clearwater Beach.
But depending on what types of things you like to do will ultimately decide which Florida city you take on for your next vacation along the Gulf Coast!
Best Things To Do In Destin
Henderson Beach State Park
At Henderson Beach State Park, you'll find thirty-foot-high white sand dunes that contrast beautifully with the teal colors of the ocean water.
Visitors can enjoy a wide range of outdoor activities such as swimming, fishing, sunbathing, hiking the dunes, and camping in the park's lush natural beauty.
It's the perfect escape from some of the busyness of the beaches right within the city of Destin. 
Gulfarium Marine Adventure Park
At this unique adventure park, you can explore the fascinating underwater world by getting to see a variety of marine life.
The park features a variety of exhibits and shows that allow visitors to get up close and personal with plenty of marine animals.
Guests can even participate in hands-on experiences like swimming with stingrays and learn about marine life.
Big Kahuna's Water Park
Big Kahuna's Waterpark in Destin is the perfect place for energetic kids! 
With over 40 exhilarating water rides and attractions, from towering waterslides to a relaxing lazy river, there's something for everyone to enjoy.
Destin Harbor Boardwalk
The Destin Harbor Boardwalk offers an array of entertainment options, from live music and performances to water sports and fishing.
Stroll along the boardwalk and take in the sights and sounds of the harbor, or check out fun tours like parasailing, jet skiing, and deep-sea fishing.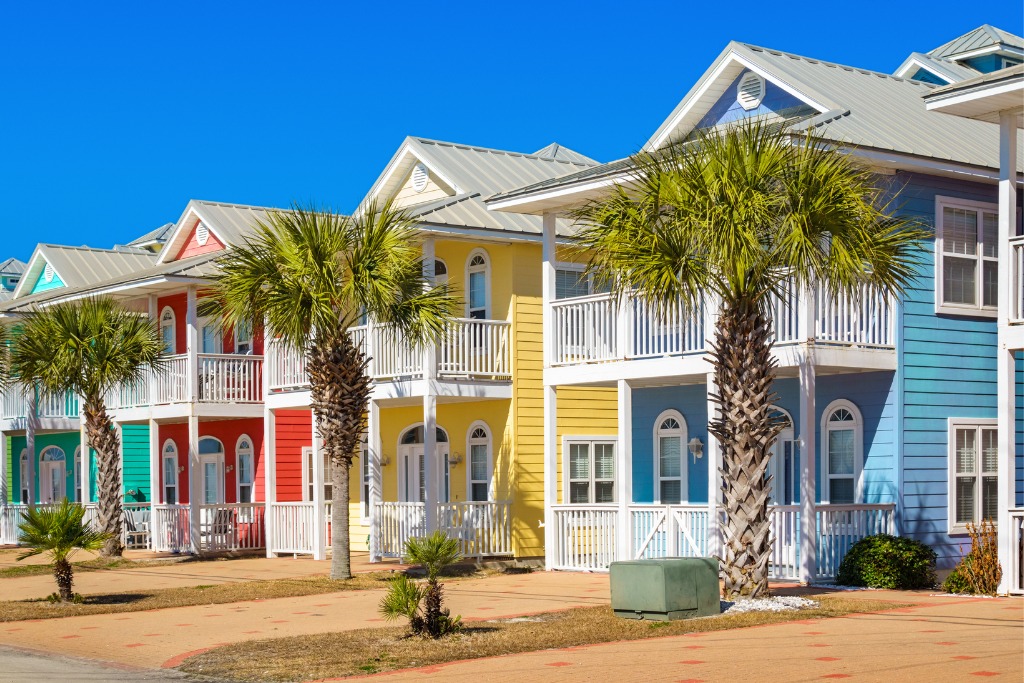 Best Things To Do Nearby Destin
Panama City Beach
Panama City Beach is known to have some of the clearest and most beautiful water in the Florida Panhandle and on Florida's Emerald Coast. 
This beautiful beach offers plenty of space to sprawl out on the soft, white sand and enjoy time soaking up the sun.
Fort Walton Beach
Also nearby is Fort Walton Beach, where you'll find more places to relax along the stunning shoreline, as well as plenty more restaurants and shops to explore.
Fort Walton Beach is just a short drive from Destin and is most well known for its barrier island, Santa Rosa Island, where the sand is made up of 99% quartz, making it very white and soft.
Crab Island
Just off the shores of Destin is Crab Island, where you'll find shallow water, floating bars, and a sandbar to relax on.
This is one of the most popular day trips from Destin, and is a great way to spend some time on your beach vacation!
What Are The Best Free Things To Do In Destin?
If you're looking to save money, one of the best free things to do in Destin is to visit the beach.
Miramar Beach and James Lee Beach are a few free places to visit.
Just wandering around the Destin Harbor Boardwalk or the HarborWalk Village is another way to experience this coastal city without breaking the bank. 
Go here for more of the best things to do in Destin and nearby!
Best Things To Do In Clearwater
Clearwater Marine Aquarium
Home to a variety of marine animals, you can learn all about the underwater world and how to protect it at the Clearwater Marine Aquarium.
This aquarium was once home to the popular Winter the Dolphin, from the movie 'Dolphin Tale,' and also cares for a large number of other rescued dolphins, sea turtles, otters, and more.
Honeymoon Island State Park & Caledesi Island State Park
Honeymoon Island and Caledesi Island State Parks are stunning oases that offer a perfect escape from the hustle and bustle of everyday life. 
These picturesque parks boast miles of soft, sandy beaches, crystal-clear waters, and lush greenery.
Visitors can enjoy a wide range of outdoor activities, from swimming and sunbathing to fishing and kayaking.
Clearwater Beach
Of course, one of the most popular things to do in the city of Clearwater is relax on the soft, sandy Clearwater Beach.
Here you'll find lots of spring breakers and tourists, soaking up the Florida sun.
Around the beach are lots of small shops and places to grab a bite to eat. And you can splash around in the water and watch for marine life in the distance. 
Best Things To Do Nearby Clearwater
Busch Gardens
Found in Tampa, Busch Gardens is a large amusement park that has thrilling rides like roller coasters, drop rides, and more for people of all ages.
If you can't get inland to Disney World, this is the perfect alternative for a day at a theme park!
Tampa Sports Game
While you're in Tampa, attend a professional sports game, whether it be the Tampa Bay Rays for baseball or the Tampa Bay Buccaneers for football.
This is always a great activity for the entire family.
St. Pete Beach
Another popular beach just a short drive from Clearwater is St. Pete Beach.
It's similar to Clearwater Beach but with fewer crowds and longer, more narrow space.
What Are The Best Free Things To Do In Clearwater?
One of the best ways to save money while visiting Clearwater is by spending time at the beach.
Clearwater Beach is free to visit and open to the public, so you can spend time there without having to even crack open your wallet! State parks in close proximity are also open for a small fee.
Destin vs Clearwater: Which Has Better Beaches?
Both Destin and Clearwater have clear, teal-colored beaches that are phenomenal for visiting.
It's tough to choose which is better, so base it on what you prefer.
Destin has a laid-back vibe and sees fewer tourists, while Clearwater has more tourists and a busier feel to it.
So depending on what you prefer, both are worthwhile.
Best Beaches In Destin
Henderson Beach State Park
James Lee Park
Miramar Beach
Norriego Point
Best Beaches in Clearwater
Clearwater Beach
Sank Key Park 
Honeymoon Island State Park
Caladesi Island State Park
Clearwater vs Destin: Which Has Better Food?
One of the best parts about traveling somewhere new is trying the food, and in Clearwater or Destin, you can visit their many beachside restaurants.
In Clearwater, visit Guppy's on the Beach, Frenchy's Rockaway Grill, and the Original Crabby Bills for tasty, fresh, local seafood! After all, you're on the coast!
As for Destin, visit Brotula's Seafood House, which has open-air tables and offers some of the best seafood in the area.
Another great place to grab a bite to eat is Louisiana Lagniappe for award-winning fine dining.  For more of the best restaurants in Destin, check out this post! 
Both Destin and Clearwater have great seafood options for when you're looking for somewhere to eat, plus, many are beachside!  It's tough to choose which is better, as they're pretty similar.
Better For Families: Clearwater Or Destin?
If you're considering Destin vs Clearwater with kids, consider heading to Destin.
While both destinations are good for a family beach vacation, Destin offers more for children.
This family-friendly city is laid back, has gorgeous beaches with fewer crowds than Clearwater, and has great attractions for kids, like Big Kahuna's Waterpark and the Gulfarium Marine Adventure Park.
Or let the kids play on the shores of the many nearby beaches.
Best For Couples: Destin Or Clearwater?
If you're looking for a romantic getaway for you and a loved one, then choosing between Clearwater and Destin is tough.
If you're a more adventurous couple who enjoys theme parks, state parks, busy beaches, and lots of things to do, then Clearwater will be the winner. 
On the other hand, couples who enjoy relaxing may enjoy Destin better, as there is a more laid-back vibe.
Just sitting back on the beach is one of the top things to do here! 
Destin Or Clearwater: Which Has Better Events Throughout The Year?
Both Clearwater and Destin offer a variety of annual and new events that visitors can take part in. 
In Destin, you can watch movies on the beach throughout the summer, watch concerts in the village, take part in a lionfish removal tournament, or visit a market for some handmade local goods.
In Clearwater, attend the Clearwater Jazz Holiday, listen to music at the Tampa Bay Blues Festival, or watch the sunset at the nightly Sunsets at Pier 60 celebration.
There's so much to do in either city, so checking the events during the time of your visit is the best way to decide which has better events throughout the year.
Clearwater Or Destin: Which City Has Better Weather?
When looking at Clearwater vs Destin, both cities have fairly warm weather year-round, but Clearwater tends to have the best weather!
Destin is about 7 hours North of Clearwater, and the temperatures get colder.
With average highs hitting the mid-80s in the summer and dropping into the 40s during the winter.
Clearwater regularly gets into the high 80s and 90s during the summer months and rarely drops below the mid-50s. 
Hurricanes are likely in both cities since they are located on barrier islands, but they're more likely in Clearwater.
Hurricane season is between June 1st and November 30th every year.
Is Destin Or Clearwater Cheaper?
When adding up accommodations, food, excursions, transportation, and more, for Destin vs Clearwater, Destin comes out on top for saving money.
Because it's a smaller location with fewer tourists, it has more affordable options for everything you'll need on your vacation.
Clearwater has affordable options as well, but they aren't as prevalent.
So if you're looking to save some money, head to Destin!
FAQs
What Beach Is Better Clearwater Or Destin?
Both the Destin and Clearwater Beaches are great and have their own perks.
If you're looking for fewer crowds, head to Destin.
If you want a large, sugar-white sand beach with many attractions nearby, then consider Clearwater!
What Is So Special About Destin, Florida?
Destin is known as the 'World's Luckiest Fishing Village,' because of it has the largest variety of fish species in the Emerald Coast.
It also has the nation's largest commercial fishing fleet.
What Beach Is Better Than Destin?
Miramar Beach, just about 15 minutes away from Destin has been named one of the best beaches in the world.
With its gorgeous emerald water, sandy beaches, and beautiful views, it's no wonder this is such a popular destination!
What Beach Has the Clearest Water Near Destin?
Destin, Miramar Beach and Panama City Beach have some of the clearest water in the state of Florida!
Any of these beaches will provide you with phenomenal views of the Gulf of Mexico and give you a great place to swim in clear, teal water.
Wrap-Up: Destin vs Clearwater
Choosing Clearwater vs Destin is a tough choice because there are so many fantastic things about both cities!
Destin boasts white sandy beaches, emerald green waters, and a laid-back atmosphere that's perfect for families or couples seeking a relaxing getaway.
Clearwater, on the other hand, offers a bustling city vibe with plenty of attractions, as well as some of the most stunning sunsets you'll ever witness.
Ultimately, the choice between these two destinations will depend on your preferences and what you're looking for in a vacation.
But no matter which one you choose, you're sure to create unforgettable memories that will last a lifetime.
Travel Resources
Book Your Next Trip!  For Accommodations and short-term rentals, I recommend Booking.com as they are the best in the business when it comes to rates and places to stay.
To Book Activities- For activities, I suggest booking with Viator, they have thousands of 5-star activities to choose from!
Looking To Start Your Own Travel Blog Or Take Yours To The Next Level? 
Check Out This Free Workshop!– I personally joined Scale Your Travel Blog in 2021 and my website has grown exponentially.