Always On The Shore contains affiliate links and is a member of the Amazon Services LLC Associates Program.  If you make a purchase, we make a small commission at no cost to you. For more information, please read the disclaimer page. 
Looking for the best beaches near Ocala Florida to spend an epic summer vacation?
As someone who has traveled all over the Sunshine State, I know a thing or two about beautiful beaches, so you've definitely come to the right place!
There are plenty of destinations throughout the state of Florida that boast stunning sandy shorelines, but Ocala is special.
Not only is Ocala in close proximity to dozens of beaches, but it's also the horse capital of the world.  And there's Ocala National Forest and the famous Silver Springs State Park. 
Many of the best beaches in Florida are less than two hours away from Ocala.
Whether you plan to spend weeks or are only passing through for a day, read below to learn about the 19 best beaches near Ocala you can't miss on your summer vacation!
Booking a last-minute trip to Ocala Florida?  
If so, we have you covered.  
Top Tours in Ocala Florida – Viator
Top Rated Hotels & Accommodations – Booking.com
Looking To Get Around In Ocala Florida? 
Check out rental car rates here! 🚗
1. Daytona Beach
Just an hour and a half drive down FL-40 E, you'll find one of the most famous – and arguably most beautiful – beaches in Florida.
Daytona Beach is most famous for its racing roots with the Daytona 500 at the Daytona International Speedway, but the beaches are nothing to scoff at either.
Seventy-eight miles from Ocala, you'll be on pristine golden sands along the Atlantic Ocean with the freshest seafood at your fingertips.
While you're there, be sure to explore the Ponce de Leon Inlet Lighthouse & Museum and the Daytona Boardwalk Amusement Park!
Photo credit – Unsplash by Kurt Anderson
2. Flagler Beach
A few miles up the road from Daytona Beach, you'll find yourself at Flagler Beach.
Just 80 miles east of Ocala, Flagler Beach is made of striking red and pink sand.
Colliding with emerald green waters, the beach is lined with open-air restaurants, unique local shops, and a fishing pier that offers amazing opportunities for fishing and catching a sunset.
Don't miss out on taste testing at the Flagler Beachfront Winery or exploring the Flagler Beach Historical Museum.
3. Ormond Beach
Another one of East Coast Florida's best beaches is less than an hour and a half away.
An extension of the Daytona Beach area, Ormond Beach is 71 miles from Ocala.
It's made of stretches of soft white sand peppered with orange coquina shell fragments.
The downtown area of the city is also a tourist destination itself with upscale restaurants, waterfront parks, and historic museums.
While at the beach, be sure to take to the crystal clear water to swim, surf, or paddleboard.
4. New Smyrna Beach
A little further south along the coast sits the beautiful New Smyrna Beach.
Just south of Daytona Beach, New Smyrna is 90 miles from Ocala down FL-40 E.
New Smyrna Beach is a great mix of activities for people of all ages.
From thrilling outdoor adventures to relaxing upscale dinners, it's no surprise it's considered one of the best beaches near Ocala.
While there, be sure to visit 27th Avenue Beachfront Park and grab lunch at Norwood's Restaurant & Treehouse Bar.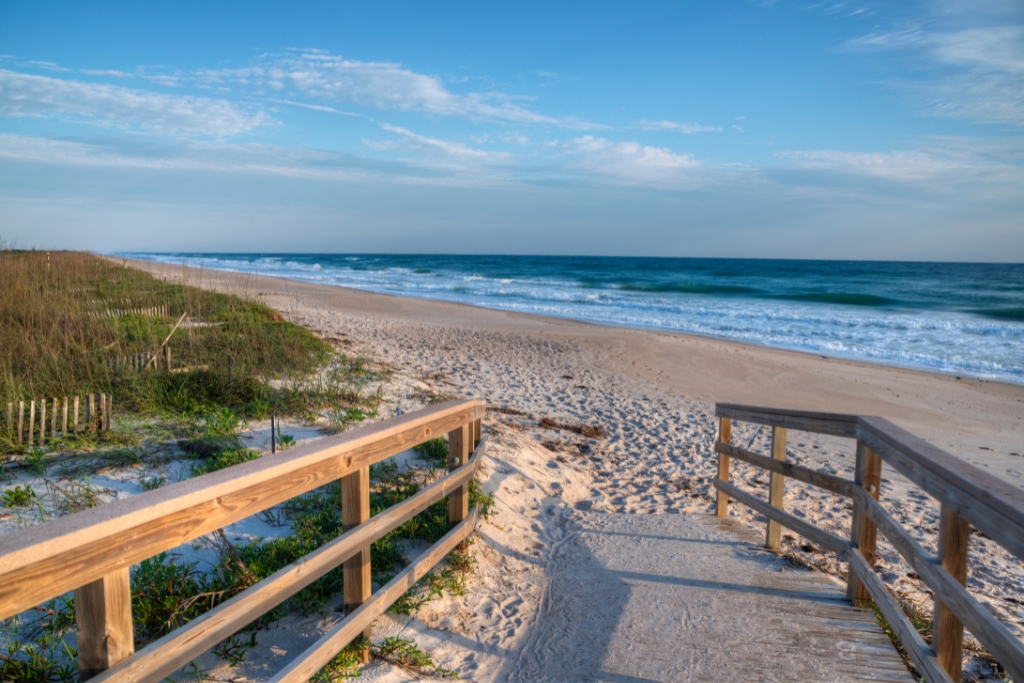 5. Canaveral National Seashore
About two hours southeast of Ocala, the 58,000-acre Canaveral National Seashore is a playground of natural wonder.
Home to John F. Kennedy Space Center, the barrier island is also a place to enjoy a spacious National Wildlife Refuge and 24 miles of sandy shoreline.
You can also spot local endangered species that find refuge on the National Seashore.
This includes several species of sea turtles as well as manatees, bald eagles, and falcons.
6. Fort Island Beach
To the southwest of Ocala is the family-friendly beach town of Fort Island Beach.
It's the closest coastal beach to Ocala at just 50 miles (or an hour's drive) away.
There are numerous state parks, public parks, freshwater streams and springs, and fun restaurants, wineries, and breweries near Fort Island Beach.
The beach itself boasts a fishing pier, BBQ grills, a boat ramp, and plenty of clear water for swimming.
Don't pass up taking in a beautiful Gulf Coast sunset while there!
7. Hampton Beach
Just a short drive from Ocala, Hampton Beach is thirty minutes to the southeast.  Technically, it's a lake beach rather than an ocean beach, but it's beautiful nonetheless!
On the shores of Lake Weir, Hampton Beach is a public swimming area that was built in 1981.
Today, it remains a family-friendly destination for people looking for some fun in the sun.
The recreational area has picnic tables, restrooms, and plenty of soft sandy beaches to enjoy water activities and sunning.
Photo credit – Unsplash by Robin Canfield
8. Cedar Key Beach
Sixty-seven miles from Ocala down FL-24 W, you'll eventually arrive at the cluster islands of Cedar Key.
Jutting three miles out into the Gulf of Mexico, Cedar Key feels like a world away from Florida's mainland – and that's the point.
There are actually three beaches on Cedar Key – Cedar Key City Park, G Street Beach, and Cemetery Point Park.
However, only Cedar Key City Park beach is ideal for swimming and sunning. 
9. Eaton's Beach
Also along the shores of Lake Weir is Eaton's Beach. A 22-mile drive down FL-35 S.
Eaton's was built in 1924 by Jay Eaton, a world-champion velodrome bicycling racer.
Today, it boasts a popular beach bar and grill with the same namesake.
The restaurant serves Florisiana cuisine including crab dip, peel- and-eat-shrimp, and shrimp creole, among other items.
On certain nights, the restaurant offers live music, trivia, and happy hours.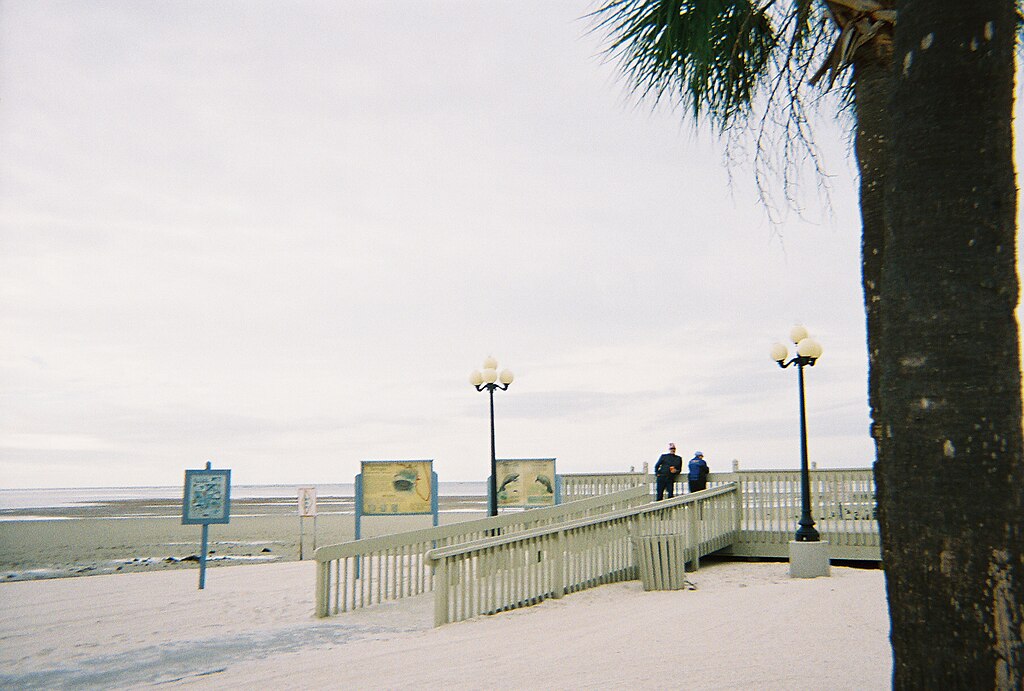 10. Alfred A McKethan Pine Island Park
On the Gulf Coast of Florida, about 80 miles southwest of Ocala, lies Alfred A. McKethan Pine Island Park.
This 3-acre recreational park is the perfect place to spend a day outdoors.
The park offers a sandy beach with a concession stand and a swimming area, playgrounds, changing

If you fancy a BBQ, there are plenty of picnic tables, pavilions, and electrical outlets for outdoor dining.
The beach is open from 8:30 am to sunset every day.
11. Fred Howard Park
Close to Tampa is the Gulf Coast beach of Fred Howard Park. A 155-acre park in Tarpon Springs, it is the perfect spot to swim or take in a sunset.
It's equipped with multiple picnic shelters, public restrooms, playgrounds, a ball field, and a white sandy beach with an area for swimming and windsurfing.
The park also allows fishing, kayaking, and canoeing. Utilizing the park is free, but the parking fee is $5 per vehicle.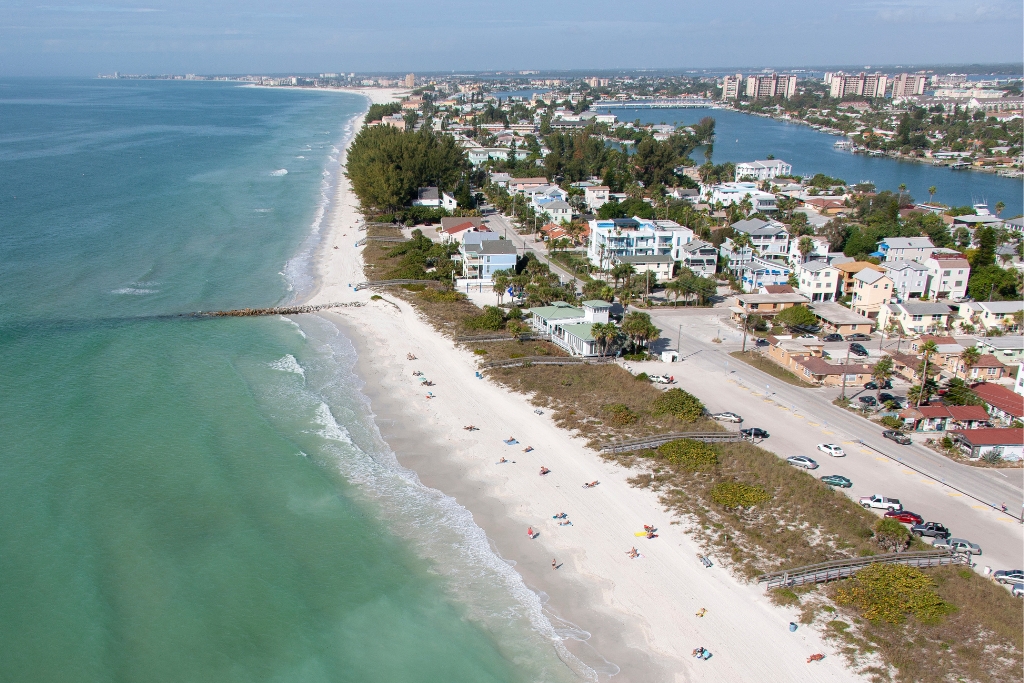 12. Sunset Beach
Down the road from Fred Howard Park is Sunset Beach, which is reachable in just two hours by taking Suncoast Parkway from Ocala.
Sunset Beach is located on Treasure Island and is nicknamed the "Margaritaville Beach" as it's rumored to be a beach that inspired the popular Jimmy Buffet song.
This white sand beach is lined with colorful tiki huts, pastel beach houses, concession stands, and picnic pavilions.
Once its own separate town until 1955, it's the perfect place to go to catch a – you guessed it – sunset.
13. Waterfront Park – Clermont
A little over an hour south of Ocala down I-75 S and Florida's Turnpike is one of the fastest growing small towns in Florida- Clermont.
Located on Lake Minneola, Waterfront Park has a small beach area and regularly hosts different monthly events including triathlons, concerts, festivals, and sporting competitions.
It's also home to a 30-mile coast-to-coast fitness trail for runners, as well as a water park called Champions Splash Park. 
While in Clermont, be sure to visit one of their nice golf courses, as they are some of the best in Central Florida.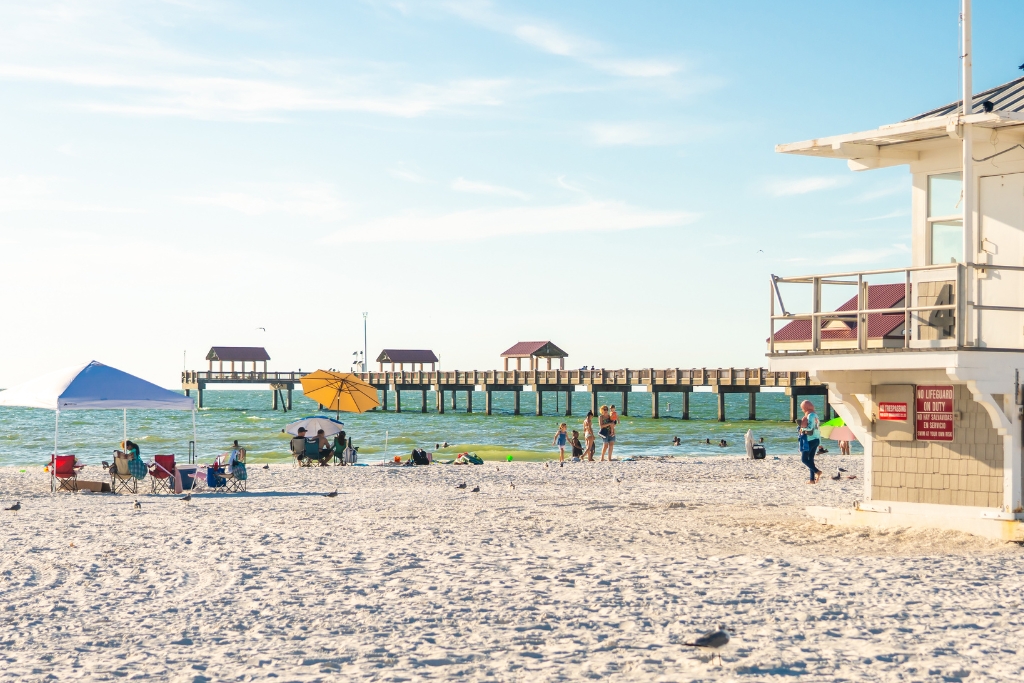 14. Clearwater Beach
If you're looking for a great day trip, drive 2 hours southwest (120 miles) from downtown Ocala to the Tampa Bay area.
Here, you'll find the white sand beaches of Clearwater Beach.
Voted the "Best Beach in the South" by USA Today's 10Best 2023 Reader's Choice Awards, it's known for warm, clear water, soft sand, and 2 miles of sun-kissed shoreline.
There's lots of parking and easy access to the beach.  It's also close to many great seafood restaurants and local shops and stands, so you can eat and shop before unwinding at the beach.   
15. Caladesi Island State Park
One of the best beaches near Ocala Florida, Caladesi Island is an untouched gem of the Gulf Coast.
123 miles southwest of Ocala on an unspoiled island, Caladesi Island State Park is only accessible by boat.
However, once there it's a true island paradise. You can kayak through a mangrove forest, lounge on the soft sandy beach, or walk a nature trail.  With an abundant wildlife population, Caladesi Island is an amazing place to spend the day. 
There's even a historic homestead on the island's interior that was once owned by Swiss immigrant Henry Scharrer. 
16. St Augustine Beach
One of the most popular beach destinations on Florida's Atlantic coast, St. Augustine Beach is a true find.
Eighty-six miles from Ocala, you can easily drive to this natural beauty in less than two hours up FL-19 N.
At the beach, you can stroll over the dunes, walk nature trails, bike, fish, kayak, and more.
Aside from the beach, the historic town of St. Augustine is also worth exploring with Castillo de San Marcos, the Ponce de Leon Fountain of Youth, and the Lightner Museum.
17. Crescent Beach
Slightly south of St. Augustine is the community of Crescent Beach.
The center of the city is a beachfront park that is a beautiful stretch of soft white sand.
It boasts dune boardwalks, picnic gazebos, public restrooms, shops, and public parking.
This popular Florida beach is a great destination to include during a day trip to St. Augustine Beach since it's only an hour-and-a-half drive from Ocala.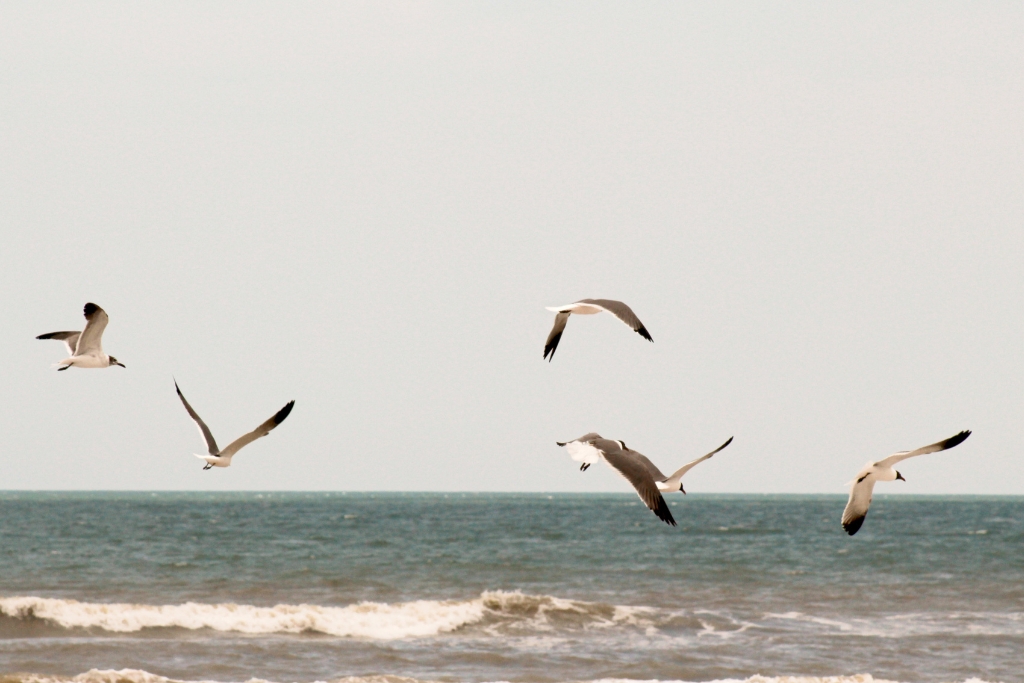 18. Jacksonville Beach
North of St. Augustine Beach, lies the city of Jacksonville. It's home to one of the most popular beaches in northern Florida- Jacksonville Beach.
Just two hours northeast of Ocala, Jacksonville Beach is a vast stretch of beach with a golf course, fishing pier, restaurants, and beach volleyball courts.
It's a great beach for fishing, swimming, windsurfing, paddle boarding, and other water activities.
19. St. Pete Beach
St. Pete Beach may be last on this list, but it's certainly not the least.  Located on Florida's Gulf Coast, it's one of the most popular beaches in the state.
Just a 2-hour drive from Ocala via I-75 S and I-275 S, you'll find sugar-white beaches and crystal clear emerald green waters.
Aside from being known for its gorgeous beaches, Pensacola is popular among tourists for its historic charm, unique wildlife, and hospitality.
While there, be sure to grab a bite to eat at one of the many beachfront restaurants (Red Fish, Blue Fish is amazing), rent a pontoon boat, or partake in a dolphin cruise.
It's truly one of the best beaches near Ocala Florida!
Beaches Near Ocala Florida-Frequently Asked Questions
What Is The Closest Beach To Ocala, Florida?
The closest beach to the city of Ocala is Hampton Beach in Marion County.
Just a 30-minute drive southeast from downtown, it's a public beach located along Lake Weir.
While it's not your typical Floridian coastal beach, it's still a great spot for swimming, picnics, and BBQs.

How Far Is Ocala, FL From The Beach?
Technically, the closest beach to Ocala is Hampton Beach on Lake Weir, which is in Marion County.
However, the closest coastal beach to Ocala is Fort Island Beach, which is 50 miles away.
Other nearby beaches that are less than 80 miles away include Ormond Beach, Daytona Beach, Flagler Beach, and Alfred A. McKethan Pine Island Park. 
How Far Is Ocala From The Gulf Coast?
Ocala is about 70 miles from the Gulf Coast. The closest Gulf Coast beach is the  Alfred A. McKethan/Pine Island Park, which is about an hour and a half drive without any stops or traffic.
Where Is The Prettiest Beach In Florida?
There are hundreds of beaches that pepper the coastlines of Florida from the panhandle to the Keys and Jacksonville to Miami.
It's extremely difficult – and near impossible – to pick just one based on beauty as they are all beautiful in their own way.
However, there are a number of beaches that are more well-known than others.
Some of the most popular beaches along the Gulf Coast include Clearwater Beach, Pensacola Beach, and St. Pete Beach.
On the Atlantic coast, the most popular beaches include Jacksonville Beach, Daytona Beach, St. Augustine Beach, and Canaveral National Seashore.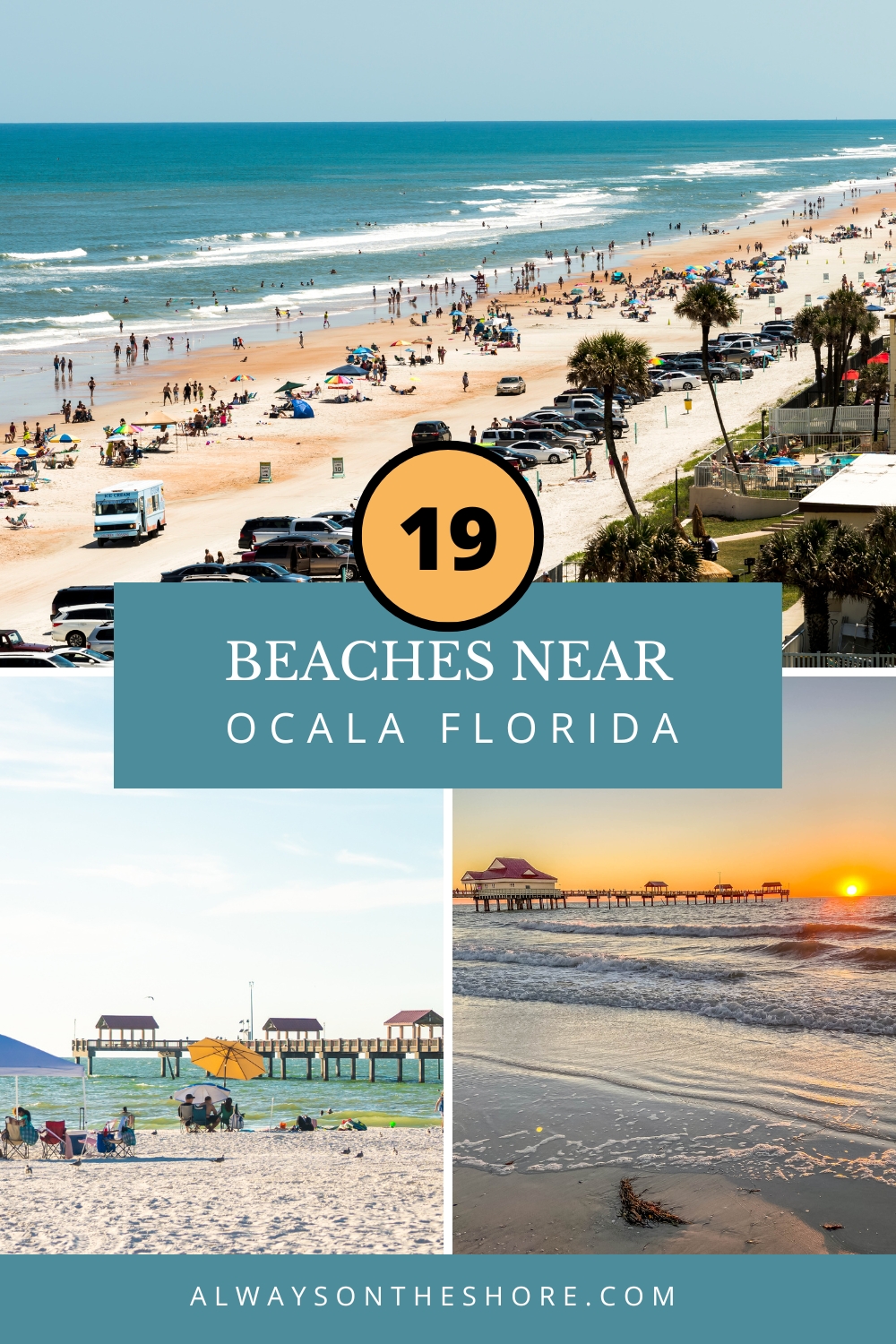 Final Thoughts- Beaches Near Ocala Florida 
In conclusion, Ocala Florida, may not be situated directly on the coast, but it is still within a reasonable driving distance of some of the state's most stunning beaches.
Whether you're seeking tranquility or adventure, the beaches near Ocala Florida offer a diverse range of experiences.
No matter which beach you choose, a memorable coastal escape is within reach for residents and visitors of Ocala!
Travel Resources
Book Your Next Trip!  For Accommodations and short-term rentals, I recommend Booking.com as they are the best in the business when it comes to rates and places to stay.
To Book Activities- For activities, I suggest booking with Viator, they have thousands of 5-star activities to choose from!
Looking To Start Your Own Travel Blog Or Take Yours To The Next Level? 
Check Out This Free Workshop!– I personally joined Scale Your Travel Blog in 2021 and my website has grown exponentially.