Last Updated on August 3, 2022
If you're looking for a place to get away into Florida's nature, Ginnie Springs is the perfect spot.  This natural wonder offers visitors a chance to enjoy the beauty of the Florida landscape and relax in the crystal-clear waters.
Whether you're looking to go swimming, snorkeling, camping, or just have a place to cool off and have some fun, this park has plenty of activities for everyone. 
It's a great destination for a day trip or even a weekend stay. 
In this blog post, we'll take a closer look at Ginnie Springs and explore everything it has to offer.  We'll also provide information on prices, admission hours, and more.
Discover Ginnie Springs, Florida- The Complete Visitors Guide!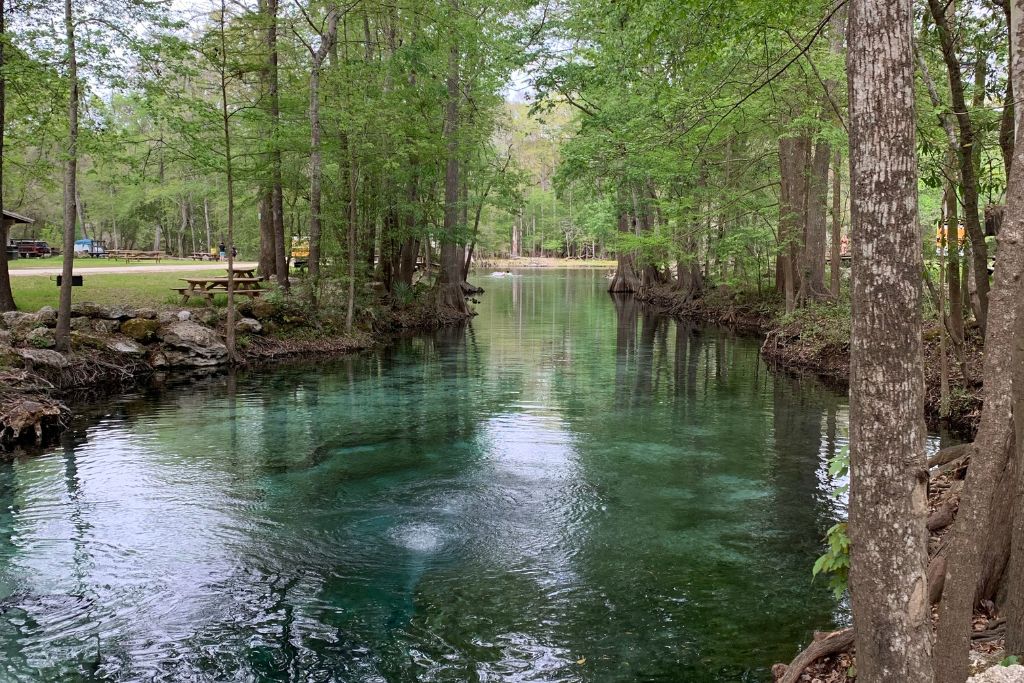 Ginnie Springs is the perfect place to escape from the hustle and bustle of everyday life.  There are seven freshwater springs here that offer crystal clear water for swimming, tubing, kayaking, and diving.
The park also offers 250 acres of woods for hiking, camping, and picnicking.  And if that's not enough, Ginnie Springs is connected to the Santa Fe River – so you can enjoy all its beauty too.
They have everything you need for a relaxing day or weekend away.  Volleyball courts, picnic areas, and grills are available for your enjoyment.
If you don't feel like bringing your own food, the park even has the Ginnie Deli where you can buy sandwiches, breakfast food, ice cream, and more. 
The best time to visit the park for a less crowded experience is on a weekday, during the off-season, from late fall to early spring. 
Ginnie Springs Prices & Admission
Admission to Ginnie Springs starts at $15 per person (in the off-season) for a day pass, making it a great value for groups or families looking for a fun day trip.
The park costs $20 for adults (in season) and $5 for kids 12 and under.  Children 4 and under are free. 
They may also raise admission rates on holiday weekends.  Another note- Please be aware before you come here that pets are not allowed!
See their website for hours as they do change depending on the time of year.  Typical hours here, though, are 8 am- sunset.  If you are camping, you have access to the park 24 hours. 
The park is open all year-round. 
Prices for the water activities are below so read on! 
Ginnie Springs Alligators
While Ginnie Springs is best known for its beautiful, clear water, it's also home to a variety of wildlife. 
People often ask if there are alligators in Ginnie Springs. 
Yes, alligators are sometimes spotted in the area, so be sure to keep an eye out while you're swimming or hiking. 
If you're lucky, you might even see one of Ginnie's resident manatees.   
Common animals to see here include fish, birds, turtles, and manatees, but it is possible to see alligators in Ginny Springs since this is a freshwater habitat.
Although possible, the park is often busy with people visiting so chances are you probably won't see an alligator. 
It's also possible to see snakes while here.  However, you're more likely to see wildlife on the Santa Fe River, to which Ginnie Springs is connected.   
Just be sure to keep your eyes open for these creatures when you're exploring the springs. 
 Things To Do At Ginnie Springs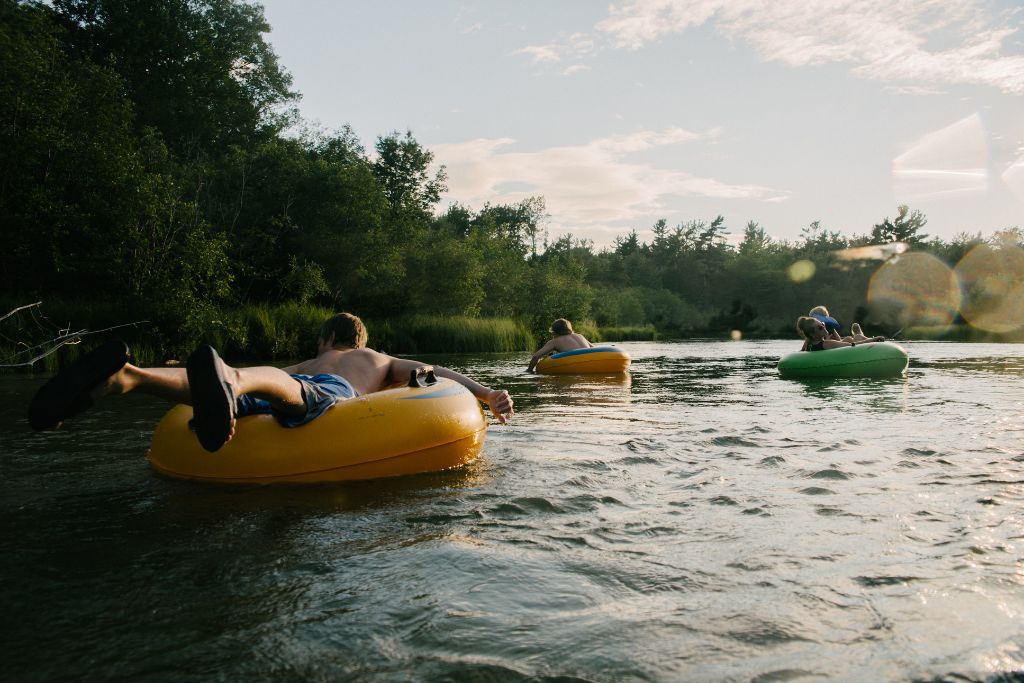 Tubing down the Santa Fe River is one of the most popular things to do at Ginnie Springs!  
Guests can either rent or bring their own tubes for a day or afternoon of fun.  There's even air station where you can blow up your raft or tube. 
Tubing starts at Beaver Landing and ends at Twin Spring, and it takes about an hour to float down the river here. 
Since the tubing doesn't take long, many people take a couple of trips down the river. 
Rentals are $7 for a single tube and $14 for a double. 
Ginnie Springs Swimming
Ginnie Springs is the perfect place to swim all year round!  These pristine waters are perfect for swimming, and there are seven springs make it an interesting and unique experience.
The waters at Ginnie Springs are 72 degrees all year round and will keep you comfortable no matter what time of year it is.
The crystal clear waters here will make you feel like you're swimming in a natural pool. You won't find many places like Ginnie Springs to swim at.
You just have to pay for the cost of admission to swim here.
Ginnie Springs Snorkeling
Snorkeling is a great way to explore the underwater world without having to learn how to scuba dive.
Ginnie Springs is one of the best places in Florida to go snorkeling because of the clear water and lots of things to see.
It's a great place to spend a day (or even a weekend) swimming and snorkeling.
You can rent all the equipment you need from the park, or bring your own if you prefer.
They have masks, fins, and snorkel rentals, so everyone can get in the water and enjoy this activity.
Plus, the location right on the Santa Fe River makes that a great option for snorkeling, too.
The recommended best time to go snorkeling on the river is late summer to fall, where you'll have a good chance to see fish when the river is clear.
Rentals are $8 for a mask with a snorkel, $8 for fins and snorkel, and $12 for a mask, snorkel, and fins.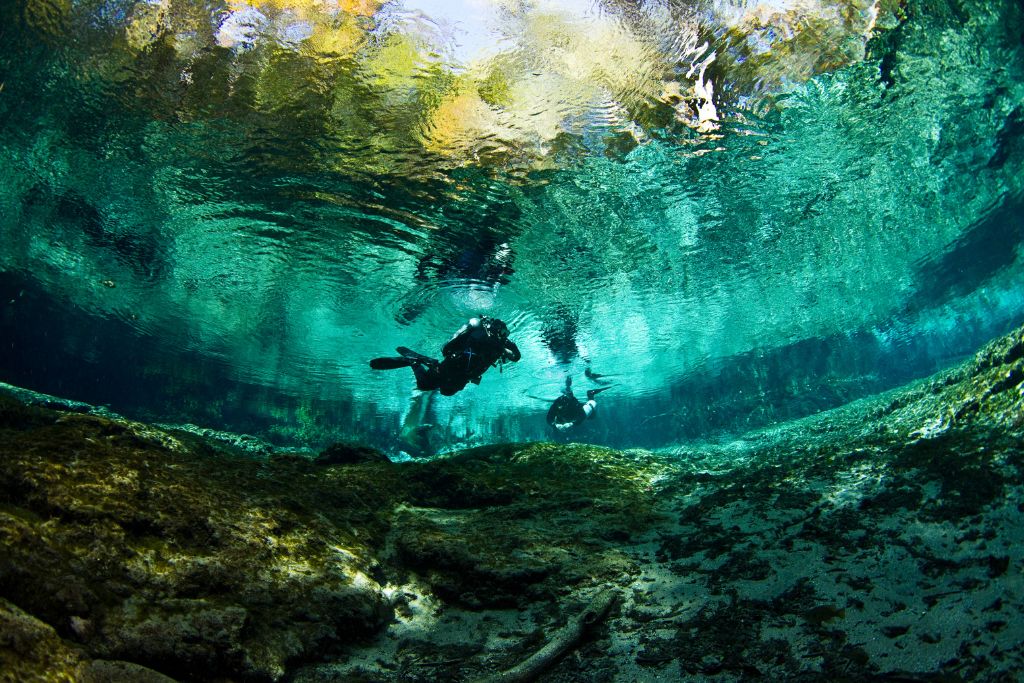 Ginnie Springs Diving
If you're looking for an amazing dive site, Ginnie Springs should be at the top of your list.
With three different dive sites to explore, you'll never get bored.  And if you're new to diving, there are third-party instructors that you can reach out to and they will teach you everything you need to know before hitting the water.
Once you experience diving at Ginnie Springs, you'll understand why it's one of the most popular dive spots in Florida.
The crystal-clear water and abundance of marine life make for a scuba diving experience that is second to none.
The dive sites here include Devils Spring System, Ginnie Ballroom, and the Santa Fe River.
Devils Spring System has three separate springs and is the most popular, known for its incredible views.
Ginnie Cavern is a well-known part of Ginnie Ballroom and is generally safe for less experienced divers, it's also known for its beautiful limestone walls.
The Santa Fe River clears up in the summer and offers good visibility for a great river diving experience.
Ginnie Springs doesn't allow people to dive by themselves unless they're a fully certified cave diver.
Scuba diving has risks so be sure to take all the training and precautions necessary to have a safe and fun experience!
For more rules about scuba diving at Ginnie Springs, go here.  And for scuba diving rental prices, take a look at this.
Ginnie Springs Kayaking & Paddleboarding
Ginnie Springs is an ideal place in Florida to kayak and paddleboard. With a beautiful setting along the Santa Fe River, it's easy to spend a day paddling around.
You can bring your own kayaks, canoes, or paddleboards, but if you don't have your own, no problem!  They have rental options available so you can get started right away.
Costs are $15 for 3 hours for rentals of kayaks, paddleboards, and canoes.  It's $30 for 6 hours.
Paddles come free with a kayak and paddleboard rental or you can rent separately for $6.  Personal flotation devices are free.
Ginnie Springs Camping
The Ginnie Springs Campground offers visitors a chance to experience the beauty of nature and relax under the stars.
With crystal-clear waters and plenty of activities during the day to keep you busy, this is the perfect place for a camping getaway. 
Ginnie Springs offers both primitive and water and electric sites, so there's something for all types of campers. 
If you're interested in camping at the water and electric sites at Ginnie Springs, reservations made 48 hours in advance are highly recommended. 
Otherwise, primitive campsites are located on a first-come, first-served basis and fill up quickly! 
When making your reservation, be sure to specify the number of people in your party and the type of camping equipment you'll be bringing.
The good thing about camping is once you pay the camping fees, it also allows you in the park. 
Once you arrive at Ginnie Springs, check-in is easy – just stop by the ranger station and let them know you're here.  Then it's time to set up camp and start exploring!
The cost for camping is $30 per night, per adult in season, and $25 during the offseason.  Children are $8 per night and kids under 4 are free. 
For the water and electric sites, there's an $11 standard charge and a $22 charge for a group site. 
 Ginnie Springs Cabins
Looking for a more private place for your group to stay while in the area?
The Ginnie Cottage is perfect for those who want all the amenities of a home.  With three bedrooms and two bathrooms, it can accommodate up to eight people.
And it comes with a full kitchen, so you can cook your own meals if you don't feel like eating out.  Plus, there's a deck with a grill so you can cook up some burgers or steaks.
Plus, you'll have access to satellite tv, a washer and dryer, and more.  There's also central air – so you'll be comfortable no matter what the temperature is outside.
When you stay at the cottage, you not only get a comfortable place to sleep but also admission to the park – so you can enjoy everything that Ginnie Springs has to offer.
The cottage has two double beds, two twin beds, and two rollaway beds.
Costs for the Ginnie Cottage are $242 a night for up to 4 people, and $220 during the off-season, plus an $85 cleaning fee.
For each additional guest, it's another $30 during the regular season and $25 in the off-season.
Kids ages 5-12 are $8 each and children under 4 are free to stay.
They also require a 2-night stay minimum at the cottage.
Ginnie Springs Hotels
If you're not looking to stay at Ginnie Park but looking to stay nearby, check out these great hotel accommodations!
 Photo Credit: Google Maps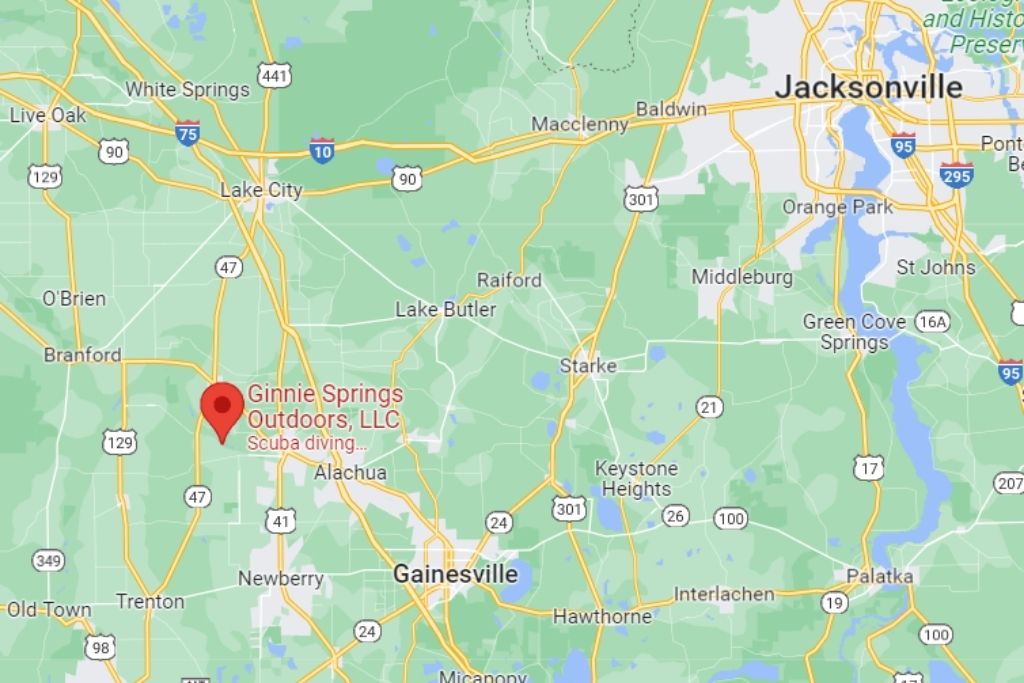 Where Is Ginnie Springs Located?
Located just outside the small town of High Springs, Ginnie Springs is in north-central Florida, about 45 minutes northwest of Gainesville, and just over an hour and a half southwest of Jacksonville. 
Both Tampa and Orlando are just over 2 hours from Ginnie Springs so it's a great place for a Florida day trip!
These springs are located along Florida's Santa Fe River and are surrounded by natural beauty.
The address for Ginnie Springs is 7300 Ginnie Springs Road, High Springs, Florida, 32643.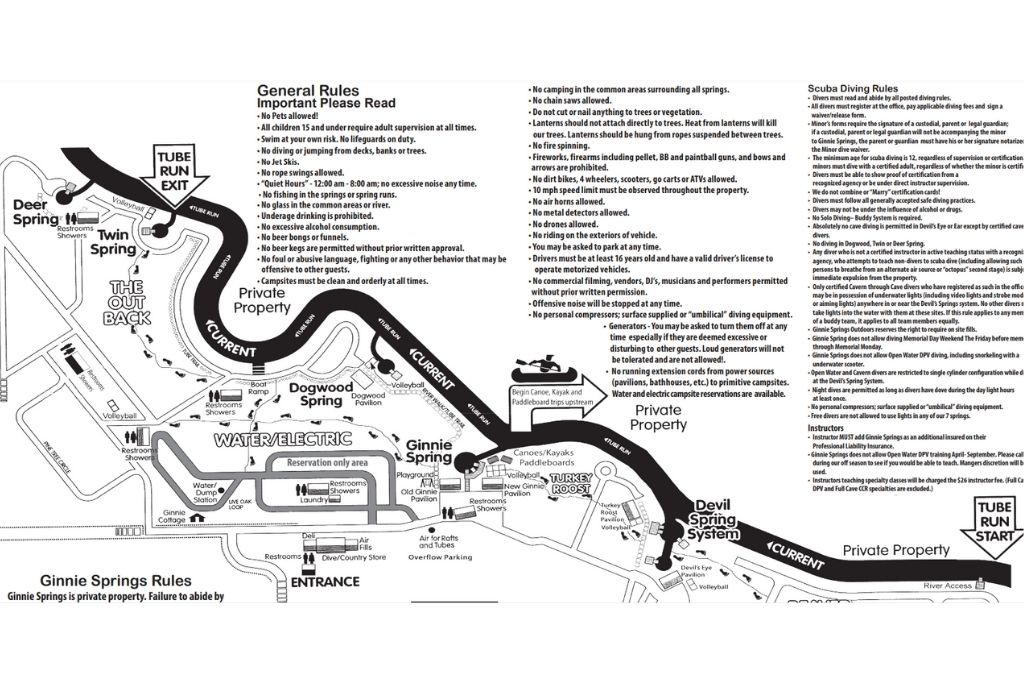 Ginnie Springs Map
This map is by Ginnie Springs Outdoors and you can click on the link for a downloadable map and to see the park rules.  Otherwise, they will give you a map when you visit the park. 
The map has details on where the springs are located, and amenities as well.  It's also marked where to start your kayaking and tubing adventures! 
Ginnie Springs Other Things To Know
Can You Drink Alcohol At Ginnie Springs?
Ginnie Springs is a privately owned park.  They do allow alcohol here and the springs can get a bit crowded with young adults since the park is fairly close to Gainesville and its college.  Many of the other springs in the state don't allow alcohol. 
However, they are pretty clear that they don't tolerate bad behavior. 
Is Ginnie Springs Dangerous?
There are no lifeguards on duty at Ginnie Springs and diving in the rivers, caves, and caverns always carries a certain amount of risk. 
Be sure you feel comfortable and get the proper training before doing any of these outdoor activities. 
Final Thoughts: Ginnie Springs
Ginnie Springs is one of Florida's hidden gems. If you're looking for a great place to get away into nature, this is the perfect spot for you.
There's something for everyone at this park, whether it's the outdoor activities, or just relaxing in a beautiful setting.
For more Florida activities, check out these beaches with the clearest water!
Travel Resources
Book Your Next Trip!  For Accommodations and short-term rentals, I recommend Booking.com as they are the best in the business when it comes to rates and places to stay.
To Book Activities- For activities, I suggest booking with Viator, they have thousands of 5-star activities to choose from!
Looking To Start Your Own Travel Blog Or Take Yours To The Next Level? 
Check Out This Free Workshop!– I personally joined Scale Your Travel Blog in 2021 and my website has grown exponentially.