Last Updated on November 20, 2023
Always On The Shore contains affiliate links and is a member of the Amazon Services LLC Associates Program.  If you make a purchase, we make a small commission at no cost to you. For more information, please read the disclaimer page. 
Are you looking for the best beaches near Bradenton Florida? If so, you've landed on the right article.
As a beach fanatic and Florida traveler, I'm all about time on the shore, and I don't want you to miss out.
To that end, I've hunted out nineteen of the most incredible strips of sand within driving distance of Bradenton.
Whether you want something 11 minutes from downtown or are willing to drive 75 minutes, I've got a beach for you.
Let's dive in!
Me visiting Bean Point in Anna Maria Island, which is one of the most beautiful beaches near Bradenton, Florida
19 Best Beaches Near Bradenton Florida!
1. North Longboat Key Beach
North Longboat Key Beach is one of the loveliest beaches near Bradenton Florida.
Although it doesn't have any amenities, it is a tranquil, beautiful spot.
Hang your hammock on the dried-out tree trunks, and admire the turquoise waters, clumps of wildflowers, and deliciously soft sand.
Walk further up the beach for views of Longboat Key Bridge.
You can access North Longboat Key's beaches from the end of North Longshore Road. Parking spots are available here. 
Alternatively, if you don't need parking, you can head to the end of Seabreeze Avenue for another beach access.
A short walk on the trail through the sand dunes will take you to this hidden gem.
2. Bradenton Beach
Bradenton Beach is located on the southern end of Anna Maria Island, only 10 miles from the mainland city of Bradenton.
This relaxed friendly city boasts some of the best beaches on the Gulf of Mexico with crystal-clear waters and sand that stretches for miles in either direction.
There is no parking in some areas, but biking or taking a shuttle is a great alternative to driving to the beach access points.
Enjoy swimming, wading, digging your toes into the sand, and eating at one of the waterfront restaurants.
Explore nearby Bridge Street for more mouth-watering dining options and souvenir shopping.
If you're looking for something more structured, you can also opt to take a guided eco-tour, dolphin-watching tour, or parasailing tour.
3. Coquina Beach
Coquina Beach is the longest strip of beach on Anna Maria Island.
Shelling, sand dunes, and waving sea oats make this a popular spot.
You might even see sea turtles laying their eggs on this beach.
Thanks to the proximity of Coquina Bayside Park, this beach has everything you could need.
The amenities include free parking, picnic tables, restrooms, showers, changing rooms, beach volleyball areas, a paved path, and a playground.
There is also an area to rinse off. Lifeguards are on duty, ensuring everyone stays safe.
You can rent umbrellas and beach chairs from the food and drink bar on the beach.
This beach can get busy, so consider taking the Manatee County Area Transit's Island Trolley to get to the beach.
4. Cortez Beach
Just north of Coquina Beach is another great spot you won't want to miss.
Cortez is a beautiful beach with white sand and scenic fishing piers.
Make use of the free parking along Gulf Drive South, then head to the water.
It is a gorgeous clear blue and green color and the perfect temperature to take the edge off the heat.
The sand is clean and dotted with little shells. Plus, there is plenty of space for beach chairs and umbrellas.
There is also a lifeguard station.
Although there are no restrooms right on the beach, there are restaurants nearby that you can head to if you're desperate.
This is a perfect place to watch the sunset.
5. Manatee Beach
Manatee Public Beach is one of the best beaches near Bradenton to enjoy the calm waters of the Florida Gulf.
Located in the city of Holmes Beach in the center of Anna Maria Island, Manatee offers fun for the whole family.
If you can, take the trolley to get there because there isn't much parking.
Why spend 15 minutes fighting for a spot when you could simply step off the trolley and head to the sand?
There are plenty of things to do in Anna Maria Island and Manatee Beach offers plenty of great options.
From beach volleyball courts, picnic areas, bike racks, a café, changing cabanas, a gift shop, water fountains, restrooms, playgrounds, and grills.
This beach is wheelchair accessible, making it perfect for seniors or others with mobility issues.
6. Bean Point
Ready for something truly unique? If so, Bean Point Beach on the northern tip of Anna Maria Island is the perfect spot to spend some time.
Bean Point is one of the most pristine beaches in the area, but it's also a bit tricky to find parking.
Biking on Anna Maria Island may be your best bet.
Variegated shades of light blue to green water paired with sweeping views of Tampa Bay make this beach even more magical.
It's an ideal spot to go snorkeling (though the currents are stronger here than on other beaches), watch the sunset, or relax with a good book.
Keep an eye out for manatees, dolphins, herons, spoonbills, cranes, pelicans, eagles, and seagulls.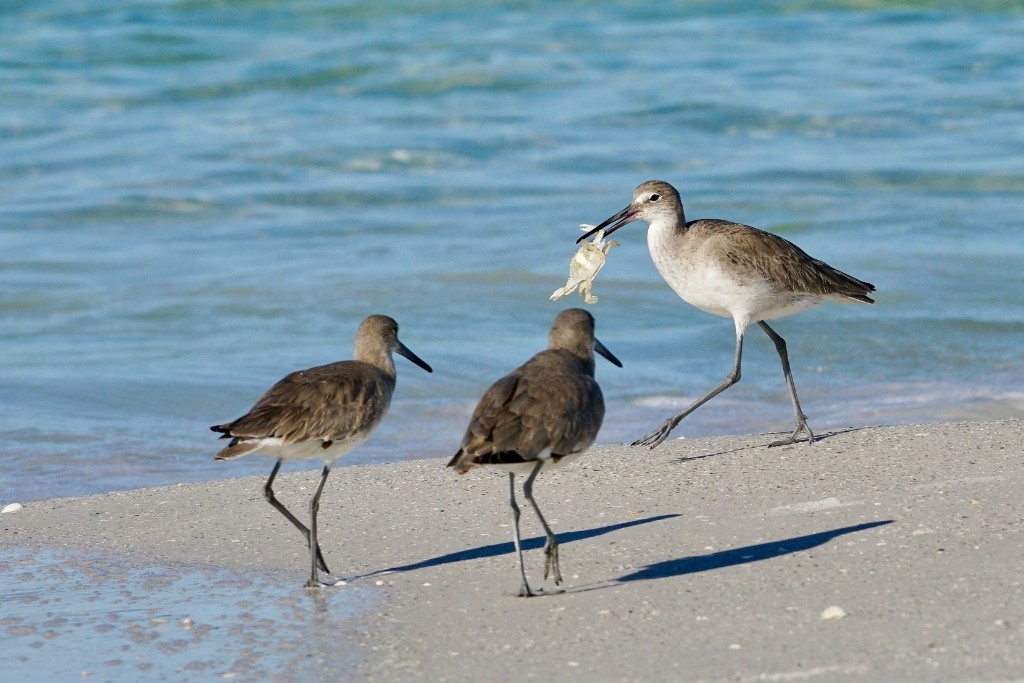 7. Holmes Beach
The city of Holmes Beach in the middle of Anna Maria Island is home to multiple beach access points.
We've already talked about Manatee Beach, but the adjacent Anna Maria Beach is another excellent spot to head to the beach.
This stretch of lovely sand can get a bit crowded sometimes, but the gently rolling waves and amenities ensure a great time.
Rent a beach cabana, stop by the café for a cold drink, and make use of the bathrooms, changing rooms, and showers.
8. Bayfront Park- Anna Maria Island
So far, I've covered beaches on the Gulf side, but Anna Maria Bayfront Park sits on the Tampa Bay side of the island, right off the main road (North Bay Boulevard).
This is a great place to bring kids and/or enjoy watersports, build sandcastles, run and play, and swim.
If you enjoy fishing, you can drop in a line or a few and grill your catch right on the beach.
Picnic shelters, restrooms, showers, changing rooms, water fountains, and a great playground round out the amenities.
Free parking is available but get there early on the weekend because on Anna Maria Island even the most spacious parking lots fill up FAST.
👉 Looking for the best place to eat? Check out the 17 Best Restaurants on Anna Maria Island!
9. Palma Sola Causeway Park
Unlike the beaches we've covered so far, Palma Sola Causeway Park isn't on Anna Maria Island.
Instead, it is located on a thin strip of land beside the causeway in Palma Sola Bay (only eleven minutes from downtown Bradenton).
The water here is super calm and clear and you can see down to the bottom, making it perfect for small kids.
You can even hunt for different species of crab.
Picnic tables, restrooms, and a large parking lot make this spot extra attractive.
This is one of the few dog-friendly beaches I've listed.
But if you take your pet, be cautious of taking it off the leash because cars fly down the adjacent state road.
Photo credit – Unsplash by Alejo Storni
10. Lido Key Beach
Lido Beach on Lido Key is another fabulous beach to visit.
It's only a hop skip and jump from Sarasota Bay and the Lido mangrove forests.
This is a perfect beach with insanely soft sand and the most beautiful water ever.
It's also super shallow and perfect for shelling or collecting sand dollars.
Take a dip in the ocean or the paid swimming pool, check out the gift shop, grab something to eat or drink at the concession stand, or take your own goodies to eat at the picnic tables.
When you get hungry for something more substantial, wander over to St. Armand's Circle for delicious food, melt-in-your-mouth ice cream, or a bit of shopping.
11. Beer Can Island
Beer Can Island is a strip of fabulous sand dotted with driftwood and shade trees.
It is located on the northern point of Longboat Key.
Although it was once an island, the shifting sands, and tides have turned it into a peninsula.
It's a popular destination for boaters and beachgoers alike.
The water is pure green and the sand white. From here you can see Longboat Pass Bridge.
Keep in mind that if you're coming from land, you'll need to take a bit of a trek on the walking paths. So wear decent shoes!
There are no facilities here, so be sure to take a trash bag and pack everything out with you.
12. Clearwater Beach
If you don't mind driving 75 minutes, Clearwater Beach is a fun place to visit during a Bradenton day trip.
The powdery soft sand and beautiful water are the two main draws.
Besides swimming, you can also rent a stand-up paddleboard, head out on a jet ski, or try your hand at parasailing.
One of the most fun things to do in Clearwater Beach is to go to the iconic Pier 60 Sunset Celebrations held nightly.
Each celebration involves artistic performances, live music, and a massive beach market.
Note: Some of the best restaurants are all along this strip so go hungry!
13. Siesta Key Beach
Siesta Key Beach is about 45 minutes south of Bradenton and was ranked number two among the "25 Beaches in the World" by TripAdvisor for both 2022 and 2023. 
What sets it apart? The beach is made of quartz crystals, which makes it extra powdery, soft, and white.
There's also a free trolley, ample parking, concession stands, plenty of great breakfast restaurants and dining options right on the water.
Plan your visit for a Sunday to check out the Siesta Key Drum Circle.
This evening tradition is one of the best things to enjoy if you love percussion and dancing.
14. Turtle Beach
If Siesta Key Beach gets too crowded or if you're craving a more tranquil space, consider heading to Turtle Beach.
It's only a short drive away down Midnight Pass Road.
Turtle Beach is one of the best places to explore the island's waterways via kayak or paddleboard, collect shells, sight wildlife (including nesting sea turtles), and go swimming.
The water is the calmest in the morning.
Another thing that sets Turtle Beach apart is that it is safe and legal to camp here.
Pitch a tent and sleep surrounded by the beauty of stars, sea, and sand.
15. Nokomis Public Beach
Another of the main public beaches 50 minutes from Bradenton is Nokomis Beach on Casey Key.
This is the oldest public strip of sand in Sarasota.
This quiet family-friendly spot is a perfect place to enjoy swimming, sunbathing, picnicking, or watersports.
If you have a watercraft, make use of the boat ramp, then head out into the Gulf to explore.
Make use of the amenities including showers, restrooms, and concession stands.
Check out the Wednesday and Saturday drum circle which starts at 5 pm.
Just be sure to arrive early so you can nab a parking spot.
16. Pass-A-Grille Beach
Bottlenose dolphins, snook, snapper, tarpon, and beautiful sunsets await at Pass-A-Grille Beach in St. Petersburg.
If you're pressed for time and looking for great beaches within 30 minutes of Bradenton, Pass-A-Grille fits the bill.
This is the perfect spot to go fishing, boating, beach-combing, and relaxing on the sand.
You can also stop in the shops and admire the cute beach houses.
Showers, change rooms, and a little food shack round out the amenities. 
17. St. Pete Beach
Friendly, laid-back, and fun are three words used to describe St. Pete Beach.
The water is turquoise, shells dot the delightful sand and amenities.
Parking can be a bit hard to find and the spots are metered, so keep that in mind.
One area you can try for easier parking and access is Upham Beach Park at the northern end of the beach.
Make use of the beach cabanas, beach volleyball, and snack bar.
St. Pete Beach is one of America's favorite beaches for a reason!
Why not check it out for yourself?
18. Madeira Beach
Another excellent destination to consider for a beach day is Madeira Beach.
This lovely strip of sand also features a rocky southern point perfect for shore fishing.
Beach chairs, beach cabanas, and umbrellas are available for rent, and the parking is reasonable.
Download the app to pay so you don't have to leave the beach to add more time to the meter.
Visitors love the sand, swimming with fish, and sighting starfish and crabs.
And when you get hungry, you can head to one of the nearby restaurants for a bite.
If you want to stay longer, Madeira Beach has a variety of vacation rental options to choose from.
Photo credit – Unsplash by Ela108 Garwacka-Goralik
19. Fort De Soto – East Beach
When looking for beaches near Bradenton, Fort De Soto Park in Pinellas County is a wonderful place to visit for a Florida beach day.
Not only can you enjoy the fishing, kite flying, and wind-surfing at Fort De Soto East Beach, but you can also walk the nature trails and check out the historically significant buildings.
The East Beach is a hard pan with stronger winds and waves (perfect if you enjoy frolicking in rougher waters).
However, for softer sand and calmer seas, you can visit Fort De Soto's North Beach.
North Beach has an expansive tidal pool and pirate-ship playground area.
You can search for shells and sand dollars here.
Fort De Soto is also home to one of the top dog-friendly parks and beaches around.
Note: There is a $5 entrance fee to Fort De Soto Park.
Beaches Near Bradenton Florida- Frequently Asked Questions
Does Bradenton Florida Have Beaches?
Bradenton Florida is on the mainland, not on the Gulf of Mexico, so the shoreline fronts Palma Sola Bay, Sarasota Bay, and the Manatee River.
Palma Sola Causeway Park is one of the few beaches right in Bradenton.
However, there are many nearby beaches that are easy to access.
The famous beaches of Anna Maria Island are only a short drive away.
Leffis Key Preserve is a 25-minute drive from Bradenton and is perfect for kayakers.
Venice Beach, a 45-minute drive south, is famous among shark teeth collectors.
Is Bradenton Beach Florida Nice?
Bradenton Beach is a delightful family-friendly city on Anna Maria Island with an "Old Florida" vibe.
The beach features miles of soft white sand and warm turquoise water.
Is The Water Clear At Bradenton Beach?
Yes–the water at Bradenton Beach is clear and clean. Variegated turquoise water and gorgeous soft sand make Bradenton Beach stand out.
It's like a little piece of the Caribbean without leaving the USA.
What Is Coquina Beach Known For?
Coquina Beach is known for its amazing soft sand, incredible amenities, and rolling sand dunes.
This beach is also a turtle nesting area. If you enjoy shelling, Coquina Beach is a perfect place to go.
Spend the day under the careful eye of the lifeguards, making use of the great amenities including free parking, showers, restrooms, changing rooms, picnic tables, and playgrounds.
Booking a last-minute trip to Bradenton Florida?  
If so, we have you covered.  
Top Tours in Bradenton Florida – Viator
Top Rated Hotels & Accommodations – Booking.com
Looking To Get Around In Bradenton Florida? 
Check out rental car rates here! 🚗