Last Updated on September 10, 2023
Always On The Shore contains affiliate links and is a member of the Amazon Services LLC Associates Program.  If you make a purchase, we make a small commission at no cost to you. For more information, please read the disclaimer page. 
Are you trying to decide between Anna Maria Island vs Siesta Key for your next vacation to the Sunshine State?  If so, you've landed in the right place. 
In this article, we'll give you all the information you need to make the best decision.
We'll talk about which destination is better for different kinds of vacation styles or preferences, the top things to do in each city, and which is better for families and couples. 
Finally, we'll look at which is cheaper, which has better food, and which has better beaches.
Let's go!
Booking a last-minute trip to Anna Maria Island and Siesta Key?  
If so, we have you covered.  
Top Tours in Anna Maria Island and Siesta Key – Viator
Top Rated Hotels & Accommodations – Booking.com
Looking To Get Around In Anna Maria Island and Siesta Key? 
Check out rental car rates here! 🚗
Is Anna Maria Island Or Siesta Key Better?
The answer is, it depends! Both destinations are laid back and offer fabulous beaches, fun things to do, beautiful scenery, and amazing dining and shopping opportunities.
Siesta Key has better nightlife, while Anna Maria Island is known for its family-friendly vibe and the best restaurants.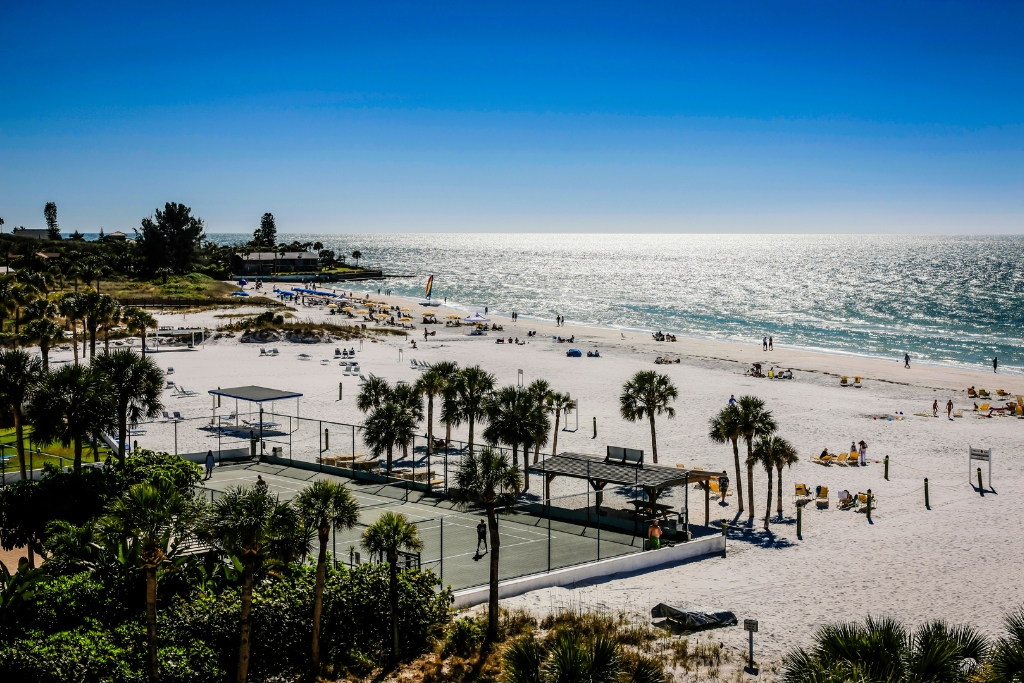 Anna Maria Island vs Siesta Key: Best Things To Do In Each City
One of the main reasons to choose one city over the other comes down to the activities you can enjoy.
Check out these great things to do at each destination and decide based on which things sound like the most fun.
Best Things To Do In Anna Maria Island
Anna Maria Pier
One of the most iconic things to enjoy on this barrier island, Anna Maria Island, is the City Pier.
It re-opened in 2020 after the city spent two years replacing the original pier after damage from Hurricane Irma.
The original pier was once used to drop off visitors from St. Petersburg and mainland Florida.  They would disembark, then meander down Pine Avenue.
Today, the Anna Maria Pier is an excellent spot to go fishing, watch the sunrise or sunset, and enjoy the views of the shore.
Photo credit – Unsplash by Adam Milley
Bean Point Beach
Turquoise blue water, soft sand, and fantastic shelling all make Bean Point extra special and one of the best beaches around. 
This tranquil beach is in the city of Anna Maria, on the north end of Anna Maria Island, at the intersection of Tampa Bay and the Gulf of Mexico.
To get there, park at the beach access signs on the corner of Gladiolus Street and North Shore Drive or at the intersection of Fern Street and North Shore Drive.
This is an amazing spot to have a beach day, see the sunset, swim, stroll, sunbathe, or search for shells at low tide.
Bridge Street
History, souvenirs, delicious food, and fun Florida vibes await at Historic Bridge Street and the Bridge Street Pier. 
Bridge Street is located at the southern end of Anna Maria Island, on Bradenton Beach. Head there for a fun few hours of eating, shopping, and exploring.
Need somewhere to eat?  The Blue Marlin Seafood Restaurant is a great option and offers delicious local seafood served inside a 1920s cottage.
Live music on the weekends and games in the courtyard add to the appeal.  
Manatee Beach
Pack your beach towels, chilled watermelon, and icy lemonade, and head to Manatee Public Beach for a day on the sand.
This popular spot is accessible from 41st Street, 42nd Street, and 29th Street.
You can park at the beach's main entrance which is located at the intersection of Gulf Drive and Manatee Avenue.
Make sand castles and go swimming under the careful eye of local lifeguards, then wash off under the showers at the main entrance.
You can find restaurants, beach equipment rentals, a bar, and shops just past the sand.
Photo credit – Fun Florida Tours
Best Things To Do In Siesta Key
Turtle Beach
When it comes to sand, sun, and pure fun, Turtle Beach can't be beaten.
This gorgeous white sand beach is a perfect spot to set up your umbrella and beach towel.
Set your kids loose on the playground, play a few rounds of horseshoes, or go swimming.
You can also rent kayaks, paddleboards, and fishing gear to explore nearby Blind Pass Lagoon.
Crescent Beach
Check out the "World's Finest Whitest Sand" at Crescent Beach on Siesta Key.
This tranquil beach is a beautiful spot to spend a day swimming, tanning, and lounging. Head there for the sunrise or sunset.
While you're there, be sure to stroll down to the southern end to check out Point of Rocks.
Point Of Rocks
At the southern tip of Crescent Beach, you'll find Point of Rocks, a half-mile-long rock formation. 
This unique geological feature consists of a combination of quartz, limestone, grindstone, and mollusks.
According to legend, this area was a favorite hideout for pirates to bury their stolen loot.  Maybe you'll get lucky and find it!
Snorkeling, spearfishing, birdwatching, and photography are popular Point of Rocks activities.
Siesta Key Village
Siesta Key Village is an obligatory stop for shopping and dining on Siesta Key.
Hit up tropical bars, catch some live entertainment, or stroll down tree-lined Ocean Boulevard for ice cream and boutique shopping.
Breakfast, lunch, and dinner are all wonderful options at Siesta Key Village.
Siesta Key Drum Circle
If you can fit a Sunday night stay into your Siesta Key travel itinerary, do it! You won't want to miss the Siesta Key Drum Circle.
Head to the beach just off Beach Road on a Sunday night and follow the alluring beat of dozens of drums.
The music merges into a magical cacophony of pure rhythm and dancing feet.
Best Things To Do Near Each City
Longboat Key
Longboat Key is a fun destination 18 minutes (7.7 miles) from Anna Maria Island and 32 minutes (17.6 miles) from Siesta Key.
It's a prime area for golfing, shopping, and dining. Twelve miles of beautiful beaches, great restaurants, and scenic charm set this spot apart.
Be sure to trek out to Beer Can Island, have a romantic dinner at the Euphemia Haye Restaurant, or enjoy a decadent dessert in the restaurant's more casual dessert room, the Haye Loft.
Photo credit – Unsplash by Robin Teng
Mote Marine Aquarium
Manatees, Megalodon teeth, sharks, and cuttlefish await at the Mote Marine Laboratory and Aquarium.
This fabulous spot is all about science and exploration. Discover the fascinating coral reefs, watersheds, and a huge aquaponics farm.
The aquarium is 25 minutes (10.4 miles) from Siesta Key and 29 minutes (15.5 miles) from Anna Maria Island.
Oscar Scherer State Park
Another spot to visit is Oscar Scherer State Park.  This lovely oasis is a prime place to go hiking, birding, and cycling.
Check out the bald eagles in winter, the Osprey in summer, and the scrub jays year round.
Oscar Scherer State Park is 16 minutes (9.4 miles) from Siesta Key and 59 minutes (31.9 miles) from Anna Maria Island.
Marie Selby Botanical Gardens
If you love plants and flowers, the Marie Selby Botanical Gardens are worth a visit.
This 15-acre garden is devoted to orchids, bromeliads, ferns, gesneriads, and tropical plants.
It is only a 13-minute drive (7 miles) from Siesta Key. It will take longer to come from Anna Maria Island (roughly 1 hour), but could still be worth it.
Ringling Museum
There is a ton to see and do at the Ringling Museum.  The property includes a Circus Museum, a 1920s Mansion, a Museum of Art, the Bayfront Gardens, and the Historic Asolo Theatre.
The art museum is huge and features a ton of incredible displays.  The circus museum is also intriguing.
You can learn all about what went into running a circus at the beginning of the 20th century.
The Ringling Museum is 10.4 miles from Siesta Key (about a 23-minute drive) and 17 miles from Anna Maria Island (about a 35-minute drive).
What Are Free Things To Do In Each City?
Siesta Farmers Market
One of the top free things to do in Siesta Key is to visit the Farmer's Market.
It is open every Sunday of the year from 8 am to 12 pm and features crafts, produce, and yummy prepared food.
St Armands Circle
If you enjoy window shopping, consider a visit to St. Armand's Circle.
It's a 23-minute drive from Siesta Key and features tons of upscale shops and gourmet restaurants.
Even if you don't buy anything, you're sure to enjoy the beautiful courtyards, patios, statues, and architecture of St. Armands.
St. Armands is a 33-minute drive from Anna Maria Island.
Coquina Beach
Another lovely free activity to enjoy on Anna Maria Island is Coquina Beach.
It is breathtakingly beautiful and features all the amenities you could ask for.
There are wash stations, restrooms, changing rooms, and tons of free parking spots. 
You can even fill up your beach toys at the air-fill station, or purchase munchies at the snack shop.
Leffis Key Preserve
If you're looking for free things to do on Anna Maria Island, head to Leffis Key Preserve.
Meander the footpaths, stroll along boardwalks through a mangrove forest, and top a small hill with 360º views of Sarasota Bay and the Gulf of Mexico.
It's also a great place to go fishing and birding.
Anna Maria Island vs Siesta Key – Which Is Better For Families Or Couples?
Both Anna Maria Island and Siesta Key can be great for families and couples.
It's more a question of what vibe you like most, and what activities you'd enjoy.
Anna Maria Island is considered more family oriented and has a laid-back vibe.
Siesta Key is considered more of a party and nightlife hotspot.
Which Has Better Events Throughout The Year?
Both Anna Maria Island and Siesta Key have fun events throughout the year.
Some of the fun events in Siesta Key include the Siesta Key Crystal Classic.
This master sand sculpture competition is held for four days in November.
Live music, food, drink, shopping, and kids' activities round out the fun.
The Summer Circus Spectacular is another cool festival at The Ringling featuring amazing circus performers.  It is held from June through August.
Anna Maria Island hosts multiple events including the Cortez Seafood Festival, Symphony on the Sand, and the BayFest.
Photo credit – Unsplash by Adam Gilley
Which Is Better For Food?
Both Anna Maria Island and Siesta Key have fantastic food options, with one caveat.
Anna Maria Island has the best restaurants if you want to dine beside the sea.
My favorite eateries on Anna Maria Island are the Rod and Reel Pier, Gulf Drive Café, and Bridge Tender Inn.
In Siesta Key, we recommend O'Leary's, The Lobster Pot, and the Siesta Key Oyster Bar. 
Anna Maria Island vs Siesta Key – Is One Cheaper?
Anna Maria Island is slightly cheaper than Siesta Key.
The average cost of a 7-day trip to Anna Maria Island for a couple will cost $3,289, while the same on Siesta Key will cost $200 more on average.
Which Has Better Beaches?
Siesta Key has better beaches than Anna Maria Island, though not by much.  Both destinations offer fabulous white sandy beaches and gorgeous water.
The difference is that the sand on Siesta Key is made entirely of quartz, so it is extra white and incredibly soft.
Anna Maria Island has better beaches when it comes to shelling, so if you're a fan of the hunt, this could be the perfect destination.
Anna Maria Island vs Siesta Key FAQs
Is Anna Maria Or Siesta Key Better?
Siesta Key is considered better for nightlife while Anna Maria Island has a more relaxed vibe.
Both offer spectacular beaches, fine dining, great shopping, and fun activities.
Is Anna Maria Beach's Water Clear?
Yes, Anna Maria Island features beautiful clear blue water and pristine white sand beaches.
How Far Is Anna Marie From Siesta Key?
Anna Maria Island is 28 miles from Siesta Key.
Which Beach Is Better Sarasota Or Siesta Key?
Both Siesta Key and Sarasota have breathtaking beaches with white sand and clear water.
However, the beach at Siesta Key is made of super fine quartz which makes it incredibly soft underfoot and gives the water a turquoise hue.
Final Thoughts: Anna Maria Island vs Siesta Key
Hopefully, you've been able to decide which destination wins out for you in the Anna Maria Island vs Siesta Key battle.
But no matter which one you go for, you're sure to have the time of your life.
Travel Resources
Book Your Next Trip!  For Accommodations and short-term rentals, I recommend Booking.com as they are the best in the business when it comes to rates and places to stay.
To Book Activities- For activities, I suggest booking with Viator, they have thousands of 5-star activities to choose from!
Looking To Start Your Own Travel Blog Or Take Yours To The Next Level? 
Check Out This Free Workshop!– I personally joined Scale Your Travel Blog in 2021 and my website has grown exponentially.