Always On The Shore contains affiliate links and is a member of the Amazon Services LLC Associates Program.  If you make a purchase, we make a small commission at no cost to you. For more information, please read the disclaimer page. 
Did you know that Florida is one of the most road-trip friendly states in the United States? There are endless routes to enjoy stunning coastal views, beaches, and unique attractions. One of the most popular road trips is from Orlando to Siesta Key.
Along this scenic route, you can enjoy everything from historic museums and vast gardens to top-notch restaurants, gator farms, and world-famous white sand beaches.
With one of the most diverse coastlines in the world, it's easy to see why millions of visitors come to Florida each year to experience the Sunshine State.
Read below to learn about the most convenient routes, the fastest mode of transportation, and must-see sights along your journey from Orlando to Siesta Key.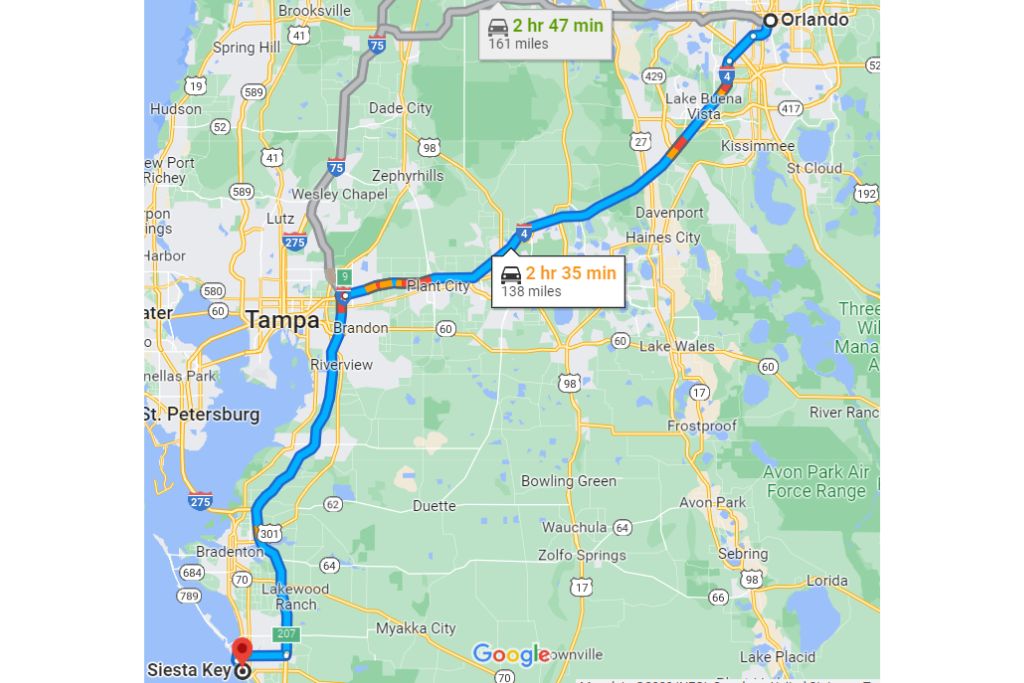 Distance From Orlando To Siesta Key
The distance from Orlando to Siesta Key is 137 miles (221 km).  If making a direct drive, this will take roughly 2 hours and 20 minutes on a good day.
For reference, it takes two hours to drive from the Walt Disney World theme park to the Inn on Siesta Key.
However, travel time by car can vary depending on the traffic congestion near Orlando, or the number of stops made along the route.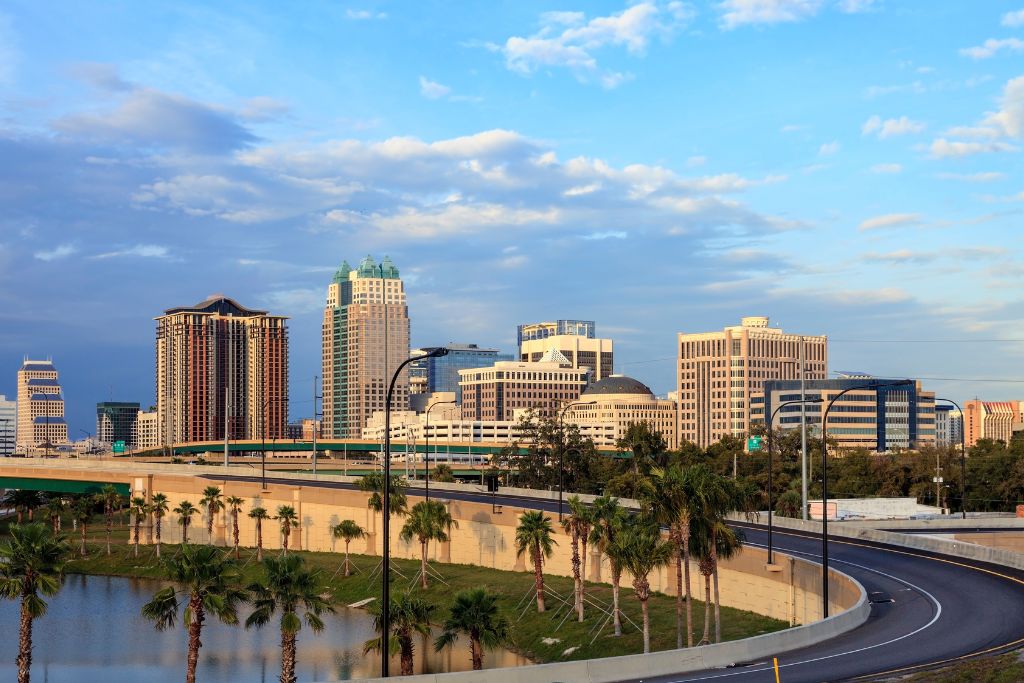 How To Get From Orlando To Siesta Key
By Car
The fastest and most affordable way to get from Orlando to Siesta Key is by car.  The total cost of a one-way trip by car is $25-$40 on average.
There are two main routes that will get you to Siesta Key, which include I-75S via I-4W, or I-75S via FL-50W from Orlando to the city of Tampa.
The I-4W route takes an hour and a half less, especially if you travel in the early morning or before the afternoon rush.
Siesta Key is accessible by two bridges that connect it to the mainland.  Traffic flow in and around Siesta Key and the Sarasota area is typically manageable, but it's best to visit in the low or shoulder season during the fall months.
By Bus
Getting from Orlando to Siesta Key by bus is possible, but the route is much longer and costs more money than driving.
Since there are no direct bus routes to Siesta Key from Orlando, there will be transfer stations along the way.
Services typically depart from Orlando International Airport (MCO) with a transfer to Siesta Key at the Cattleman Transit Station in Sarasota.
With transfers, the total travel time is typically 6 hours and 30 minutes.  To get to Siesta Key from there, you'll have to drive or utilize the Sarasota County Area Transit buses.
Buses run regularly and usually cost less than $5.  Total ride time is usually between 45 minutes to an hour, and the drop-off location is the intersection of Beach Road and Midnight Pass Road.
By Airplane
It's not ideal to fly from Orlando to Siesta Key given the short distance between the two destinations.
However, if it's your only option or last resort, it's possible.  To do this, the best route would be to fly from Orlando International Airport(MCO) to either Tampa International Airport (TPA) or Sarasota Bradenton International Airport (SRQ).
Orlando Airport is 21 miles from downtown Orlando. Tampa Airport is just five miles from downtown Tampa, and Sarasota Airport is just 7 miles from Siesta Key.
However, this isn't the most convenient or affordable route.  Direct flights between the two destinations are almost non-existent, and you'll likely end up with a long layover in another state.
In spite of these factors, American, Southwest, JetBlue, and others offer daily or weekly flights.
Best Routes to Take
I-75 S via I-4W. This is the fastest route to take from Orlando to Siesta Key.  Total drive time is roughly 2 hours and 13 minutes but can take up to 2 hours and 40 minutes with afternoon rush hour traffic on I-4W.
Cities along this route include Lake Buena Vista, Lakeland, Plant City, Tampa, Ellenton, and Sarasota Springs to name a few.
I-75S via FL-50W. If you absolutely hate driving I-4W (many people do) there are other routes you could take, but it will add significant drive time to your journey.
One possible route is to take FL-50W and I-75S to the city of Tampa.  From Tampa, you can continue on I-75 S to Siesta Key in the same way you would if coming off I-4W.
Ultimately, you'll bypass I-4W, but the route won't have as many attractions along the way.
Tolls And Fees
Many of Florida's roads, bridges, and tunnels require paying a toll fee.  You can pay with cash or with a discount using Florida's prepaid toll program, SunPass.
Many car rental companies have the option to include the SunPass for a small additional cost.
The toll roads in the Orlando  metro area are some of the longest and most traveled roads in Florida. The I-4W toll plaza costs $3.50 to travel eastbound, and $3 to travel westbound.
Failure to pay these tolls result in a $25 fine. It's best to keep a small amount of cash on hand in case you encounter any issues.
The best way to foresee the possibility of encountering toll roads is to download Google Maps prior to your departure date.
Toll roads on Google Maps are indicated within the directions using an orange caution sign next to each highway or road name.
There is also signage on the roadways ahead of toll plazas that has the amount and payment options clearly listed.
Stops And Things To Do
There are dozens of stops and attractions to visit on the route from Orlando to Siesta Key. 
Nearby cities you'll encounter along the way include favorites like St. Pete Beach, Tampa, Sarasota, Kissimmee, Bradenton, and Clearwater, just to name a few.
Below are some of the best things to do while on your way to Siesta Key:
Orlando
Enjoy The Disney Community Of Lake Buena Vista
Only a 27-minute drive from Orlando is the upscale Disney community of Lake Buena Vista. 
Beyond the theme parks, you'll find plenty of local shops, restaurants, parks, and a vibrant nightlife.
The Walt Disney World Resort is of course a major attraction, but the shopping village of Disney Springs is also a popular place to grab a bite to eat or shop for Disney memorabilia.
If you have time, spend a day at one of the theme parks and get a One-Day-One Park pass to Animal Kingdom, EPCOT, Magic Kingdom, or Hollywood Studios.
To really maximize your time, spend a couple of nights at a nearby Disney resort to get free transportation to the theme parks, special deals and perks, and more exploration time.
Gatorland
Just south of Orlando is Gatorland — a 110-acre theme park and wildlife preserve with plenty of Old Florida charm.
Known as "The Alligator Capital of the World", different species of alligators and crocodiles safely find their home in this educational roadside attraction.
Watch a Legend of the Swamp show featuring an 8-foot alligator, experience a supervised up-close encounter, or explore the White Alligator Swamp.
You can even fly on the Screamin' Gator Zip Line or climb aboard a monster truck-style off-road vehicle through real Florida wetlands.
Other wildlife you might encounter on a visit to Gatorland include snakes, insects, and exotic birds and animals.  Tickets range in price but can be bought online or at Gatorland.
Lakeland
LegoLand Florida Resort
Legoland is a lakeside LEGO-themed park made for kids and kids-at-heart.  It boasts fun shows, family-friendly dining, shopping, a water park, and a large collection of LEGO-inspired rides and attractions.
The AQUAZONE Wave Racers, The Dragon, and LEGO NINJAGO are just a few of the park's most popular rides.
Inside the park, there is a historic Cypress Garden that has been a Florida staple since 1939.  Be sure to get a picture in front of the giant Banyan tree!
Bok Tower Gardens
One of Florida's first attractions and best hidden gems are the Bok Tower Gardens.  The park's biggest draw is the stunning The Singing Tower that houses a carillon and a bell chamber.  The bells are rung several times a day.
It also features a landscaped garden with unique flora and fauna, nature trails, and a children's garden with water features and a play area.
Dinosaur World
Dinosaur World is an outdoor museum in Plant City, Florida with more than 200 life-size dinosaurs throughout the grounds.
The park imitates these creatures in what would be their natural habitat millions of years ago.  the You can dig for fossils in the Fossil Dig, or discover remnants of prehistoric past in the Boneyard.
Tampa
Tampa Zoo
The award-winning Tampa Zoo features more than 1300 animals.  It's known around the world for its vast portfolio of unique animals and its authentic tropical zoological setting.
Safely get up close and personal with animals like the giant tortoise, rhinos, and stingrays.  Catch a glimpse of the Florida manatee at the Manatee Hospital, splash in the water play areas, or enjoy an educational show.
Tampa Riverwalk
If you love exploring urban nature, the Tampa Riverwalk is for you.  This 2.6 mile long open space and pedestrian trail is the focal point of the city of Tampa.
Offering scenic views of the Hillsborough River, the Riverwalk is a perfect place to dine at a waterfront restaurant, take a Segway tour, or watch outdoor entertainment on a sunny day.
Anna Maria Island
While Anna Maria Island is a tad off course on the way to Siesta Key, the detour is well worth it.
Experience fresh ocean front seafood from a local restaurant, walk on one of its many white sand beaches, or take in a beautiful sunset in this laid-back coastal town.
It's consistently ranked as one of the best islands in the U.S., and for good reason!
Sarasota
Ringling Museum
Even though the name implies it's a circus, the Ringling Museum is anything but.  It houses a collection of more than 28,000 works of art from nearly every major period.
From the European Middle Ages to the twenty-first century, you can admire many beautiful galleries within its pink Renaissance style walls. If you visit on a Monday, admission to the museum is free.
Bayfront Park
A beautiful park that is free and open to the public includes an impressive splash park for children.
People of all ages visit the park to walk their dogs, take in a sunset, or have a picnic with food from a nearby Bayfront restaurant.  The park is open from 7am to 11pm daily.
Dry Dock Waterfront Grill
In Longboat Key, Dry Dock Waterfront Grill is a popular watering hole.  At this casual bayfront establishment, you'll find plenty of specialty seafood dishes, fish-themed decor, and an outdoor terrace.
You can't go wrong with the lobster rolls, lobster bites, or the Oysters Rockefeller.
Mote Marine Aquarium
Get up close and personal with Florida's marine life at the Mote Marine Aquarium.  Just minutes from downtown Sarasota, it's the perfect place to spend a few hours exploring the educational exhibits.
The aquarium currently features 13 exhibits showcasing otters, manatees, sea turtles, jellyfish, sharks, local birds, fish, and much more.
You can also partake in an eco-friendly boat tour, though you should make sure you have at least an additional hour.
Siesta Key
Lido Key Beach
Just down the road from the aquarium, you'll spot Lido Key Beach. Lido Key is a much less crowded but no less beautiful barrier island beach just west of Sarasota.
The surrounding community takes ecotourism seriously, which is one reason it's famous for its pristine white sand and sunset cruises.
There is a small fee of $2-4 per person to enjoy the beach, but it's well worth it.
Siesta Key Beach
This is one public beach you won't want to miss. This award winning beach was ranked the best beach in the U.S. in 2020 and 2021, and a top 25 beach in the U.S. in 2022 by Trip Advisor's Traveler's Choice Awards.
It's safe to say that Siesta Key Beach is close to being heaven on earth.  Many visitors go to bask under the warm, clear skies and feel the quartz-crystal sand between their toes.
Three large lots provide plenty of parking, concession stands offer drinks and snacks, and a free trolley gives rides to the Siesta Key Village for dinner, drinks, or nightlife.
It's something you must do on a road trip from Orlando to Siesta Key!
Turtle Beach
If catching a glimpse of a sea turtle in the wild is on your bucket list, Turtle Beach won't disappoint.
This secluded public beach on the Southern tip of Siesta Key is known for sea turtle nesting and hatching during mating season.
It also offers plenty of space for picnics, camping, beach games, and fishing in Blind Pass Lagoon.
Orlando To Siesta Key FAQ's
What Airport Do You Fly Into For Siesta Key?
There are two airports that are within driving distance to Siesta Key if you're flying directly from another city.
The closest airport is Sarasota International Airport (SRQ), which is 10 miles away or a 25 minute drive.
The second closest airport is Tampa International Airport (TPA), which is 75 miles away or an hour and a half drive.
The third closest airport is Orlando International Airport (MCO), which is 139 miles if driving I-75S via I-4W.
Total travel time can range from two hours to 3 hours depending on traffic and the route taken.
How Long Does It Take To Get From Siesta Key To Orlando?
If you're making the drive back to Orlando, the total travel time will be slightly longer depending on the time of day.
Take into consideration the time of year you are visiting, especially January through April which is the high season.  This could mean total travel time could take up to three-and-a-half hours.
How Do You Spend A Day On Siesta Key?
Only have a day to spend on Siesta Key? Don't worry. It's possible to enjoy a number of popular sites and activities even without a car (check out the Breeze Trolley!).
Below are a few unique, must-do things that the locals happen to enjoy, too:
Snorkel at the Point of Rocks at Crescent Beach.  If you're into snorkeling or diving, Point of Rocks is the place for you!
These calm, shallow tide pools are home to fish, crabs, and colorful coral. With a water depth less than five feet, it's fun for the whole family.
If you also want to explore other beaches, there are 13 other public beach access points across the island!
Eat Gulf Bay Paella at the Siesta Key Oyster Bar.  After snorkeling, grab lunch at Siesta Key Oyster Bar. 
Paella with local seafood is the star dish here.  However, people also go for the oysters on-the-half-shell, live rock music, and the daily "Crustacean Happy Hour" for sunset cocktails.
Witness the Siesta Key Drum Circle.  Every Sunday of the year, head down to the Siesta Pavilion or Englewood Beach an hour before sunset.
Watch volunteer performers and feel the rhythm of the Siesta Drum Key Circle. Grab a prop (usually a hula hoop, costume, or flag) and join in on the dancing!
Can You Drive To Siesta Key?
Absolutely!  It's the fastest, cheapest, and most convenient way to get there.
Siesta Key is accessible from two bridges that connect the mainland on the north and central parts of the island.
The Siesta Key North Bridge is on the north end, and the Stickney Point Bridge is in the center.
Siesta Key Village also has a 60-space parking lot that is within walking distance to the shops and restaurants.
There is an even larger 900-space parking lot that can be found at 948 Beach Road. Parking here is completely free, but it fills up quickly during the high season and in the afternoons.
If you're worried about having to switch parking lots to go explore, don't be.  You can stay parked in one place and ride the Siesta Key Breeze Trolley from any one of its pick-up locations.
It's always free and will take you just about anywhere on the island you wish to go!
Final Thoughts: Orlando To Siesta Key
For those looking for a fun day trip from Orlando, Siesta Key is the perfect destination.  With its pristine beaches, vibrant culture, and abundance of outdoor activities, there's something for everyone to enjoy.
Whether you're in search of relaxation or adventure, Orlando to Siesta Key is an ideal journey that won't disappoint.
So pack your bags, grab your sunscreen, and get ready for the ultimate day trip from Orlando to Siesta Key!
Travel Resources
Book Your Next Trip!  For Accommodations and short-term rentals, I recommend Booking.com as they are the best in the business when it comes to rates and places to stay.
To Book Activities- For activities, I suggest booking with Viator, they have thousands of 5-star activities to choose from!
Looking To Start Your Own Travel Blog Or Take Yours To The Next Level? 
Check Out This Free Workshop!– I personally joined Scale Your Travel Blog in 2021 and my website has grown exponentially.