Last Updated on November 20, 2023
Sun Country Airlines is an ultra-low-cost air travel carrier/ airline based out of Minneapolis with 99 routes in North America, Central America, and the Caribbean. 
This airline is a convenient option for travelers on a budget with fares that start at just $45. 
On the other hand, this low-cost airline comes with fewer route options and higher additional fees than the larger airlines like United and Delta Air Lines.
As much as I travel, I like that Sun Country has affordable and direct flights to places like Florida and I fly with them often out of Minneapolis.  
Below, we'll look at the pros and cons of Sun Country Airlines so you can decide whether you should book your next flight with Sun Country!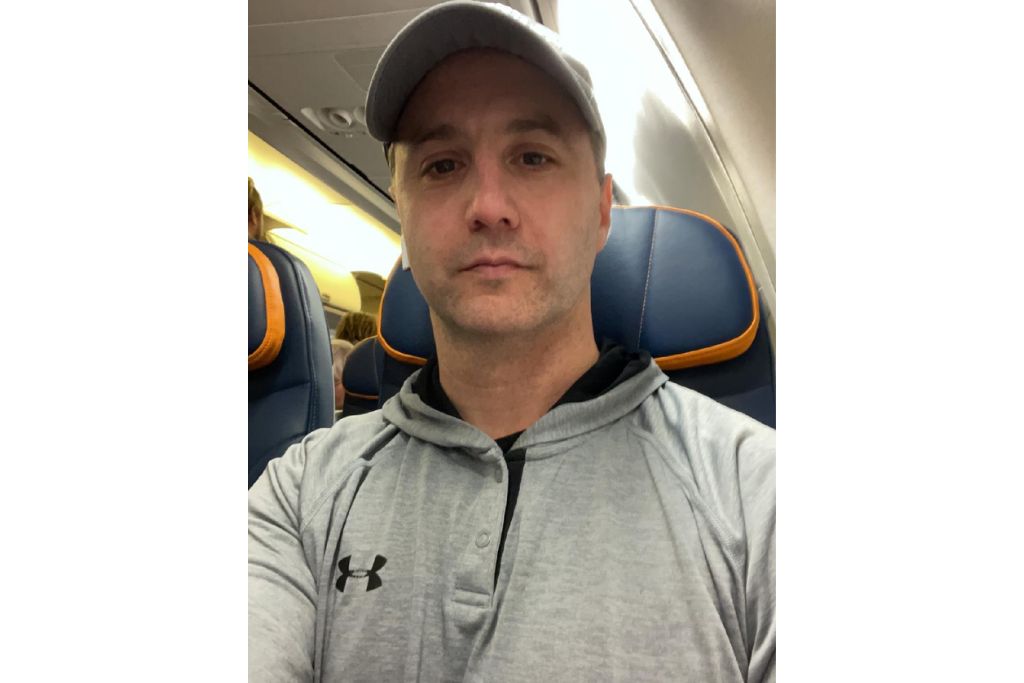 I've always had a good experience on Sun Country Airlines and here I am on a flight in March 2023. 
Is Sun Country A Good Airline?  Pros
1. Free In-Flight Entertainment
Sun Country Airlines offers free in-flight entertainment to all passengers!
This free entertainment includes movies, shows, games, and music, and does not require any type of app download.
You can simply stream from Safari or Chrome on your personal devices.
Additionally, most seats come with USB charging and better seats which are upgradable with AC charging ports so you can stay connected your whole Sun Country flight.
Whether you're looking to relax with a movie or show or stay entertained with music or games, Sun Country has you covered!
2. Three Comfortable Seating Options
Sun Country offers three different seat selections in their Boeing 737s in order to make your flight as comfortable as possible.
The "Best" option provides 4″ of extra legroom and 150% more reclining than standard seats. 
A complimentary alcoholic beverage is also included in this seat selection option for a "first-class" experience.
The second seating option is Sun Country's "Exit Row Seats" which offers 9″ of extra leg room. 
The third and final seating option is the Sun Country standard seat that is offered on most flights.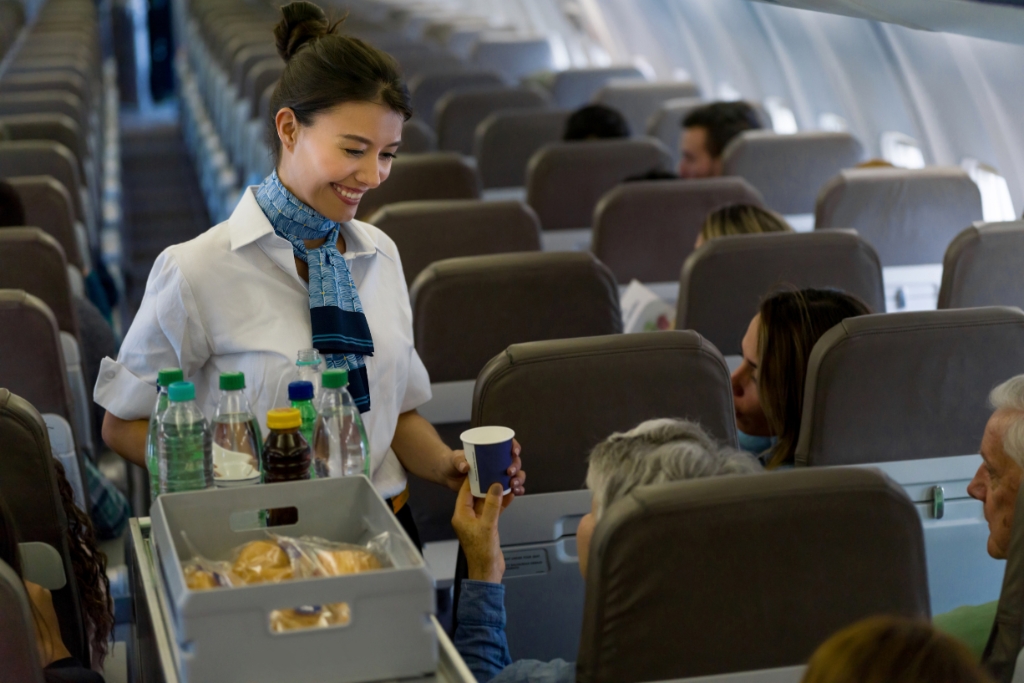 3. Plenty Of Onboard Beverages And Snacks
Sun Country offers a variety of food, a free drink and beverages onboard, including complimentary nonalcoholic drinks during your flight.
You can purchase beer, wine, liquor, and snack boxes with your Visa credit card or MasterCard. 
Note: Sun Country does not accept cash onboard.  Most airlines are moving to a cashless flight experience, so this isn't too far off from a normal flying experience.
4. Routes To And From North America, Central America, And The Caribbean
Sun Country Airlines provides customers with an opportunity to enjoy multiple routes between North America, Central America, and the Caribbean Islands.
As of October 2022, Sun Country flies 99 routes throughout these areas.
With options like Belize, Aruba, Costa Rica, and Turks and Caicos, you can experience a variety of leisure destinations that provide unique experiences depending on where you go.
Within the United States, Sun Country flies all over.  You'll find flights to Boston, Charlotte, Denver, Detroit, NYC, Phoenix, and more.  They even offer a seasonal route to Vancouver!
5. Sun Country Vacation Packages
Sun Country offers deals for all-inclusive vacations, flights and hotel deals, and more. 
You can also purchase tickets to activities and events through Sun Country's website.
By bundling your flight, hotel, and other activities together with Sun Country, you can save money on your vacation.
If you have flexibility with your travels, you can also find the "featured deals" section on their website to help you save even more on flights.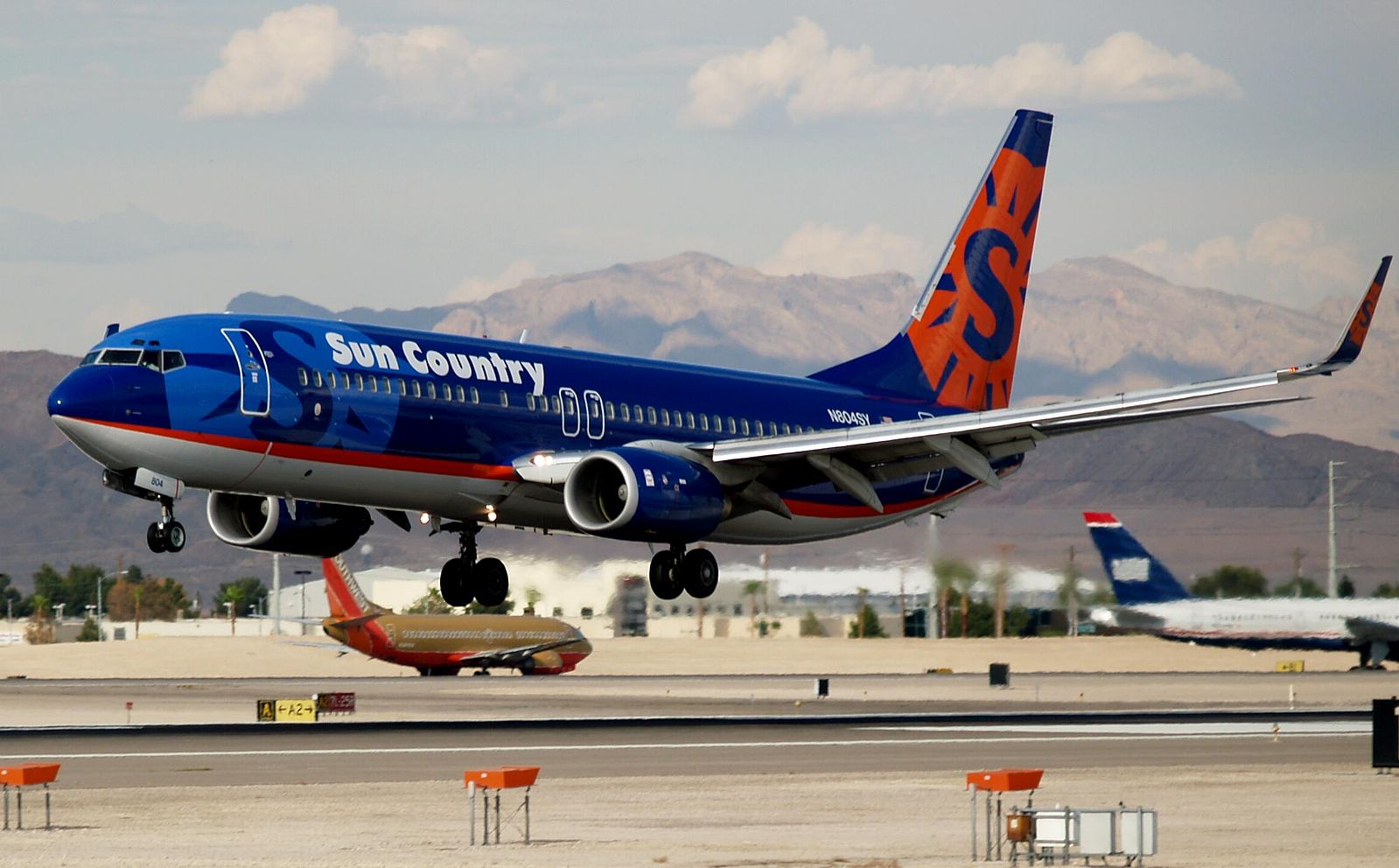 Is Sun Country A Good Airline? Neutral
6. Low-Cost Airline But There Are Many Add-Ons
While Sun Country's low and affordable flights and fares are appealing, it come at an additional cost when you factor in extra costs and fees for basic in-flight services like carry-on luggage, seating arrangements, and ticket changes.
In these cases, the price may actually exceed those of the larger, more established airlines.
Furthermore, customers may not find the same level of great customer service due to fewer employees and resources.
Lastly, low cost means limited access to certain routes and airports as well.
All things considered, being a low-cost airline may be a pro or a con, depending on your needs.
7. Sun Country Rewards Program
Sun Country's rewards and loyalty program is a great way to earn points toward future Sun Country flights. 
However, there are a limited number of ways to earn points and those points are best used towards a variety of Sun Country flights.
The limited number of Sun Country flights means limited ways to spend your rewards.
Rewards are most valuable if you know that Sun Country offers in-season routes that you can take advantage of.
Is Sun Country A Good Airline? Cons
8. Change Fees After 60 Days Out
Flying Sun Country Airlines can be an economical option for the budget-minded traveler, but the airline does have a few drawbacks – in particular, change fees.
After 60 days prior to departure, Sun Country will charge a fee of $39 per leg of travel if a flight needs to be changed; within 2 weeks before flying, passengers may incur up to a $79 fee.
Furthermore, if you need to cancel your flight, you'll still end up paying some kind of fee.
Many major airlines have moved to no-change fees, so if your plans aren't solid or you're worried about last-minute changes, it may not be worth the risk of higher last-minute change fees
9. Bag Fees
Sun Country Airlines offers travelers an array of options and fees when it comes to baggage.  An under-seat bag is included with your flight fare.
Prices for overhead and checked bags vary based on when you pay. At booking, an overhead bag starts at $30 and a checked bag starts at $34. 
Additional bags and bags checked at the airport will be priced higher.
If you carry a lot of luggage, the fees may add up!
10. The Majority Of Flights Are Out Of Minneapolis
When it comes to flying with Sun Country Airlines, one big con is that most of its available flights are located out of Minneapolis.
This can be a major issue if you don't live in or around the area.
The airline does offer routes from many different major airports, including Chicago, Baltimore, Newark, Miami, Austin, and more.
However, you may find it difficult to get the exact route you desire from your own airport.
11. Poor Customer Service
There have been numerous complaints from customers about Sun Country's poor customer service.
Common complaints from customers include:
lack of communication from the customer service line
fees for bags, changes, seats, etc.
mishandled luggage, poor compensation for lost or mishandled luggage
Many customers have rated Sun Country customer and staff service including flight attenedants quite low on review sites such as Trip Advisor, Yelp, and BBB.
12. Many Routes Are Seasonal
There may be several routes to choose from, but almost all Sun Country routes are seasonal, so your options to fly will change throughout the year. 
Not only does this make the number of routes everchanging, but it also decreases the availability of flights you'll find out of your local airport.
If you're looking to take advantage of a low-budget flight from Sun Country, you're at the mercy of finding what is available at the time of your flight bookings versus choosing a route yourself.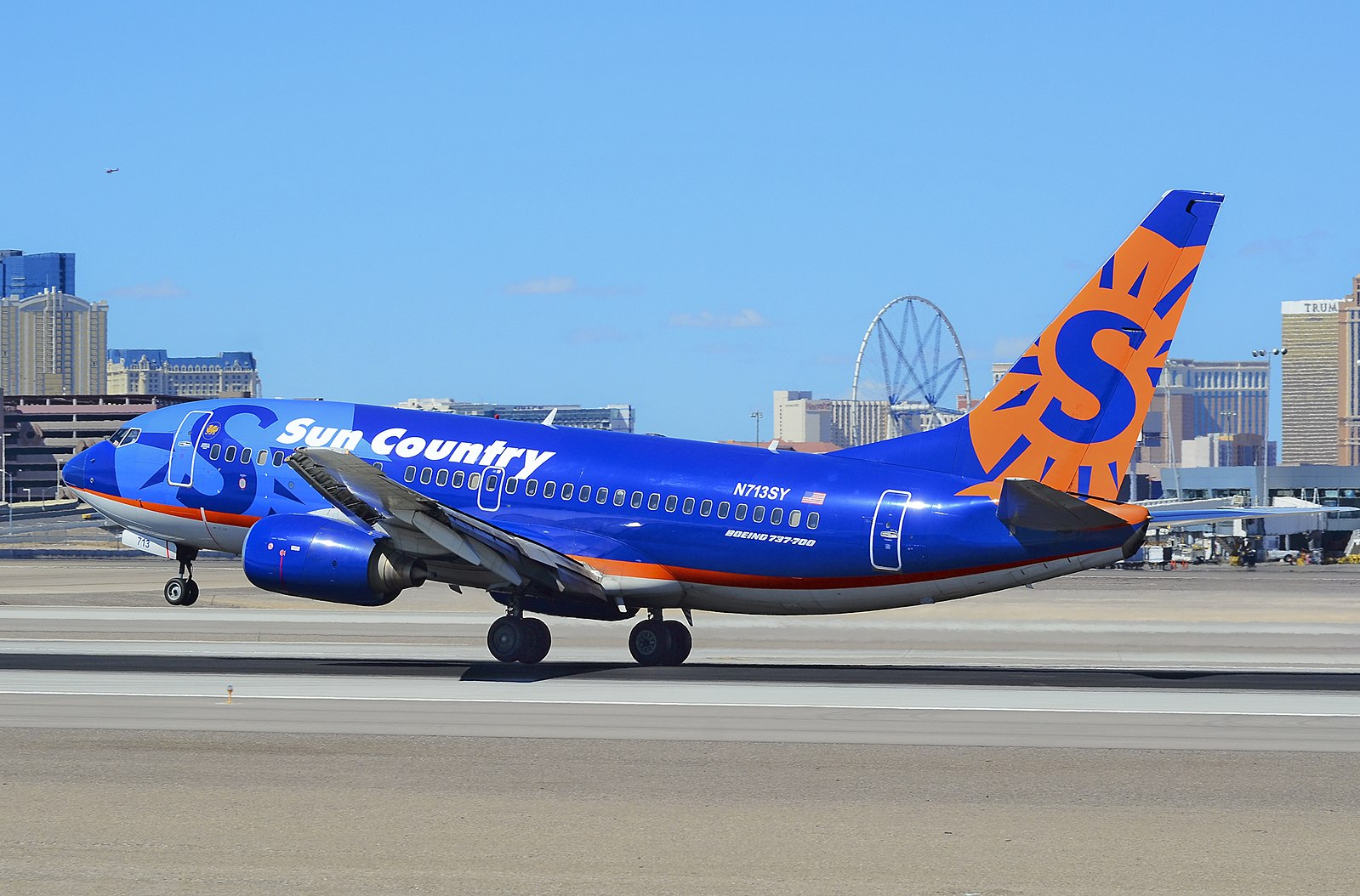 Recap- Pros & Cons Of Sun Country Airlines
When considering a smaller airline like Sun Country, there are definitely pros and cons to consider. 
The larger planes and more routes than regional airlines is a definite pro.  However, most of the routes are only seasonal and fees can quickly add up if you're not careful. 
When trying to decide if Sun Country is the right airline for you it's important to look at what it offers compared to larger, more expensive carriers. 
For example, the additional costs of carry-ons and check bags, the best seats and comfortable seating options, Wi-Fi availability, and customer and cargo services are important to keep in mind when choosing an airline carrier. 
By comparing what they offer in terms of amenities and cost, you can make an informed decision on whether Sun Country is a good airline for your budget and needs.
Which Is Better, Sun Country Or Delta?
Choosing between air travel companies can be complicated and frustrating.
However, when it comes to Sun Country and Delta, there are many factors that could make the decision easier.
Sun Country offers incredibly low fares for non-stop flights, making it a great option if you're looking for an affordable way to go somewhere quickly.
On the other hand, Delta is one of the largest airlines around with a vast network of routes and options compared to Sun Country. 
It may come at higher prices but could be well worth it depending on what you're looking for from your chosen airline.
Sun Country may come at a lower dollar cost, but the convenience and quality of Delta seem to outshine the low-budget airline.
Final Thoughts: Is Sun Country a Good Airline?
Overall, Sun Country Airlines is a good option if you want to travel without breaking the bank.
The initial low prices combined with comforts such as in-flight entertainment and complimentary beverages make it ideal for budget travelers.
However, it can be tricky to find available flights as they are often seasonal and the fees can add up if baggage and seating are not included in your ticket initially.
To sum it up, depending on the type of traveler, whether you're a budget or leisure traveler, and whatever destinations you wish to go to, Sun Country Airlines may or may not be the best airline for you.
Safe travels!
Travel Resources
Book Your Next Trip!  For Accommodations and short-term rentals, I recommend Booking.com as they are the best in the business when it comes to rates and places to stay.
To Book Activities- For activities, I suggest booking with Viator, they have thousands of 5-star activities to choose from!
Looking To Start Your Own Travel Blog Or Take Yours To The Next Level? 
Check Out This Free Workshop!– I personally joined Scale Your Travel Blog in 2021 and my website has grown exponentially.