Last Updated on September 9, 2023
Always On The Shore contains affiliate links and is a member of the Amazon Services LLC Associates Program.  If you make a purchase, we make a small commission at no cost to you. For more information, please read the disclaimer page. 
Are you wondering about the best cities near Pensacola for your next beach holiday? Look no further, we've got you covered!
With its beautiful beaches and gorgeous sunsets, the Gulf Coast offers some of the most incredible beaches in the United States.
From pristine white soothing stretches to beach cities hopping with energy, there's a city to match your mood whether you're looking for a family-friendly getaway or a romantic escape.
We've rounded up 10 of the best cities and beaches near Pensacola bay that are sure to make your vacation or weekend trips unforgettable.
And if you happen to be staying in Pensacola Beach, all of these make for excellent day trips since they are all within driving distance. 
Offering a medley of waterfront restaurants, art galleries, boardwalks, and family recreational centers, each of these cities possesses a distinctive charm that sets it apart.
So pack up your swimsuit and sunscreen and get ready to explore some of the most magnificent Gulf of Mexico scenery around!
Booking a last-minute trip to Pensacola?  
If so, we have you covered.  
Top Tours in Pensacola – Viator
Top Rated Hotels & Accommodations – Booking.com
Looking To Get Around In Pensacola Florida? 
Check out rental car rates here! 🚗
 The Best Cities Near Pensacola!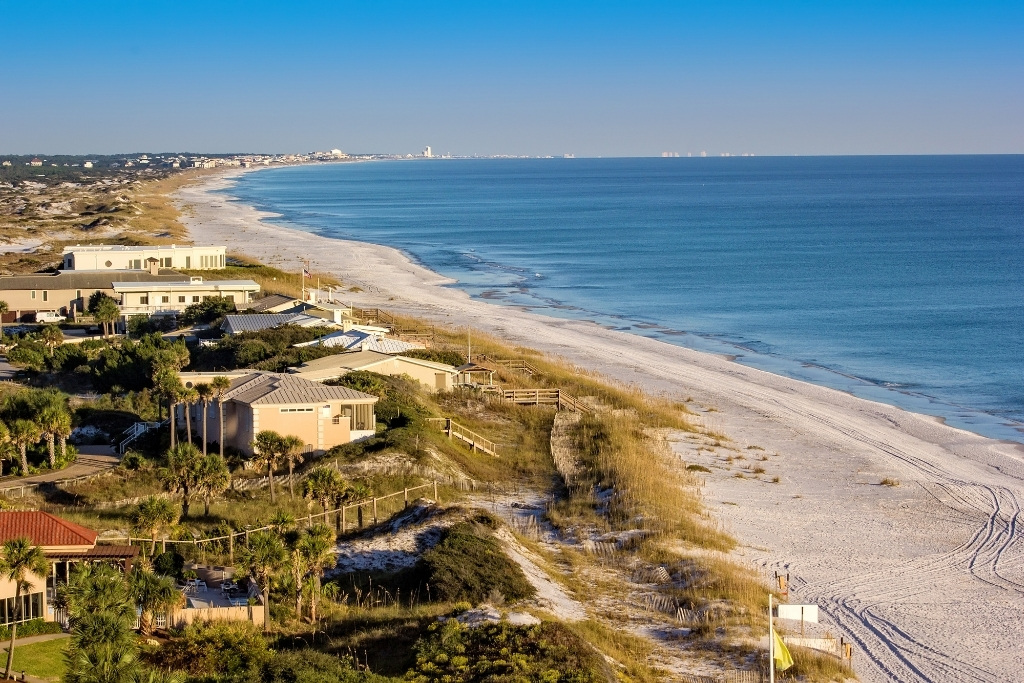 🛡️Safety: 10/10   🧹Cleanliness: 10/10   👨‍👨‍👦Family: 8/10
✅ Accessibility: 10/10   🏪 Amenities: 10/10
If you're seeking more luxurious vacation spots centered around fishing and water sports, look no further than Destin, the most popular city on the Florida Panhandle.
It's one of the best small towns along the coast!
Known for its upscale appeal, Destin offers a vibrant atmosphere, stunning beaches with powdery white sand and emerald-green waters, and loads of activities to enjoy. 
As the "World's Luckiest Fishing Village," Destin attracts countless fishing enthusiasts each year for its renowned fishing festivals. 
With top-notch golf courses and a wide array of accommodations, dining, and activities, Destin guarantees a memorable and sophisticated getaway.
👨🏻‍🍳 Where to eat: The Back Porch: This restaurant is located right on the beach and offers fresh seafood, burgers, and sandwiches.
🏨 Where to stay: Emerald Towers 1205 is one of the best places on the beach in Destin! Turquoise views for days!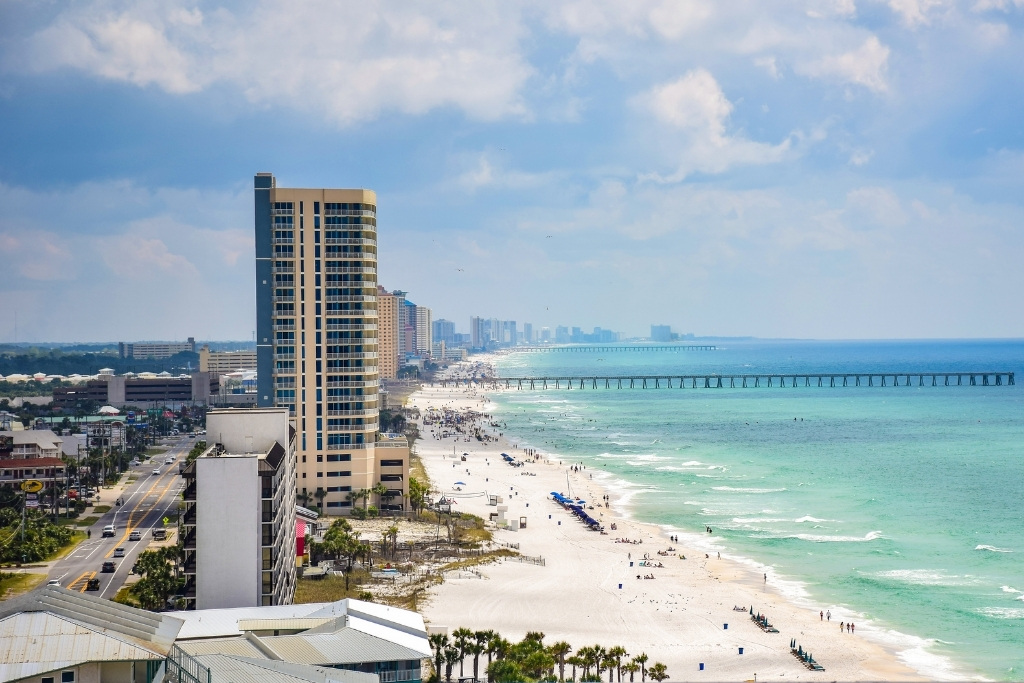 🛡️Safety: 10/10   🧹Cleanliness: 10/10   👨‍👨‍👦Family: 10/10
✅ Accessibility: 7/10   🏪 Amenities: 10/10
If you're seeking a vibrant and affordable vacation spot with a focus on nightlife and family-friendly activities.
Between Panama City Beach and Destin, Panama City Beach might just be the perfect choice.
A lot of people choose it for a weekend getaway since there is so much to do there.
Panama City Beach is the largest city along the coastal drive to Pensacola, is renowned for its affordability, and offers a lot more budget-friendly options to visitors.
It's a great place to go snorkeling and spot bottlenose dolphins since it ranks among the world's top hotspots for dolphin sightings.
Panama City Beach has become really popular as a travel destination, especially for young people and families due to its pristine sandy beaches, aqua-colored waters, and interesting range of activities on offer. 
When it comes to beachfront rentals, Panama City Beach takes the spotlight along this stretch of the coast.
However, accessing the beach can be slightly challenging unless you're staying in a beachfront hotel.
You might need to put in some effort to locate access points and convenient parking options. 
Additionally, it's crucial to note that riptides can pose a potential hazard in this area.
Remain vigilant and stay aware of the designated warning systems that provide important information on beach conditions.
👨🏻‍🍳 Where to eat: Bayou Joes is a New Orleans-style eatery & oyster bar where you can get your seafood fix in close proximity to the docks! Great food at great prices.
🏨 Where to stay: 9th Floor Condo with Ocean Views has incredible views and is very comfortable. If you're looking for one of the closer places which is well-priced and cute, this is it!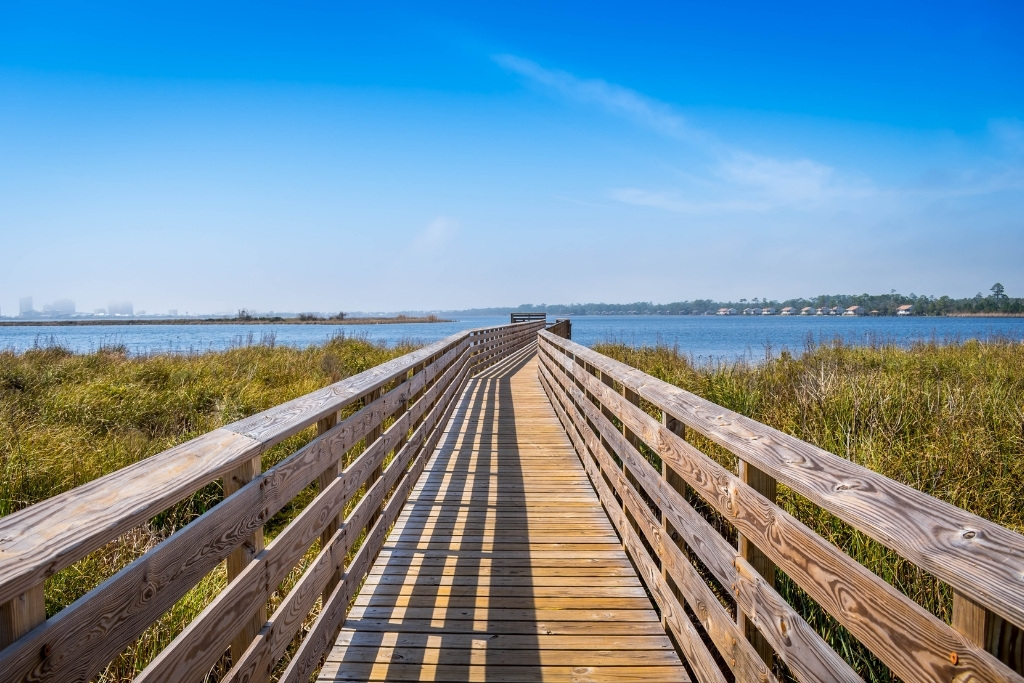 🛡️Safety: 10/10   🧹Cleanliness: 10/10   👨‍👨‍👦Family: 10/10
✅ Accessibility: 10/10   🏪 Amenities: 10/10
Gulf Shores, located an hour east of Pensacola on Alabama's Gulf Coast, has an incredible 15 miles of pristine beaches.
Its beaches have excellent amenities and are very accessible which means a beach holiday here is easy and relaxing.
Next to Gulf Shores is Gulf State Park, the perfect spot for nature enthusiasts.
With picturesque beaches, scenic trails, a fishing pier, a golf course, a family recreation center, and even a zip line adventure over the dunes, it really does please everyone west of the Alabama state line.
Heading just a little west of Gulf Shores, you will discover the wonders of nature at Bon Secour National Wildlife Refuge, as well as historic sites such as Fort Morgan, and the Alabama Gulf Coast Zoo.
Gulf Shores really has a large variety of attractions which promise to make for a memorable holiday for your whole group.
👨🏻‍🍳 Where to eat: S&S Seafood Market is a hidden gem for the best seafood you can find in town!
🏨 Where to stay: Gulf House 103 is a light and airy flat right on the beach. It's the perfect spot for up to 6 people.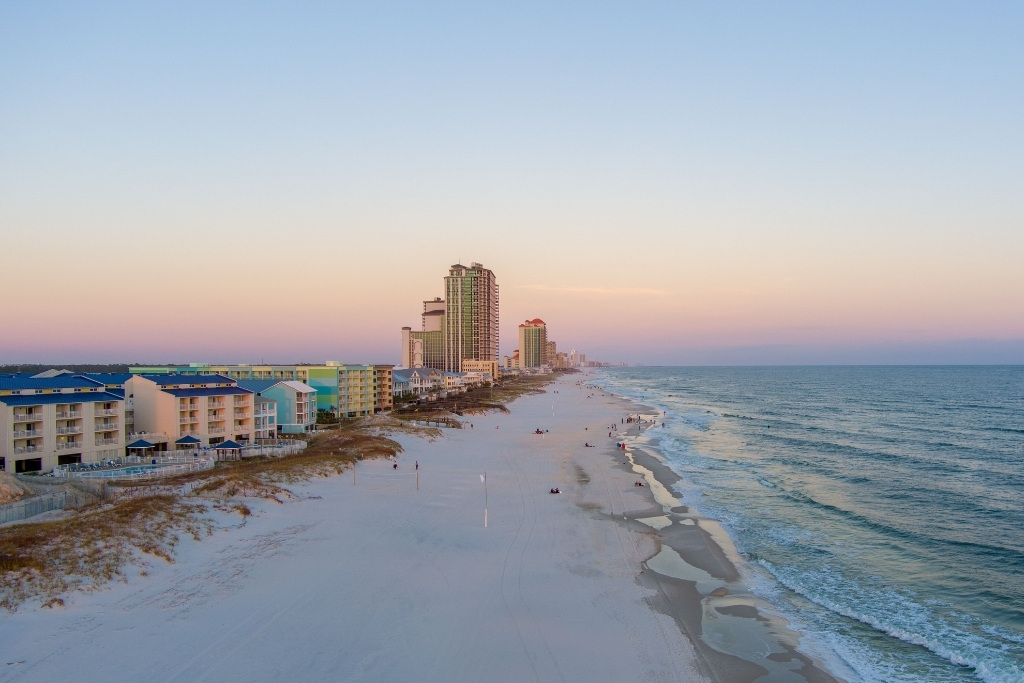 🛡️Safety: 10/10   🧹Cleanliness: 10/10   👨‍👨‍👦Family: 8/10
✅ Accessibility: 10/10   🏪 Amenities: 9/10
Located a short drive east of Gulf Shores, Orange Beach boasts an additional 15 miles of stunning sandy beaches all the way to the state border.
Complete with sand dunes, boardwalks, picnic areas, restrooms, and outdoor showers, it offers a serene and picturesque coastal experience.
There is also lots of parking here and excellent road conditions which make the beaches very accessible.
Though quieter and less bustling, accessing the beach in Orange Beach requires staying at a beachfront property or driving due to its location along a busy, 5-lane road. 
For food enthusiasts, Orange Beach is a culinary paradise, offering a wide range of options from cozy dive bars to upscale dining experiences, or simply enjoying scrumptious seafood while sitting at a picnic table.
Here you'll get the perfect holiday if you're looking for a quiet getaway at the beach.
👨🏻‍🍳 Where to eat: Zeke's Restaurant is one of the best in town! Don't miss the cornbread,  fried oysters, and fried shrimp!
🏨 Where to stay:  Palm Beach Resort Orange Beach a Ramada offers really cute flats at the best rates in town! A real deal!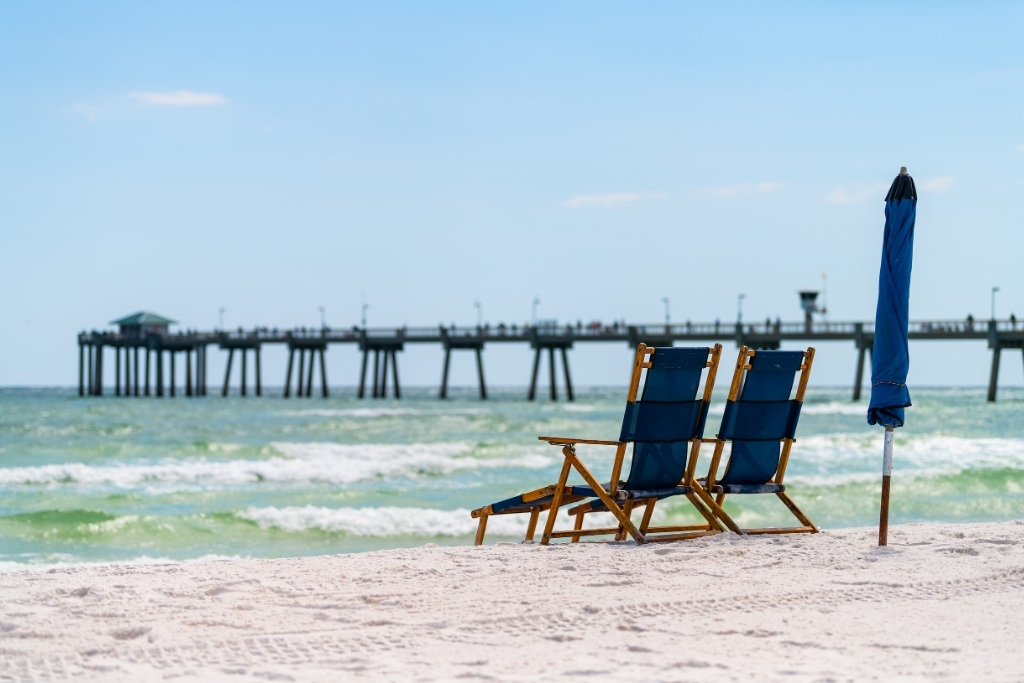 🛡️Safety: 10/10   🧹Cleanliness: 10/10   👨‍👨‍👦Family: 10/10
✅ Accessibility: 10/10   🏪 Amenities: 10/10
Nestled between Pensacola and Panama City center, along North Florida's emerald coast, Fort Walton Beach is a picturesque destination.
With more powdery white beaches along the Sunshine State's Emerald Coast as well as inviting golf courses, it offers a serene getaway for visitors. 
It also boasts an array of family-friendly resorts and attractions, including parks, museums, and aquariums, making it the perfect spot for families.
The heart of downtown Fort Walton Beach is also home to a vibrant nightlife scene, bustling with restaurants, bars, and clubs.
This lively area promises endless entertainment if going out on the town is your thing!
Okaloosa Island is right across the bay, with its breathtaking beaches and warm waters, which is what makes Fort Walton Beach such a wonderful holiday destination.
On this island, you'll discover various sections that remain undeveloped and maintain their natural beauty. 
For fishing enthusiasts, the Island Pier stands as one of the top attractions in Fort Walton Beach.
The Boardwalk is a busy hub with shops and restaurants right next to it, and the neighboring Gulfarium Marine Adventure Park shows off the local marine life. Not to be missed!
👨🏻‍🍳 Where to eat: Make sure to have lunch at Papi's Cafe and Grill for incredibly authentic Puerto Rican fare and great service!
🏨 Where to stay: Waterscape A VI is a comfortable, stylish place to stay with up to 6 people right on the beach!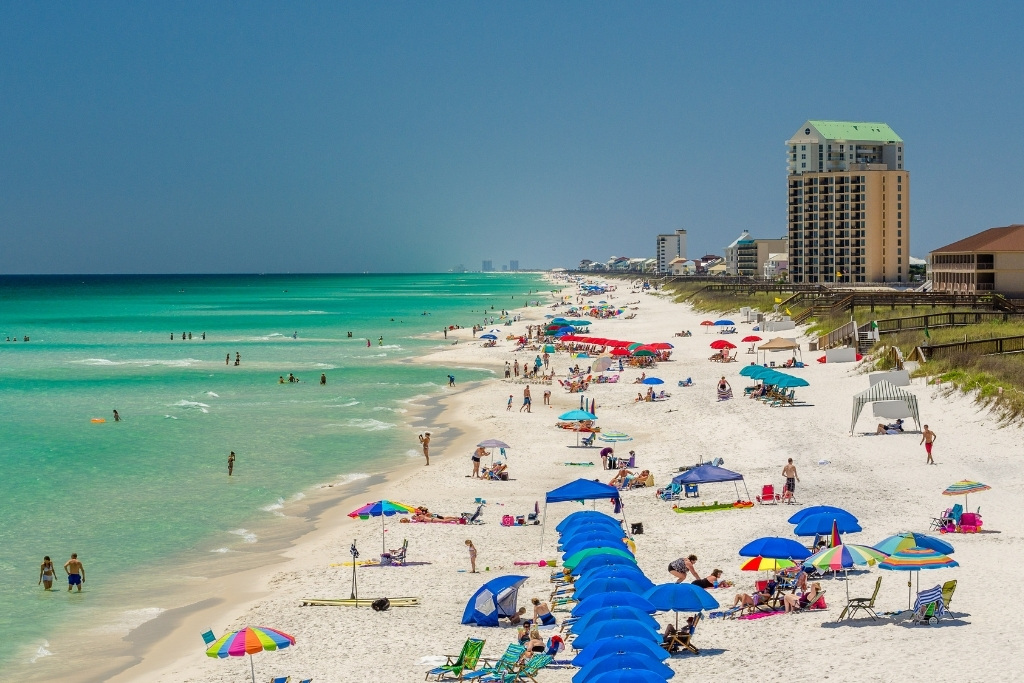 🛡️Safety: 10/10   🧹Cleanliness: 10/10   👨‍👨‍👦Family: 9/10
✅ Accessibility: 10/10   🏪 Amenities: 10/10
Up on the northwestern edge of Florida, across the Santa Rosa Sound, Navarre Beach attracts visitors with another pristine stretch of white sand.
The city is renowned for its tranquil natural beauty, abundant wildlife, and fun activities, and stands as one of Florida's best holiday destinations. 
Despite its popularity among both tourists and locals, the actual beach itself isn't all that crowded, making it the perfect retreat for a relaxing afternoon.
You can also find plenty of Navarre Beach rentals for an ideal family holiday. 
Here, on Santa Rosa island you can bask in the sun, swim or kayak amidst the enchanting reefs, cast a line from the expansive pier, or enjoy beach sports on the shore.
The Pagodas facility offers lots of affordable waterfront dining options, refreshing beverages, hobie cat rentals, and a shaded playground in the sand.
With great parking and excellent amenities, Navarre Beach surpasses expectations.
On top of this, the beach's Sea Turtle Conservation Center provides an opportunity to see these beautiful creatures and learn about their endangered status.
For a chance to witness sea turtles nesting along the shoreline, plan your visit between May and October.
👨🏻‍🍳 Where to eat: Juana's Pagodas has a great atmosphere with a nice patio and view of the water.
🏨 Where to stay: Willapye Beach House by the Sea is 2 minutes from the beach! This beautiful 3-bedroom house doesn't disappoint!
Photo credit – Unsplash by Briana Tozour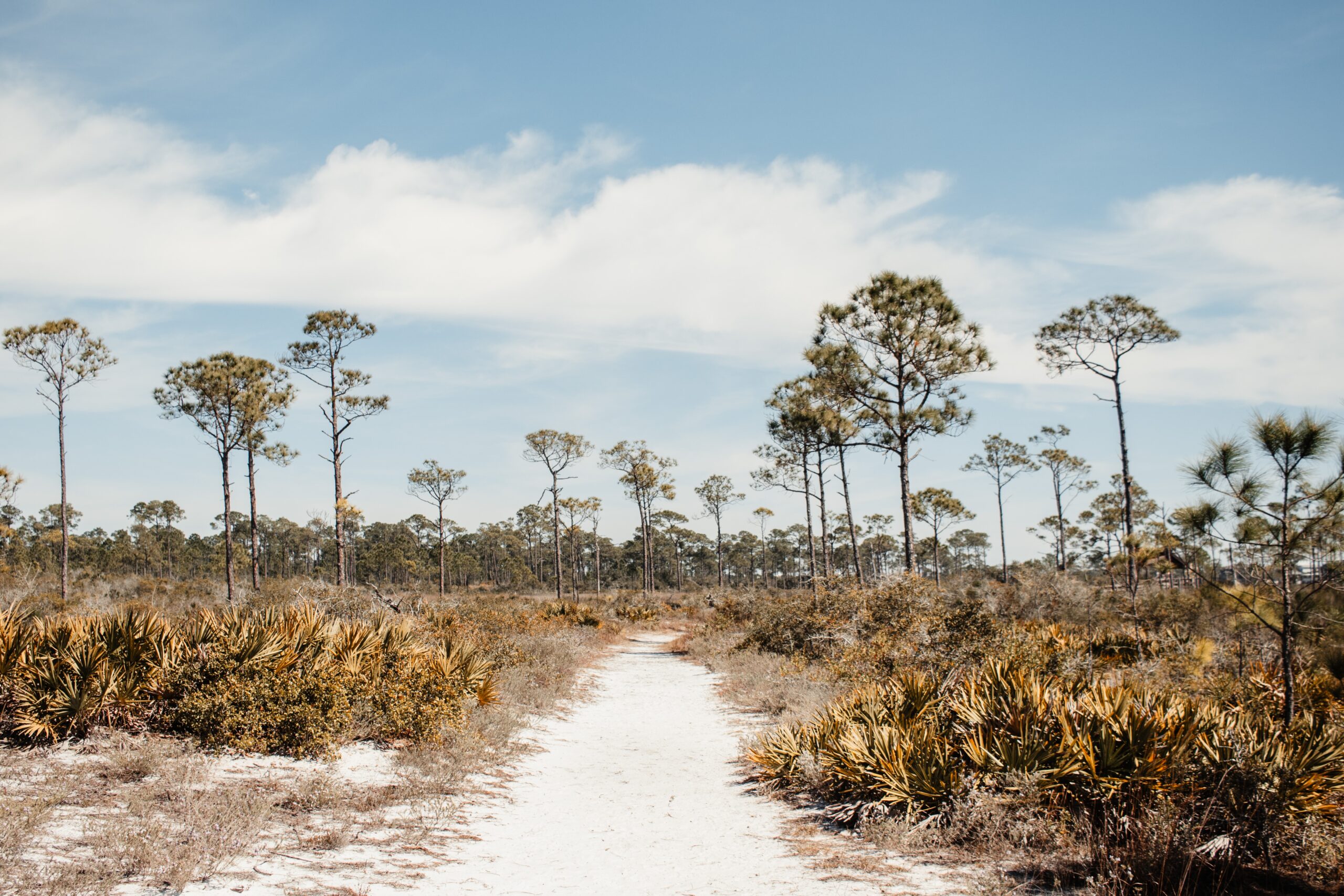 🛡️Safety: 10/10   🧹Cleanliness: 10/10   👨‍👨‍👦Family: 8/10
✅ Accessibility: 10/10   🏪 Amenities: 10/10
Gulf Breeze is located just across the bay from Pensacola Beach and is a haven for outdoor activities.
Immerse yourself in the wonders of the Gulf Islands National Seashore, a protected park offering opportunities for snorkeling, hiking, and birding.
Don't forget to visit the 50-acre Gulf Breeze Zoo, where a raised boardwalk provides a perfect vantage point to observe the diverse bird population and animal life in the zoo. 
Fort Pickens National Park, a favorite on the Gulf Islands National Seashore, is a great place for a day out in nature and offers an abundance of activities such as fishing, kayaking, and biking.
You can also visit a cultural center such as the Historic Pensacola village, which is right across the bridge and offers families a fun day out to explore the local history.
The Brackenridge Nature Trail is another great place for delightful hiking trails and family activities.
Anglers will love Gulf Breeze too, as it offers exceptional fly fishing excursions and surf fishing off the pier.
If the outdoors is where you like to spend your holidays, then Gulf Breeze is for you!
👨🏻‍🍳 Where to eat: Mariachi's Mexican Grill is the place to be for great Mexican food! 
🏨 Where to stay: Relax and Breeze is a really cute vacation home really well located in town. A great option that is really well-priced!
🛡️Safety: 8 /10   🧹Cleanliness: 10/10   👨‍👨‍👦Family: 10/10
✅ Accessibility: 10/10   🏪 Amenities: 7/10
Perdido Key is part of a state park and undoubtedly stands out as one of the finest beaches, and the westernmost city in Florida.
It's not really a city, more of a barrier island, and the boasts pristine white-sand beaches and picturesque dunes. 
It's a haven for birdwatchers, with an array of avian species, and offers a spacious shore perfect for shell hunting, fishing, swimming, scuba diving, and canoeing.
The west point also provides camping, picnicking, horseback riding, and bicycling opportunities. 
You can even visit the Naval Air Station Pensacola or the National Naval Aviation Museum since it's only half an hour's drive from Perdido Key.
The Pensacola Lighthouse is also worth a stop so don't miss out if you decide to make it a day trip.
The beach itself is a breathtaking, immaculate expanse of sand, and rangers from the state park maintain its unspoiled beauty.
It's definitely worth the trip, especially considering the incredibly reasonable parking fee of just $3—a true steal compared to the rates of other parking fees in neighboring cities.
There can be some pretty heavy rip tides at the beaches here, so check the beach flags on arrival.
There are also no restaurants or cafes here so bring a picnic! 
👨🏻‍🍳 Where to eat: Shrimp Basket Perdido Key has incredible shrimp options and excellent service. Don't miss out on this one.
🏨 Where to stay: Sunny Daze is a well-priced option for 4 bedrooms and offers style and comfort right on the beach.
Photo credit – Unsplash by Yaw Afari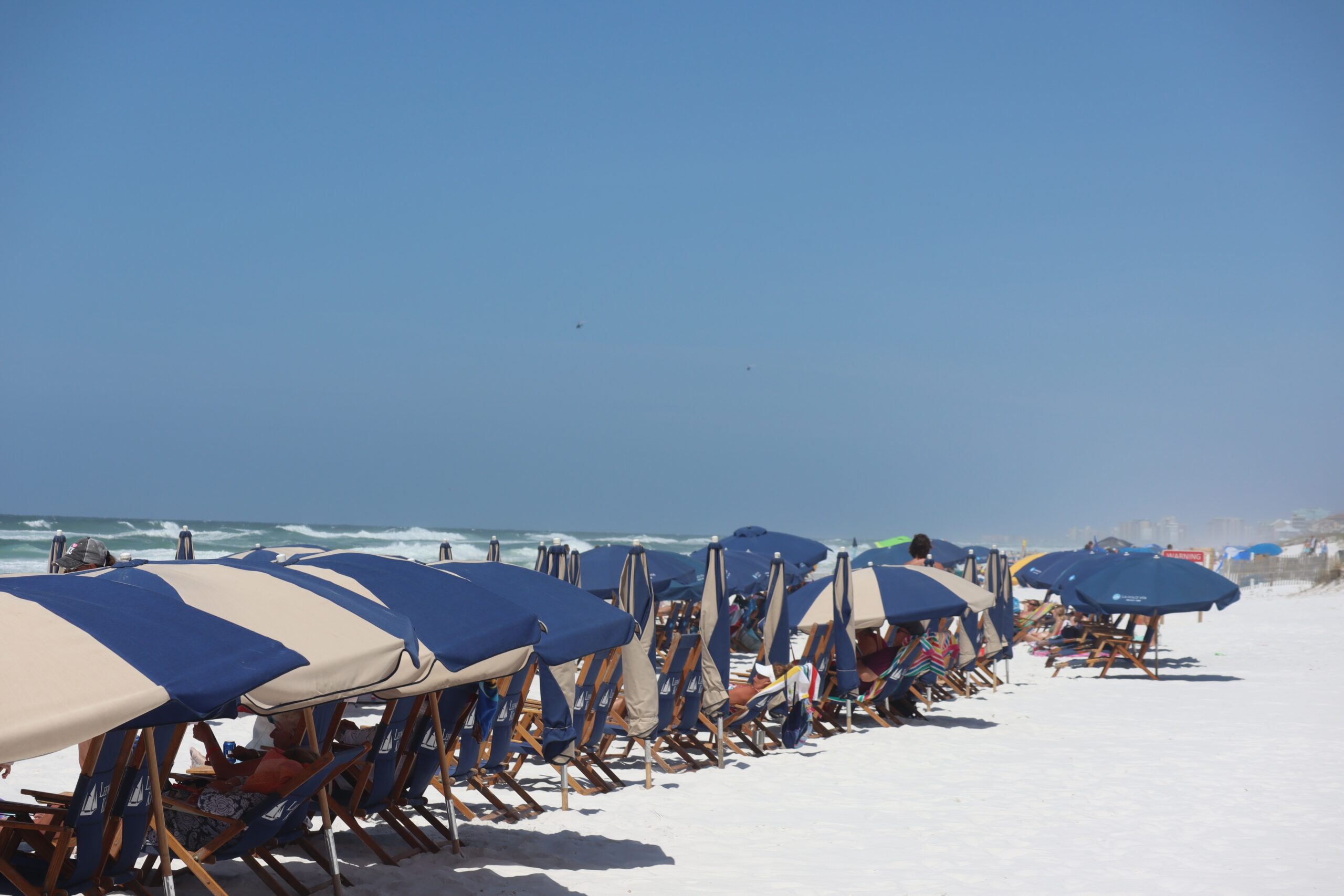 🛡️Safety: 10/10   🧹Cleanliness: 10/10   👨‍👨‍👦Family: 8/10
✅ Accessibility: 10/10   🏪 Amenities: 10/10
Miramar Beach offers a perfect blend of proximity to the action and escapes from the tourist crowds.
With its gorgeous white sand beaches and clear turquoise water, it's a paradise waiting to be explored. 
Nature enthusiasts can indulge in scenic hikes, delightful picnics, and awe-inspiring vistas at the nearby Topsail Hill Preserve State Park and Henderson Beach State Park, known for their majestic dunes.
For golfers, there's no shortage of world-class courses in and around Miramar Beach. 
And if you're an angler, think of going on a fishing adventure with one of the many charter companies in town, or simply rent a boat and set sail on your own.
Miramar Beach truly offers the perfect combination of natural beauty, recreational activities, and unforgettable experiences.
👨🏻‍🍳 Where to eat: Go to Sunset Bay Cafe for the best brunch in town! It doesn't get much better than excellent food and service with a stunning view!
👉 Also, check out the 15 Awesome Miramar Beach Restaurants that you should try!
🏨 Where to stay: Stay at Cross Creek Club 2B for a stylish and comfortable flat at a great price! Sleeps up to 4 guests.
🛡️Safety: 10/10   🧹Cleanliness: 10/10   👨‍👨‍👦Family: 8/10
✅ Accessibility: 10/10   🏪 Amenities: 10/10
Santa Beach in Florida is an upscale coastal gem that comes with a high price tag!
However, the natural features and crystal-clear waters in this part of Florida make it worth every penny.
In fact, Travel + Leisure has recognized Santa Rosa Beach as one of the top five favorite towns in the United States!
Foodies will be delighted by the wide variety of restaurants serving delectable cuisine, and beer enthusiasts should not miss the opportunity to explore the local craft breweries.
Grayton Beer Company and Idyll Hounds Brewing Company offer a truly authentic taste of the area.
Nature lovers will find solace in the 3 sprawling State Parks and State Forest which are home to numerous hiking trails and breathtaking vistas.
There is also the opportunity to play golf if that's your thing!
Santa Rosa Beach truly has it all, making it an exceptional destination along the coast.
👨🏻‍🍳 Where to eat: Don't miss Vue on 30A, where you can have fabulous food and enjoy the stunning view at sunset over the Gulf of Mexico.
🏨 Where to stay: Redfish Cottage is a great option if you're looking for nice central accommodation for up to 6 at a more affordable price.
Prices in Santa Rosa Beach are quite steep!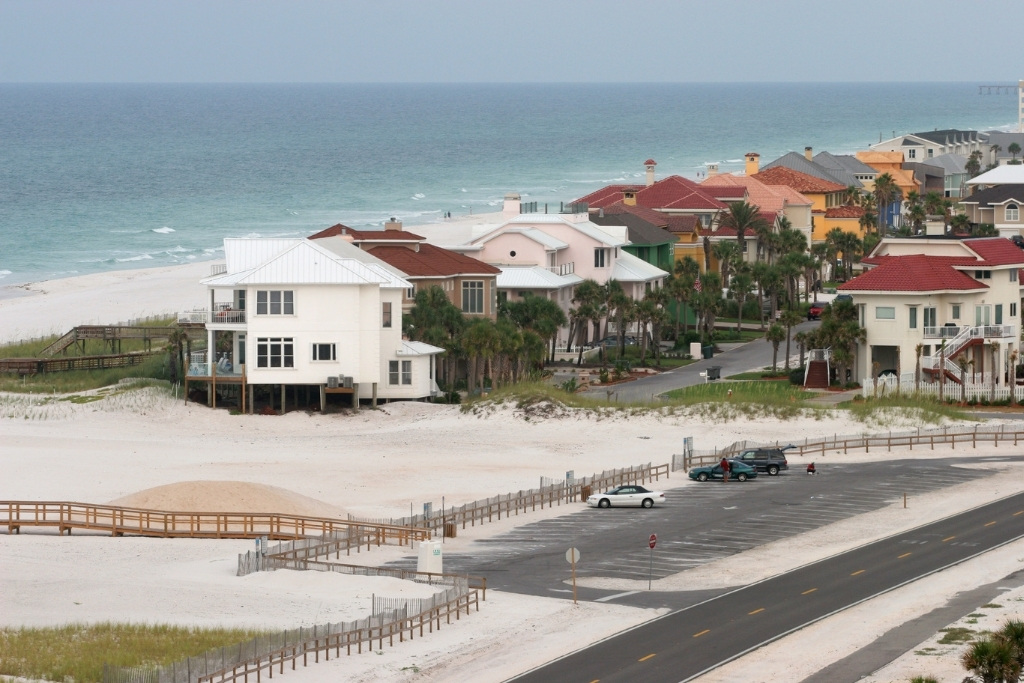 Best Cities Near Pensacola – FAQ
What Is Special About Pensacola Beach?
The city of Pensacola is a picturesque beach on Florida's Gulf Coast, famous for its white sand and emerald-green waters.
It is one of the most popular places in the region, offering a variety of activities such as beach volleyball, fishing, and kayaking.
A wide range of accommodations is also available for visitors to choose from, and with plenty of restaurants and bars lining the shore, Pensacola Beach is sure to create lasting memories!
Does The Pensacola Area Have White Sand Beaches?
Yes, Pensacola does have white sands.
The shorelines of Pensacola Beach are renowned for their powdery white sand, which is perfect for lounging and sunbathing.
The waters off the beach have an emerald green hue and are ideal for swimming and water sports.
What Major Cities Are Near Pensacola Florida?
The major cities near Pensacola, Florida are Mobile, Alabama; Destin, Florida; and Gulf Shores, Alabama.
Mobile is just 45 miles away and features a wide variety of attractions like the USS Alabama Battleship Memorial Park and Bellingrath Gardens & Home.
Destin is only 78 miles away and offers a vibrant nightlife as well as plenty of shopping opportunities at its many outlets.
Gulf Shores is located about 90 miles from downtown Pensacola and is known for its stunning beaches and family-friendly activities.
What Beach Has The Clearest Water In Pensacola Florida?
The beach with the clearest water in Pensacola, Florida is Johnson Beach.
The Gulf of Mexico's emerald green waters make this a popular spot for swimming and sunbathing, and its secluded location makes it less crowded than other nearby beaches.
Johnson Beach also has plenty of amenities nearby such as picnic tables, grills, pavilions, and public restrooms.
How Far Is Pensacola From The Airport?
Pensacola International Airport (PNS) is located about 12 miles from the metropolitan area of Pensacola.
There are multiple transportation options available, such as taxis, rideshares, and shuttles.
Travellers can also rent a car from the airport to get to their destination.
Final Thoughts: Best Cities Near Pensacola
Pensacola is an excellent destination for beachgoers with its crystal-clear waters, white sand beaches, and plenty of amenities. 
From Johnson Beach to Perdido Key State Park, there are plenty of day trip worthy cities in the area to relax and enjoy the sunshine.
Travel Resources
Book Your Next Trip!  For Accommodations and short-term rentals, I recommend Booking.com as they are the best in the business when it comes to rates and places to stay.
To Book Activities- For activities, I suggest booking with Viator, they have thousands of 5-star activities to choose from!
Looking To Start Your Own Travel Blog Or Take Yours To The Next Level? 
Check Out This Free Workshop!– I personally joined Scale Your Travel Blog in 2021 and my website has grown exponentially.