Last Updated on August 12, 2023
Always On The Shore contains affiliate links and is a member of the Amazon Services LLC Associates Program.  If you make a purchase, we make a small commission at no cost to you. For more information, please read the disclaimer page. 
If you're looking for the best Florida beaches to enjoy in November, look no further than this post! 

These beaches are perfect for relaxing, exploring, or even taking a boat tour- as their white sand and clear waters are simply beautiful.

November is also a great time to visit Florida because the weather is still warm but not too hot, and the crowds have thinned out from the summer months.

So if you're looking for a relaxing Florida beach vacation in November, be sure to add these beaches to your list!

We'll include some of the best (and warmest) beaches to visit and also touch on a few in northern Florida- the weather here may be a little cooler in November, but they're still awesome.


9 Best (And Warmest) Florida Beaches In November
 1. Siesta Key
If you're looking for one of the best (and warmest) beaches in Florida in November then you can't beat Siesta Key. 
After all, this amazing place is located just south of Sarasota and is a great home base from which to enjoy a magical day trip to Beer Can Island. 
Alternatively, you could stay close by and check out the pristine, white sand of Crescent Beach.  After all, the waves here are quite small, making this the perfect place to bring small children. 
You'll also love that Crescent Beach is located near the Point of Rocks.  It's a set of gorgeous limestone rock formations that also happen to be home to some of the best snorkeling in Florida!  And since the water here is only around twenty feet deep, just about anyone can snorkel here safely. 
Plus, November is an ideal time to visit since temperatures are relatively mild with highs around 79 F and lows around 60 F, with just three days of rain all month long. 
Add in a lovely breeze from the Gulf and the quartz sand here will stay cool enough to remain enjoyable as you take in the views and spend the night at the fabulous Hyatt Residence Club Sarasota, Siesta Key Beach.  It's an incredible 4-star hotel with private beach access.
You can also enjoy lovely seasonal events like the Light Up the Village and Holiday Parade or the Siesta Key Crystal Classic sand sculpting festival since these are two of the best things to do in Siesta Key in November.
Recommended by Victoria from Florida Trippers
2. Fort DeSoto Dog Beach
Let's face it, Florida is loaded with beautiful beaches, all offering something wonderful.  But you won't find many reserved specifically for dogs and their humans!  That's why Fort DeSoto Dog Beach is one of the best beaches in Florida in November.
November isn't typically bathing suit and ocean weather, even in the sunny state of Florida.  That's why it's especially nice to find a unique beach to visit this time of year with much more to do than sunbathing.
Fort Desoto Park is located in St. Petersburg and only costs $5 per car to enter and park.  That's much cheaper than a day of parking at most beaches.  The dog beach is close to the entrance, so follow the signs and you'll get those 4 paws in the sand in no time.
If they need to stay on a leash, that's okay, but it is an awesome spot to let them run free, meet friends and decide whether they like the water or not. 
In November the beach is still busy with many furry friends.  Just off the beach, they also have two dog parks where your pups can run free in a fenced-in location.
Fort DeSoto Park is filled with history, so take your pup down the trail to the Fort where you can explore and learn about the site.  Enjoy a picnic lunch here, and if you want, stay the night at the campgrounds! 
With so much to do in the park, and in nearby St. Petersburg, you'll love to have a few days here.  If you'd rather book a hotel nearby, choose the Residence Inn St. Petersburg Tierra Verde which is of course, pet friendly!
Recommended by Tori from Tori Pines Travels
3. Santa Rosa Beach
Santa Rosa Beach sits on 26 miles of powdery white sand and crystal clear waters, in the beachside destination of 30A.  Situated on the Florida Panhandle in the Northwest of the state, this beach is regarded as a hidden gem, especially compared to destinations like Miami. 
The temperature in November is around 66 degrees F, making it pleasant enough to enjoy the warm sun on your skin, and the quiet atmosphere.
If you want to take your beach experience to another level, Santa Rosa is the perfect place for a luxury picnic and bonfire. 
Pic-nic will organize a handcrafted table, lounging pillows, blankets, flowers, candles, and the most beautiful charcuterie boards for your group.  You can even add on a guitar player or two to serenade you during sunset.  
After sunset, you can enjoy an upscale beach bonfire, with deckchairs, tiki lamps, and all the ingredients to make your own s'mores on the fire pit.
If you want a bit of adventure, Santa Rosa is a great place for hiking, especially Point Washington State Forest, and cycling along the Timpoochee Trail.  It is also a wonderful spot for watersports, especially diving. 
The most unique place is The Underwater Museum of Art, which is located just a mile off the coast and is home to a permanent underwater sculpture park at a depth of 58 feet.
The museum is free but you do need to pay for entrance to Grayton Beach State Park.
One of the best places to stay is Sandestin Golf & Beach Resort. It has villas, hotels, and apartments so you choose what suits your group size.
Recommended by Roshni from The Wanderlust Within
4. Pensacola Beach
One of the best beaches to visit in November is Pensacola Beach.  It has 8 miles of super soft white sand made up of quartz crystal derived from the Appalachian mountains. 
This ensures that each grain of sand is a perfect oval shape, and you can really feel the difference walking barefoot along this coastline! 
Coupled with the emerald green waters of the Gulf of Mexico, there are so many things to do here in November as the temperature is mild (mid-60s). 
Swimming, fishing, and surfing are popular water activities, but if you prefer the sand why not try one of the boutique beach picnics organized by Pensacola Picnic Co.
Pensacola Beach has plenty of activities to do nearby such as visiting the Gulf Islands National Seashore at Fort Pickens or trying your hand at glow paddle boarding or kayaking in the Sabine Bay after dark. 
November is also a great time to visit as you rarely need a reservation for all the amazing restaurants and bars in Pensacola that are usually booked up well in advance during the Spring and Summer months. 
One of the best places to stay is Hampton Inn Pensacola Beach, it is right on the seafront and next to Gulf Pier, making it ideal for beach lovers.
Recommended by Roshni from The Wanderlust Within
5. Lake Worth Beach
With a long pier jutting out into the ocean, Lake Worth Beach is a great place for family photos, water activities, shopping, cultural activities, and events. 
The average temperature at this beach in November is around 80 degrees, perfect for a beach day without extreme heat.
Local companies are in abundance providing locals and visitors the opportunity to take part in water activities.  Kayaking, SUPs, canoeing, and fishing among other activities.  Fishing off the pier is a favorite local pastime, and it is easy to rent fishing poles nearby.
For a unique experience, beach bonfires on the beach occur every Friday night, 6-10 pm, from November through February. 
Nearby, Snook Island Natural area has manatees you can observe as it is a protected wetland, and has a raised boardwalk that visitors can stroll on.  Bryant Park near the lagoon has a wide open space for a picnic and several trails.
For some decadent food, the Beach Club offers some mouth-watering food.  Benny's on the Beach is a famous eatery right on the water and serves a variety of food including fantastic Spanish paella.
If staying for more than one day, a stay at Palm Beach Resort and Spa offers a grand spa experience and amazing ocean views.
Recommended by Diana from Travels in Poland
 6. Haulover Beach- Miami Beach
Located north of Miami beach between the Atlantic Ocean and the Intracoastal Waterway, Haulover Beach Park is very popular among nude sunbathers and dog owners.  This beach offers countless recreational activities along the beach and park.
 
There are on-duty lifeguards, covered picnic and relaxation spaces, and snack shops.  You won't find any seaweed in the lovely, clean water here.
 
The water is warmer than other Miami beaches in November. Clean and pale in color, the sand is coarser than that seen in other parts of Miami Beach.
 
This location is fantastic for getting some sun with your dog in November because of the clear water, gentle beach, and lovely fountains.  It is one of the most dog-friendly beaches in Miami.
 
From parking spaces 3 and 4, as well as immediately from the Haulover Bark Park, canine companions have access to the beach.
 
The Bark Park has a grassy open area, picnic tables, drinking fountains for dogs and their humans, and separate areas for dogs of various sizes.
 
You may discover a small food truck festival at this beach on Tuesdays, complete with regional vendors and live music performances.
 
The tennis court and frequent kite-making workshops on the beach will keep you busy.  Haulover Beach charges $5–$6 for parking in each lot.
 
You can stay at Newport Beachside Hotel & Resort which is located just 5 km from the Aventura Mall.  They have rooms with ocean views, feature 3 onsite restaurants, and an outdoor pool.
 
Recommended by Trijit from Dog Travel Buff
7. St. Augustine Beach
Between the autumn months of September and November, temperatures range between the high 50s and high 80s at St Augustine beach; therefore, it is the perfect day trip from St Augustine in winter. 
For most of November, St. Augustine enjoys near-perfect weather-wise conditions to enjoy outdoors; hence, hotels here are fully booked in advance.
In November, you can swim at St. Augustine Beach, and due to holidays from From Memorial Day Weekend through Labor Day Weekend, you will find lifeguards stationed along the shore for your safety.
Things to do at St Augustine beach holiday trip – 
St. Augustine Beach 
Farmer's Market at

St

.

Augustine

Pier
St Augustine

Tennis at Treaty Park 
In November, you can also attend an art, music, and food festival in St Augustine.  Also, you can admire the festival of lights in St Augustine's historic downtown from November 20th onwards. 
Some worth trying out restaurants at the beach are Sunset Grille, Panama Hattie's Bar & Grill, and Casa Reina Taqueria & Tequila. 
You can either stay at beach resorts nearby or the historic downtown of St Augustine.  The distance of St Augustine beach from historic downtown is only 6 Miles, and it takes around 10 to 20 minutes to reach.
A popular beach accommodation is the Hilton Garden Inn, which is less than a block from the Atlantic Ocean. 
Recommended by Yukti from Travel With Me 24 x 7
8. Stump Pass Beach- Manasota Key
Stump Pass Beach is located on the Gulf of Mexico in Southwest Florida.  It sits at the end of the Manasota Key island, forming part of the Stump Pass Beach State Park, a protected haven for wildlife. 
The beach itself forms a long strip of perfect white sand, with its remote location meaning it never feels crowded at any time of year.  It is a popular spot for swimming and fishing, as well as collecting shells and shark teeth. Winter is the best time for finding shells.
November tends to be a dry month, with average temperatures of both air (72℉) and sea (76℉) down from the peak of the summer, but still holding up to be very pleasant.
From the small parking lot ($3 fee – arrive early to find a space), there is a beautiful mile-long walk through a nature reserve to reach the far end of the beach. 
The State Park is home to lots of interesting animals, including gopher tortoises, snowy egrets, frigate birds, and of course iconic Indian Manatees.  
A great way to visit is by kayak, allowing quiet access by sea to some of the more remote areas.  Ranger-led guided tours of the Park are also available during the winter months.
If staying on Manasota Key, the Beach Shack of Manasota Key hotel offers laid-back, comfortable rooms within easy walking reach of Stump Pass Beach. 
Bikes and kayaks are also available to borrow.  If eating out, a fun choice is the Sandbar Tiki & Grille.  This Hawaiian tiki bar-themed hangout offers great seafood alongside a varied menu, as well as beach games to play and live music in the evenings.
Recommended by Children of Wanderlust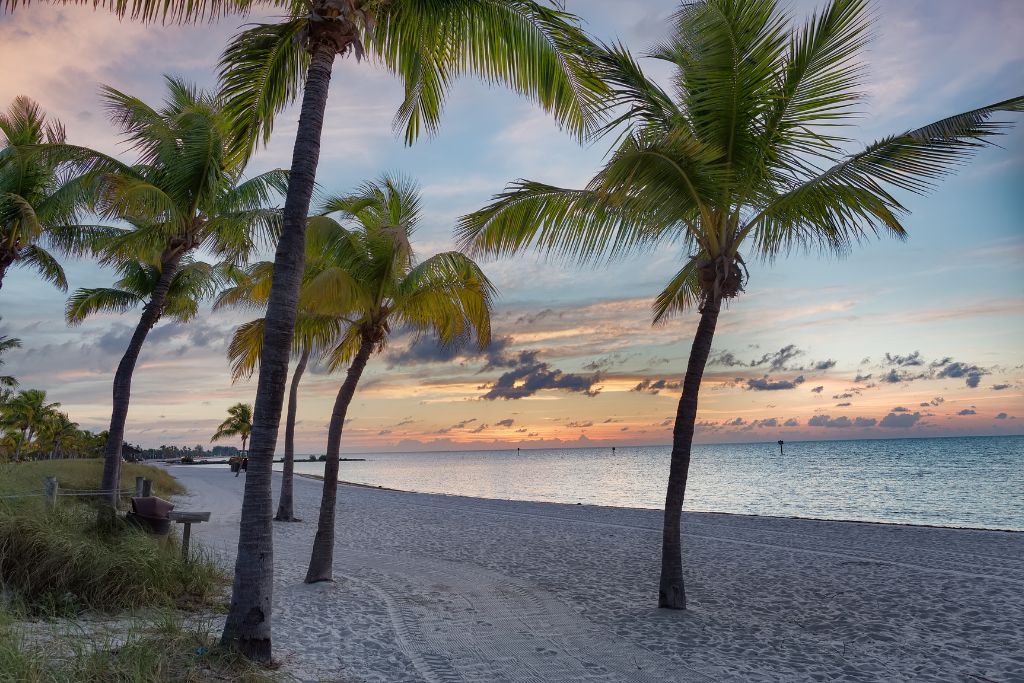 9. Smathers Beach- Key West
If you're looking for warm weather and sunny skies, Smathers Beach in Key West is the place to be in November.  This Florida Keys island enjoys average highs in the upper 70s to low 80s and very little rainfall during the month.
Since it's the off-season, November is also a great time to visit Key West if you're hoping to avoid the crowds. 
Just a mile and a half from Smathers Beach is Duval Street, which is famous for restaurants and bars, shops, and great entertainment.

There's so much more to do nearby but a couple of things include The Key West Nature Preserve and The Key West Aquarium.
So if you're looking for a relaxing beach vacation, Key West is definitely worth considering.  And of course, no trip to Key West would be complete without a sunset cruise or jet ski rental. 
There's just something about watching the sun dip below the horizon from the deck of a boat or a jet ski that makes for a truly magical experience.
Margaritaville Beach House is just steps away from Smathers Beach and is a top-rated resort in the area, especially popular for couples. 

This 3-star hotel offers plenty of amenities including a fitness center, hot tub, and a restaurant on site, and best of all, it's less than a mile from the Key West International Airport, making traveling to and from a breeze.
Final Thoughts:
9 Best (And Warmest) Florida Beaches In November
As you can see, you can't go wrong with any of these destinations when looking for the best Florida beaches to visit in November!
They all offer beautiful weather and plenty of activities to keep you busy.  So whether you're looking for a relaxing vacation or a more active one, you're sure to find the perfect spot on one of these beaches.
Travel Resources
Book Your Next Trip!  For Accommodations and short-term rentals, I recommend Booking.com as they are the best in the business when it comes to rates and places to stay.
To Book Activities- For activities, I suggest booking with Viator, they have thousands of 5-star activities to choose from!
Looking To Start Your Own Travel Blog Or Take Yours To The Next Level? 
Check Out This Free Workshop!– I personally joined Scale Your Travel Blog in 2021 and my website has grown exponentially.