Last Updated on November 6, 2023
Always On The Shore contains affiliate links and is a member of the Amazon Services LLC Associates Program.  If you make a purchase, we make a small commission at no cost to you. For more information, please read the disclaimer page. 
The beaches in Southwest Florida are some of the most beautiful and secluded in the United States.  In this collaboration post, we'll look at the best of the best beaches in Southwest Florida!
With their powdery white sand and crystal-clear waters, these Southwest Florida beaches offer a perfect place to relax and enjoy the area's natural beauty.
There are many different activities to enjoy on these beaches and barrier islands. Swimming, paddleboarding, fishing, kayaking, and surfing are just a few of the options.
And for those looking for a little more excitement, there are also plenty of opportunities for parasailing, kiteboarding, and jet skiing.
No matter what your interests are, you're sure to find something to love about southwest Florida's beaches.  So come on down and enjoy all that they have to offer!
We'll start at the northern end of Southwest Florida, work our way down to Naples and Marco Island, and explore all of the best beaches along the Gulf Coast.
10 Beautiful Southwest Florida Beaches To Visit!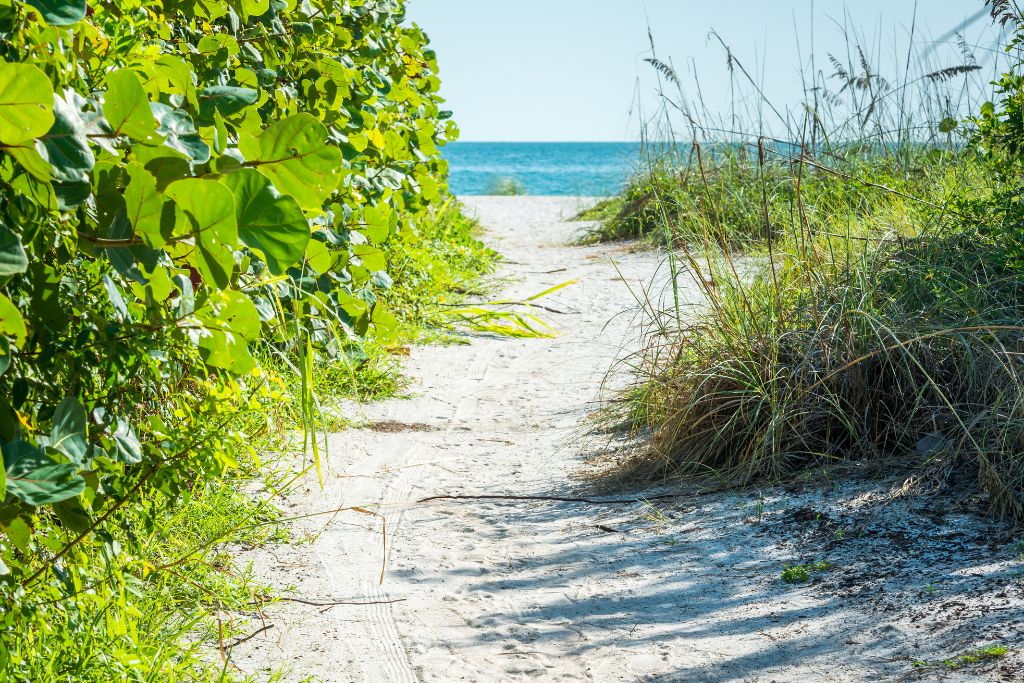 1. Bean Point- Anna Maria Island
As mentioned, South Florida has some of the most beautiful secluded beaches and Bean Point is a peaceful spot at the northern end of Anna Maria Island.
While there are no amenities or concessions here, that's part of the charm of Bean Point.
The beach is tucked back on the northern tip of the island so you'll have to walk for a while to get to this beach, even if you park in the street.  There's not much of a parking area here.
Tip: The street parking spots fill up fast so come early, otherwise you can walk about a mile from The Anna Maria Pier.   
The white sand dunes and clear blue waters are simply stunning, and there's plenty of room to find your own little spot to enjoy the views of where the Gulf of Mexico and Tampa Bay intersect. 
Bean Point is also a great place to watch the sunset – it's absolutely breathtaking.
Whether you're looking for a romantic evening or just a day to unwind with friends and family, Bean Point is the perfect place to be.
Rod & Reel Pier is within walking distance of Bean Point and has excellent food- you can also go fishing right off of the pier!
While walking the pier, you're almost sure to see wildlife such as stingrays and fish.  It's also very possible to see manatees from here.
After visiting this northern end of the island, there are plenty more fun things to do in Anna Maria Island.  
If you're looking for a nature trail and space to explore, Leffis Key is a popular place in Bradenton Beach, on the southern end of the island.
And for a place to stay on the island, check out Anna Maria Island Retreat.
2. Beer Can Island- Longboat Key
Easily one of the best Southwest Florida beaches, Beer Can Island is a true hidden gem on Longboat Key that is a perfect spot for photo ops.
After all, you can easily walk here after parking at Coquina Beach. Then head south, and walk across the Longboat Key Bridge on foot.
Once here, enjoy a secluded sandy oasis filled with fallen trees, crystal clear water, and pure white sand. 
A wealth of sturdy trees also makes this the perfect place to hang a hammock and relax before taking amazing sunset photos. 
And because of its location, this spot makes for an ideal day trip from Sarasota since you can have a picnic and relax for anywhere between one and three hours. 
However, because this beach is well off the beaten path, services and amenities are not available. 
So, be sure to use the facilities at Coquina Beach before you arrive. 
Additionally, there is a lot of standing water and mangroves in the area.  Accordingly, pack plenty of bug spray since insects can get quite annoying. 
You also shouldn't leave anything behind since this ecosystem is fragile and you don't want to destroy it with trash. 
Also, be aware that while there is another Beer Can Island in Tampa, it's an actual party island that can only be accessed by boat. 
In contrast, this is a secluded, lesser-known beach where you relax on a hammock and get away from the hordes of tourists that Florida is known for.
Then afterward, enjoy a seafood feast at Bridge Street Bistro before spending the night at nearby Zota Beach Resort.
Victoria From Florida Trippers
3. Sarasota Beach- Sarasota
Located north of the popular Siesta Key is the hidden gem of Sarasota Beach. This town holds some breathtaking beachfronts with few disruptions. 
For the perfect stay in Sarasota, head to the Tropical Breeze Resort for oceanfront views, beach access, a beautiful pool, and delicious on-site bars and restaurants.  
You'll feel like you're at an island resort, and you won't have to leave the property if you don't want to! 
Down the road, enjoy waterfront dining at The Boatyard Waterfront Bar and Grill for freshly caught fish (and plenty of pasta, land options, and desserts for the non-seafood eaters). 
There are a few trails and parks to enjoy around town, as well as a few museums for history lovers!
If you're looking for a night on the town, The St. Armands Circle is an outdoor shopping mall with bars, restaurants, and a great shopping area for local souvenirs and boutiques. 
Siesta Key isn't too far from here if you want something busier and livelier for an exciting night out. 
Sarasota Pro Tip: Try planning your trip in October.
October is considered "off-season", so you won't run into crowded roads and heavy tourist areas, but the weather is unbeatable, the waters are warm, and the beaches are quiet. 
This makes it the perfect Southwest Florida Beach getaway.  
Rachel Grenis From Caribbean Uncovered
4. Bowman's Beach- Sanibel Island
Sanibel and Captiva are a couple of the Gulf Coast of Florida's best-kept secrets and it's also where you can find some of the best beaches in Southwest Florida. 
Sanibel Island is a short 25-minute drive from Fort Myers, and its sister island, Captiva, is across the causeway another 14 miles further. 
What makes the beaches on Sanibel and Captiva Island so wonderful is that not only is the water a beautiful greenish blue, but most of the beaches are also low-key and not overcrowded. 
You can find numerous pocket beaches throughout the islands, but keep in mind that parking is extremely limited so be sure to arrive early.
Bowman's Beach is one of the best beaches on Sanibel and is great for shelling, and swimming, and the water is usually calm enough for paddleboarding. 
Bowman's Beach has ample room to pitch your tent and you can usually see dolphins, manatees, and even stingrays not far from the shore.
Just a little further north another beautiful beach in Sanibel is Blind Pass Beach.  
After you've had enough time at the beaches, rent a bike and ride around the island or book a tour with Captiva Cruises to a different nearby island such as Cabbage Key or visit Cayo Costa State Park. 
The National Shell Museum is also located in Sanibel and is fun for the whole family. Most larger hotels are on the Southeast side of the Sanibel, but Periwinkle Cottages are a great option close to Bowman's Beach. 
Periwinkle Cottages consists of four colorful 1950s vintage cottages that are perfect for an island getaway.
Another popular accommodation nearby is Casa Ybel Resort. 
There are lots of dining options on the island and two restaurants you can't miss in Sanibel are The Bubble Room and The Lazy Flamingo.
Both have amazing food and unique décor. If you're exploring Captiva, make sure to go to The Mucky Duck for a fantastic beachfront meal and watch the sunset.
Tess Arnold From Traveling Tessie
5. Fort Myers Beach Pier
Located on Estero Island between Matanzas Pass and the Gulf of Mexico, the Fort Myers Beach Pier is a popular destination for locals and tourists alike! 
The pier is one of the oldest structures on Fort Myers Beach and offers breathtaking views of the Gulf of Mexico from 560 feet out in the water. 
Fort Myers Beach Pier is also a great place to fish, as there are no fishing license requirements for saltwater fishing from the pier.
Lynn Hall Beach Park, which is adjacent to the pier, offers picnic tables, grills, and a playground, as well as public restrooms and showers.
Looking to stay on the beach?  Diamond Head Beach Resort is highly rated and just a minute's walk from the beach. 
When you're done relaxing at the beach, there is plenty within walking distance, including the shops and waterfront restaurants of Times Square.  
Grab food and drinks at Pier Side Grill, which is right next to the pier and beach-you can also listen to some live music while here.
Just up the street are Smokin' Oyster Brewery and Nervous Nellie's which are bars and restaurants both known for their lively atmosphere.
Fort Myers Beach Pier and Lynn Hall Beach are a must-see for anyone visiting Southwest Florida!
Looking for more beaches nearby?  Head an hour north to Port Charlotte or Englewood Beach.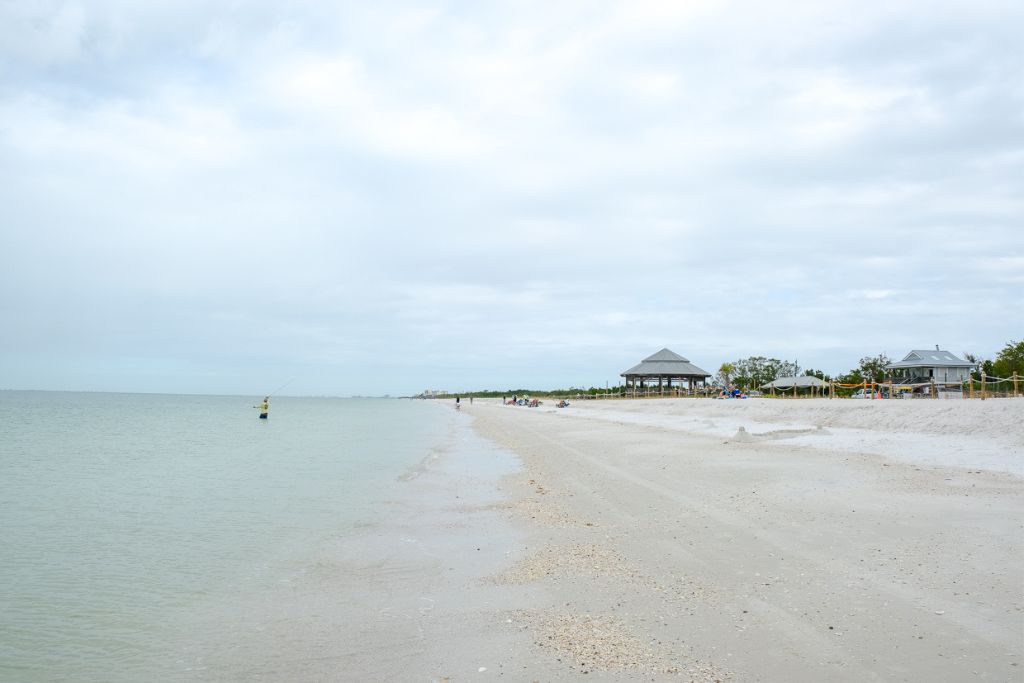 6. Lovers Key State Park- Fort Myers Beach
Lovers Keys State Park is a beautiful beach state park right between Naples and Fort Myers.  
There is an $8 entrance fee and there are concessions and snacks at the park.  This is a great beach for shelling and just enjoying the ocean.  
The best time for shelling at Lovers Key is either first thing in the morning (it opens at 8 AM) or at low tide. 
There are also a couple of hiking trails here, so you can enjoy the beach and mangroves from one place.
It does fill up on weekends or holidays so it's best to get here early.  That also helps you beat the crowds from later in the day.  
If you want to stay close to the park, Bonita Springs is closer than Naples and Fort Myers. 

The Latitude 26 Waterfront Boutique Resort is a great choice.  For restaurants, The Bohemian and C Level are great places to eat in Bonita Springs.  
There are tons of great things to do near Lovers Key State Park like visiting Delnor-Wiggins Pass State Park, Barefoot Beach, or Bonita Beach to the south. 
If you want to head north, consider Sanibel or Fort Myers Beach. The Corkscrew Swamp Sanctuary Boardwalk is a great non-beach option nearby.
Megan Johnson from Red Around The World 
7. Barefoot Beach- Bonita Springs
One of the best beaches in Southwest Florida is Barefoot Beach. It's located in one of the best small beach towns in Florida – at the border of North Naples and Bonita Springs.
It's ranked as one of the top beaches in the United States because of its powdery white sand and sea-green color.
Barefoot Beach is an oasis for nature lovers, offering visitors various activities.  Sunbathing, swimming, shelling, and picnicking are just some of the activities that can be enjoyed here.
One thing that makes Barefoot Beach unique is its ability to remain unspoiled despite its popularity.
The calm atmosphere and the sounds of the waves crashing against the shore is therapeutic (especially at sunset), and you'll enjoy the feeling of being away from it all while still being close to the amenities of Naples.
One of the best things about Barefoot Beach is the wildlife.  You can often see dolphins swimming offshore, and the birds that flock to the shoreline are a sight to behold.
You might even be lucky enough to spot a manatee or two.  Barefoot Beach County Preserve is also home to Saylor Trail.
This two-mile nature trail takes you through lush greenery, and you can hear the waves crashing during this peaceful walk.
To get to Barefoot Beach, you'll drive through a luxurious neighborhood of mansions.  The entrance fee is $10, and the parking spots fill up quickly, so arriving early is best.
After your beach day, you can grab a bite to eat at Sneaky Pete's, Taco Mix, or Doc's Beach House.
Other nearby attractions include the Everglades Wonder Gardens, Delnor-Wiggins Pass State Park, and the Promenade at Bonita Bay which features unique shops and restaurants.
A great place to stay near Barefoot Beach is Hampton Inn Bonita Springs/Naples-North. 
It's a short drive to the beach, and the location is convenient to many of the attractions in Bonita Springs.
Disha Smith From Disha Discovers
8. Delnor Wiggins Pass State Park- Naples
Located on the beautiful Paradise Coast in Southwest Florida, Delnor Wiggins Pass State Park is a pristine natural environment boasting one of the best beaches in Naples, Florida.
The Park itself sits directly on the Gulf of Mexico, in the midst of one of Southwest Florida's most scenic coastal ecosystems. 
There is an abundance of natural vegetation, tree-lined beaches, and unique wildlife to see.
The beaches here are perfect for nature lovers and those seeing a quiet, more peaceful day at the beach. 
The Gulf waters are typically peaceful and calm — even in the winter — and are perfect for swimming, paddling, and beach activities.
There are five parking lots at Delnor Wiggins with boardwalk paths that lead to the beaches. 
There's even a nature trail that runs the length of the Park connecting each area together.
Shore fishing at Delnor Wiggins is also excellent. Anglers should head to parking lot 5 at the northernmost end of the Park near the lagoon. 
It is a secluded spot for casting a line and the only spot in the Park where fishing is allowed and swimming is prohibited.
As for where to stay, the Vanderbilt Beach Getaway is excellent and close to the park is the Turtle Club, one of the best eateries in town.
Lori Sorrentino from Travlinmad
9. Keewaydin Island- Naples
Some of the best beaches in Florida are located in Southwest Florida, and one of the most unique beaches is
Keewaydin Island
, one of the best beaches in Naples!
This small island located between Naples and Marco Island is surrounded by water, and therefore only accessible by boat, so getting there is half the fun. 
It's precisely this remote quality that keeps Keewaydin Island so raw and rustic, and one of the most unusual beaches you can visit in the area.
There are no amenities on Keewaydin — no restaurants, hotels, high-rises or low-rises.  In fact, the only homes on the island are private homes tucked among the vegetation and hidden from view. 
There are also no restrooms, bathhouses, or the like, so come prepared if you're planning on staying longer than an hour.
During the season, there are several food and drink boats that pull up selling ice cream and cold beer.
Keewaydin is a shell collector's paradise and the soft white sand and warm water make for a great day swimming, sunning, and beach combing.  
It's also one of the area's only pet-friendly beaches so leashed dogs are welcome, but be sure to keep them away from nesting sea turtles and migrating birds.
As isolated as Keewaydin is, you'll find plenty of restaurants, shops, and hotels at nearby Tin City in Naples. 

The Hyatt House makes an excellent and walkable place to stay for the weekend.
10. Tigertail Beach- Marco Island
A nice place for nature lovers, Tigertail Beach is on the northwest end of Marco Island and is a slice of white sand paradise. This is also a great beach for both shelling and just relaxing.  
It also has a small lagoon area that is great for paddling. 
To get to the beach from the parking area, you have to either cross the lagoon or take a short walk around it.  
It can be busy here but the beach is pretty big so you should be able to find a spot for yourself.
Tigertail Beach has concessions where you can get snacks and rent beach gear.  They have a changing area and beach umbrellas there, as well.  
There is an $8 parking fee.  The Boat House Motel and Marco Beach Ocean Resort are great options to stay on Marco Island while Snook Inn and Fin Bistro are great food choices.  
While you're visiting Tigertail Beach on Marco Island, hop on over to South Beach, take a shelling tour in the Ten Thousand Islands, or take the ferry out to Keewaydin Island. 
If you want a non-beach option, a day trip to Everglades City and Big Cypress National Preserve is one of the best things to do nearby.
Megan Johnson from Red Around The World 

Final Thoughts:
10 Best Southwest Florida Beaches
As you can see, there's no doubt that southwest Florida beaches are some of the best in the world.
With their sugar-white sand and turquoise waters, they're truly a taste of paradise.
Whether you're looking for a romantic getaway or a family-friendly destination, these Southwest Florida beaches have something for everyone.
Travel Resources
Book Your Next Trip!  For Accommodations and short-term rentals, I recommend Booking.com as they are the best in the business when it comes to rates and places to stay.
To Book Activities- For activities, I suggest booking with Viator, they have thousands of 5-star activities to choose from!
Looking To Start Your Own Travel Blog Or Take Yours To The Next Level? 
Check Out This Free Workshop!– I personally joined Scale Your Travel Blog in 2021 and my website has grown exponentially.