Always On The Shore contains affiliate links and is a member of the Amazon Services LLC Associates Program.  If you make a purchase, we make a small commission at no cost to you. For more information, please read the disclaimer page. 
Planning a trip to and wondering if Florida in April is a good time to visit?
You're in the right place!  Let's take a look at everything Florida in April has to offer, from the white-sandy beaches to the music festivals and beyond. 
The warm and dry climate makes it perfect for every type of vacationer.  If you're a beach lover, opt for a trip to Fort Myers or Miami.
If you want to keep the family entertained, April is the perfect time to visit Walt Disney World and ICON Park without the heat the summers tend to bring! 
Is April A Good Time To Visit Florida?
April is a wonderful time to visit Florida.
It's true that you can find warm weather throughout the state year-round.
But in April, the climate hasn't yet reached peaked temperatures that bring unbearable heat in the late summer months. 
You can enjoy days exploring Blue Springs State Park, walking through the Disney Parks and festivals, or golfing on some of the nicest golf courses in the country.
What Is Florida Weather Like In April?
April in Florida is an exciting time of the year when it comes to weather.
Temperatures can range anywhere from a comfortable low of 60 degrees Fahrenheit to a warm high of 80 degrees, with the average temperature hovering around the mid-70s. 
The further south you go, the warmer the weather.  For example, Miami and Key West offer highs in the 80s and lows in the 70s.
You can enjoy a warm trip to Disney or a hot trip to the Florida Keys!
April is also still a dryer time of year in Florida.
On average, the Sunshine State only sees about three to four days of rain during the month.
How Hot Is Florida In April?
Anywhere you visit in Florida, you'll find it's not too hot in April.
The temperatures stay at a comfortable 70-80 degrees.
This makes it perfect for sightseeing outside or laying on the beach without being uncomfortable. 
Is It Warm Enough To Swim In Florida in April?
The average temperature of the oceans in Florida in April is 77-78 degrees F, just a bit warmer than Florida in March!
For most people, this is a warm and comfortable temperature for swimming. 
As you can guess, the water temperature up north may be a bit chillier.
If you're heading to northern coasts like Pensacola or Jacksonville, you may opt to stay in the sand in April, especially on windier days.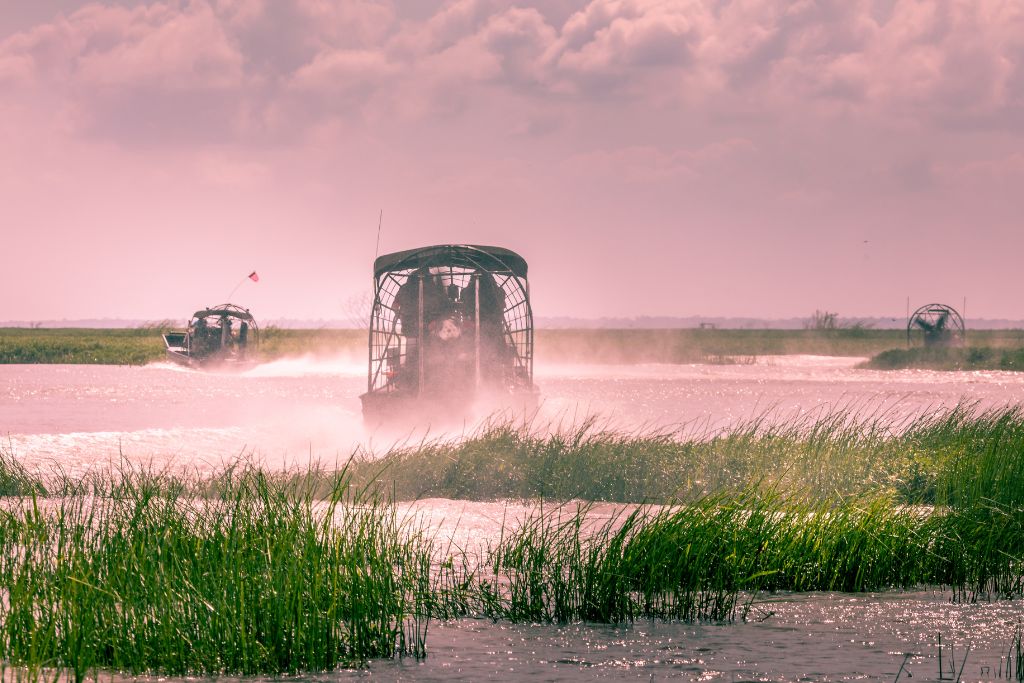 Things To Do In Florida In April
Epcot International Flower And Garden Festival
Disney World is always at the top of the list during a trip to Florida.  But, April brings the famous Flower and Garden Festival to Epcot.
The International festival brings over 25 topiaries and garden exhibits. 
You can learn about butterflies up close at Bambi's Butterfly House or enjoy the live music throughout the park.
The festival runs from March to July, so there's plenty of time to enjoy Disney's spring flowers! 
Mardi Gras At Universal
Everyone loves a Mardi Gras party and it's no surprise that Universal throws a big one! April is an incredible time to experience a diverse array of activities at Universal.
Along with Harry Potter World, you'll find a variety of international cuisine, parades, and events at the park to celebrate Mardi Gras.
Everglades National Park
The dry season in Everglades National Park runs from December through April.
Take an airboat tour through the Everglades. It's perfect for sightseeing and nature-sightings.
You'll find over 500 species of birds in the sky, fish fluttering under the surface, and of course, the famous Everglades alligators. 
Golfing
April is the perfect time for golfing in Florida, especially if you're visiting North or Central Florida.
The temperatures are milder than down south but warm enough to spend the day in the sun.
Jupiter, Orlando, Jacksonville, and the PGA Tour's Ponte Vedra Beach are all well-known for their incredible golf courses.
Kayaking In The Keys
Because the weather isn't too hot yet, April is the perfect time to go kayaking in Key West!
You're less likely to overheat and the water is warm enough to take a dip if you feel like it.  There are tons of mangroves to take your kayak through.
It's one of the best ways to explore some of Florida's protected park's wide variety of wildlife and marine life. 
Snorkeling In South Florida 
For snorkeling in Florida in April, you'll want to head to the state's south.
You'll find warm waters in Key West, Fort Lauderdale, or Fort Myers at this time of year.  In fact, these southern cities boast warm temperatures year-round. 
Snorkeling in Key West and Miami in April is a great way to experience the beauty of Florida's marine life.
Key West has some of the clearest waters in the state, making it a perfect spot for snorkelers to observe marine life up close.
In addition to its clear waters, Key West boasts over 6,000 coral reefs, many of which are thousands of years old! 
Florida Groves Music Festival
For one weekend in April, the Florida Groves Music Festival comes to town.
The festival brings a variety of people to the Orlando Amphitheater.
The reason Florida Groves brings in so many people is it's not only a music and art festival but also includes a tattoo and sneaker convention!
Best beaches To Visit In Florida In April 
South Beach

Siesta Keys 

Naples

West Palm Beach
What To Wear In Florida In April 
Your Florida packing list in April will be a combination of swimsuits and layers of light options for chilly evenings.
If you're heading to the beach, you'll want plenty of bathing suits, coverups, and beach accessories like towels and beach bags. 
If you plan to snorkel, bring your gear, and water shoes if you're going to be snorkeling from the shore.
Reef-safe sunscreen is also a great packing essential if you'll be doing a lot of swimming. 
Waterproof beach bag

Towels

Light shirts, pants

Sweater for the evenings

Bathing suits, coverups 

Sundresses

Hat, sunglasses

Reef-safe sunscreen

Snorkel gear (goggles, snorkel, flippers or water shoes, life vest)
Where To Stay In Florida In April
Orlando
For families looking for an unforgettable theme park adventure, there is no better place to visit than Orlando.
Home to Walt Disney World and Universal Studios, Orlando offers a number of attractions that the whole family will love.
Where to stay in Orlando: Universal's Endless Summer Resort- I stayed here recently and absolutely loved the amenities.  It's also very affordable and close to Universal! 
Fort Myers
If you're looking for a beach vacation in Florida, Fort Myers and Key West should be at the top of your list.
Fort Myers is a coastal paradise located in the southwest of Florida.
You'll find miles of white sand beaches, parks, shops, and plenty of activities for the whole family.
You'll also just be a couple hours' drive to the popular Longboat Key, Sarasota, and Siesta Key beach towns. 
Where to stay in Fort Myers Beach: Edison Beach House
Key West
Key West is home to some of the best beaches in Florida.
Located at the tip of the Florida Keys, Key West's beaches have crystal-clear water and white sand.
Whether you're a beach lover or an adventure lover, Key West has something for everyone.
Where to stay in Key West: Ocean Key Resort and Spa
FAQ's- Florida In April 
Is It Better To Go To Florida In April Or May? 
Heading to Florida in April or May depends on what you want to do.
If you want to do some sightseeing in Orlando or the Everglades, you should opt for April when the weather is a little milder.
In May, Orlando can reach the high 80s making it uncomfortable to walk around parks all day. 
But, if you're dreaming of a beach vacation, May is a perfect time.
The ocean water is warm enough for swimming and the breezes will keep you cool on a long day at the beach.
This is particularly true down the southern coast areas – Sarasota, Siesta Keys, Naples, Miami, and the Keys. 
What Month Is The Cheapest To Visit Florida?
You have two options for visiting Florida on a budget.  January through March are particularly low months.
The weather drops to the low 60s-70s, even down south.  This ocean water is colder, making it less appealing to beach lovers. 
Your second options are late August-October
With highs in the 90s, in addition to rough humidity, it's not so enjoyable to explore outside in Florida in these months.  In addition, this is peak rain season.  However, it does start to cool off and dry up in October. 
Afternoon showers and thunderstorms frequent Florida from August to mid-October. 
During both these off-season options, school is in full swing, so families are less likely to travel to the Sunshine State for vacations.
These also fall before and after major holidays, when prices spike. 
Summary For Visiting Florida in April: Everything You Need To Know
To sum it up, April is a great time to visit Florida!
You've got perfect beach temperatures in the south to snorkel and spend your days on the beach. 
Central Florida's still-mild temperatures make it perfect for spending long days outside at the state's famous theme parks and state parks. 
For those looking for something in between, it's a great time to explore the clear-water springs, mangroves, and state parks scattered throughout Florida!
With so much to do in the Sunshine State,  you won't regret a visit to Florida in April!
Travel Resources
Book Your Next Trip!  For Accommodations and short-term rentals, I recommend Booking.com as they are the best in the business when it comes to rates and places to stay.
To Book Activities- For activities, I suggest booking with Viator, they have thousands of 5-star activities to choose from!
Looking To Start Your Own Travel Blog Or Take Yours To The Next Level? 
Check Out This Free Workshop!– I personally joined Scale Your Travel Blog in 2021 and my website has grown exponentially.