Are you considering a trip to the Florida Keys?  If not, you should!  This post will cover the best beaches and fun things to do in Marathon, Florida, and nearby. 
These fabulous islands boast turquoise water, powdery sand, coral reefs, and unparalleled fishing.  But don't settle for Key Largo.
Instead, head to the heart of the Keys.  Visit the amazing beaches in Marathon Florida.  You're going to love them!
Marathon offers a collection of lovely beaches and a host of fun activities like fishing, snorkeling, parasailing, and kiteboarding.
Whether you're interested in a refreshing swim, somewhere to relax and watch the sunset, or a fascinating visit to the Dolphin Research Center, Marathon has it all, and more.  Let's dive in!
10 Best Beaches In Marathon, Florida (And Nearby)!
Most of the Florida Keys have coral reefs all along the shore, so there aren't as many natural beaches as you would think.  In fact, many resorts import sand to create private beaches for their guests.
Fortunately, you can still find great public beaches in Marathon (and its surroundings) thanks to this handy list.
1. Sombrero Beach
Sombrero Beach is a wonderful white-sand beach in Marathon, Florida!
Although Sombrero Beach suffered damages from Hurricane Irma, it has reopened and is even more gorgeous than before.
Not only that, it has all the amenities you could need, including picnic pavilions equipped with tables and grills, grassy areas, restrooms, showers, volleyball courts, a playground, and soaring palm trees.  It's also wheelchair accessible.
You can snorkel among the seagrass off the shore.  Look for areas with rocks for the best chance of seeing fish. 
Sombrero Beach is also a turtle nesting area.  Loggerhead turtles come to the beach at night from April through October to lay their eggs.
During the nesting season, a small percentage of the beach is reserved for turtle nests. You'll still have plenty of space to enjoy.
Hours:
Open daily from 7 am to dusk
How To Get To Sombrero Beach:
Turn south on Sombrero Beach Road.  Drive all the way to the end.  Congrats, you have arrived!
2. Coco Plum Beach
Coco Plum Beach is another of the best beaches in Marathon Florida.  It's a lesser-known spot that's popular among locals. 
Coco Plum Beach is perfect if you're looking for a tranquil beach experience with shade, a beach chair, and a book. 
It's also a great spot to kite surf (or watch kite surfers). 
If you're into paddle boarding or kayaking.  Coco Plum is an excellent launch spot. Paddle around Deer Key, or explore the water trails in Curry Hammock State Park.
There are restrooms here and a covered pavilion.  Trees along the beach offer shade.
Hours:
Open daily from 7:30 am to dusk
How To Get To Coco Plum Beach
Turn south on Coco Plum Drive.  Continue for 1.4 miles.  The entrance to the beach is on the right.  There's public parking on the sand.
Note: There can be a fair amount of seaweed on this beach since it's on the Atlantic side of the Key.
3. Curry Hammock State Park
Curry Hammock State Park is one of the nicest beaches in Marathon, with a thousand-foot stretch of white sand. 
It is still fairly shallow, but also has some slope, which makes it great as a beach launch for kayaks.
Curry Hammock is one of the best spots to kayak because there are two paddle trails, a 1.5-mile path, and a 5-mile path.
The 1.5-mile path takes about an hour to complete and circles Little Crawl Key. Along the way, you'll enjoy grassy flats, sandbars, an open ocean, a mangrove tunnel, and a deep lagoon.
You can see manatees, dolphins, horseshoe crabs, and upside-down jellyfish.
The 5-mile path takes four hours or more and is perfect for anyone wanting to traverse the mangroves and do some fishing from their kayak.
As far as facilities go, there are bathrooms, showers, a playground, a nature trail, and four picnic shelters. You can also tent camp or RV camp here for a fee.
Fees
$4.50 per car, plus 50 cents per person for entrance
Kayak and paddle boards are available for rent. Check the Curry Hammock website for rates.
Hours
Open year-round from 8 am to sunset 
Address
56200 Overseas Highway, Marathon FL 33050
4. Sunset Park In Key Colony Beach
Sunset Park is another of Marathon Florida's top beaches.  You can wade and dangle your feet off the dock, but swimming isn't allowed.
However, the scenic dock, tiki umbrellas, gorgeous scenery, and community vibe make it a great destination.
It's a prime location for watching the sunset, admiring the variegated hues of the ocean and chatting with locals.
If you're lucky, you may even get to participate in a sing-a-long!  Locals often come here to watch the sun go down and sing "The Islands of Marathon" by songwriter John Bartus.  How fun is that?
Bring your significant other for a romantic evening and have a picnic on the dock (or the many benches) an hour before sunset, then stay to watch nature's show of lights.
There are public restrooms, benches, a few picnic tables, and a small parking lot at Sunset Park.
Hours:
Open at all times year-round
How To Get To Sunset Park In Key Colony Beach
Take the Key Colony Beach causeway. Turn right after City Hall. Continue until the road curves.
Beaches At Bahia Honda State Park
Although not strictly in Marathon, Bahia Honda State Park is only a 21-minute drive over the famed Seven Mile Bridge.  Here you can enjoy three beautiful beaches and a huge array of activities, from snorkeling to geocaching.
Nature-lovers will be in their element as well since Bahia Honda State Park features silver palms, small-flowered lily thorns, yellow satinwoods, key thatch palms, and dozens more species of flora.
Birders will love identifying the shorebirds, wood warblers, hawks, and white-crowned pigeons.
If you enjoy snorkeling, you can bring your own gear, or rent some. Check out the seagrass beds and rocky sections. You might see queen conch, spiny lobster, and starfish.
Head to the top of the bridge for a chance to spot dolphins, sea turtles, and large rays. Cool!
5. Sandspur Beach
Sandspur Beach is the biggest strip of sand in Bahia Honda State Park.  It's on the southeast side of the island and has turquoise water and coconut palms.  The water is shallow, so you can wade for ages before getting completely wet.
As far as amenities go, Sandspur has three large pavilions, restrooms, and showers.
Note: Since Sandspur faces the ocean, a lot of seaweed may accumulate here.  If that's the case, simply head to Loggerhead or Calusa Beaches instead.  More on them below!
6. Calusa Beach
Calusa Beach is on the northwest side of Bahia Honda.  It's the smallest beach in the park, but also the most popular.  It's the best spot for swimming and has all the amenities.
Stake your claim to a picnic pavilion, rinse off in the fresh-water showers, and explore the nature center and souvenir shop.
Don't forget to take an iconic photo of the beach, with the old and new bridge in the background!
If you fancy a boat-snorkel experience, you can book an excursion from here.  You can also rent kayaks and snorkel gear if you prefer to do your own thing.
7. Loggerhead Beach
Loggerhead Beach is on the south side of Bahia Honda State Park.  It features gentle waves, a shallow-water sandbar, and seashells.
It's also a favorite spot for stargazing since it's far enough from the city to avoid light pollution.
The spangled wash of the milky way combined with the hush of the waves is about as good as it gets!
Important Information About Bahia Honda State Park
Before you go, check out this information on hours, fees, and more.
Hours
Open daily from 8 am until dark
Fees
$8.50 per vehicle (2-8 people)
$2 for pedestrians, bicyclists, extra passengers
$4 single-occupant vehicle or motorcycle
Note: If the park reaches maximum capacity, it closes temporarily. Get there early on weekends and holidays to avoid getting turned away.
Address
Photo Credit: Monroecounty-fl.gov
8. Veterans Memorial Park
Another great beach near Marathon is Veterans Memorial Park. It is on the nearby Little Duck Key, only ten minutes from Marathon, partway across the Seven Mile Bridge.
It's a small beach with picturesque leaning palm trees, a boat ramp, restrooms, picnic tables, grills, and showers. Swim or wade in the refreshing Atlantic Ocean.
Hours
Open daily from 7:30 am to dusk
Address
39900 Overseas Highway, Little Duck Key, FL 33043
Beaches In Key West
If you've already checked out the amazing beaches in Marathon and want to go further afield, consider visiting these top beaches in Key West.
9. Smathers Beach
Smathers Beach in Key West is about an hour from Marathon Florida.  Although this isn't a natural beach (the sand is imported), it's still a beautiful spot along the shore.  The water is shallow and refreshing. Palm trees make it extra scenic.
You can go parasailing, kite surfing, kayaking, and paddle-boarding here (rentals are available).
Smathers Beach also features volleyball courts, picnic areas, and restrooms.
Be sure to bring your own food and water!
Note: Since it faces the ocean, seaweed may accumulate (and add its fishy smell) to the ambiance.
Hours
Open daily from 7 am to 11 pm
Fees
Admission is free, but you'll have to pay for parking.
Address
2601 S Roosevelt Blvd, Key West, FL 33040
10. Higgs Beach
Located 70 minutes from Marathon, Higgs Beach in Key West is a lovely calm beach with a rich history.
Come for a picnic lunch and swim.  Enjoy the sand, clear shallow water, and wooden pier.
Higgs Beach has several picnic tables, free parking, palm trees for shade, and a dog park.  The pier is a great spot to watch the sunset.
While you're there, check out the adjacent West Martello Tower and Botanical Garden.  The tower dates back to the Civil War and is all that's left of what was once a fort.
There's also an African burial site and monument next to Higgs Beach.  Apparently, the US Navy rescued Africans from the slave trade and gave them refuge here in the Union-controlled Keys.
When they passed away, they were buried here.
Hours
Open daily from 6 am to 11 pm
Fees
Admission and parking are free
Address
Things To Do In Marathon, Florida
Lounging on beach chairs is great, but sometimes it's nice to spice things up!  Check out these fun things to do in Marathon Florida.
Water sports, informative tours, and adrenaline-packed adventures await!
Parasailing
Parasailing is an awesome and exciting thing to do in Marathon.  Don your parachute, and get pulled along behind a boat.  Pretty soon you'll be soaring in the serene and balmy air of the Florida Keys.
The bird's-eye views of the islands, barrier reef, mangrove swamps, and Sombrero Beach Lighthouse are sure to be unforgettable!
Looking for a tour?  We recommend this Parasail Adventure in Marathon.
Kiteboarding/ Kitesurfing
If you are into kiteboarding, you'll love speeding over the ultramarine water around Marathon Florida.
Haven't kite boarded before?  No problem!  This is the perfect place to learn. 
It might look extreme, but according to Kiteboarding Florida Keys, everyone from kids to grandparents can enjoy the thrills of this fast-growing water sport.
Take a class, or pack your own kite.  It'll be awesome.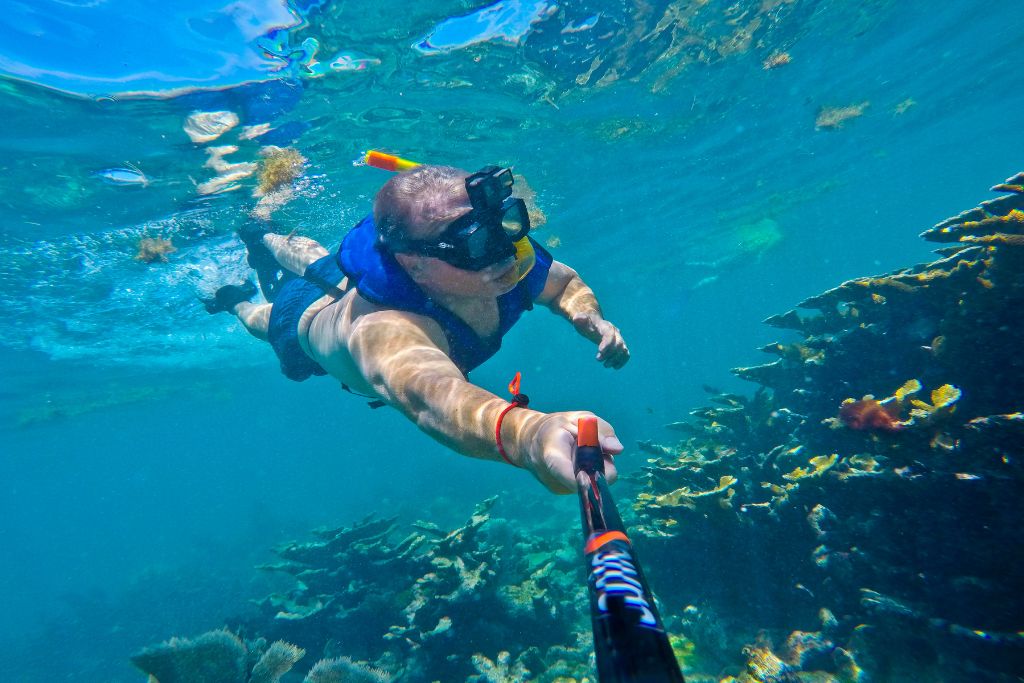 Snorkeling
Another really awesome thing to do in Marathon is go snorkeling.  Although you can easily snorkel from the shore, especially in Bahia Honda and Curry Hammock State Park, going to the off-shore reefs is even more exciting.
Going on a boat tour will give you the chance to see more varied sea life and amazingly colorful coral. 
One option you choose to do on your way to or from Marathon is this Half-Day-Snorkel-Trip out of Key Largo.
During this informative and fun tour, you'll explore the Florida Keys National Marine Sanctuary and John Pennekamp Coral Reef State Park.
Fishing Charter
Marathon is famous for its fishing, and for good reason.  There are hundreds of fish in the waters around the islands, some seasonal, and some that live there year-round.
For example, from January through September you can fish for mahi mahi, cobia, sailfish, tarpon, and spotted sea trout.  During November through March, fish for amberjack, king mackerel, and grouper.
Looking for a fishing tour?  We recommend this Inshore Fishing Charter.
Turtle Hospital
Another neat thing to do in Marathon Florida is visit the Turtle Hospital on the grounds of the old Hidden Harbor Motel. This hospital helps sea turtles recover from illness and trauma.
The hospital offers guided educational tours.  You'll learn about sea turtles, get a behind-the-scenes look at the rehab area and hospital facilities, and get to feed some turtles.
Hours
The Education Center and Gift Shop is open daily from 9 am – 6 pm
The Educational Programs run daily at 9 am, 9:30 am, 10 am, 10:30 am, 11 am, 11:30 am, 12 pm, 12:30 pm, 1 pm, 1:30 pm,  2 pm, 2:30 pm, 3 pm, 3:30 pm, and 4 pm
Note: You must reserve a spot on the Guided Educational Tour in order to enter. The tours last 70 to 90 minutes.
Costs
Adults: $30.00
Children (4-12 years old): $15.00
Children under 4: Free
Contact
To make a reservation, call (305) 743-2552 
Marathon Air Museum 
If you're into airplanes, you may enjoy visiting the Marathon Air Museum.  The Experimental Aircraft Association runs this small museum.
Hours
It's open from 10 am to 4 pm Tuesday through Saturday, and 1 pm to 4 pm on Sundays.
Fees
There is no admission fee, but they appreciate donations.
Address
9850 Overseas Highway, Marathon, FL 33050 
Photo Credit: Dolphin Research Center
Dolphin Research Center 
If you love dolphins, be sure to visit the Dolphin Research Center in Marathon!
Learn about dolphins and sea lions, join a narrated behavior session, and see dolphins playing.
Learn about the Research Center's interactive programs and plan your visit.
Florida Keys Self-Guided Driving Tour
The Florida Keys are rich in history and biodiversity.  Why not make the drive more interesting by getting this Self-Guided Driving Tour?
During the audio guide, you'll learn about the African Queen, a Hollywood riverboat, and follow the Overseas Railroad to a smuggler's haven.
Next, you'll learn about the wildlife, hurricanes, and ecosystems of the Florida Keys, explore Marathon, Anne's Beach, and Long Key, and then cross over the Seven Mile Bridge.
Along the way, you'll learn fascinating facts, and fun stories, and visit unique locations.
Where To Stay In Marathon, Florida?
Marathon Florida is a fun and beautiful place to stay.  Check out these top-rated hotels and choose the one that best fits your travel style and preferences.
Fairfield by Marriott Inn & Suites
Final Thoughts:
Best Beaches In Marathon, Florida (And Nearby)!
As you can see, the beaches in Marathon, Florida offer some of the most beautiful and serene scenery in the state.
The clear blue waters and white sandy beaches are perfect for a relaxing day by the water.
There are also plenty of activities to keep you busy, such as swimming, fishing, kayaking, and exploring the many shells that can be found along the shore.
Whether you're looking for a quiet place to relax or an exciting place to play, the beaches in Marathon, Florida are sure to be a good time for all.
Looking to go jet skiing in the Florida Keys?  Check out this post!
Travel Resources
Book Your Next Trip!  For Accommodations and short-term rentals, I recommend Booking.com as they are the best in the business when it comes to rates and places to stay.
To Book Activities- For activities, I suggest booking with Viator, they have thousands of 5-star activities to choose from!
Looking To Start Your Own Travel Blog Or Take Yours To The Next Level? 
Check Out This Free Workshop!– I personally joined Scale Your Travel Blog in 2021 and my website has grown exponentially.